Hoping…
Saturday September 2nd at Falcon Field
New Britain, Connecticut
CT Hops for Hope
Buy Tickets!
Donate!
When I started CTMQ almost 11 years ago, I really had no clue as to what it would become. I just liked writing, traveling, and learning weird stuff about the local places we all take for granted.
Shortly after I began the site, my son Damian was diagnosed with Smith-Magenis Syndrome and the silly little world my wife Hoang and I had created for ourselves turned upside-down. And inside-out. I think that means we were thrown for a loop.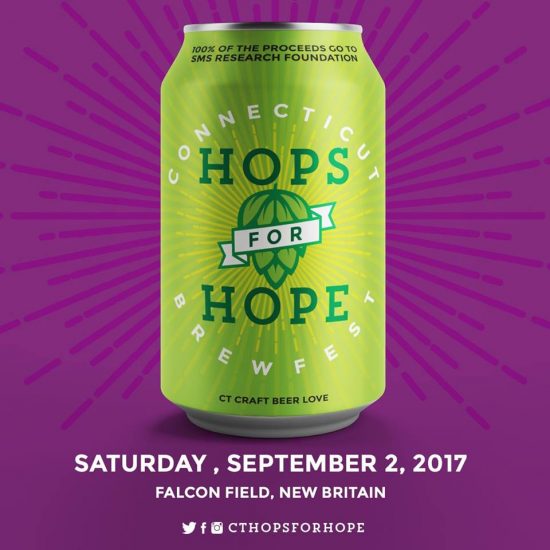 SMS is not fun. It has robbed my little boy of so many things. It has taken many of our collective dreams away – or at the least, changed them profoundly.
But through the diagnosis and the early years of Damian's life, I kept writing. And traveling. And learning.
CTMQ became a vehicle not only to entertain and educate readers about everything in Connecticut, but also to expose the world (both online and in real life) to a rare genetic syndrome like SMS. Suddenly, I was thrust into the role of advocate and special needs champion.
It is a role I've come to outwardly enjoy. Inwardly? No thanks. As I've mentioned… SMS (and all behavioral disabilities) is not fun. At all.
Damian
That isn't to say that Damian can't be fun. For he can be; locked inside his brain is a hilarious little boy who loves music, puns, and silly YouTube videos. He can be kind and sweet and empathetic to a fault. Cute, even. We cherish each and every time that Damian – the real Damian and not the "SMS Damian" – comes out.
We just wish it happened more often.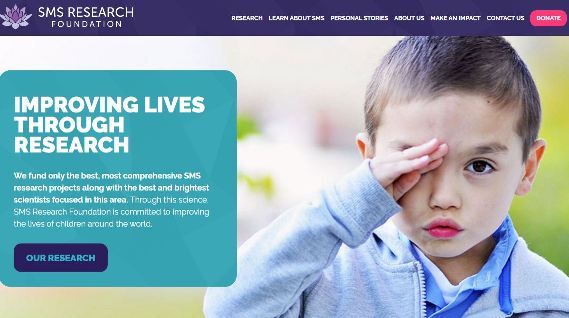 (I selfishly love that he's the "model" on SMS Research Foundation's landing page.)
Damian is 11 now and has been outplaced to an excellent school that specializes in helping people like my son. He has done well there. When people ask about his schooling and how Damian fits in, I like to tell them the following:
We live in West Hartford which has a very well-funded and excellent special education system with a long track record of relative success.
Our neighborhood elementary school couldn't handle Damian despite their best efforts. Please read my "thank you and goodbye" to everyone involved in our lives in West Hartford.
He now attends a school that accepts and educates a panoply of disabilities, but specializes in "behavior kids." The school has students from Northampton, MA to Watertown, CT to Norwich, CT and all places in between. This is a special school in the truest sense. His classroom consists of six kids and more than 10 educators.
They couldn't handle Damian in that setting despite their best efforts.
He spent a lot of time in his own classroom – his preference. His aggression towards others and himself necessitated this. The school built him a little "safe space" that consisted of large gym mats; three walls and a floor. It's quite nice, actually. I've seen it.
That couldn't contain him.
When Damian has "behaviors," which is more frequently than I ever lead people to believe on CTMQ, he hurts himself. Typically, he punches himself in the head and face. When he really gets going at school, he seeks walls and tiled floors upon which to smash his head. He has bloodied noses and blackened eyes of support staff.
The school, working with our local school district, increased his program to include an extended day.
But that wasn't enough.
In the spring of 2017, his program was increased to 240 days per year with extended day. 365 days in a year, minus 104 weekend days minus federal holidays is about 255 days. He gets a week off in June and a week off in August.
The point: Damian can be a difficult child to say the least. He's not "the worst" by any stretch and yes, he has days with no issues. There are SMS kids that exhibit far, far more SIBS (self-injurious behaviors) or have no verbalization, etc. It is a spectrum syndrome and we figure Damian is solidly in the middle of that spectrum.
At home, we have been on eggshells around Damian for the better part of a decade. Our lives are ruled by Damian's SMS. Literally everything we do and the way we do it has a bit of SMS facilitation to it. It just "is."
Our younger son, Calvin, is now six. He gets it now. His way of explaining Damian is that his brain is "broken." When he says this, our hearts are broken too.
Calvin is the sweetest kid you could ever meet. Forgiving, empathetic, kind, funny, talented. Last night, he and I were doing Mad Libs just before bed. Damian came in to listen in while he played on his iPad for a few fleeting minutes.
As Calvin and I were laughing, Damian, quick as a viper, punched Calvin in the eye. No warning. No trigger. No antecedent. Nothing. Why? SMS. That's really the only explanation. The hallmark of SMS is its unpredictability. It is, in a clinical and a colloquial sense, insane.
Later, while talking with Calvin, he told us that he wants to take his gold coin (a prized tooth fairy gift of his that he keeps in a special box) to a wishing well. It's his only gold coin and he's learned from his fairy tale unit at school that wishes are very special one-time events.
Unprompted, he told my wife, "I want to make a wish to fix Damian's brain. I want him to be happy."
Again, he's six. He gets it.
That's what we all wish. But when a person is missing a chunk of a chromosome that has a hand in regulating impulse control, speech, intellect, rationality, speech, and sleep, as Damian is, there are no simple fixes. A decade of multiple therapies, a special year-round school, all the education and advocacy and parenting and understanding and medicating that we do… SMS doesn't just "get fixed."
Here's a short video of a relatively tame outburst. No yelling. I don't remember what it was about, but it could have been something as mundane as the inflection in my voice in response to a demand.
Again, this is our normal. This ended as quickly as it began. You can imagine the force and violence of his real tantrums.
The Smith-Magenis Syndrome Research Foundation
But there is hope. The Smith-Magenis Syndrome Research Foundation and the dedicated lab it sponsors at Baylor College of Medicine is getting there. And it will get there with grassroots efforts like CT Hops for Hope.
The SMSRF has raised nearly $900,000 in its relatively short existence. The lab at BCM has brought in two of the world's leading SMS experts. They have forged a partnership with Sanofi Pharmaceuticals, which is a HUGE step forward.
With Sanofi, a viable line of "vectors" (mice with SMS) has been created and the very first steps towards gene therapy have begun. This is an indescribably exciting development for the SMSRF and the international SMS community.
As incredible as that is, gene therapy takes many years of research and testing. And money. We know that great strides have been made with other genetic syndromes like Angelman's and Fragile X.
We'll get there.
CT Hops for Hope
In 2015 the inaugural CT Hops for Hope event raised over $31,000 for the SMSRF. As one of the only 100% charitable fests in the region, we are able to give far, far more to charity than events ten times our size. (That is not an exaggeration.) This year, the event is a smidge bigger and a lot better. More top-end breweries. More food options. Even more ridiculous VIP hour.
This brewfest is different than most others in several ways. It is organized by an all-volunteer staff. This group of friends cannot be thanked enough. They have no ties to SMS other than their friendship with me. They created this thing in 2015 without my knowledge. They put in literally hundreds of hours of work. They are, quite simply, amazing people.
The brewers and breweries love it as much as the attendees. Many of the brewers themselves show up. It is very well-curated. Many breweries bring their best stuff and not the leftovers that are sometimes found at other fests.
There are no lines.
We don't run out of beer.
Guests' enjoyment is priority one. No one is making any money, so we do not oversell. CT Hops for Hope is an intimate event, appealing to craft beer drinkers as much as guests who are there simply to support Damian and the SMSRF.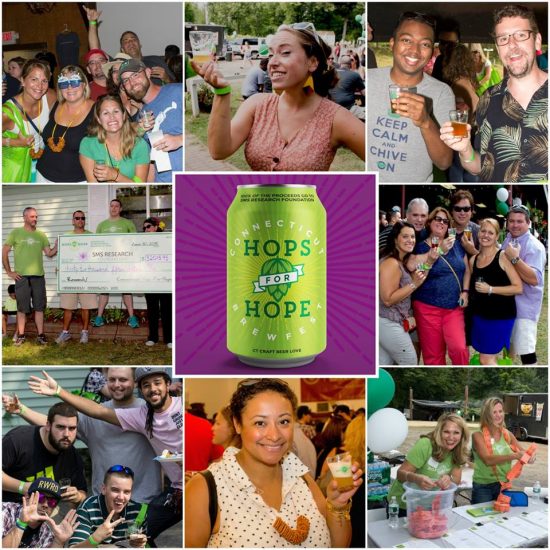 If you only go to one brewfest this year, please consider making it CT Hops for Hope. Every penny of your ticket cost will go to the SMSRF.
Each time I sit down to write another new CTMQ post that includes Damian, I think to myself, "am I glossing over just how difficult this hour of my life was with him? Should I mention that this hike began with ten minutes of SIBS? Do I bother noting that Damian wet himself after dropping his lunch on the floor?
I stopped writing about that stuff years ago. It got tiresome – for me and for you. (And frankly, there are plenty of times when Damian is perfectly fine; thank goodness for his ever present tablets and repetitive electronic games.)
I also stopped trying to be a hero years ago as well. SMS is hard. When you realize that you've become so inured to watching your child injure himself over and over that "only punched himself hard a few dozen times today" is a good freaking day, it's sort of scary.
Trying to explain to people that a child with SMS can be in the midst of SIBS while half hugging you while choking out, "I love you, Papa" is impossible. His syndrome makes him do things he does not want to do. Yet, he must do those things. Even while fully aware he's doing them.
Yeah. There are no words to explain that, no matter how hard I've tried.
So we fight. Fight to raise as much money as possible. Fight to make people aware that people like Damian deserve the best lives possible.
And fight to keep my wife and younger son happy and forward-thinking.
I'm not sure how well I'm doing that, but I try. And your support of Hops for Hope and the SMSRF is a great way to help not just my family, but the tens of thousands of SMS families around the world.
Thanks for reading.
CT Hops for Hope
Buy Tickets!
Donate!