N is for Nutmeg, A Connecticut Alphabet
("Discover Americam, State by State series)
by Elissa D. Grodin (2003)
West Hartford Library
I feel kind of badly for slagging the last children's book I reviewed. But hey, facts are as important for kids as they are for adults.
At least they should be.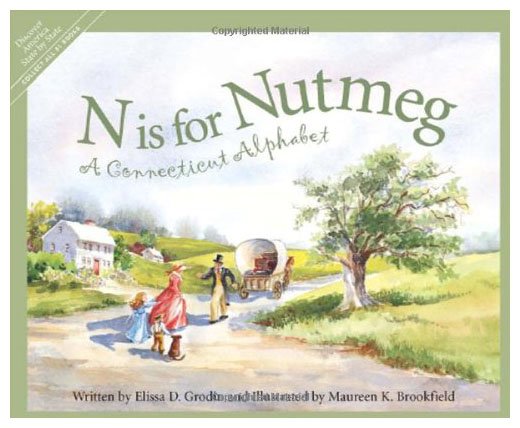 N is for Nutmeg is a decent little effort. Each letter of the alphabet receives a cute 4-line poem that relates somehow to Connecticut's history or, somewhat repeatedly, one of our "state things."
Like how the praying mantis is our state insect and the sperm whale is our state animal or whatever. The author really dives deep into that list. (Which is fine.)
D is for Dinosaur State Park and the author comes very close to making the common error of saying Eubrontes giganteus was a dinosaur (rather than just the name of the footprint fossil), but it's unclear enough in the wording that I'll let it go.
The book does state that "the Connecticut Valley has the most dinosaur tracks and footprints in the whole world." That seems… rather extreme.
Some good people make the cut: Frederick Law Olmstead, Prudence Crandall, Nathan Hale… and of course the "nutmeg thing" and the "Charter Oak thing" mythologies are explained as well.
So that leaves just one major error in this book. See if you can spot it:
O is for Eastern Oysters
caught in Long Island Sound.
Along with all the lobsters
they're the best fish to be found.
Man, my son just turned five and he knows that oysters and lobters aren't fish. (Granted, his pops is really, really into taxonomy, so there is that.) Sigh.
But that doesn't detract from the book, as I liked it overall. The illustrations are rather lovely watercolors by Maureen Brookfield. A lot of effort went into illustrating this book, and I always appreciate that.

CTMQ's List and Reviews of Connecticut Books