I love this so much. As I was putting together my Guide to Middlebury, I searched for information online about this "Devil's Meditation" place I had seen on a list somewhere a decade ago.
And thankfully, I stumbled upon "chescrowel's" Flickr stream. A man who tells it like it is, and with a flair that reminds me of… me.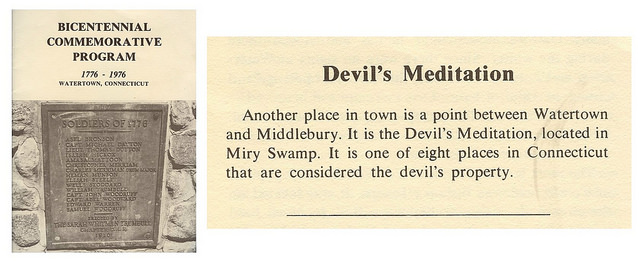 I've done no further research, as I take Mr. Crowel's words as fact.
In 1975, this Bicentennial Commemorative Program was put together by the town. In it you could find a calendar of coming bicentennial events, a long poem about Watertown by noted author Alma Roberts Giordan, and some brief summaries of notable Watertown buildings.

Also mentioned was a place called the "Devil's Meditation".

The only problem is, the "Devil's Meditation" tale was 100% pure fiction.

There is no such place exists in Watertown and this paragraph is the only known reference to it.

To put it another way, it's all nonsense.

There is a Miry Swamp but it's located well inside Middlebury.

The wording "between Watertown and Middlebury" is extraordinarily misleading.
My information always told me this poorly defined place was firmly in Middlebury. But whatever.
There is also a Miry Dam, pond and road, but no record of Satan hanging around the vicinity.

Why the President of the Watertown Historical Society John Pillis (1959-2013), who wrote this, chose to add such baloney to this program is troubling to say the least.

Not only did he risk that future historians might take it seriously and pass along the false tale, but it also upset some local people.

The historical society received letters demanding that the programs be discarded because of the reference to the devil and how, because of the reference, the programs were inappropriate for children.
I'm struggling to determine who was sillier… the person who decided to include the tale as fact or the people who felt that referencing "the devil" was "inappropriate for children."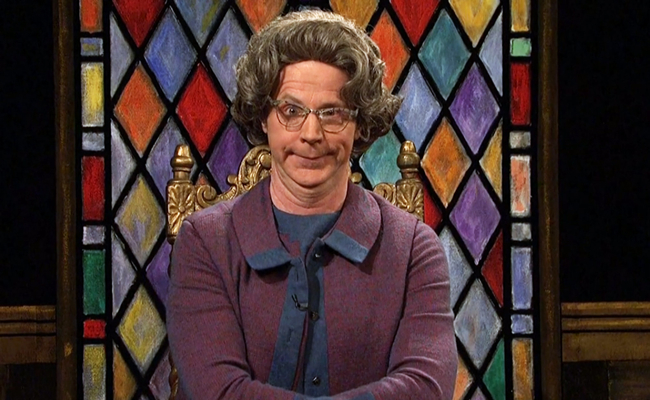 The programs were not discarded and there are still plenty of them still out there.

There are of course, people who feed on this kind of stuff. There are a couple websites now mentioning this swamp as a "devil playground" or other such drivel.

I am posting this here and elsewhere online to insure that this "Devil's Meditation" malarkey is recognized for what it is, the product of someone's misguided imagination.
And I have posted it here as well. His use of "malarkey" is an added bonus.

All things Satan in Connecticut