Stephen Wood, Married Father of Damian and Calvin
Hates Talking About Himself, Proud INTJ
Thank you for taking a moment to read my website. What started as a little hobby to keep me busy and active has evolved into something I never expected. And whatever comes of it, it has always been – and continues to be – a fun hobby, above all else.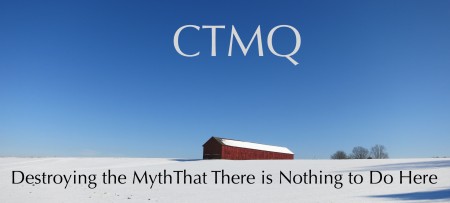 I used to have several paragraphs here about how I've been happy to accept freelance work and how I don't really edit or proofread anything on this site, but while that's all true, no need to keep it here.
In the past, I've written for two very popular television criticism blogs (under a pseudonym) where I developed both a fanbase (such as it is) and the confidence that I can entertain people through writing. CTMQ combines my love for travel, exploration, learning, meeting interesting people, observational humor, and lists – and a diverse group of readers seem to rather enjoy what I do here.
I can write for different audiences and in different styles – though only non-fiction. I am easy to work with and I can usually write very quickly.
Speaking Engagements
I do personalized (by town/region and group age/interests) 60-90 minute presentations – to historical societies, libraries, schools, etc. I do ask for a long lead-time however, what with a job and family and stuff. Also, a modest honorarium is usually requested, because I've been told that.
Magazine Article possibilities
Connecticut travel, museums, hikes/trails, history, humor, and eccentrics – and eccentricities – that make up our state.
Special needs parenting and the experiences of an involved father
Smith-Magenis Syndrome
And more!
Book Topics
I think I've finally come to a point where I not only think I can write an entertaining and profitable book, but I also think I know the general outline. (Difficult special needs son, travel, humor, adventure, museums.)
I welcome inquiries from real publishers. I will not bother with self-publishing. (Sorry if that sounds egotistical, but if I'm going to take this leap, I'm going to do it the right way.