While Snoopying Around Preston
Snoopy Rock, Preston
October 5, 2013
Beautiful fall day, full of CTMQ stuff in southeastern Connecticut. The itinerary had us stopping by the Preston Ridge Vineyard in Preston.
So there was purpose.
My crude map of the area misidentified the road we were looking for, but I picked up the next road to double back around. This was Brickyard Road and it is a lovely little road, especially in the fall. A few rises and twists later, we passed this Snoopy Rock.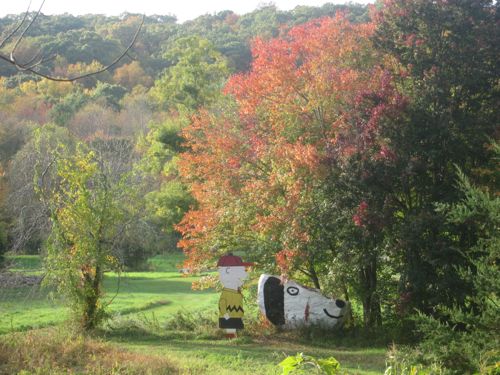 Dedicated rock fans know that there are two dog-themed rocks in Preston. (My page on the other one here)
I kept driving to get to the vineyard. As we pulled up to the entrance, a small sign told us that it was closed for a private event. Dagnabbit!
So we headed back west on route 2, but not before I detoured again to get a picture of Snoopy.
Facebook fans know that a bunch of people who follow me there actually drive down this backroad quite frequently. I was a bit shocked, I must admit. In fact one woman on facebook wrote, "My college roommate's grandparents used to own that land and the pumpkin farm across the street. When they sold that part, the new owners agreed to keep painting it."
Why the affinity for Snoopy in Preston? I have no idea. But it is very real.

Historic Rocks, Painted Rocks, & Named Rocks/Rock Formations