Hellooooo Stratford!
Fairfield Craft Ales, Stratford
May 2019
The brewery closed in September 2022 due to "a disagreement with the landlord." They hope to continue canning somewhere.
You want to know how you know Connecticut was starving for independent craft breweries for a long time? You know this because a tiny little 35-seat brewery could open less than a mile from our state's largest and most profitable brewery and not be crushed into oblivion within weeks.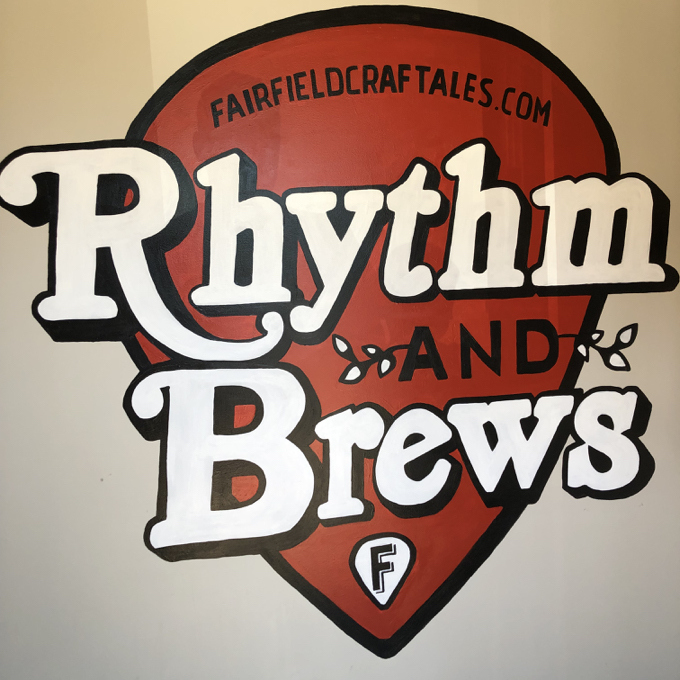 While I've never been one to question the location choices of breweries, several people back in 2016 wondered about Fairfield Craft Ale's decision to give it a go down the street from the mighty Two Roads. Both are located in Stratford – so the Fairfield in Fairfield Craft Ales refers to the county in which Stratford exists rather than the coastal town down I-95 where it doesn't – but the two are scaled quite differently.
FCA is basically a tiny neighborhood bar that brews its own beer. (It has since grown to allow for an occupancy of 65 from its original 35.) Two Roads is a behemoth that seats hundreds and brews for millions. And yet, here we are in 2019, a full three years into FCA's existence.
I, of course, have no clue how many years FCA will continue to exist. However many it is, I am confident that its proximity to Two Roads will have nothing to do with whatever happens. That's really just not how markets work. FCA has its own identity and draws its own crowd.
Identity: FCA is a "music-themed brewery" owned by two Boomers who name beers after rock songs. They somehow cram live bands into their small space and their whole thing is pretty much classic rock. Their logo is a guitar pick. Co-owner Mike Borruso was wearing a tie-dyed Grateful Dead t-shirt when I visited. They are the 3,527th brewery to name their brown ale "Brown Eyed Girl." They refer to their tap list as their "set list." They are located near a residential/business area of generally blue collar Stratford. You get it.
Crowd: People who read the preceding paragraph, fire up the Harley, crank up the Steppenwolf, and get excited for "Mustang Sally" on repeat. Here, just watch their Kickstarter video to really drive home the point.
Before we dive in, let's check out Mike's and his co-owner Joe Bow's entrée into the marketplace:
We are lifelong music lovers who had more than 25 combined years of brewing experience before we opened the brewery. Our friends and families have always loved our beers…
Oh boy. Red Flag. I swear, almost anytime I read that "the guys" were "longtime homebrewers" and that their friends and families liked all the free beer they got, I get skittish. I'm a longtime writer. My friends and (some of) my family like the free stuff they get to read from me. I've won some writing contests over the years.
But… I'm not about to go be a full-time writer. Regardless of what I'm writing now, I entered the brewery with an open mind.
Or at least I tried to. I arrived right at opening as I had my son Damian with me. When I have him in tow, I try my best to visit breweries at their slowest time. That way, he's not a hindrance to anyone and he's not taking up paying-customer space. (And if he has a behavior episode, fewer people have to witness it.) Anyway, the door was locked.
I checked social media and there was no notice of closure. I drove around a bit and tried again. Still locked. But as I retreated to my car, a ghostly figure appeared at the door from the inside and unlocked it. Phew.
Upon entering, the "ghostly figure" said nothing. It was Mike, an owner, apparently under the weather or hungover from the previous night's epic Meat Loaf karaoke marathon. (Or, he wasn't super excited to see one doofy guy and his special needs son as his first customers of the day.)
Welcome! Enjoy an atmosphere as cozy and laid-back as you'll find at any craft brewery, as you drink one or more of the 12 music-inspired beers we have on tap. Talk among your party or strike up a conversation with any of our other customers or staff. (It happens all the time; we're a friendly place.)
I must've come at a bad time.
Whatever, I'm quiet too and have no need to chat anyone up. (An apology for opening 15 minutes late would have been cool though, especially after I mumbled something like, "sorry, I like to go to breweries right at opening when I have my son with me.")
We settled in and I perused the "set list." I chose what I usually choose – lower ABV's and a good range of styles. With only four in a flight here, I went with a kolsch, a pale, a NEIPA, and a "chile beer" for some dumb reason.
Okay, let's rock.
My tasting notes for the Wish You Were Here Kolsch are "blergh." I'm not sure if that falls above or below the over-used "meh," but I know it wasn't a Kolsch I cared to drink too much more of. Kind of like Pink Floyd. They're fine, but ultimately boring and not something I care to seek out. (I do think Wish You Were Here is a pretty good song though. It's the "two lost souls swimming in a fish bowl one if you've forgotten.)
The Empty Glass Pale Ale was pretty good, just as any beer named for a Pete Townshend song should be. (Granted, the song kind of sucks, but whatever.) I liked the fact that this pale was old school with a proper amount of bittering hops and clarity.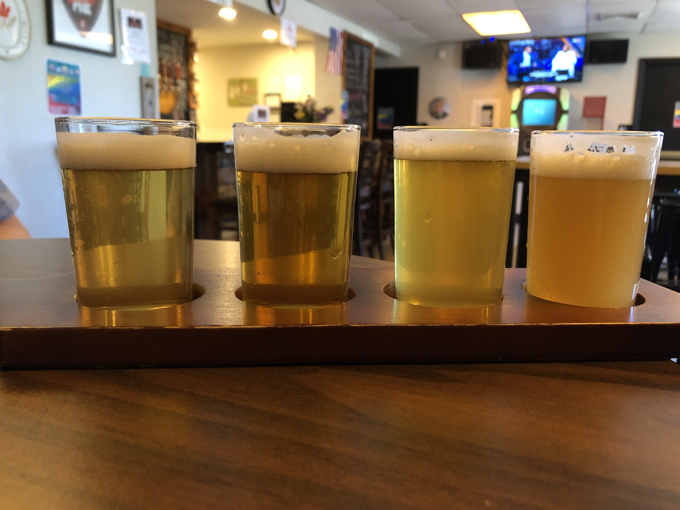 No matter what you think of Queen, you can't deny that Freddie Mercury was a generational talent. Dude could sing and perform. FCA honors Queen with their Don't Stop Me Now New England IPA. If I may, sirs, I'd like to stop you.
Stop you from making this style of beer. Granted, FCA makes other DIPAs and NEIPAs that people seem to like, so I can't go on record stating that these styles are not in their wheelhouse. But as for this particular one, something went wrong. I hate when idiots yell "MALTY" at every DIPA or NEIPA that doesn't taste like a Carvel dessert, but… this beer was overly malty! I think that's the first time I've said that!
I feel dirty.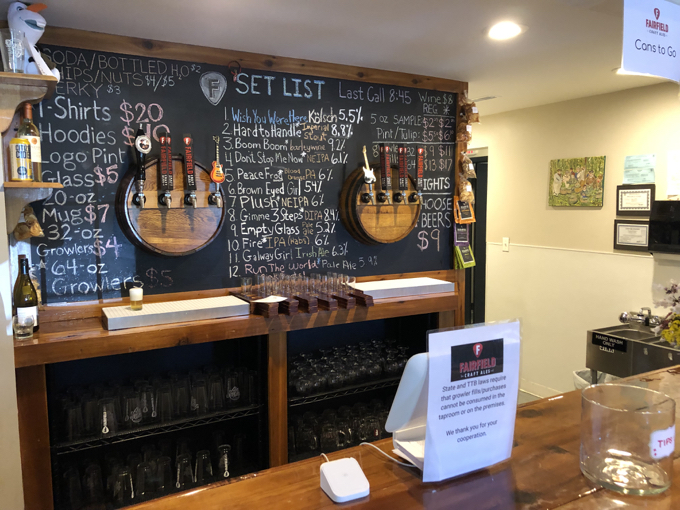 Maybe not "malty," but definitely earthy. Almost vegetal but not in the vegetal-hop way. It's made with Citra, Simcoe, and Loral hops annnd I just looked up Loral: The aroma profile of Loral™ has been described as a "super noble hop" with its wonderful floral and herbal notes followed by a backdrop of citrus and earthy character.
Based on that alone, because I know nothing really, I blame the Loral. Don't make NEIPAs with Loral. It just doesn't work. On top of the taste, there was a distinct lack of aroma, which is also a big miss with these big IPAs.
As I was about to have my fourth sample, a motorcycle gang arrived. Okay, they were more of a polite motorcycle crew than a gang, but all I could think was, "Oh my god, that's exactly who I thought would hang out here!" Not that that's a bad thing at all, but I love when clichés happen in front of my eyes. (Take note: this happens more frequently at hipster breweries with hipsters and I'd rather hang with the FCA crew than, say, the insufferable lads who may occupy a table at a brewery that rhymes with Dew Dark.)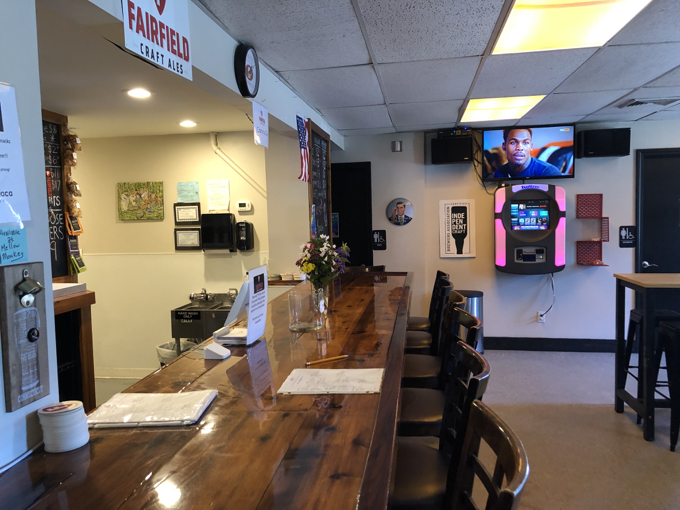 Ah, yes, the Ring of fire chile beer! No aroma again, but I don't think they care about that on this one. It's all about the fire, baby! And there's fire here indeed. By the way, shout out to Social Distortion for actually doing a good cover of Johnny Cash's classic. Being the old grouch that I am, I usually hate "punk" or metal covers of songs. Props.
I also usually hate gimmick beers. This one was too hot and not "beery" enough, but I didn't hate it. No one can hang out and drink a sixer of this stuff, but I don't think that's the point here. The point is to be ROCK 'N ROLL, BABY! And they've succeeded with the Ring of Fire beer. I guess.
If you're into this whole music thing, they've put together a song playlist of the songs they've name beers after. This is a pretty cool idea and I'm sure your father will dig it. (Jokes aside, Foo Fighters are on there, and the Foos are great.)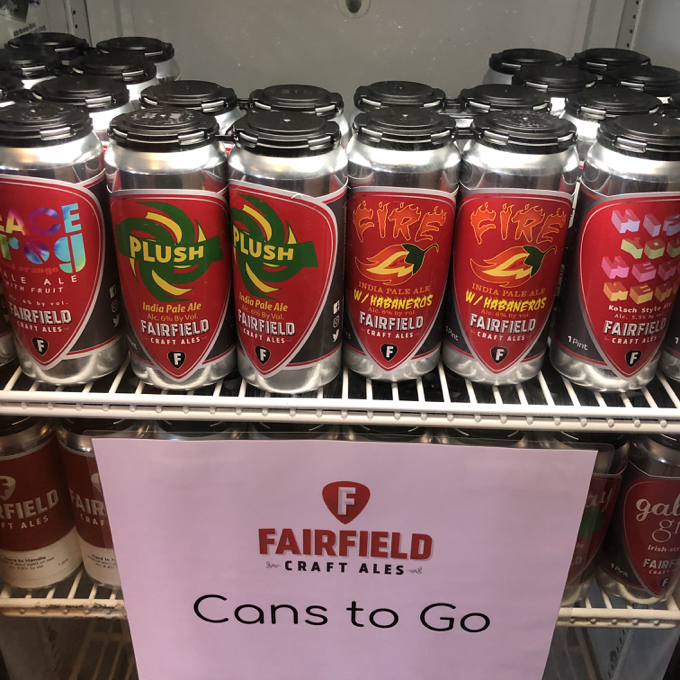 A note about the 3 pictures above captioned "Bro," "Brah," and "Bruh." I'm pretty sure that is not an ideal way to fill 16 oz cans. I'm sure it's done all over the place and it probably doesn't matter all that much. (If you fill your to-go cans one by one like this from the tap, your volume of to-go cans is so low that very few people will complain about the oxidation that surely results from this method.
I was just sort of surprised that my man was doing it in full view of me. Of course, he never imagined that the doofy guy who showed up at opening with his special needs son would be, well, someone who would take pictures and write about it. It's wasn't like I told him. (I almost always try to "hide" my picture-taking for my own weird reasons and certainly don't announce myself.) But… dude. But proper equipment. Please?
FCA is just not really my kind of brewery. It's fine; clean, themed, and I'm sure the beers are generally fine. It's just not my scene, not my vibe, not my preferred styles of beer and not at the quality I'd want to revisit too often. As a sort of Boomer neighborhood brewery, they'll probably do okay, even with nearby and superior competition. (Think the neighborhood pizza place half a mile from Wooster street in New Haven.)
Na na nahhh nah, hey hey hey, gooOOOod-byyyyyyye.
To Fairfield Craft Ales. 'Cause I'm done my review.