Not a Door, but a D'Oh!
Farmington Bank's Fake Door, Burlington
You are a bank robber. Desperate times and all of that.
As you drive down route 4 through Burlington towards Canton and gawk at the large pink house on the right (home of the town's historical society), you take note of the lovely colonial that houses the local Farmington Bank branch.
A bank in an old colonial? Nice! You imagine there must be several flaws in its security system.
Like, look at that lovely huge door with the handsome heavy frame! Providing an exit point different from entry! Perfect.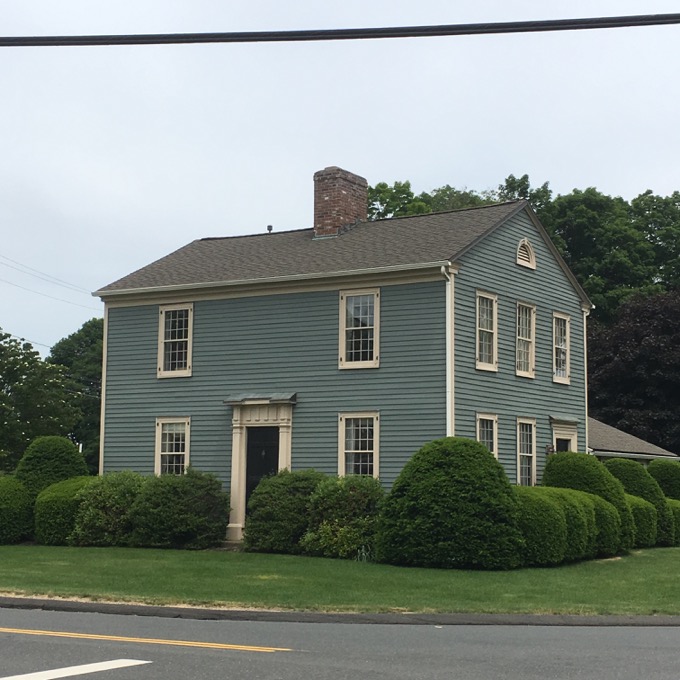 You have your buddy park in front of the door with the engine running. You hold up the bank and begin to abscond with a few bags of money. You run towards that big door, and…
It's not an actual door. It's a fake door. There never was a door here. This illusion of the door was created by the original homeowner 100+ years ago to "show off" to the owner of the pink house across the street; as if to say, "I see your handsome door on your big colonial, now look at my handsomer door on my not-quite-as-big colonial.
You are arrested and spend 10 years in jail. While in jail, you are allowed computer time for good behavior and find a wonderful website named CTMQ.org. You find this page.
You become enraged, but then begin reading all about the wonderful world of Connecticut's hidden treasures.
"Treasures?" You plan your next heist…
Farmington Savings Bank of Burlington