Getting to the Core of Things
Memorial Town Forest Trails, Farmington
February 4, 2018
I wrote this opening salvo on my Suburban Park Trails page: Farmington does this really great thing – beyond just preserving lots of greenspace. They seem to like to keep historic remnants of days gone by. You know, like the creepy old zoo off of route 6.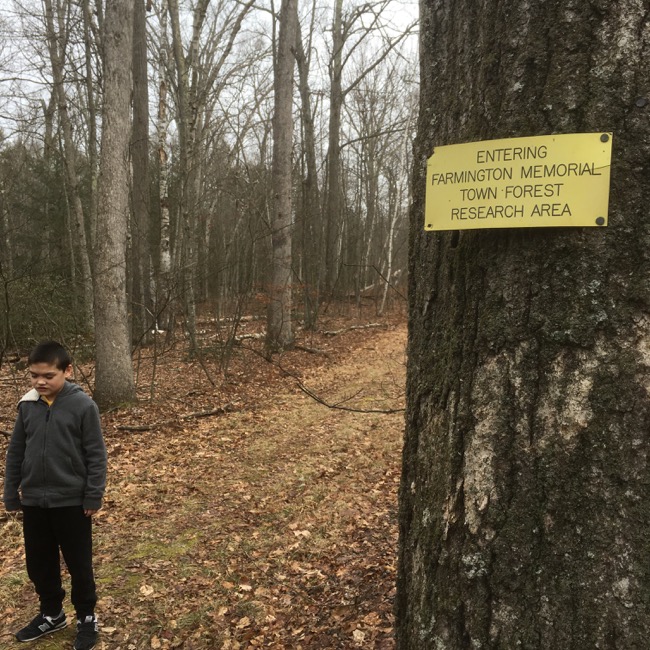 And they do it again here, in the Memorial Forest – a large tract of forested land in the western reaches of the town. The boys and I checked it out via the trailhead on Plainville Avenue (route 177) and successfully trekked the 3-mile out and back hike.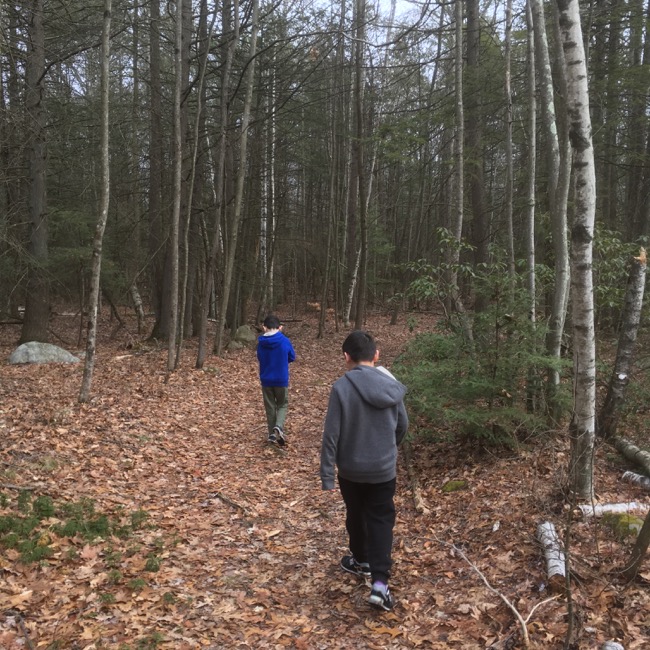 There are other trailheads at the northern and eastern boundaries, if they suit you better. The entire walk was quite flat and while there are no exciting natural features here, we had a goal that seemed to interest my sons: the site of a tragic, yet heroic, plane crash in 1945.
It's good to have goals.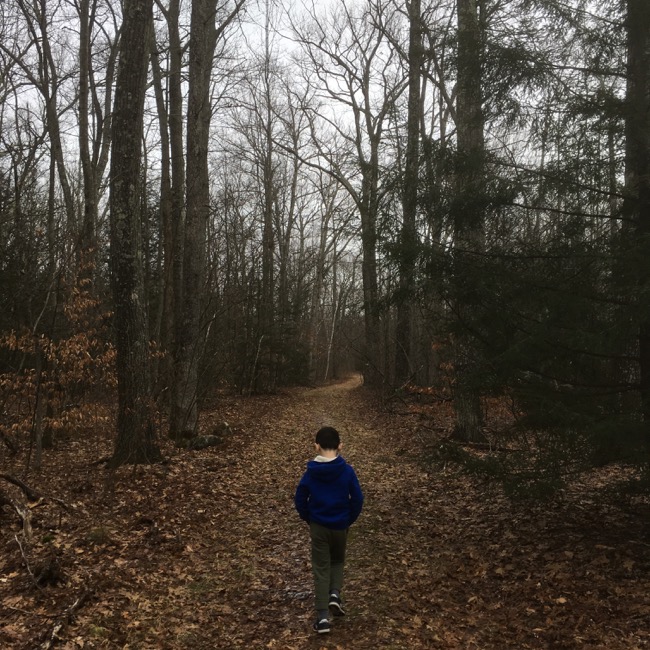 In a weirdly coincidental bit of happenstance, the 278-acre "Memorial Forest" was so-named in 1926 to remember those who lost their lives in World War I. The land was donated to the town by surrounding residents and, amazing, it has never been developed.
So here we were, walking through a forest dedicated to WWI's dead, seeking a memorial to a World War II pilot who crashed and died here in 1945.
War is hell. But walking through this forest is not. It's quite lovely, in fact. The trail seems to be an old woods road that once connected Plainville Avenue to New Britain Avenue in Farmington. It's relatively straight and, as I've said, flat.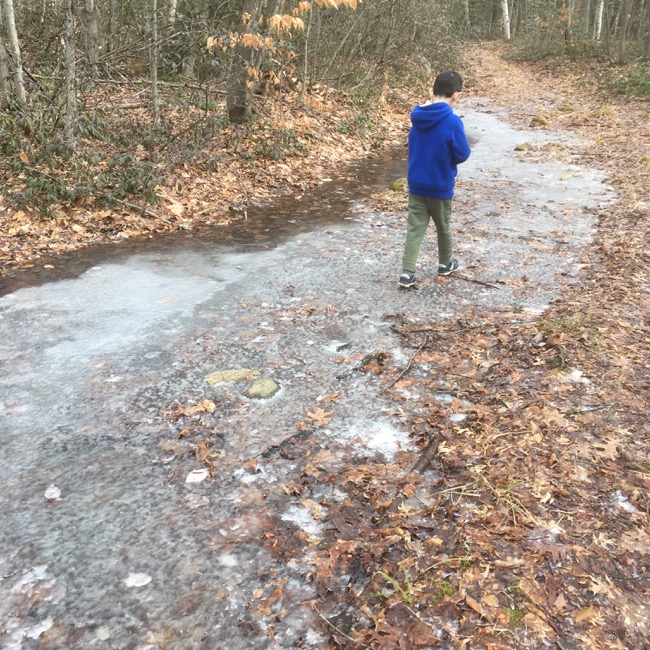 And in early February, also a bit icy.
Which, of course, made Calvin happy. Our hike started out with him being mad at me for some 6-year-old kid reason that I failed to understand. So he stomped and skulked his way down the trail for the first half-mile or so.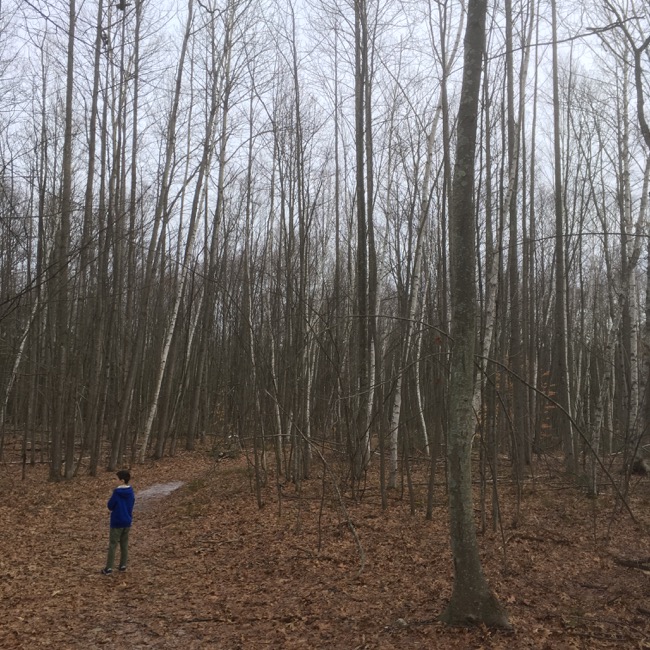 It wasn't until he was able to slip and slide around on some ice that he turned it around. We passed the side trail and kept to our plan – heading straight ahead.
There's a nice birch grove here, which Calvin came to appreciate after I told him that I liked groves of white birch trees. Who doesn't like groves of birch trees? If you don't, you're a monster.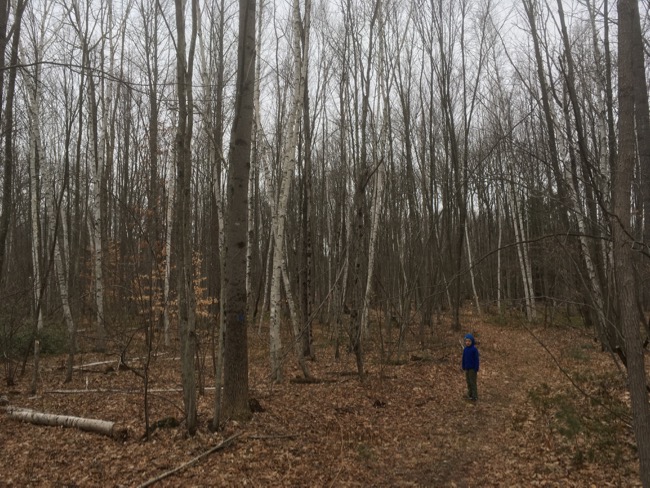 The trail skirts some backyards as it nears its eastern terminus, and pops in and out of the town's property. If you walk around here, those massive red rectangles on all those trees is the town's forest boundary. Do not be alarmed and do not think it marks a trail of any sort.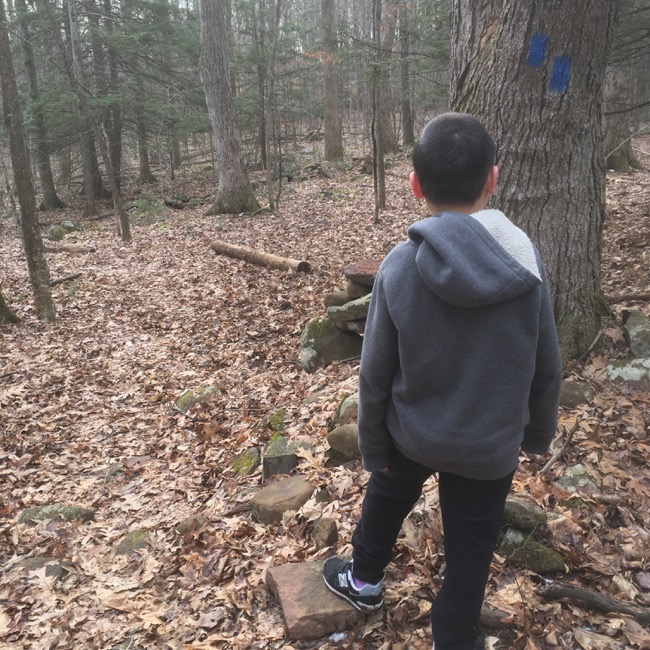 The real trail traverses a very wet, swampy area that thankfully for us was frozen over. This would have been mess in warmer weather.
We made it to the orange blazed Memorial Loop trail and headed up it towards our goal. The orange trail is not as wide as the main one, but it is well-marked and cleared.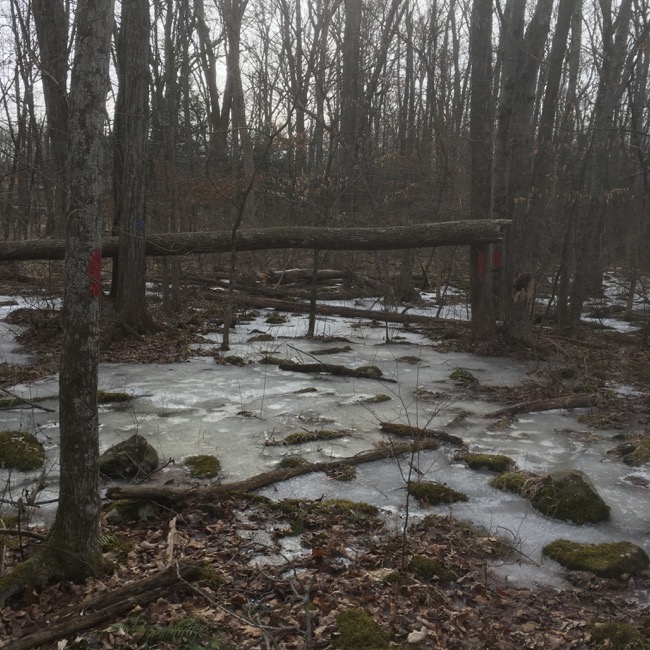 We can thank local Boy Scout troops for that. It was originally created in the 1970's by a Bristol Boy Scout for his Eagle service project, and it continues to be maintained by Farmington's Troop 68.
We took each left split and followed the signs to the Vincent H. Core
Memorial. There are lots of signs. The signs served to drum up excitement in my sons.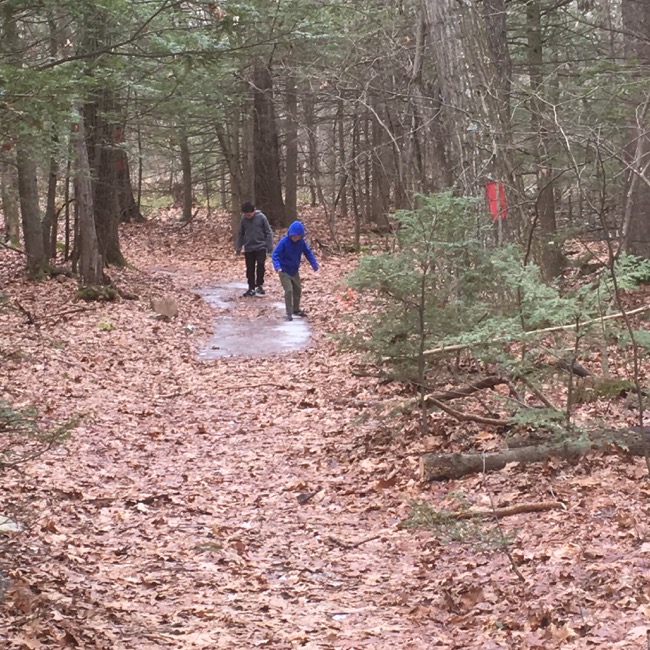 I have no idea what Calvin was expecting, but I think he thought he was about to see an actual plane crashed in the woods. Even so, he seemed satisfied once we reached the rather fancy memorial site.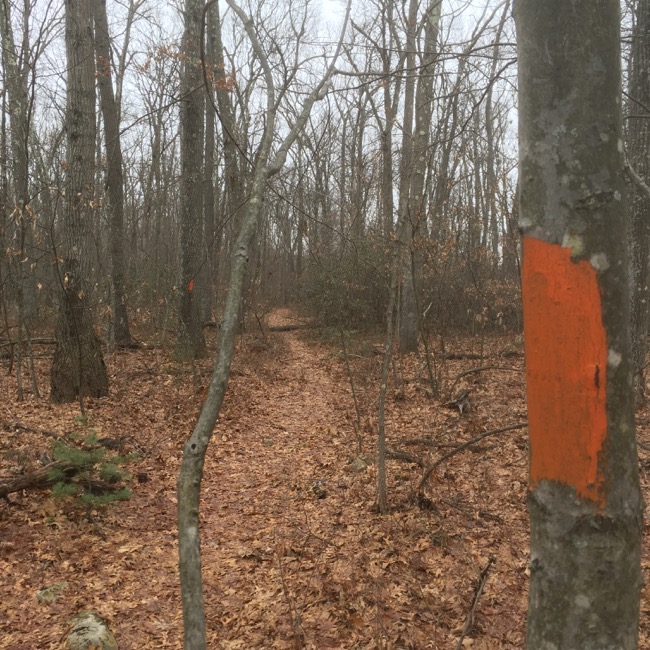 On April 11, 1945, 2nd Lt. Vincent H. Core died in a training run, crashing his P47 Thunderbolt plane into the Farmington Memorial Forest, and avoiding major population centers in Bristol. The Memorial is dedicated to his focused decision before his plane crashed.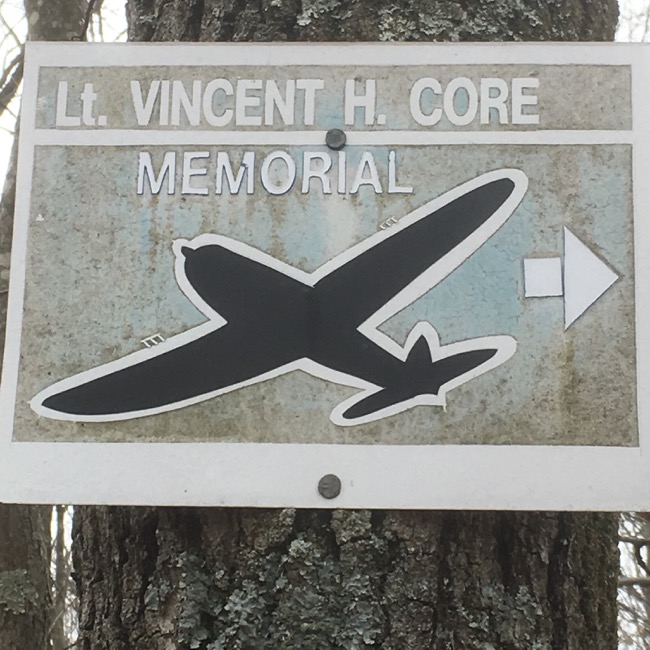 This guy is feted as a hero… at least here, in the middle of the woods in Farmington. (Although, the site is nearly within sight of some houses.)
There's an American flag. A gravestone of sorts. A memorial plaque. And… I'm guessing a birdhouse with a model of 2nd Lt. Core's P47 Thunderbolt on top.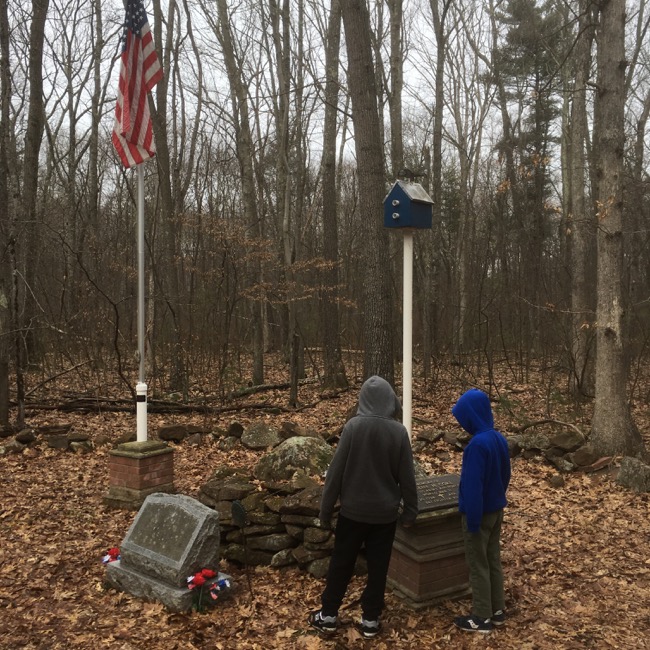 We stopped for some snacks as I tried to explain to them that we were only about halfway done with our day. Calvin was far more interested in what happened to the pilot's body.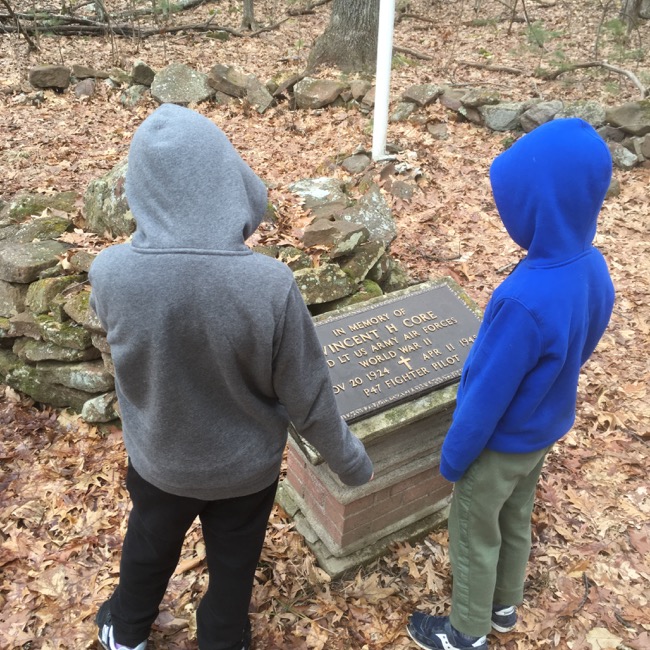 "Is he buried here? Where's the plane? When he crashed, did he just get buried automatically? Is this like a cemetery for one person? I would never want to live next to a cemetery and all those dead people. Why did he crash? When was 1945? Three years after Granddad was born? That is a LONG time ago!"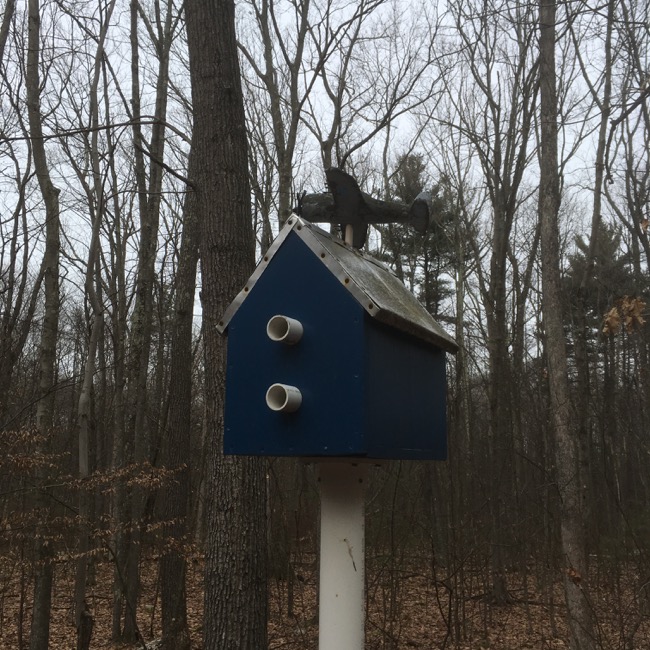 As he was talking, I decided that we were going to cut off a good half mile of walking back to the car by cutting through the woods back to the main trail. (We had looped around like a candy cane and I saw no point in doing the same on the way back – especially as any wet areas would be frozen.)
We headed off through the fairly open woods and Calvin started in on me. At some point, somewhere, someone told him to "ALWAYS STAY ON THE TRAIL." This is generally excellent advice for young and old, but I kept telling him we'd be fine.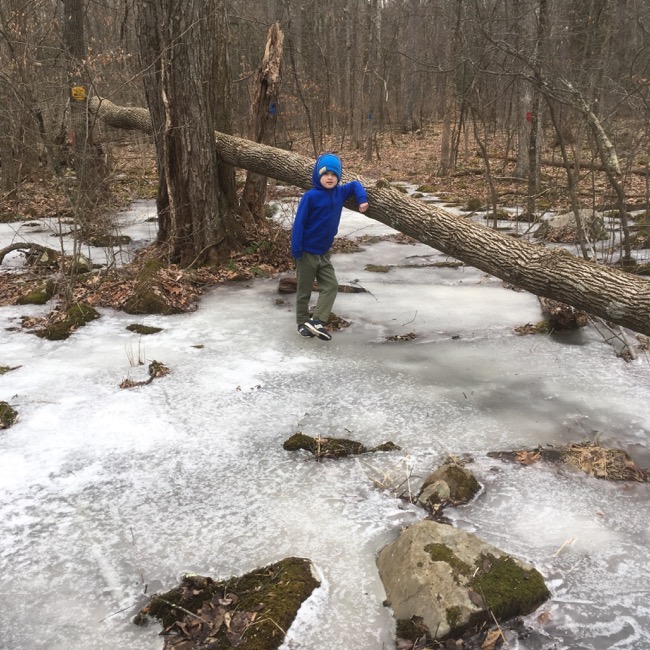 That we wouldn't get lost, that we'd be saving 20 minutes of walking, and that we wouldn't get in trouble. It was then he pondered, "If a kid's mom and dad got arrested, would the police arrest the kid and put them in jail too?"
Once I assured him that no, it doesn't work like that, he seemed placated and we worked our way through the woods.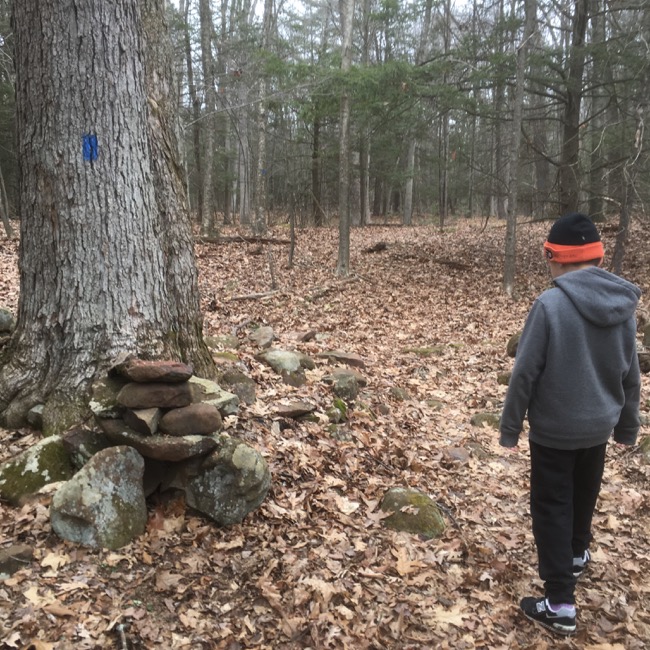 (There are many times when bushwhacking is a bad idea. A straight, quarter-mile shot across flat land in a forest with a permanent orienteering course, GIANT red rectangles marking the boundary, surrounded by houses and roads… is a perfectly fine idea.)
Back to the main trail easily enough, we headed straight for the car.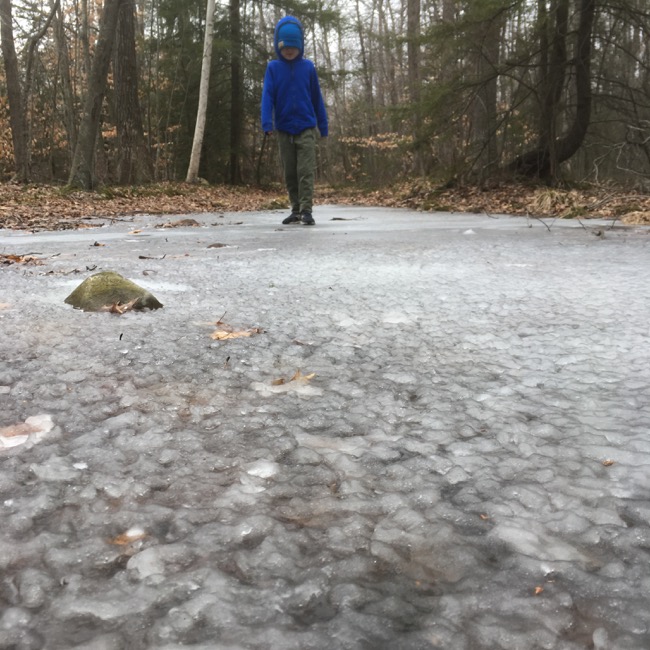 Across the frozen expanse again – I suppose I should mention that Damian isn't quite so fond of walking on ice. I have to hold his hand and slowly guide him across it – while his younger brother prances and slides all about.
Back through the birch grove and again through the area where Calvin was previously mad at me; "Hey! We're close to the car because this is where I was mad at you, Papa!"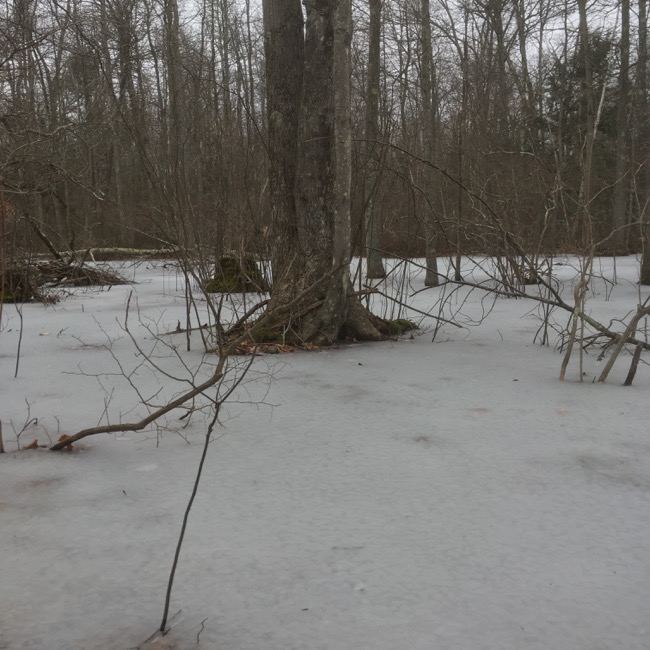 Yes, Calvin, yes. That is correct. Oh, and, "why were you mad at me anyway?"
"My shoes felt funny with these thick socks and I didn't like it but they stopped feeling funny and I'm fine now."
Kids. KnowWhatI'mSayin?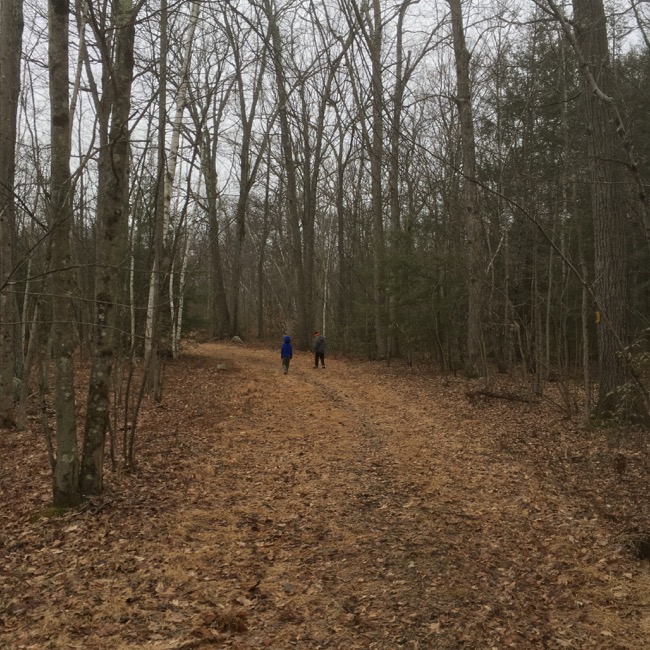 Then we went home and cleaned up and prepared ourselves to watch the greatest Super Bowl ever as our Philadelphia Eagles won. My team actually won the Super Bowl!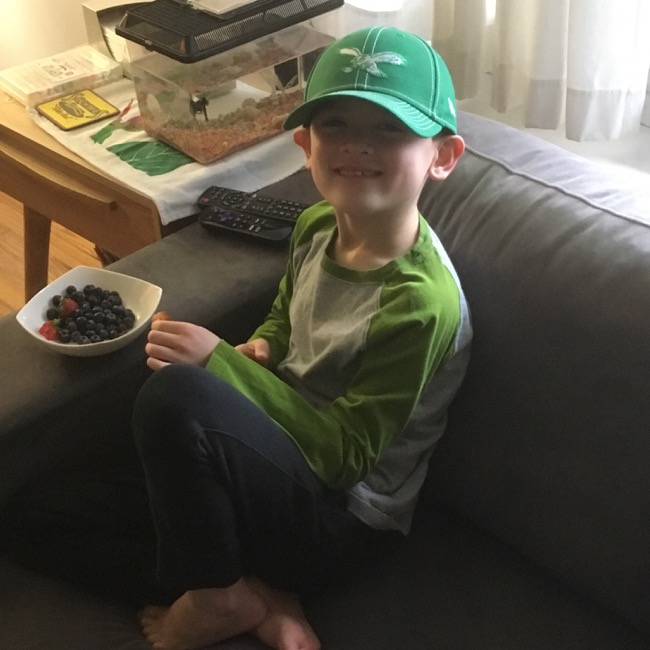 Map
CTMQ's Farmington Town Trails page