S'No Problem
Farmington Land Trust: Mountain Spring Nature Trail
~1.5 Mile, March 2018
When I put my introductory pages together, few people realize how difficult it sometimes is. It's not like volunteers at land trusts are obsessed with trail-listing accuracy. And I don't blame them. And since we have over 100 land trusts in Connecticut…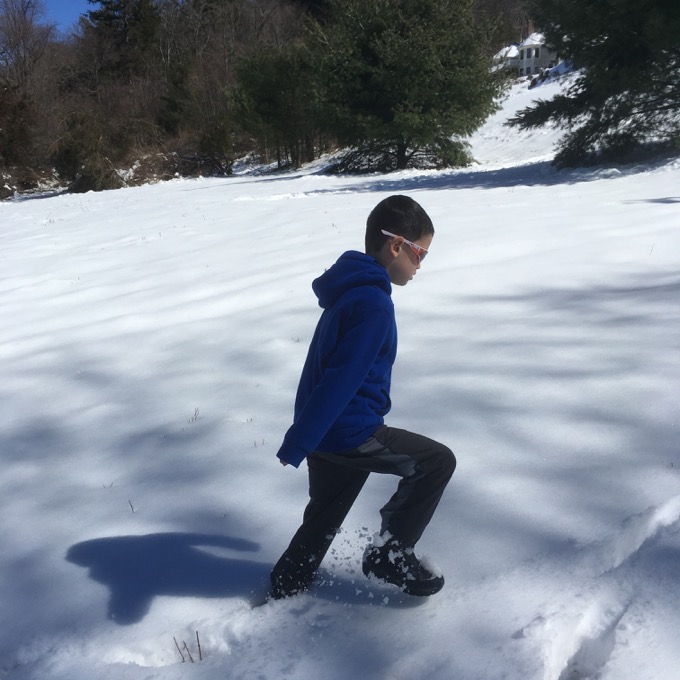 I mention that because as of March 2018, the Farmington Land Trust doesn't list the Mountain Spring Nature Trail in their list of hikes. The trail was opened in its current form six months ago. The FLT does list the Carey Pasture, the Barney Pasture, and the Lidgerwood Parcel though.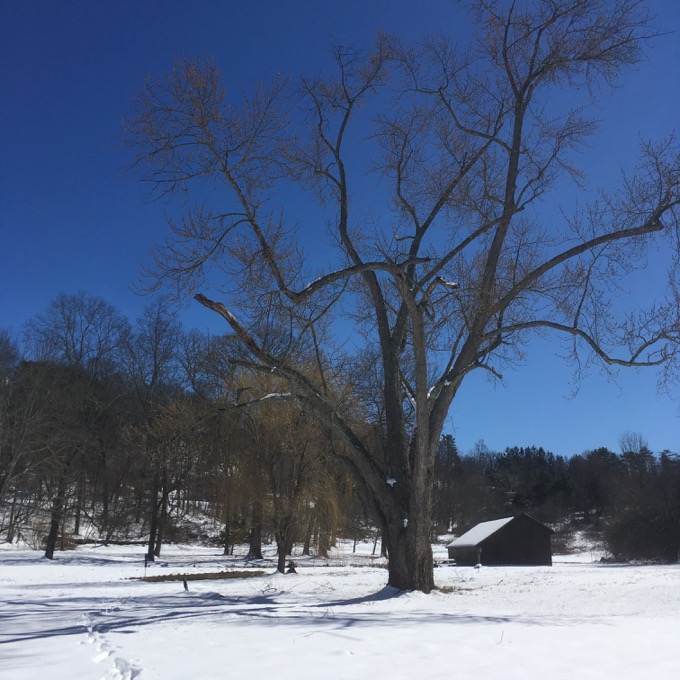 And those three parcels are three of the seven contiguous FLT parcels that now make up the … y'know, I'm not sure what the nomenclature is.
Along the way, it passes through or near the contiguous Carey, Barney, Rauch, Lidgerwood, Yellin, Moore and Anderson Ridge parcels, to be known collectively as MSNT (Mountain Spring Nature Trail).
Sorry, I'm boring you again with my unique personal problems. (Those being that it is difficult to maintain an entirely accurate list of anything for CTMQ.)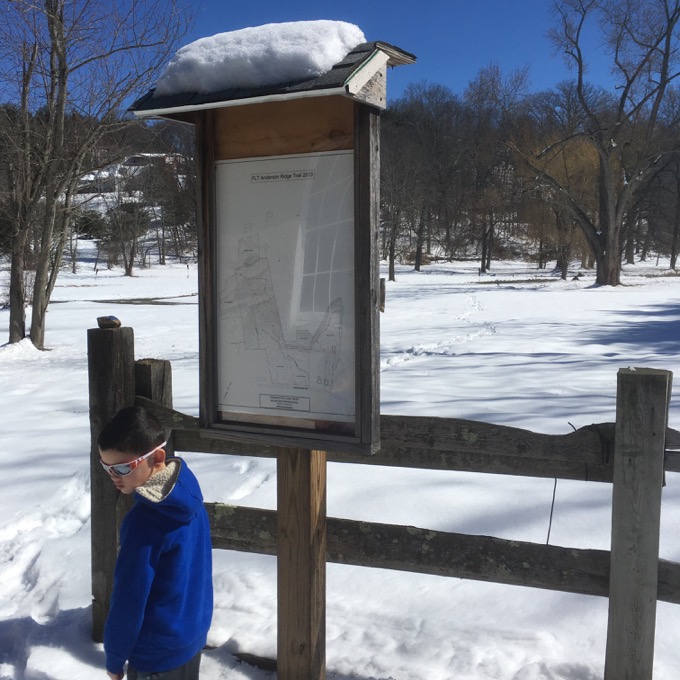 As you can see, I had Calvin with me for another trek through the woods of Farmington. I had tried to come here before with both boys, but the first time I wasn't sure I was actually supposed to park in front of what looks like someone's private garage. (Go ahead and park there. It's where you're supposed to park).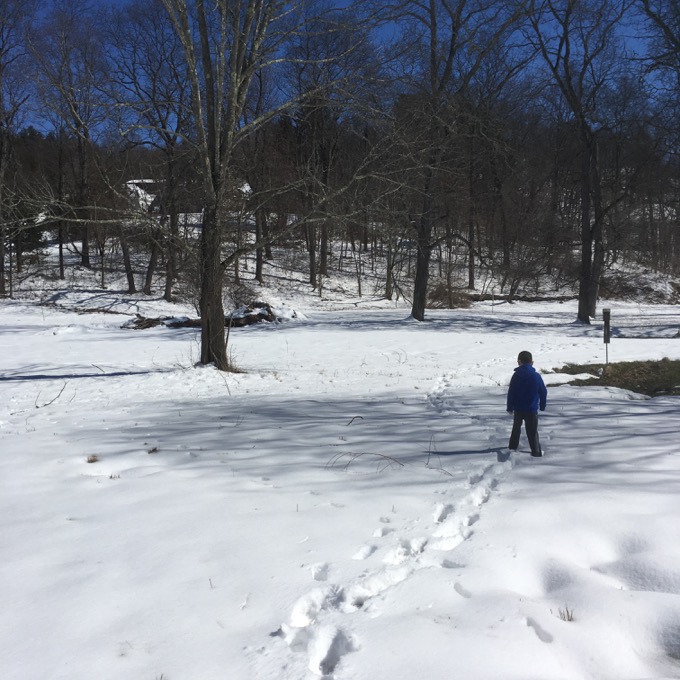 The Hartford Courant's Peter Marteka wrote about this property after my first attempt:
The old stucco garage that was once part of the Barney Estate from the early 1940s, according to the trust. It plans eventually to restore the garage and make it a sort of visitor center for environmental programs.
The second time I tried, the access trail's meadow was way too swampy for my older son to navigate. The meadow is swampy because of the… you guessed it – the spring noted in the property's name. (It's also on Mountain Spring Road in case you need extra reinforcement.)
Third time's the charm.
What's that? There was snow on the ground? Oh, yeah. That. After convincing Calvin that wearing his sneakers would not be his smartest decision, we were on our way and a beautifully sunny and clear late winter's day.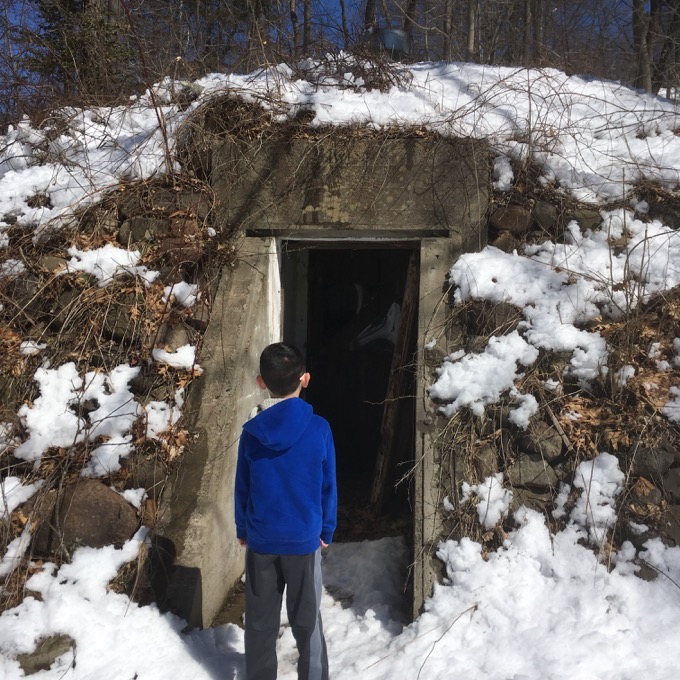 There was no discernible trail to follow at all with the snow cover. No matter… except for the hidden marshy areas we were trying to avoid.
I wanted to first check out the bird blind and the abandoned milk cellar at the back of the meadow plain.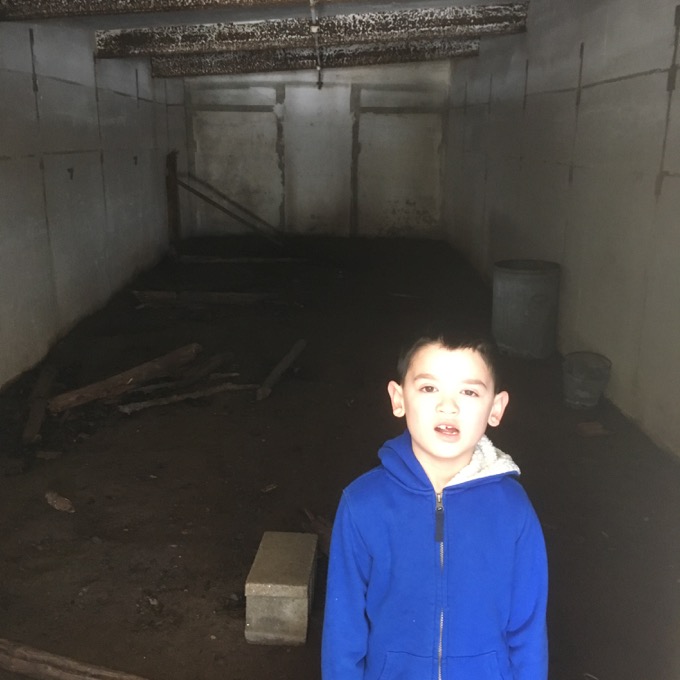 The blind was built by yet another local Eagle Scout and it's very nice. It's merely for birding and not hunting, which is also very nice. At least I hope no one tries hunting here; right next to houses and facing a nature trail and all.
Calvin was far more interested in the milk cellar. He is not yet aware of hobbits and how they live, so that connection is lost on him for now. (This place would make a solid hobbit house is what I'm saying.)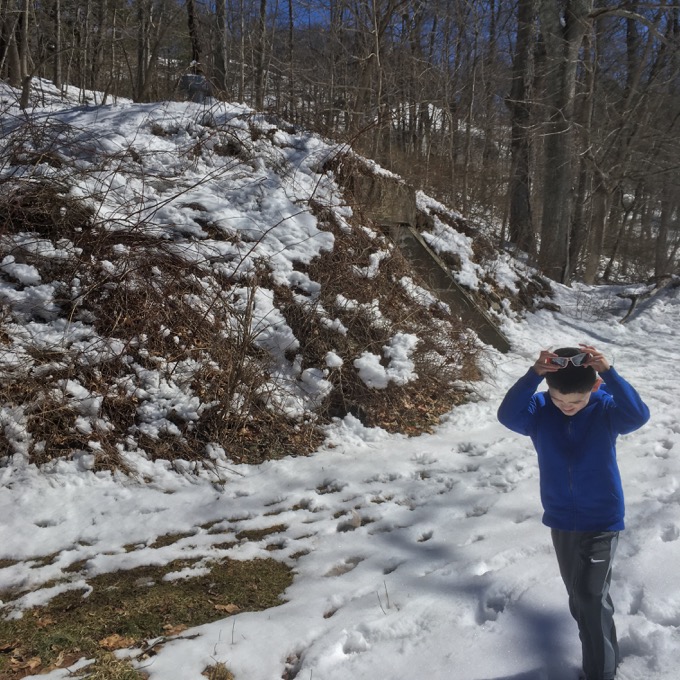 The cellar, built into the hillside, is in great condition for what it is. Back in the days when this was a farm, this was a place to store fresh milk.
From that point, we found the white blazes and began the trek up to Anderson Ridge. This is one of those short hikes where you can see your goal the entire way. "Up there. The top of the hill." All one has to do is trudge up it.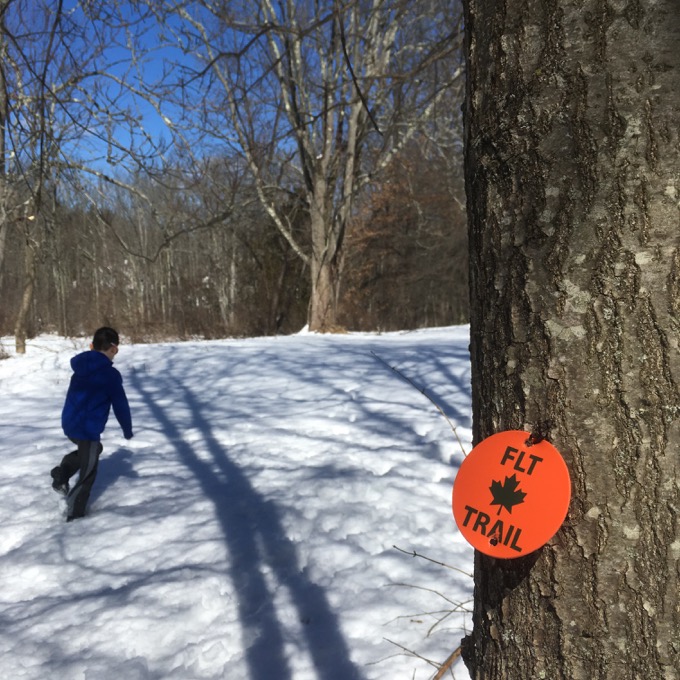 "Trudge" isn't really the right word, as the FLT has created a rather nice series of switchbacks to attain the ridge. With the snow cover, I'm not sure Calvin would have enjoyed the hike as much as he did if not for the excellent trail work here.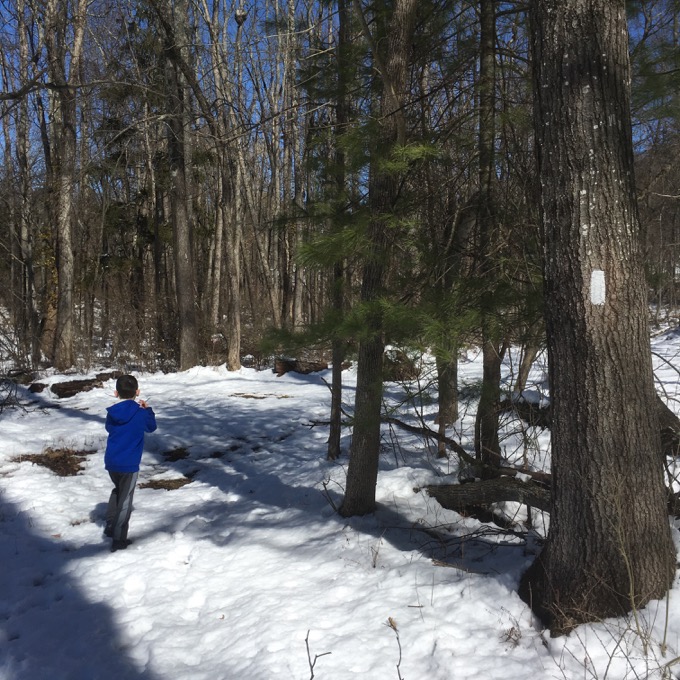 Because he's six, we had to stop and check out a dilapidated structure along the way. I have no idea what it once was, beyond maybe a place to store firewood. There are exposed nails and stuff, so I wasn't too keen on Calvin pretending to take up residence, but he survived.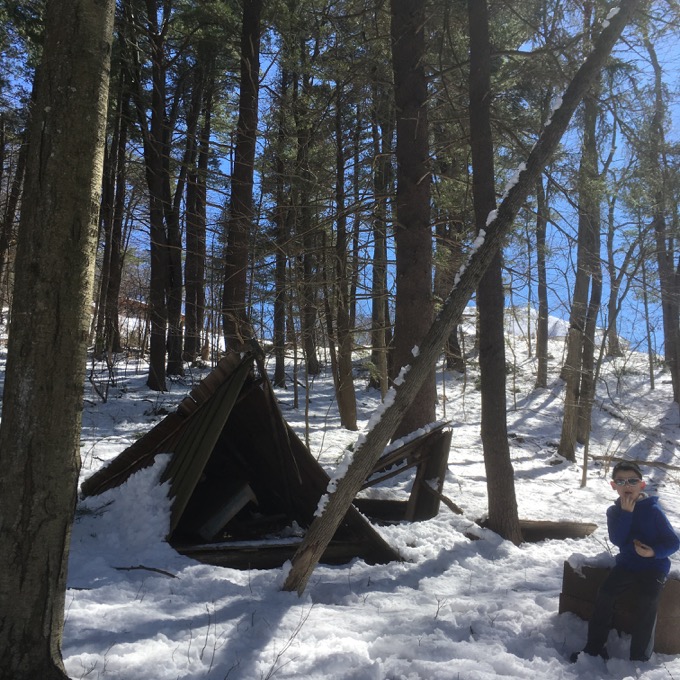 While he poked around, I enjoyed the white pine grove through which we'd hiked. Massive old pines, swaying lightly in the chilly wind. Snow clumps were still falling all around us from the upper boughs, giving Calvin quite a startle. At least it got us moving again.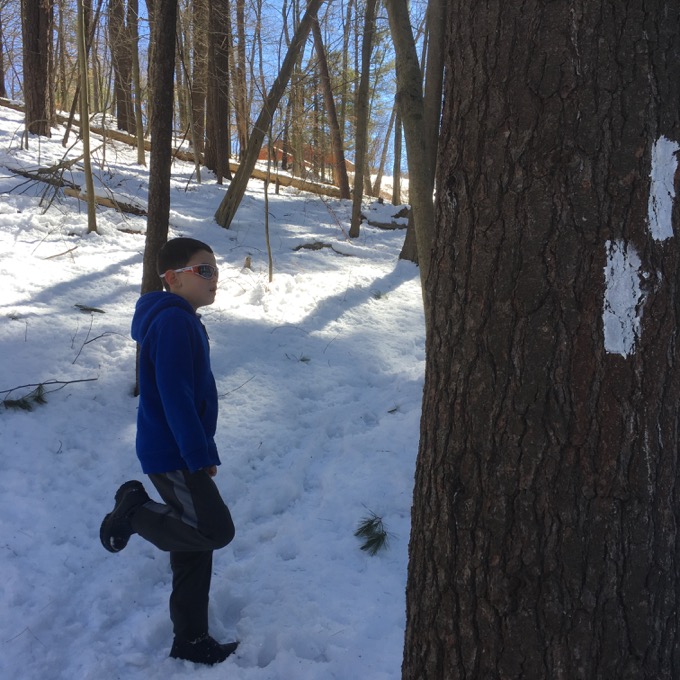 As we made our way up the hill, we both enjoyed another round of "Calvin's Impossibly Big Questions." This time, it was a return to "how was space made." One of my favorites. I gave him a few religious explanations, but then really dug into theoretical physics and explained the singularity.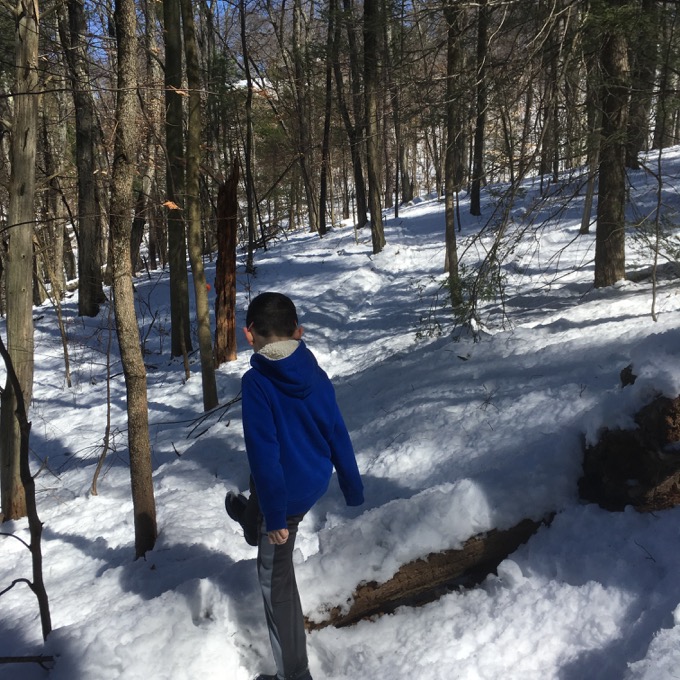 You see, Calvin, current thinking is that the initial singularity was a singularity of infinite density thought to have contained all of the mass and space-time of the Universe before quantum fluctuations caused it to rapidly expand in the Big Bang and subsequent inflation, creating the present-day Universe.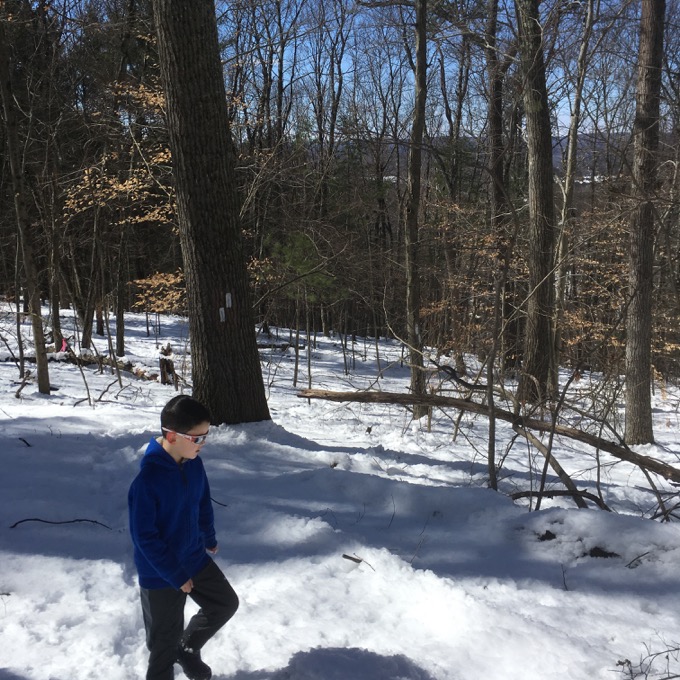 He stared at me and asked me if "stars are famous" and I stared at him and wondered if he was making a joke conflating Hollywood and astrophysics. Thankfully, we were near the top.
The trail ends at a scenic lookout, but Calvin just kept walking. I stopped and wondered how far he'd walk, seeing as though there's a house just beyond the terminus. (These ridgeline houses are actually Prattling Pond Road houses – the road that the Metacomet Trail follows for a bit after crossing route 4. They are lovely houses.)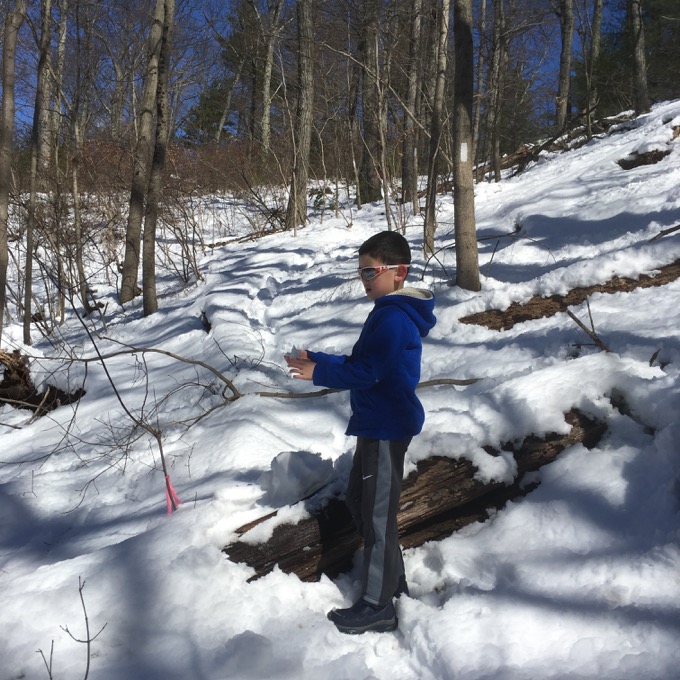 I called Calvin back and it was only then that he noticed the beautiful view, taking in all of Farmington to the west.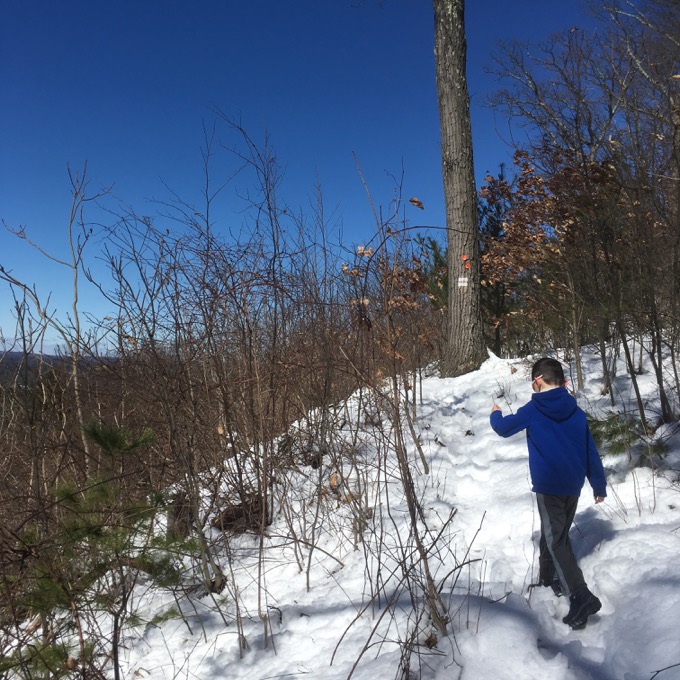 "Oh! It's beautiful!" he gasped.
"Yeah, dude, and you just walked right by it!"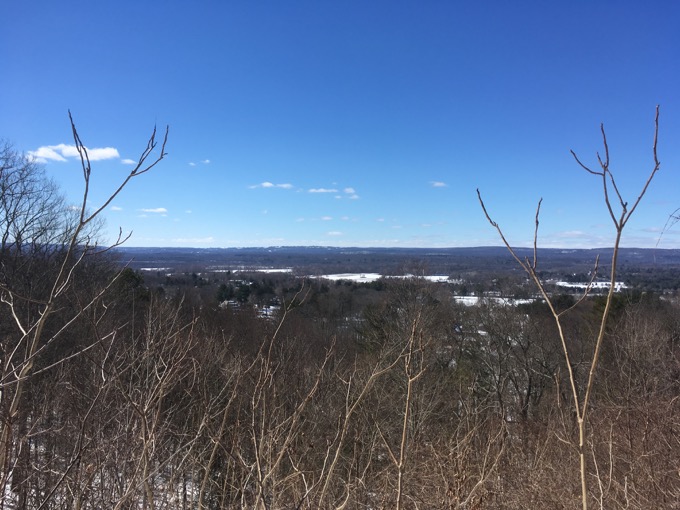 I guess he was still deep in space-time thought. The walk back down, as I'd promised him, was much more fun. He'd brought his walkie-talkies so I let him go ahead as we conversed over the handsets. I could see him through the woods and despite our footprints left mere minutes ago, he somehow wound up off the trail.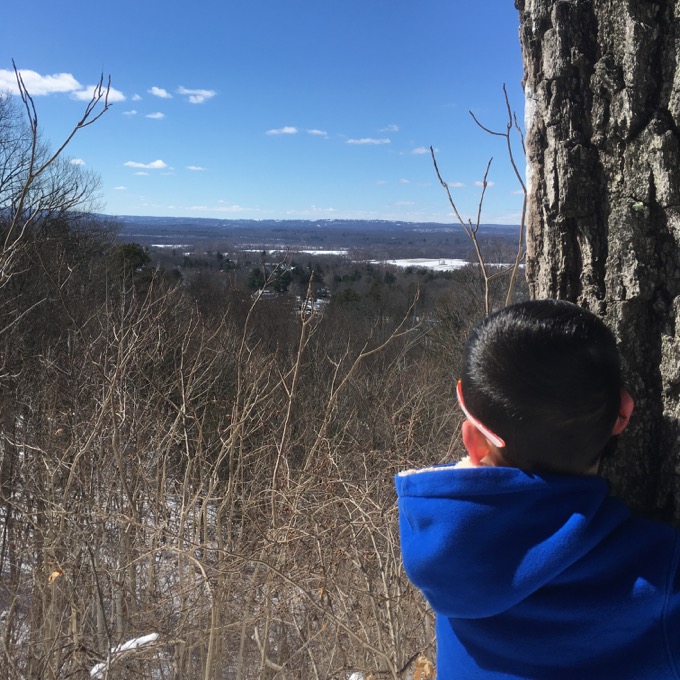 I made my way down to "rescue" him and was then able to show him the fun of downhill snow running. I'd say that was the highlight of his weekend.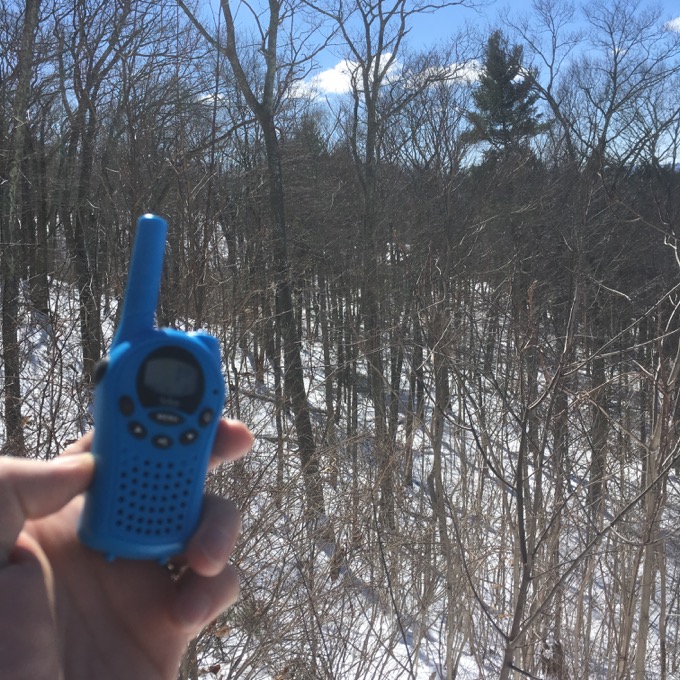 We made it back to the meadow in just a few minutes and gingerly picked our way back to the car. I'm not sure what this trail is like in the summer, or at least without snow cover, but I assume it's always wet.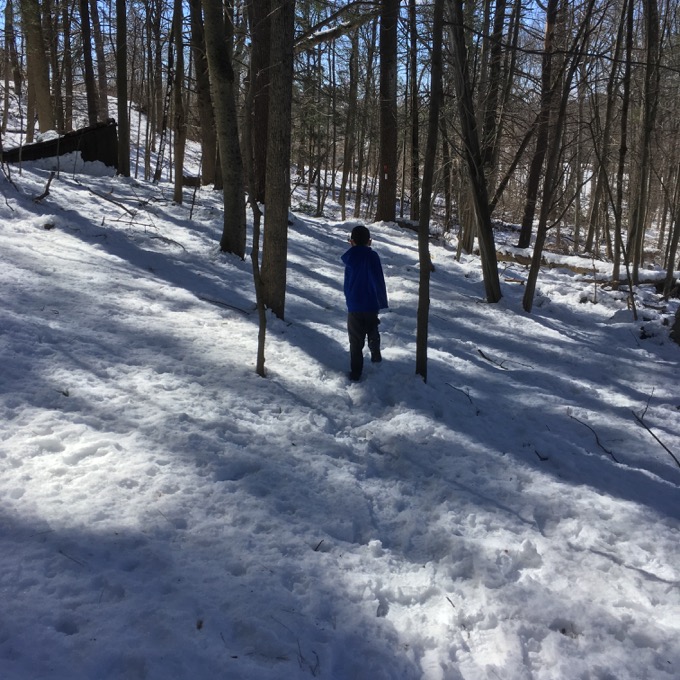 Maybe Farmington's next Eagle Scout can built some puncheons for little bridges or something.
This is a fun little hike across seven FLT parcels – which were donated separately over several decades. The view is one of Farmington's best, and the effort to reach it isn't very difficult.

Farmington Land Trust
CTMQ's Farmington Land Trust page
CTMQ's Main Land Trust page