James Davis House (formerly known as Sachem Country House)
111 Goose Lane
This one confuses me. It's super easy to find – right off of I-95 in Guilford. The address on all the Freedom Trail literature states 111 Goose Lane. At 111 Goose Lane, there is a huge sign stating, "111 Goose Lane."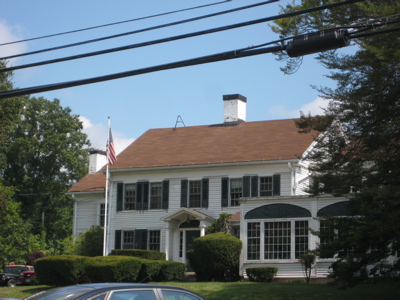 But then there's this old post card from when it was a restaurant with a slightly different address which who knows, it may still be. Information is dodgy.
Further confusing the issue is the giant Yale-New Haven hospital facility right behind the historic building. Theirs is the huge address on the road stating 111 Goose Lane.
The Freedom Trail websites state that Sachem House is a "private residence."
In other words, hey… I went to the correct address and took a picture and I'm sure previous inhabitants helped the slaves immensely.
Update! Kudos to the newly updated (as of February 2011) Freedom Trail website. Now we can learn this about this place:
According to oral tradition, abolitionist and anti-slavery society member George Bartlett (1798-1893) hid fugitive slaves in a cellar on this property. Guilford had an active anti-slavery society in the mid-19th century, boasting 123 members, including Reverend Mr. Dutton of the First Church. In 1839, members of Dutton's congregation expressed opposition to the abolitionist meetings that had been held there. This opposition resulted in the minister's dismissal from First Church in 1842. Consequently, 123 members of the First Church Society with abolitionist sympathies were dismissed in 1843 and went on to form the Third Congregational Church. George Bartlett was one of the 123 members. Horatio Strother, author of The Underground Railroad in Connecticut, mentions a Reverend Zolva Whitmore, who "directed the Underground work of the Bartletts and others of his parishioners."

CTMQ's Underground Railroad Trail page
CTMQ's Freedom Trail page