Definitely Not the Waterbury You Know
Waterbury, 2.6 miles
March 31, 2009
I have a rapidly approaching deadline for my next "Try This Hike" article for Connecticut Woodlands magazine. With so many Connecticut hikes at my disposal, I'm going to write about this one – a relatively short loop hike in that outdoorsman outpost known as Waterbury, Connecticut. Ahh, beautiful Waterbury.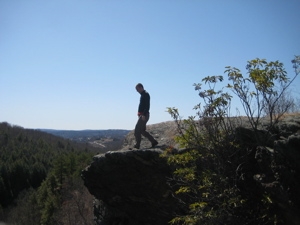 My overarching theme in my first few articles is that there are trails in Connecticut very close to urban centers that feel remote and offer respite from the cities that are so near. Of course, in a relative sense, all of our trails are near urban areas (as compared to, say, Maine or Colorado) but I'm presently most interested in those really near them. Oh, and it helps if the trails are beautiful.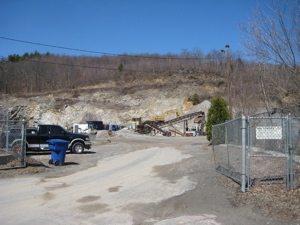 While I have plenty left to hike for the CT400(825) CFPA's Blue Trails Challenge, I'll be very surprised if there's another trail so close to blight that feels so far. In fact, the approach drive to this trail certainly does not instill confidence; drive north up Route 8 past Waterbury, hang a right, cross the Naugatuck River, then travel south back towards Waterbury.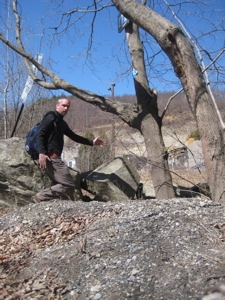 Pass several dilapidated buildings and old factories, take a left onto Sheffield Street and drive up it past neighborhood of modest little homes. It's not a bad street at all, and I didn't feel sketchy leaving my car at the end of it at the Blue Stone Quarry. Okay, maybe a tiny bit, but not much.
I gathered my stuff and began to walk. Again, I found myself wondering how this trail merits inclusion to the blue trail network as I picked my way through weeds, trash, quarry effluvia all the while watching old trucks and backhoes work the side of the hill. It was ugly… very ugly.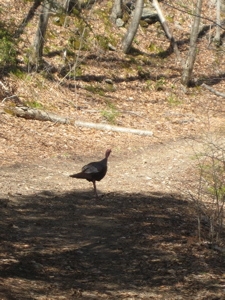 Then something amazing happened: I entered the woods (the entire trail is within the Mattatuck State Forest) at the back of the quarry lot and was instantly – and I mean instantly – plunged into honest-to-goodness nature! Within a minute of entering the woods, I was confronted by a wild turkey. She was alone (which was odd) and seemed a bit wayward, but had the wherewithal to gobble and get away from me.
Ten steps further down the trail (hiking counter-clockwise, which I recommend) as the old forest road rises a bit away from Hancock Brook, I noticed a rather impressive waterfall. I scrambled down the embankment to get a good picture and the dumb turkey just sort of stood there, confused as to what to do. I thought turkeys were smart.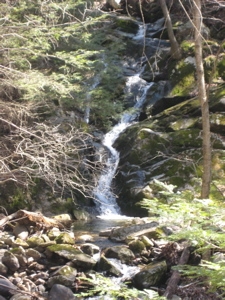 I returned to the trail and found myself really enjoying the walk. I was surrounded by a rather large, amazingly undiseased hemlock stand. On my right was the surprisingly clean (looking) brook and to my left was a series of huge boulders and overhanging "caves," which is what we call overhanging boulders in Connecticut. I only spotted trash in one of these "caves" which was rather amazing to me.
Also amazing was the fact that the trail was not destroyed by ATV usage. Again, I was only a mile or two away from densely populated Waterbury. I couldn't hear the city, I couldn't see or smell the city. It was just me and the babbling brook with the hemlock and pine scents filling the air. I really was pretty stunned.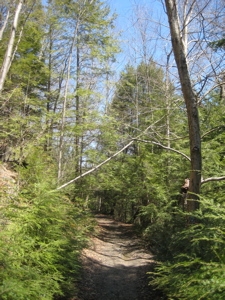 I guess the perfect weather helped with my overall demeanor, but regardless – this is a great little trail no matter what the weather. Towards the end of the first, northward leg of the hike along the brook, there is some pretty cool stonework across the water that was built up to support a train line. Some parts of it were crumbling into the brook, but it has held up pretty well for the most part.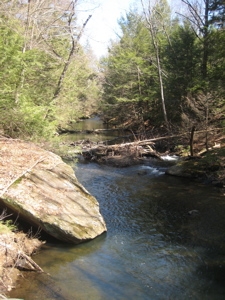 As the trail became much rockier, I reached the northern end and did a near 180 to begin climbing up to the top of those cliffs I'd been walking under for the last 20 minutes.
The trail ascends fairly steeply, but there is nothing dangerous. I left the hemlock grove below as a neared the 660 foot summit of what the Walk Book calls "Lion Head." On my way up I noticed several scat piles left on rocks in the middle of the trail, more-or-less marking territory.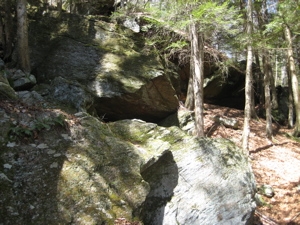 One particular pile was pretty interesting so I took a couple nice pictures for y'all. Here's a pretty good resource to compare scats which is always a fun family activity.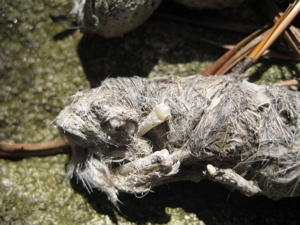 Lion Head is not an impressive height, but it somehow feels like it. The first views north were pretty weak and I mistakenly feared that was all I was going to get. However, a few minutes on up the trail and I was rewarded with some great views east, south, and west.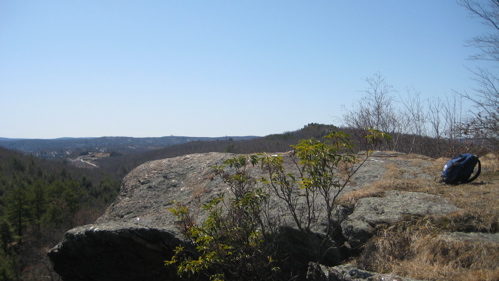 The coolest part of the overlook was the rook (if that's the right term) of turkey vultures below my location. There were three of them, not 30 feet away (as a turkey vulture flies) just hanging out. One took off directly below me and even though they are rather ugly birds, watching them catch the updrafts parallel to me was one of those "This is why I love this hiking stuff" moments. I could almost feel the air he was pushing to climb upward and outward.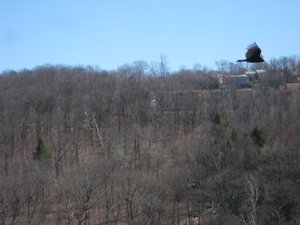 I sat around up there on the cliff for a while, enjoying the solitude. It's nice that the hill on the other side of the little valley fully blocks Waterbury from view. I don't mean to keep knocking the "Dirty Water," but… y'know. It's kind of hard not to.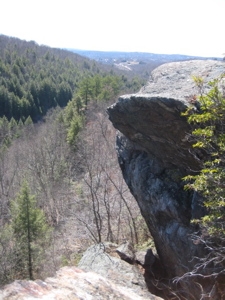 The trail down from the overlooks is fairly steep in places, and rather uninteresting. There is a quick view of Route 8 to the west at one point, but other than that, it's your standard Connecticut trail down a hill.
Towards the end, it gets a bit mucky with some woods roads from the quarry and there is a brutally washed out and eroded stretch that I'm sure will be rerouted at some point.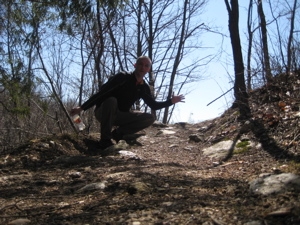 I completed the loop and made my way back through the quarry lot area to my car, safe and sound. It must be noted that the land this trail passes through is privately owned – by the quarry? I don't know – land so whoever owns it is owed a big thank you. Hancock Brook is a beautiful, peaceful and fun little hike.