Holiday in Hartford Harlem
Holiday in Harlem (2021)
I didn't watch this movie for its plot or acting or anything like that. I watched it for its location shots. I was intrigued by the idea of the director trying to make Hartford into Harlem. And, for the most part, they pulled it off – certainly well enough for a crappy Hallmark Christmas movie.

Yes, I fast-forwarded the YouTube TV 15 second bursts quite a bit. As a Hallmark movie vet, I knew every plot point within ten minutes. Okay, I didn't know the restaurant owner guy had an agenda and was going to try to subvert Mama Belle's traditional Christmas Eve dinner lottery at Jamboree. They got me there.
The rest of the movie? Young successful executive Jazmin accidentally winds up back home in Harlem for Christmas between international business trips and vacation. She doesn't want to be there, but her grandmother, Mama Belle, suckers her in and then she winds up staying for a couple weeks.
She runs into a bunch of old friends and family and feels the pull of the 'hood and her handsome childhood friend and those two flirt and ultimately she decides to take a promotion and stay in New York and she and her handsome childhood friend get kissyface the end Merry Christmas.
Aside from some establishing shots actually filmed in New York, pretty much everything else was from Capital and Park Avenues in Hartford, with a Main Street Peruvian restaurant as well. The whole movie was filmed between September 4th and 25th.
Now, those two restaurants are at the intersection of Cap Ave and Main. 100 yards west is where most of the exterior homes were filmed, as well as the interior of Mama Belle's. These classic New England brownstones are as handsome as any in Harlem or Brooklyn – you know, the Brooklyn Brownstone brownstones. Right here in Hartford.
And here's a crazy local story for you. The home featured in A Holiday in Harlem was owned by TV anchors Dennis House and Kara Sundlun. Everyone around here knows the story of House and Sundlun – a Hallmark movie in real life. They were competing anchors who fell in love when they were bidding over the same house – the brownstone in the movie (which is also featured in Hallmark's One Royal Holiday, by the way).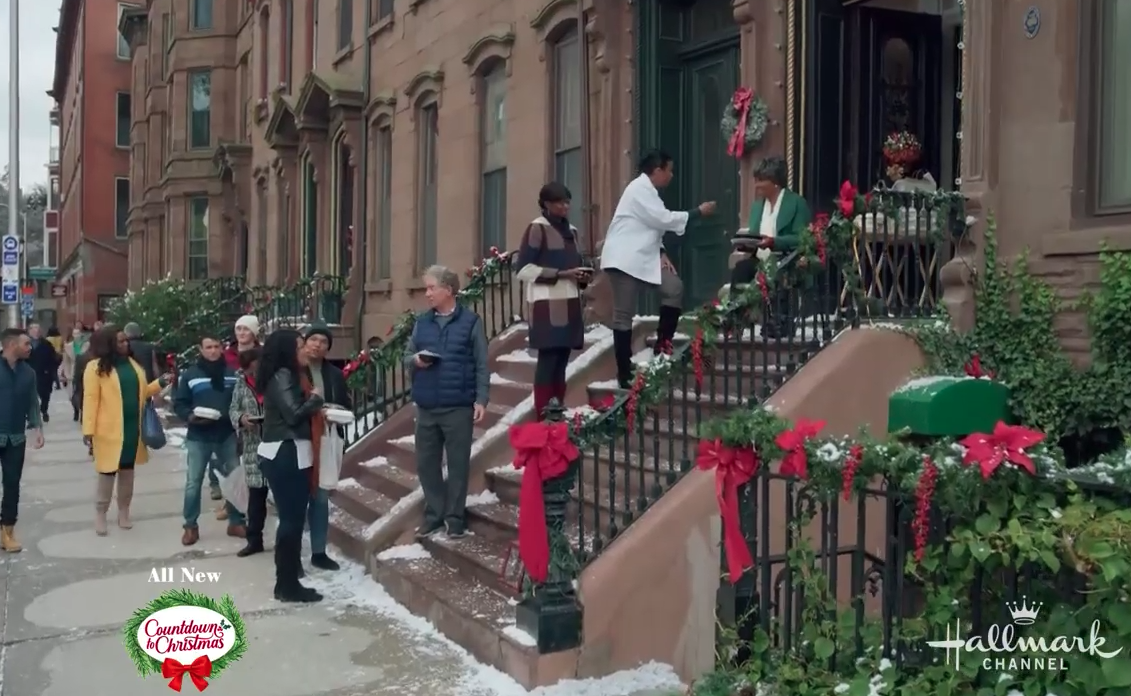 The director did a really good job hiding Connecticut. I caught an I-84 sign, but it was blurry. You can also see the cop protecting the closed street as well.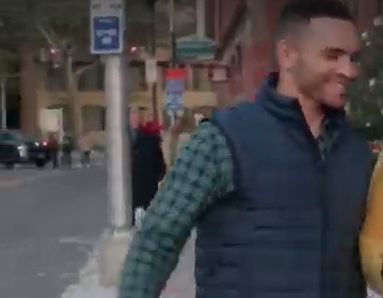 As with all Hallmark Christmas movies, everything worked out. I will say that Jazmin was charming and the actress did a good job. Also, shout out to the casting director and everyone who put a non-archetypal dark skinned black woman in the role of a successful young executive – whomever wrote the script where she went all Project Manager on the neighbors absolutely knew what they were doing – who got the light skinned black guy. As a white guy, even I noticed this isn't typical and I thought it was pretty cool.
There you go. Holiday in Hartford Harlem.
CTMQ Rating: 2 out of 5 thumbs up
Connecticutness: 79 out of 169 Nutmegs
Filmed in Connecticut? Yes!
Wealthy Caucasian with a Big House? Nope