I'd Hurl, But it Would Mess up the Decor
Wethersfield (Google Maps Location)
May 27, 2007
The house museum is part of the historic Wethersfield package "tour." By paying the 8 bucks at the Wethersfield History Museum, we were able to check this place next door out "for free." (Or for 3 bucks instead of 5. Or something.) We entered the stately mansion and were immediately greeted by a lovely elderly lady who cracked a few good jokes to get the ball rolling. (When punching our ticket, she offered to give us each a punch and it was all very cute.)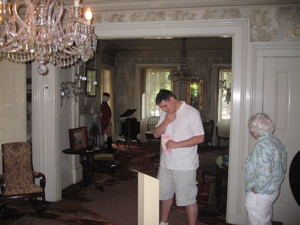 The museum portion is only the lower level, but it's quite stunning actually. The house was built as a Georgian but was sort of converted to the Victorian style. What does that mean? I have no idea, but when I noted that the dining room ceiling was about 18 feet high, that's what I was told.
But thankfully, the house hands out a very informative brochure, from which I shall steal the next few sentences of this report. "This elegant brick Georgian was featured in Colonial Homes Magazine's April 1996 issue. The home is rich in early 20th century features including original Rococo Revival wallpapers, painted ceilings, and cornices, and furnishings and accessories of Howard and Jane Dunham, prominent Wethersfield and Hartford area couple."
Gosh, there's so much more… "Sea captain John Hurlbut lived here from 1804-08… Later owners added some Italianate stuff… then, after a marriage and a few years Howard Dunham married Jane Something and they lived here from 1907-1935… they were really rich…
The brochure goes on and on about each room we visited and while interesting when you're experiencing the home, it's not-so-much on CTMQ. The "scullery" was cool, with old first generation GE Appliances like a 1931 "Monitor-top" refrigerator and a Universal washer-wringer.
Moving onward to the front to parlors, the rooms were set up as if a party were about to happen – which was something the Dunhams did a lot. In fact, they hosted the town's 300th Anniversary celebration! Their furniture and decorations survive today and are all quite impressive.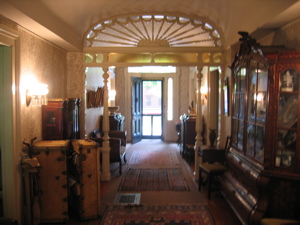 Add the Hurlbut-Dunham House to the list of "No Picture Museums" as the kindly lady kindly told me at the end of the tour. I smiled at her and told her I wouldn't sell them and my pictures are terrible anyway, so she allowed me to keep my camera. So thanks to you, Carol (I think) for leading a great little tour and for allowing me and the CTMQ faithful to get a flavor for the museum.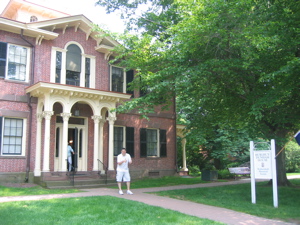 Wethersfield Historical Society
CTMQ's Museum Visits