Passport to Nature, Mass Audubon
Wellfleet Bay, Wellfleet
August 2016
At this point, I've only been to two Mass Audubon properties (of 21). Regardless, I imagine this one at Wellfleet Bay has to be one of the best. The Nature Center is large, modern, informative, and quite impressive. And the trails out to the bay are beautiful and fun.
Of course, Damian has watched this video fifty times, so I guess any other fishtank just isn't so exciting.
The center did a great job of mixing local history and the area's natural history. I particularly enjoyed the wall of bones.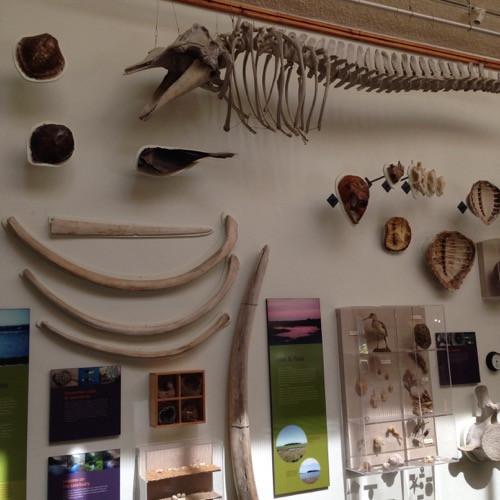 As one who daydreams of "escaping" and just writing all day long, I was drawn to the story of the nearby Outermost house… and the book of the same name. The Outermost House is a book by naturalist writer Henry Beston. It chronicles a season spent living on the dunes of Cape Cod. The little cottage was destroyed by the sea in 1978.
We got our Passport to Nature stamp (a whimbrel) and hit the trails.
Just outside the center lies a little "field of whale bones." I thought that was rad, but for some reason my boys didn't really seem to care about them too much.
There are several trails here, but you mostly want to head out to the bay itself.
Wellfleet Bay provides peace and unmatched beauty on the hillsides and shoreline overlooking Wellfleet Harbor. Extensive trails bring you to a panoramic salt marsh, sandy barrier beach, and pine woodlands, each attracting a wide array of wildlife. The sanctuary features a universally accessible trail and an award-winning "green" nature center with numerous exhibits and aquariums.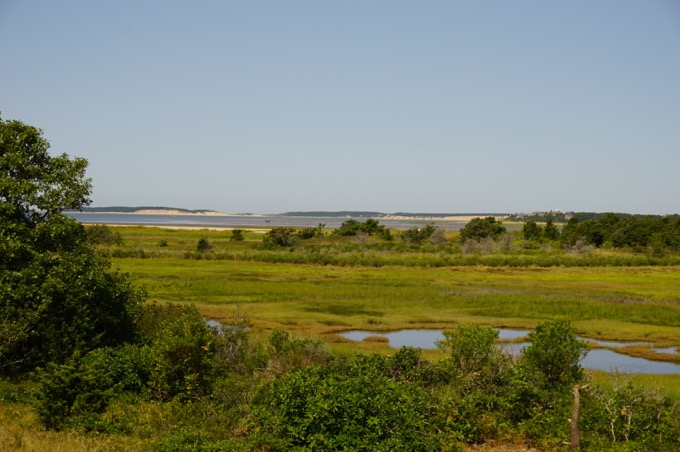 After a while, we came to a salt marsh and some rangers. There, below a bridge, scurried an army of fiddler crabs. These are the little crabs where the males have one gigantic, useless claw. Well, not useless per se, but useless for living. It's quite useful when attracting the ladies, who have more sensible claws.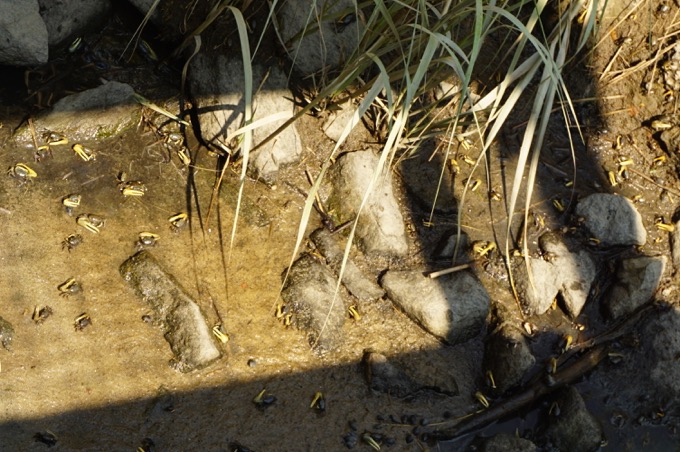 My favorite part was the kindly ranger guy trying to explain to my five-year-old and my special needs son about sexual selection and evolution. They totally understood.
We walked on.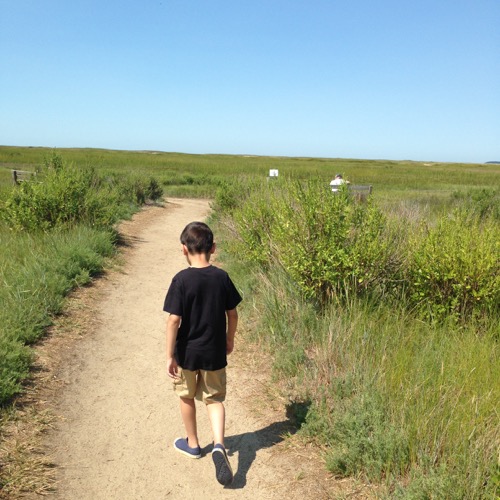 I didn't really know what to expect once we reached the water, but we were all happily surprised. It's beautiful, of course, but it is also teeming with life and fun little pools for the kids to wade around in.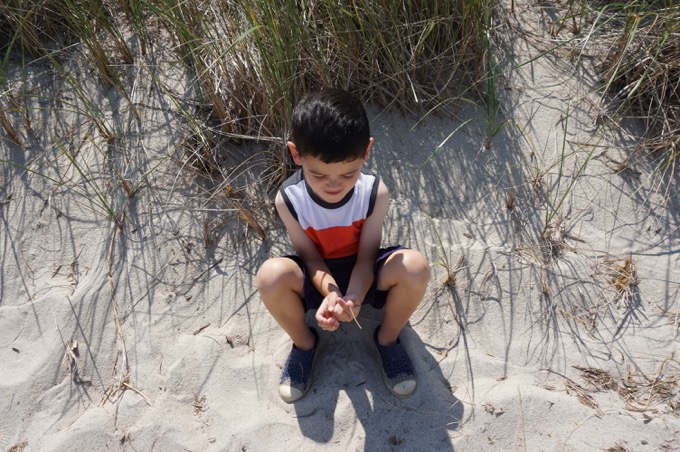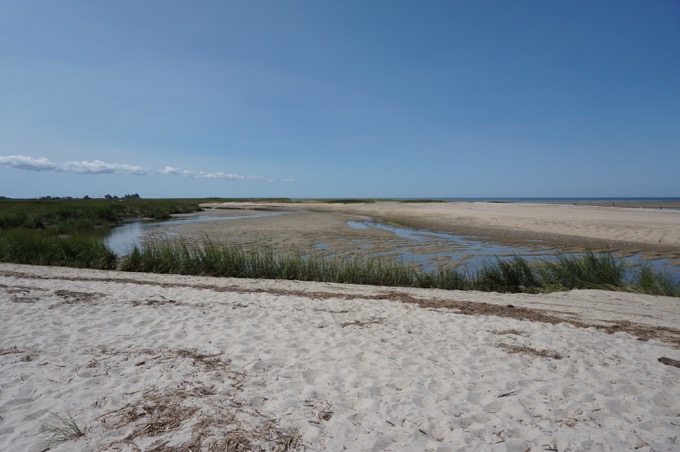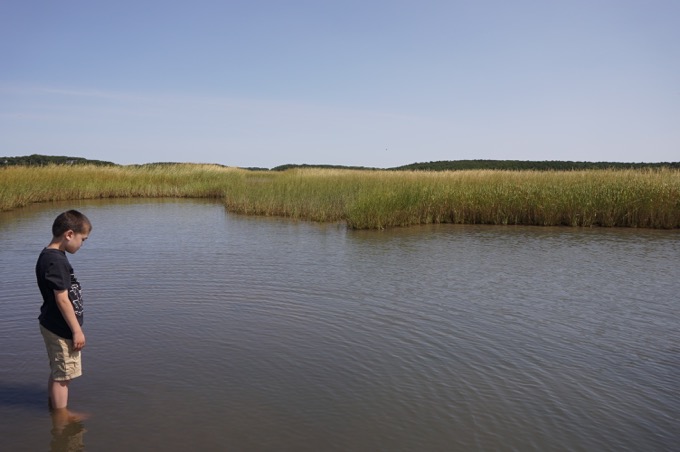 We spent the better part of an hour here poking around and generally just doing what families are supposed to do on vacation.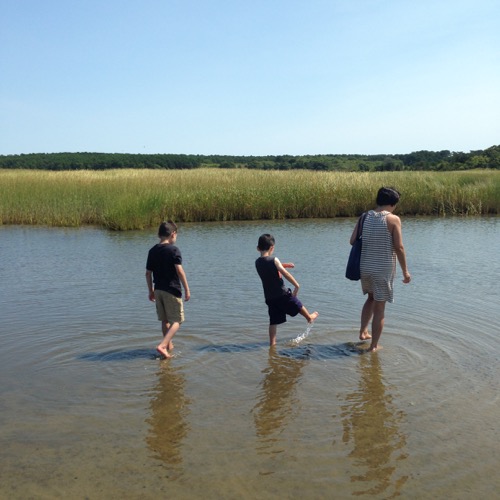 At one point, Calvin reached down and grabbed something he saw moving. Lo and behold, the boy had found a "baby" horseshoe crab!
We put him back in the water, for which he seemed grateful.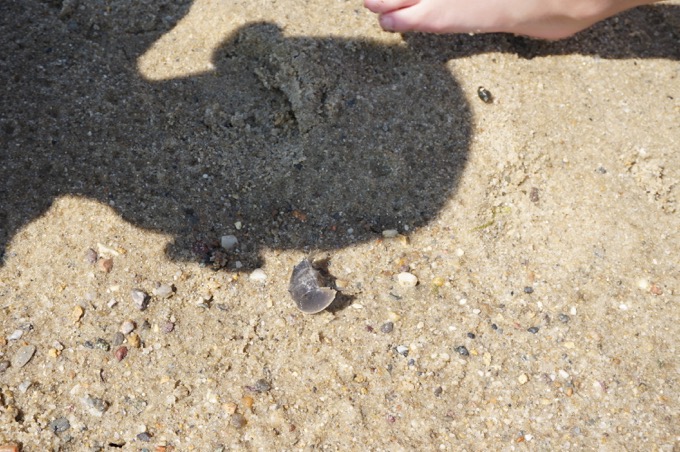 The only issue was when we reminded the boys that they had to make the trek back to the car. It's not too long, but we were hot and hungry.
Damian and I went ahead as Calvin had a little photoshoot after climbing a tree.
And that was that.
CTMQ's Massport to Nachursetts
Wellfleet Bay Sanctuary