Bland Brandings
Mr. Blandings Builds His Dreamhouse, 1948
You know what's crazy about movies? Especially older ones like this one? This movie was a short story and then a serial story and then a book and then a radio show and then a radio serial and then a television show and then this movie… And then it was remade as "The Money Pit" with Tom Hanks and Shelley Long in 1986 and then it was remade again as "Are We Done Yet" with Ice Cube in 2007.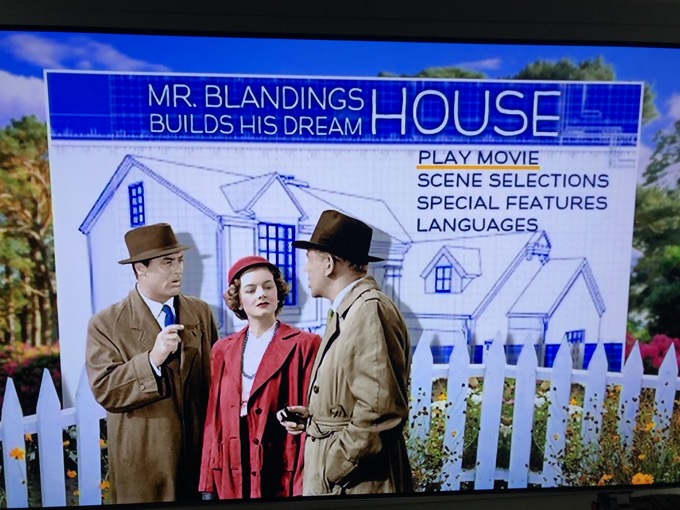 As a person who has never been a big movie watcher or fan, this sort of fascinates me for some reason. Yeah, I know, everything old is new again and all of that. But man, it's really very true in movies. If anything, I have gained a greater appreciation or new ideas and concepts and stories.
Sorry for the digression. The only Cary Grant movie I'd previously seen was Alfred Hitchcock's "North by Northwest." And I love that movie and always found Grant's fish out of water character oddly charming. As Jim Blandings, I came to realize why he was/is so beloved. The dude was handsome as heck and just comes off as a likeable guy onscreen. (Perhaps that's why he had five wives.)
Blandings lives in Manhattan and is a successful advertising executive. The movie opens with the Blandings family waking up in their "cramped" apartment. Perhaps it would be less tight of Jim and his wife Muriel (Myrna Loy) slept in one bed rather than two.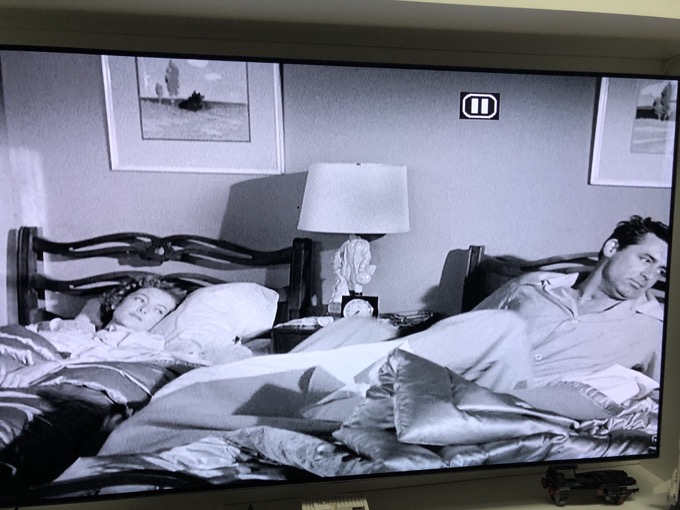 I had always heard that Fred and Wilma Flintstone were the first couple on tv shown to sleep in the same bed. I don't feel like looking it up, but that's pretty funny.
Anyway, their three bedroom apartment with a full kitchen is pretty darn nice. Their two daughters seem happy and they even have a maid to take care of the joint and cook them all food. But Muriel plans to expand the place by taking out a wally for the princely sum of $7,000 – behind Jim's back.
Jim is displeased. Jim's best friend happens to be a lawyer named Bill Cole. Bill shows up a dozen times through the movie to chastise Jim's decisions, help him navigate the world of real estate and finance, and to serve as a voice of reason.
One moment Jim is telling his daughters that "advertising is people lying to you to get you to waste your money" and in the next is taken in by an add for a house in bucolic Connecticut. Which is sort of weird – except I have a good friend who has done some work in marketing and advertising who seems to get hoodwinked by all sorts of nonsense marketing campaigns. Go figure.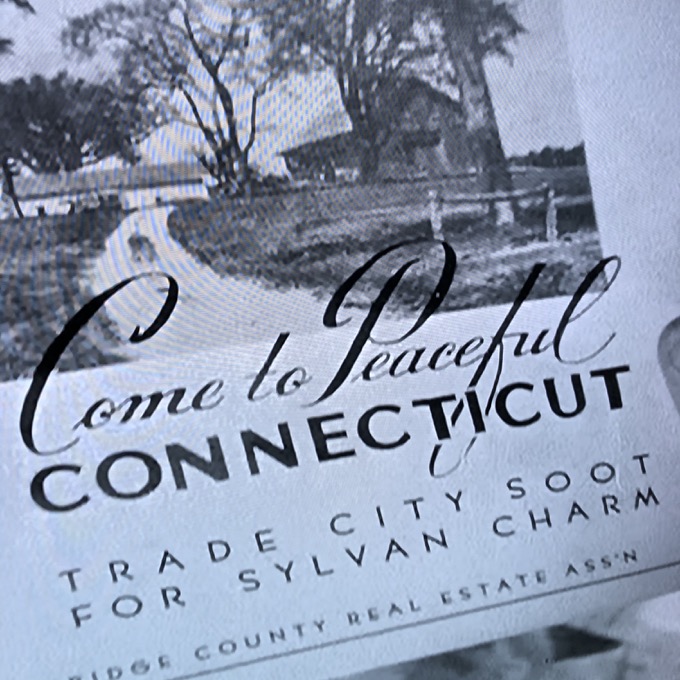 Who wouldn't be swayed by that ad? Heck, I'm swayed by it right now!
Blandings meets a shady real estate guy who sells him "the ol' Hackett place," a dilapidated 200 year old crumbling farmhouse. Oh, Jim. Bill Cole is sore at him for getting taken to the cleaners, but Jim and Muriel are confident the new house will work out. I'm just going to save us both some time and steal this from some site:
The old house, dating from the Revolutionary War-era, turns out to be structurally unsound and has to be torn down before the previous owner's mortgage is paid off. The Blandings hire architect Henry Simms to design and supervise the construction of the new home for $18,000 ($191,500 today). From the original purchase to the completion of the new home, a long litany of unforeseen troubles and setbacks, including digging a well, beset the hapless Blandings and delayed their move in date. On top of all this, at work Jim is assigned the task of coming up with a slogan for "WHAM" Brand Ham, an advertising account that has destroyed the careers of previous account executives assigned to it. Jim also suspects that Muriel is cheating on him after Bill Cole slept alone in the house with Muriel one night due to a violent thunderstorm.
The funny thing about this whole situation is if a person bought a house and all that acreage in certain Fairfield County towns back then, they'd have become quite wealthy selling off parcels thirty years down the road. So take that, Cole. Blandings knew what was up.
I enjoyed the movie. I learned why Cary Grant was Cary Grant and the humorous scenes were well done for the times. The story and lessons weren't hammer shots to the head – and they were relevant to all of us, even today.
With skyrocketing costs, unfinished parts of the house, a slightly strained marriage, and pressure at work, ol' Blandings quit his job. When all looks bleak, Gussie the maid offhandedly says the advertising slogan that Blandings had been searching for all along.
He gets his job back, nails the campaign, and is last seen enjoying a drink in his beautifully landscaped yard in front of his beautiful new house. What did you expect? This is a 1948 movie – and they all end well, don't they?
CTMQ Rating: 3 out of 5 thumbs up
Connecticutness: 63 out of 169 Nutmegs
Filmed in Connecticut? No
Wealthy Caucasian with a Big House? Yes