Bzzzt!
New Britain Bees vs. Sugar Land Skeeters, New Britain
July 5, 2019
Update: See Danny Noonan's comment at the bottom for some context.
For those of you who don't know me personally, here are two facts that will help you with this particular page: I am not a baseball fan and I write the stuff for CTMQ very, very quickly. I tell you this because I won't sound particularly intelligent when writing about baseball and I won't be able to capture the whole story of how New Britain lost its AA baseball team to Hartford.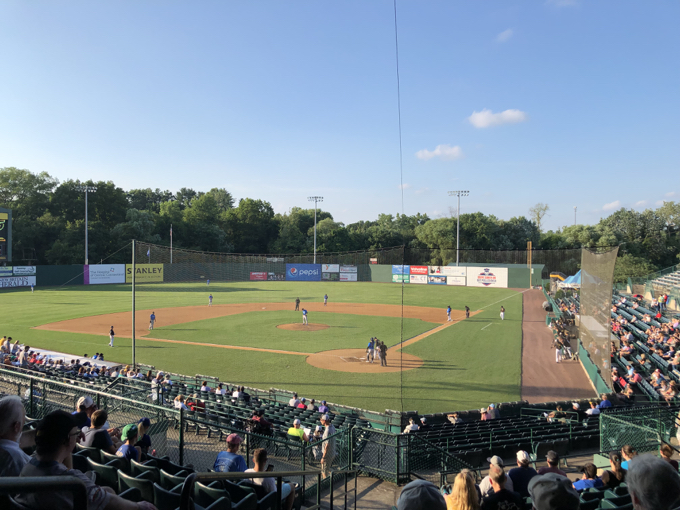 So although I have no particular affinity for any AA baseball franchise, the theft of the team still sticks in my craw. New Britain deserved better, and the Yard Goats' owner is a bum. I'll grant him that the Hartford stadium is really nice and the game experience is really fun. But New Britain still got screwed.
Professional baseball has been played in New Britain for decades. The New Britain Red Sox and the Hardware City/New Britain Rock Cats played there until August 30, 2015 when the franchise moved to a mud pit in Hartford. (The Yard Goats' stadium took a year longer to build than anticipated and is still mired in lawsuits years later.)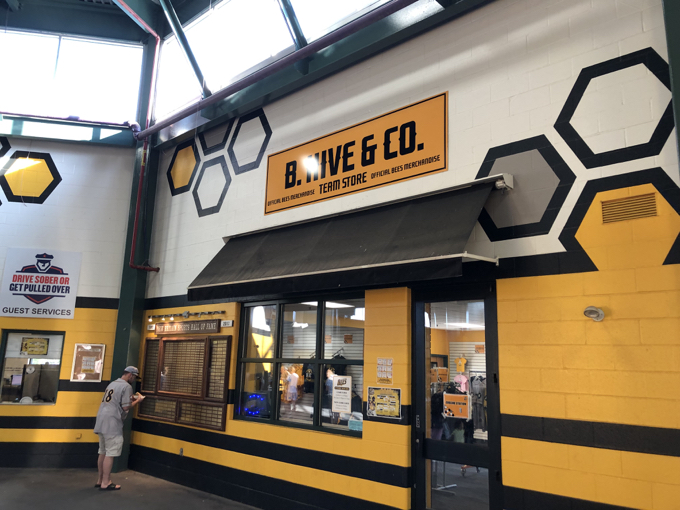 The Rock Cats did pretty well, too. They drew over 8,000 fans several times and lots of MLB talent played on – and against – the team. Oh, and their logo was created by cartoonist Guy Gilchrist, who draws the Nancy comic strip. Which is funny to me.
The team was stolen from The Hardware City and Mayor Erin Stewart was rightfully livid. She promised that professional baseball would continue in the city and the New Britain Bees were born. The Bees play in the Atlantic League which "is the highest level of professional baseball other than the Major Leagues."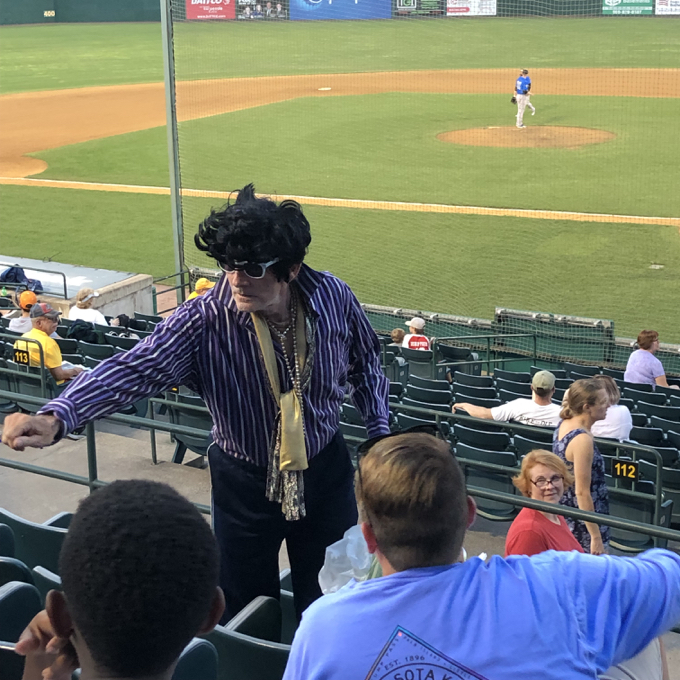 It is generally regarded as the most successful and highest level of baseball among independent leagues – leagues which I didn't really know existed until recently. I posed the following question to some Twitter friends: "I don't know baseball but I'm at a New Britain Bees game. Do these guys ever make it into the MLB system? Like, what's the incentive for Atlantic League players?" Some answers:
"Some guys may but it's a real long shot. Most guys there already had a run and are trying to hang on.
"Most are on their way down from MLB/playing for the Mets."
"Mostly guys who had chance and looking for one last longshot."
"For the love of the game."
"The Red Sox have signed at least one Skeeter player this year. Mostly to back fill the minors though."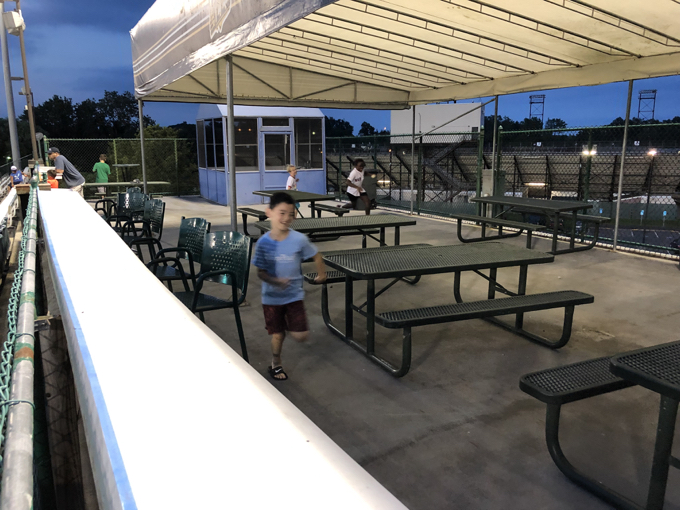 Skeeter? Yeah, the Bees were taking on the Skeeters the evening I went to a game. An all-insect battle! Exciting.
Some former and future Major League ballplayers who have played in the league include Tim Raines, Rickey Henderson, Roger Clemens, Scott Kazmir, Dontrelle Willis, Juan González, Rich Hill, John Rocker and José Canseco, and several others have coached or managed, including Gary Carter, Tommy John, Bud Harrelson, Gary Gaetti and Sparky Lyle. The Atlantic League has consistently posted higher per game and per season attendance numbers than other independent circuits including the American Association, Can-Am League, and Frontier League. Approximately 40% of Atlantic League players have Major League service time.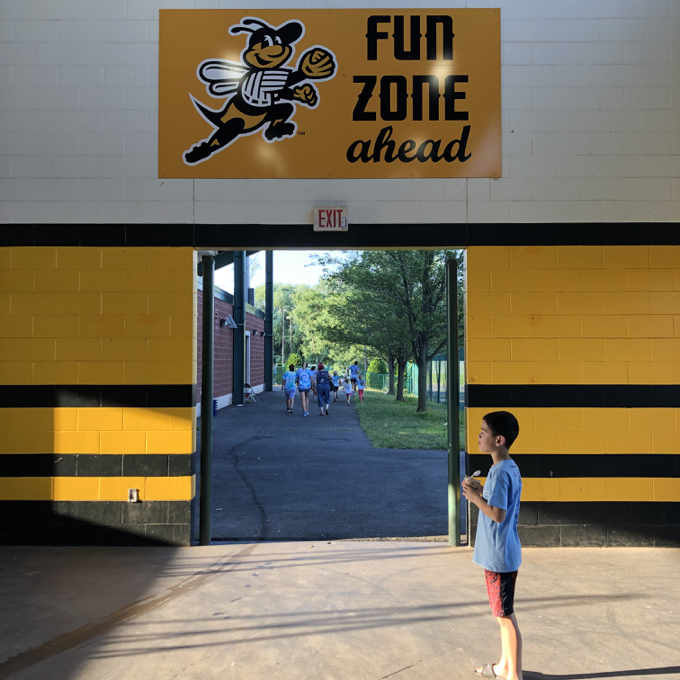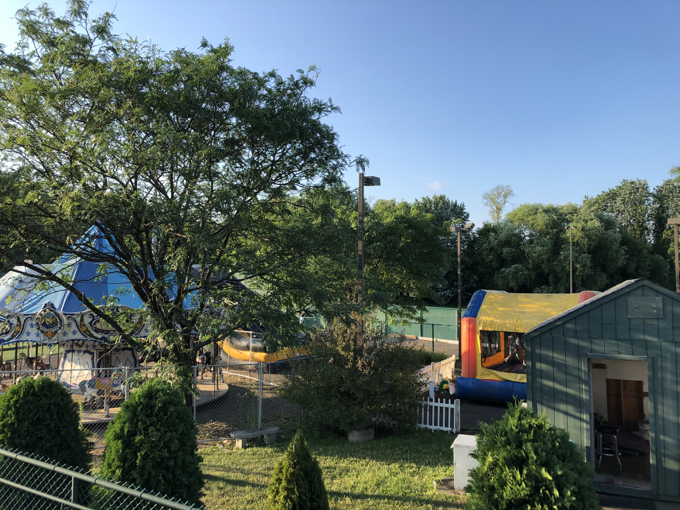 The League has only been around since 1998 and is said to be expanding. (Even though Bridgeport lost their team, the Bluefish, in 2017.)
Calvin and I arrived for the game and I'll admit I was surprised there is a $5 charge to park. It seemed like at least half the attendees were getting dropped off though, as there is a ton of free parking surrounding the stadium. If you go to all 70 home games, why in the world would you pay an additional $350 if you don't have to?
July 5th was a brutally hot day and there were maybe 500 people at the game. We sat in the shade of the press box for the first few innings and watched the poor person in the bee suit prancing in the 95-degree sun. What a job that is.
With no commercials and a pitch timer, Bees games progress as quickly as a baseball game can progress… which is still glacially slow. The Skeeters killed the hometown heroes 10-5 and no one seemed to care.
Calvin played with some other kids on an empty concourse for a while, ate some gross-looking Dippin' Dots, and laughed at the "Kid Zone" set up behind right field. It was a hopelessly sad affair, but there were kids in there. (It requires an upcharge to jump in a bounce house and cavort on some old and dingy looking things.)
The "Adult Zone" is a nice little area devoted to hometown Alvarium Beer. This is a nice tie-in, as an Alvarium is a beehive and New Britain is the Beehive city and we were watching the Bees which is why the Bees are called the Bees. There are no lines for anything at Bees games, which is nice.
We tried to snag some foul balls that were coming to our empty section, but more aggressive teenagers kept winning the battle. An eccentric old man dressed as Elvis roamed the stands and I think he was performing for tips. Or something. It was too weird for me to handle.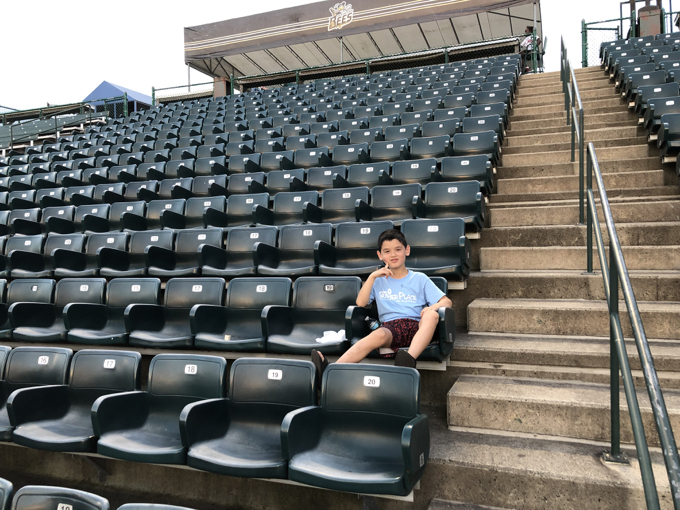 For some reason, we stayed until the bitter end of the 10-5 game (Calvin's fault) and that was that.
Calvin enjoyed his Bees experience, even though he knows less about baseball than I do. He got to dance to the songs played over the loudspeaker and got to run around an empty stadium like the loon that he is. I would recommend going to a game if a) you love baseball or you have little kids and are looking for something to do. It was a pleasant experience for us.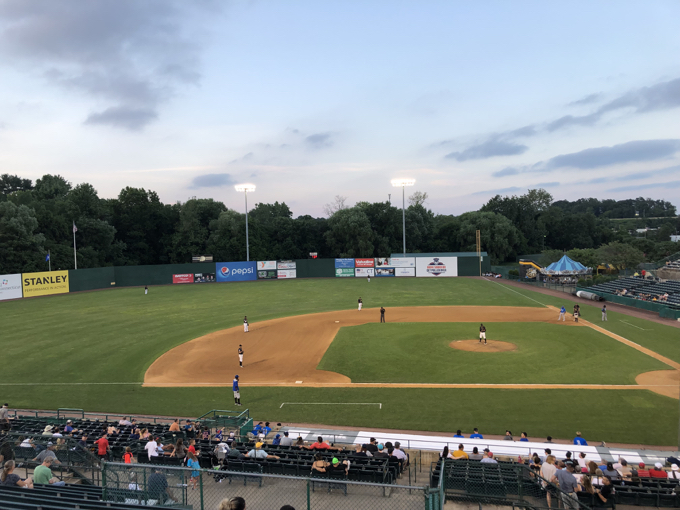 It's sad that the city lost its AA franchise and the crowds that came with it. Many of the concourse's food stands are empty, and some purveyors are nothing more than a cooler with a handwritten sign. I have no idea how much money these Atlantic League guys make, or what their travel and hotel accommodations are like on the road. I hope they're okay.
For the love of the game indeed.