NorstromBrook
Norbrook Farm Brewery, Colebrook
April 2019
Colebrook, Connecticut.
Colebrook has a brewery. Colebrook has almost nothing else, but it has a brewery. A large, sparkling, 5,300-square foot brewery. A destination brewery that looks like it belongs in an issue of "Country Living".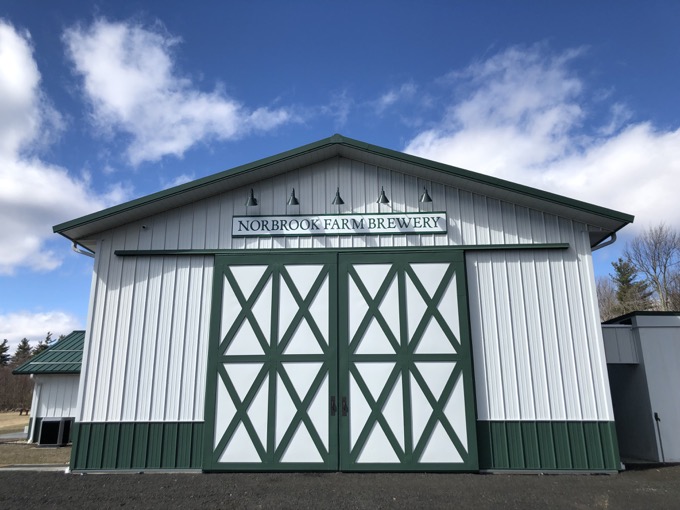 In Colebrook.
Some of the most highly rated world class breweries are located off of winding country roads in far-flung backwoods towns like Greensboro Bend, Vermont or New Glarus, Wisconsin. When one approaches Norbrook Farm, one can't help but laugh at the "Baby Tree House Brewing" entrance: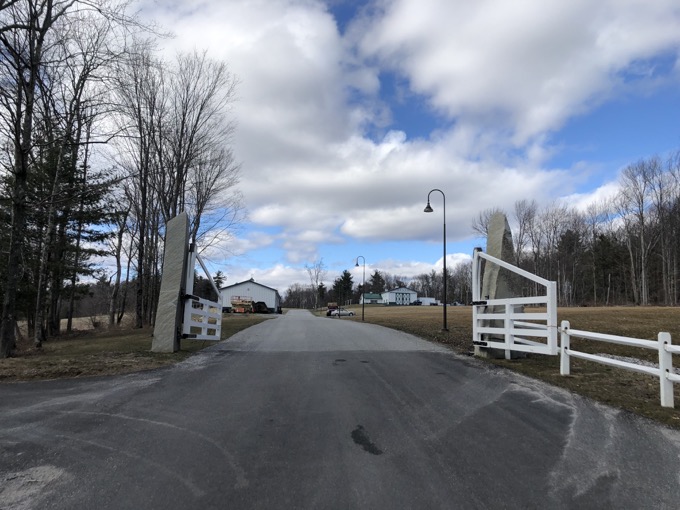 Okay, not quite the same thing, but I was genuinely struck by the street lighting, the fresh asphalt, the lined parking lot… and I hadn't even exited my car yet.
For those unaware, new farm breweries in the middle of nowhere do not have freshly paved and lined parking lots with handsome lighting fixtures. As I write this, there are 100 breweries in Connecticut and I'm struggling to think of any others with standalone purpose-built parking lot lighting.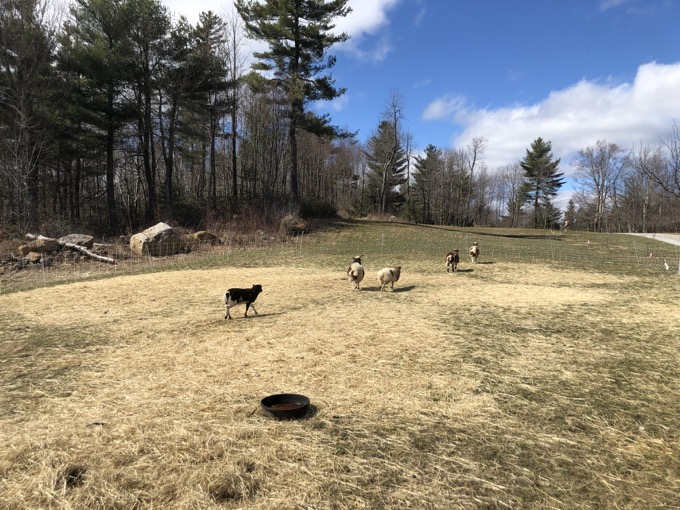 If my approach to the brewery was any indication, I immediately knew that someone had poured some serious money into this place. To build out a destination brewery – meaning that no one is stumbling upon Norbrook Farm by accident; literally every single customer that comes here is here on purpose – is a risk. The owners apparently decided to go all-in and make it one of the most attractive breweries in the state, which is impressive to say the least.
And by attractive I'm not just talking about the superficial stuff. This place is attractive to kids (baby sheep!), hikers & snow-shoers (9 miles of trails!), mountain bikers (10 miles of more of single-track trail!), and disc golf nerds (really? they built a disc golf course too?!)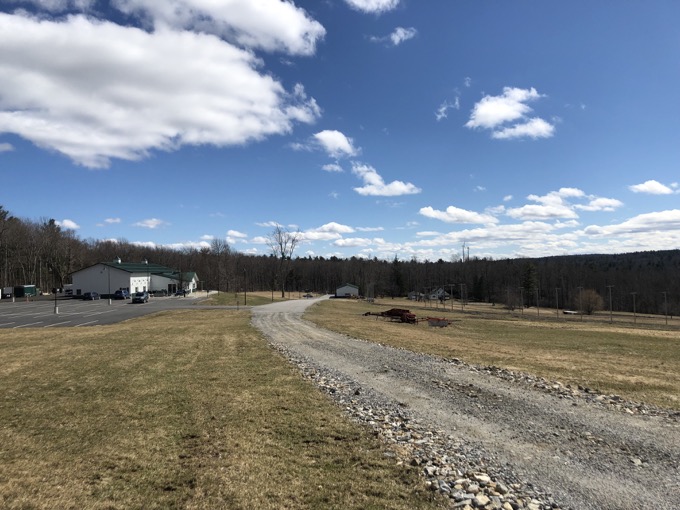 Lest you think these are slap-dash trails built by bored know-nothings… the brewery worked with a trail-building firm from New York to design and build them. Wow. Who are these people? As I pondered that question, Calvin explored the grounds and hung out with the farm animals for a while. In fact, he remained outside almost the entire duration of my visit.
As you've gathered, Norbrook is a fairly unique place. Their origin story is also a bit different. No garage homebrewing story! In fact, the owners are retired brothers who didn't really think about beer or brewing beer until their friends started asking about what they could do with the foreclosed farm next to their property in Colebrook. I kind of love that: Old men open brewery who don't really care about beer. Definitely different.
The brothers had sold their Winsted business to Hubbell Power and I'm guessing they made out fairly well with that – one look at this place will give you the same impression. The owners' friends convinced them that the property would make for a good brewery and after waffling for a while and pondering a distillery instead, they came around to the idea.
All they needed was a brewery and a brewer.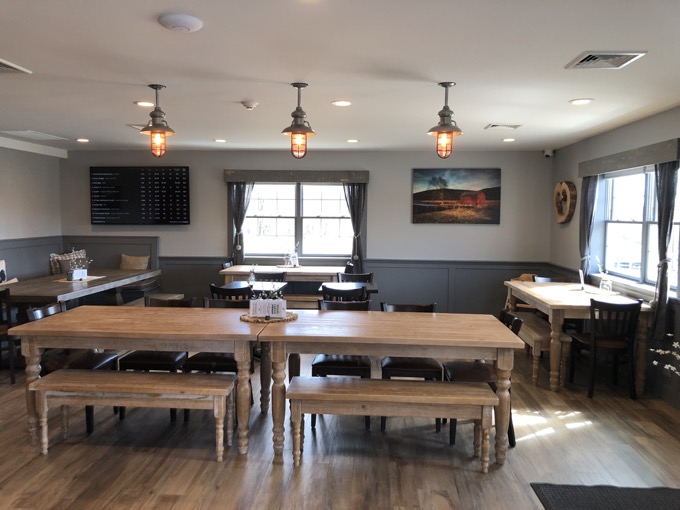 One of the owner's wives designed the brewery, her predilections clearly on display. Pottery Barn, Yankee Candle, Town & Country… if you want to convince your mother that breweries can be comfortable places at which to hang out, take her to Norbrook. Sitting on a poofy couch here, bathed in the warm paint palette, deciding which knick-knack or potpourri is homiest, it's hard to imagine what Connecticut breweries all looked like just five or six years prior.
Just read their welcome statement on their website:
Sidle up to the warm copper bar for a drink and a friendly chat.

Sit in a cozy nook with a friend.

Hang out at a family-style table with all your friends.

Meet or party in the mezzanine overlooking the brewing operations.

Go upscale in the sunroom with views of mountains, fields, the hopyard, the sheep, and the famous wind turbines.

Get some fresh air out on the patio—hang out by the fire pit or sit on the Moo Cowch.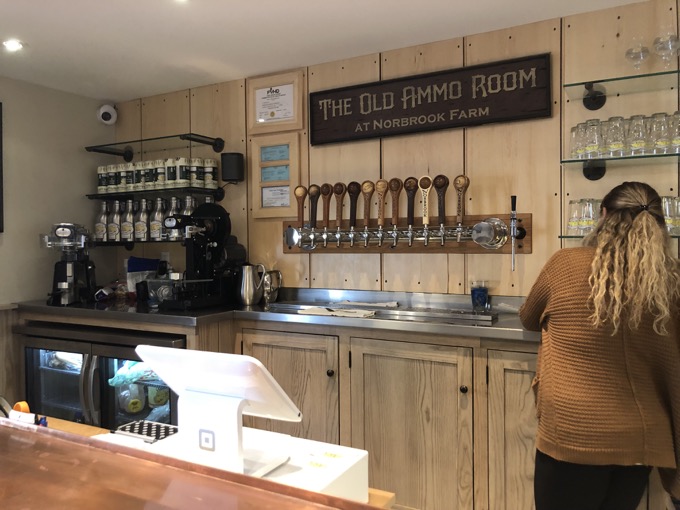 What is happening?! Mezzanines and going upscale and cozy nooks?! (We'll ignore the "Moo Cowch" and the scented candles that can be a bit much.) The brewery is beautiful; even if it's not your particular decorative style (it's not mine). The whole operation is impressive; they grow hops here and plan to grow grains, set up an apiary and maple sugaring operation, and perhaps even a cidery.
I should remind you this is all in Colebrook.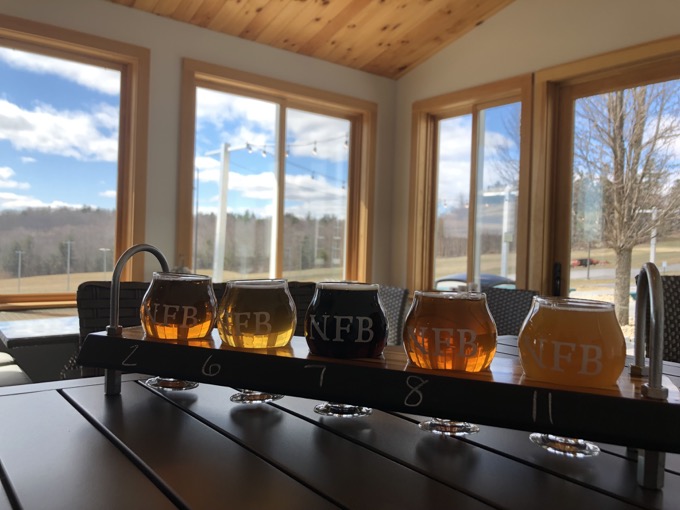 I ordered a flight of five tasters out of the 11 beers on tap. It was good they had 11 offerings, because Norbrook was initially a victim of their own success. People gave them crap for their opening weekend snafu, but I don't. "Brewery with no backstory and no brewing bloodline or cred opens in Colebrook and is massively successful and runs out of beer by day two" isn't a sentence anyone expected to write.
But it's true. As a result, Norbrook closed for a month after their first weekend of business(!) in order to always have enough beer in the takes going forward. A MONTH. During that month, they tripled their equipment capacity, adding four 15-barrel fermenters and two serving tanks. That's crazy – and another testament to the fact that, yeah, the owners have a few bucks lying around. And that people love new breweries.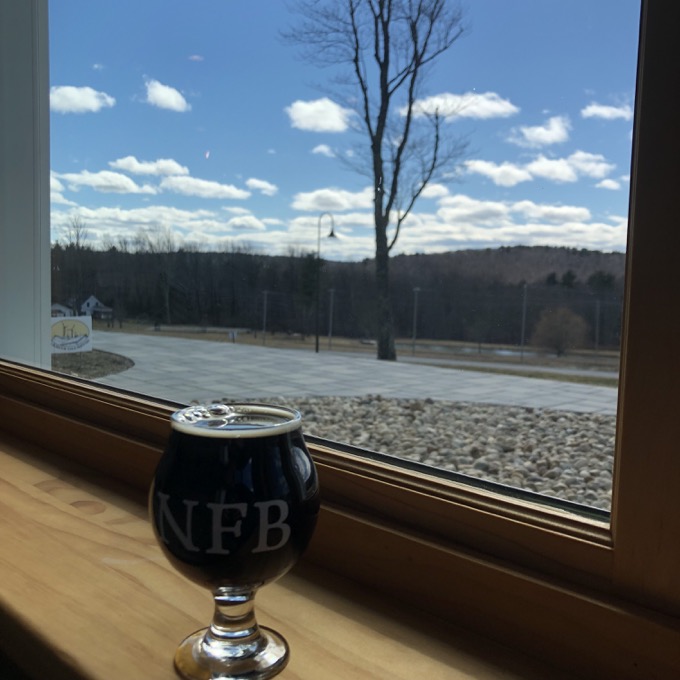 I ordered the Mt. Pisgah IPA, Cog Ale Kolsch, Old Man McMullen's Porter, Hump Day IPA, and Wicked Good NEIPA. I don't know why I ordered three IPA's. That's really weird for me, especially as there were some standards available. Oh well, let's go drink these bad boys.
Just first want to shout out Old Man McMullen. Old Man McMullen Pond in Norfolk is one of my favorite place names in the state, so I love that these guys named a beer for it. They even describe it thusly: Dark as night and ink black like Ol' McMullen Pond from the steady Hemlock runoff. It was the worst of the five, with an unfortunate medicinal aftertaste. Maybe it was the hemlock runoff.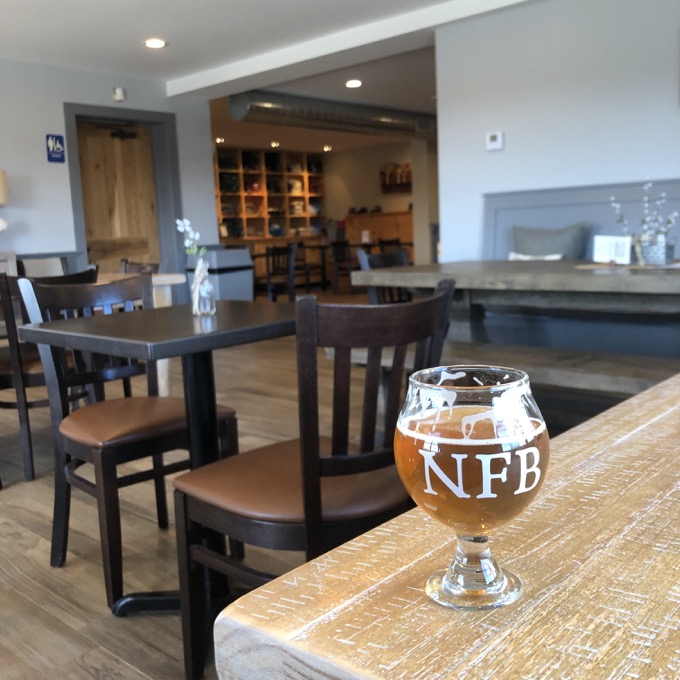 All the other beers here were "pretty good." I'd heard the kolsch was top-notch and the Cog Ale was the bees knees. Both were… pretty good. The NEIPA is the same NEIPA that ever second and third tier brewery is putting out. Which isn't terrible; just the same flaked oat mushiness and haze with the Citra punch.
Well over a year later, in July 2020, I found the Cog Ale Kolsch in a store.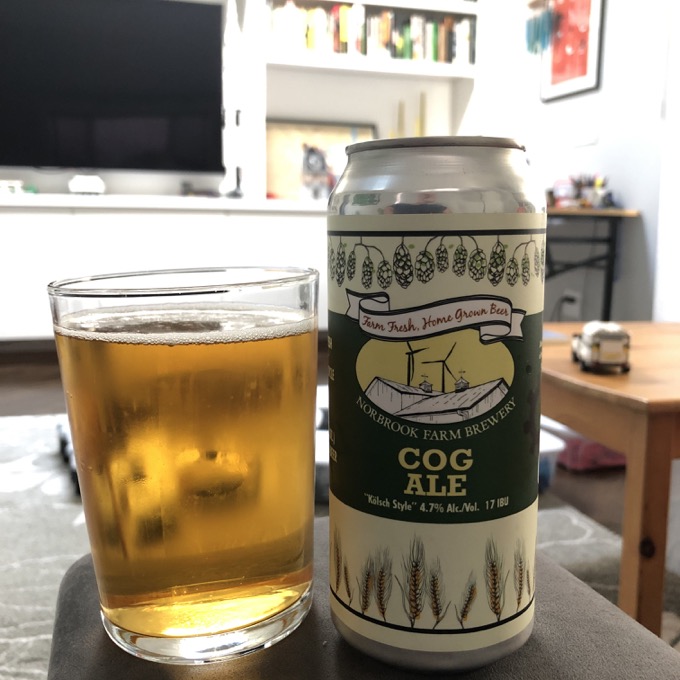 I thought it was a little sweet, but still… pretty good.
None of the beers I had were bad and I'd drink them all again. But I think, for me, the point of Norbrook Farm isn't even the beer. It's the views, the land, the hills, the trails, the activities, and the nu-rustic country-chic vibe with Volvos and fancy patio fire tables and wives with hair swept just-so eating cheese while husbands with five-o'clock shadow chase down errant frisbees in the freshly mowed grass.
And that, to me, is a microcosm of where we're at in this nearly decade-long life cycle of craft brewing. There now exists a brewery in an unpopulated far-flung town at which a family can enjoy a couple hours relaxing and doing various things where the perfectly fine beer is sort of an afterthought. I say this as a positive development; not a bad thing at all.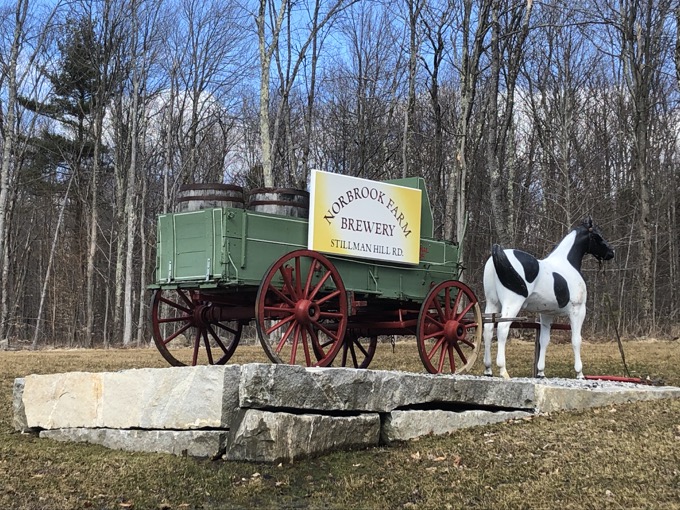 Norbrook Farm Brewery
Norbrook Farm Trails
Norbrook Farm Tower
CTMQ's Breweries and Brewpubs