Pattycake Pattycake, Baker Steve
Gail's on the Common, Ridgefield My Kitchen
2016 Update:
This seems like a wholly unnecessary "update," but here goes. As you'll read, Gail's on the Common was closed before the book that contained the list I completed was published. The owner kept a sister restaurant (which had burned to the ground in 2005 before being rebuilt) in Redding open for a while (Gail's Station House), but then sold that business in 2009. Then the guy who owned that, (renamed The New Station House) closed that too. All of that is more or less true, but now I just read there was a Gail's on Main iteration at some point too. The owner, not named Gail, went on to run the catering at some fancy place in Brookfield.
BUT, but enough of all that… I got to learn a fantastic recipe for cheddar corn pancakes. The only downside is that each one probably takes a month off of my life. So delicious though. I made them in 2009* and this is how that went.
*All the plates and cabinets and cookware you see is all gone from our lives in 2016. I felt this was important to note.
Gail's on the Common, June 2009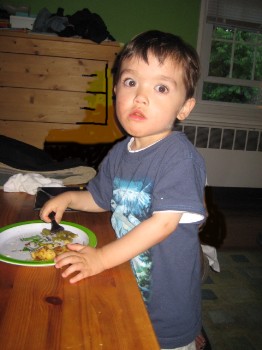 I'm just as confused as you are. At the time the Roadfood book (from which I'm getting this "best of" list) went to press, Gail's on the Common in Ridgefield was closed. The Internet is spotty, but it may be back from the dead, I'm not sure. Regardless, the book states, "It was a sad day when Gail's on the Common closed last year; the friendly little cafe had been a pancake lover's breakfast destination for years, especially for its cheddar corn pancakes." They deemed these pancakes some of the best in the entire country.
Fortunately for us (more specifically, me, Hoang and Damian), Gail gave up the recipe and it's printed in the book. It being a Friday night – usually take-out night in the CTMQ household – I decided to have a go at it. I'd already made some Turkish zucchini cake things (which were delicious with my homemade cucumber-yogurt dip) so why not up the ante and make some pancakes?
Well, for one, I'm not known for precise measurements. Hoang does all the baking. I like to "cook." That is, throw a bunch of stuff together and make it taste good. (Note: Hoang is an excellent cook too, she just happens to like to bake as well.) Making pancakes from scratch is closer to baking than anything, so I was leery. But I pressed onward.
According to Roadfood, the pancakes should be, "lumpy with sweet corn kernels, the fluffy batter is webbed with enough sharp cheddar that each cake develops a mottled crust that is alternately cake-tender and cheese-chewy. The result is unmitigated breakfast bliss." They also say that they are to be served with syrup… Which didn't strike me as a good idea. Let's cook!
I'm not going to post the whole recipe here but it's your basic pancake recipe with some corn niblets and cheese thrown in. I assume Bisquick would work, but I'm hardcore.
I was proud of my efforts. They never got fluffy like a proper pancake should, but that's probably because I beat my batter for too long. Or maybe not long enough. In the end, all three of us ate a bunch of them and then all three of us had them again as leftovers on Saturday morning. Hoang deemed the recipe good enough for her binder of "good enough" recipes and for that, I thank Gail's on the Common – The best pancakes in Connecticut that you can't get anymore.

CTMQ's Best, Unique, & Historic Restaurants & Foods