The Cement Tent
Sacred Heart Church
Vernon
March 2019: the church has been demolished.

"This is why I love writing CTMQ."
I've written that phrase many times over the years and it usually turns up on pages about little-known museums that turn out to be fantastic… or on pages of totally random, happened-upon oddities.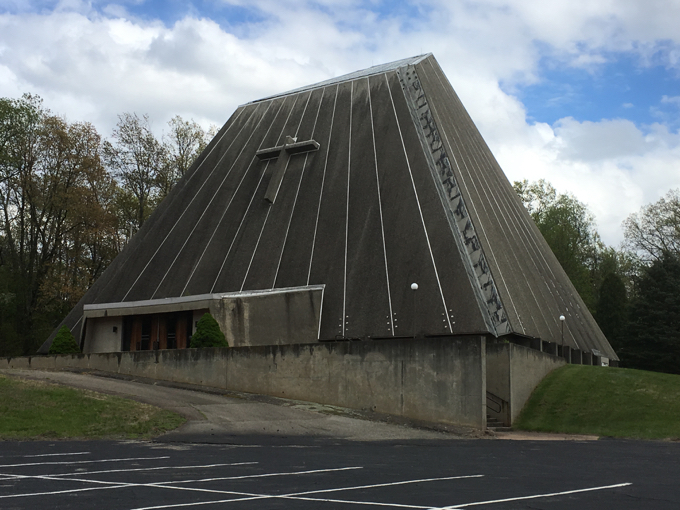 Sacred Heart in Vernon is the latter. Obviously.
Just look at this place. If the Death Star had a church, this would be it.
I love it. While I'm hardly a churchgoer, let alone Catholic… who wouldn't want to attend mass in The Cement Tent? Know this: Your church, with it's intelligently designed walls, decent R-values, warm interior, and cozy atmosphere has nothing on this place.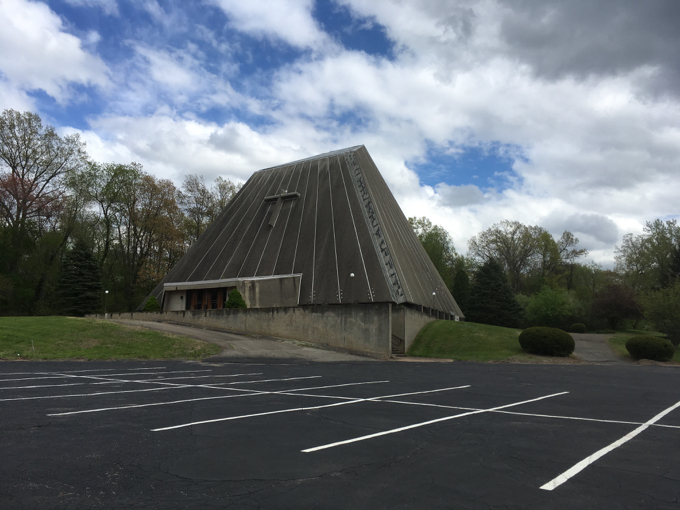 Too bad St. Cement…err, Sacred Heart… is closed. I'll give you one guess why.
That's right – because chunks of cement began raining down on parishioners' heads in 1997. Check that; cement began falling down in 1980, but a quick fix kept services going for 17 years after that. The Hartford Courant wrote about it in 1997:
The pieces are falling from as high as 85 feet, so their momentum and sharp edges could make them lethal… Similar problems occurred in 1980.
All the praying in the world, however, couldn't help this terribly designed monstrosity from being condemned. (Services are still held in the boring rectangle adjacent building.) On top of the cement failure, there is apparently a major leakage problem as well.
Despite its being difficult to heat, sloping beams of sunlight brighten its interior. Behind the altar is a pastel picture of Jesus Christ surrounded by lambs.
Let's have a look at that beautiful altar, from Roadside Architecture:
Yes. The cement motif continues inside. This place is insane.
The crumbling is called "spalling," a process attributed to the concrete's reaction to temperature changes. It moves slightly, wearing away bits of concrete from the interior and exterior slabs as they rub against each other.
I'm sorry, but this whole thing is funny to me. You know how in insurance, there are provisions in your policies for "Acts of God." I wonder how the church felt about that with regards to this absurd building.
Under today's building codes, such a structure would never be built. According to files in the town's building office, consultants warned [that] while the building was still under construction that its design might not resist the forces of nature.
"Forces of nature!" There you are. But maybe in 1970 no one knew any better?
A December 1970 report from the firm of Hartford-based Russell & Dawson, which reviewed the project at the town's request, said it was "dismayed" and had no confidence in the design.
Oh.
So as I bopped around Vernon trying to finish up everything in the town, I drove by this place. I had my whole family with me and remarked, "Jesus, Mary, Joseph! What is that thing?!" We all had a good laugh at it, but now I'm bummed that good god-fearing Catholics have to worship in some boring box next door to the Cement Tent that was built for them to honor their god.
A reader (two actually) brought this Zippy the Pinhead strip to my attention: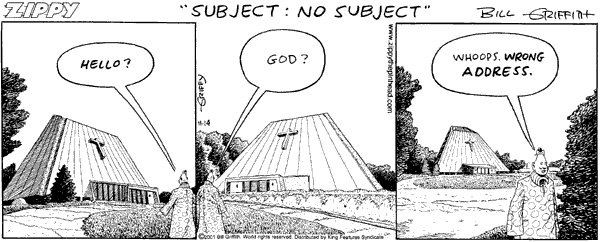 I love this church.