The World is Upside-Down
Stafford Conservation Commission (SCC): Woodlawn
~2 Miles, July 2017
I lamented the lack of proper scaling on the three Stafford Conservation Commission trail maps back when Damian and I explored the Diamond Ledges over in West Stafford.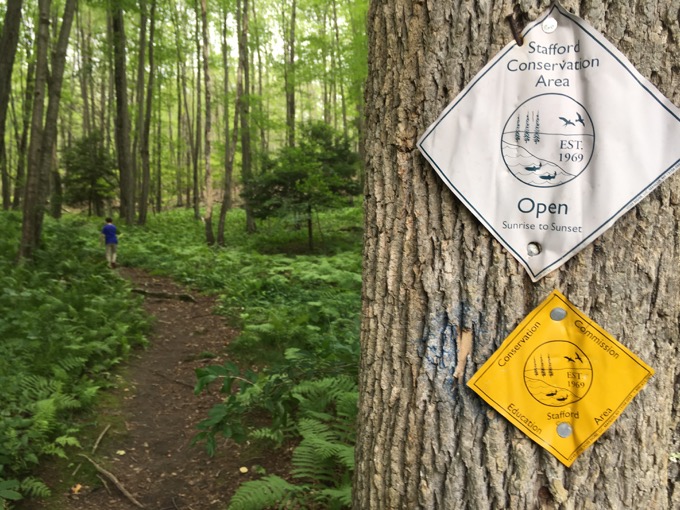 I don't wish to belabor the point, but for a map geek like me, hiking with a special needs child, it's important. I understand there are more important budget items than proper town trail mapping, so I'll let it go.
Actually, no I won't. Just look at this: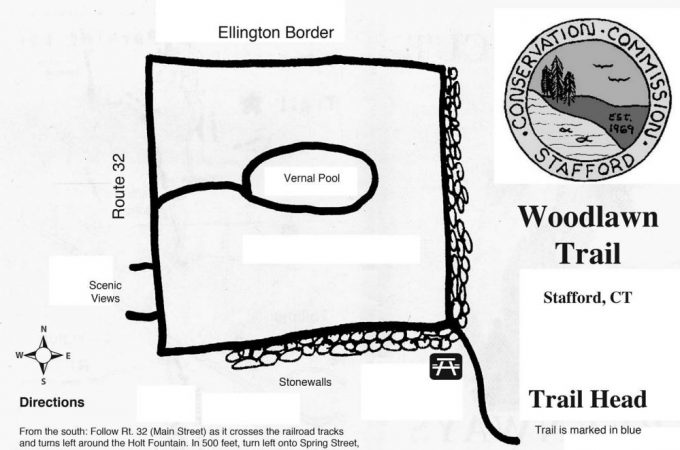 I can forgive the hand-drawn quality. The lack of topographical features or mileage checkpoints. But…
1. The approach trail is longer than shown. There is a blue-blazed trail that is not shown on the map. But I can even forgive that. (Damian couldn't.)
2. The direction is wrong! It shows as oriented north. No. It is oriented south! This is unforgiveable.
3. If you think I may be wrong, please note that it shows Ellington north of Stafford. No. Massachusetts is north of Stafford.
4. And going back to the scaling issue, the Ellington border that is SOUTH of this place is not exactly right there.
You see? My gripe is legit! I'm not as annoying as you assume!
There is ample parking and the trailhead is nicely signed and all of that good stuff. Damian and I began climbing up the hill and after his required ten minutes of whining and nonsense, we continued up.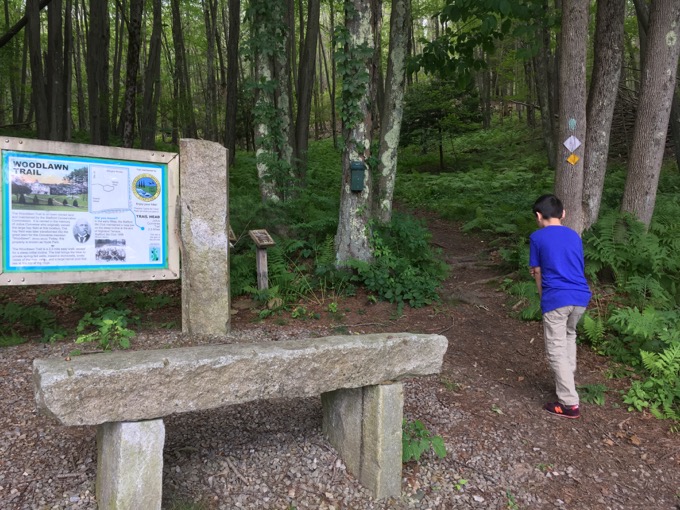 At a point where I figured we were at the square part of the hike, we went left down an old woods road. There are faint blue blazes here.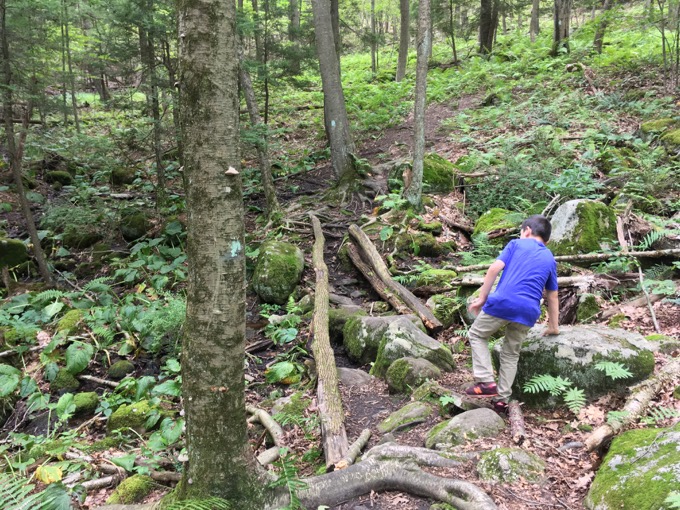 Down, down, down the hill we just climbed. I never felt comfortable that we were on the correct trail, and once I saw that we were approaching houses, I knew we were wrong.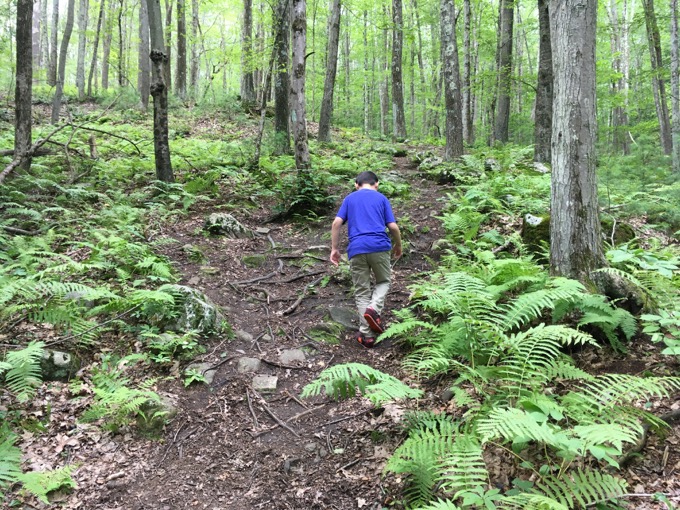 Grrr. I never mess this stuff up.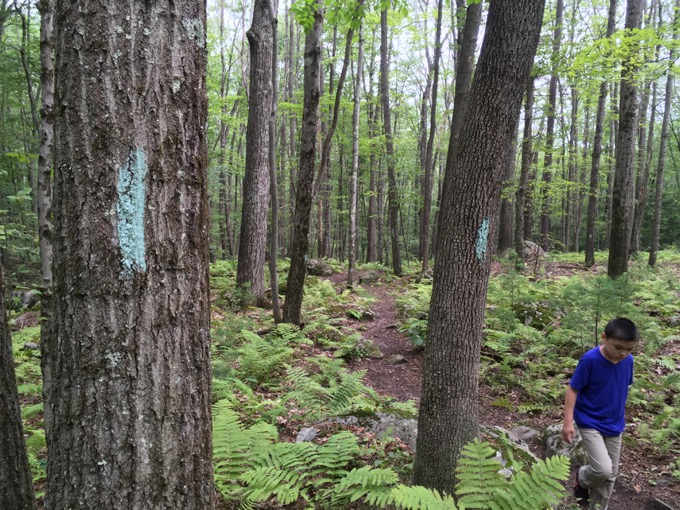 We did get to see a cool old well from back in the heyday of Stafford's springs and mineral water business though, so that was cool I guess.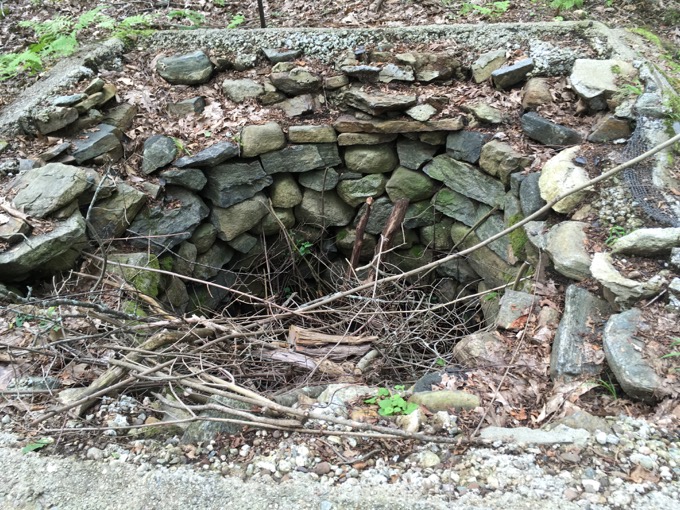 Back up the hill to the approach trail, which was still just the approach trail, and we continued up the hill.
Past some weird triangular grow houses of some sort. I have no idea what they are or why they're fairly inaccessible in these woods, but at this point, I was still sore about taking the wrong trail so I didn't bother checking them out.
The Woodlawn Trail is town owned and is named in the memory of Julius Converse. So it's also known as the Julius Converse Trail, which is said to be 2.3 miles long. Does that include the approach trail? I have no idea.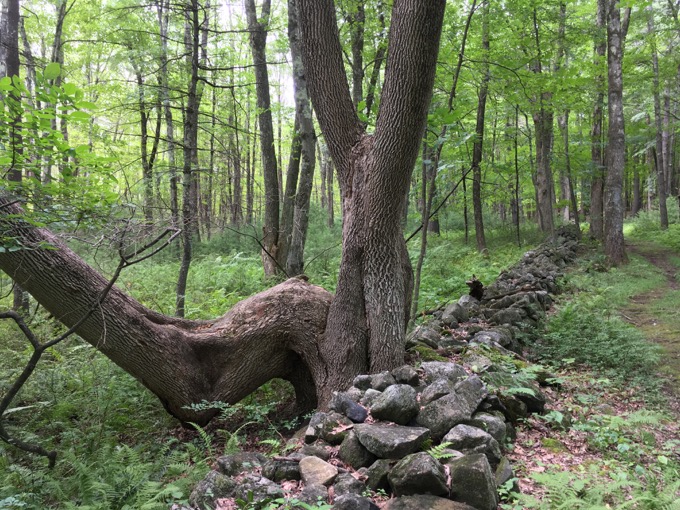 Converse owned a large hay field here way back in the day, but that was transformed into the great lawn for his mansion. This became known as Woodlawn which is now known as Hyde Park.
Hyde Park is the park down along the old millponds next to downtown Stafford Springs. It is named after one of the town's favorite sons: Ephraim Hyde, who birthed the idea for an agricultural school with the brothers Storrs. (Yeah, that would be known as UConn today.)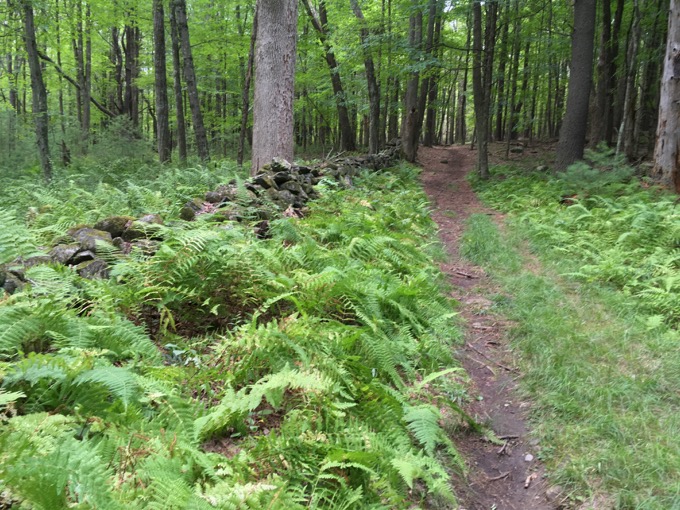 Damian and I finally hit the "real" square part of the trail and headed left again along the beautiful stone walls shown on the map that I ignored earlier because the map is, as I've shown, crap.
Enough whining on my part! The trail is lovely, as it descends slightly and enters a grove of laurel and blueberries when it turns 90-degrees south, not north, and… I'm whining again.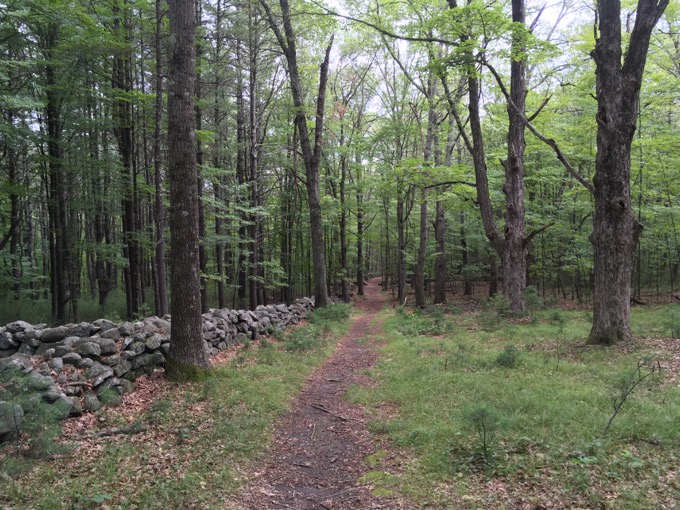 At this point, it occurred to me that this is prime bear country. And Damian plus bears isn't the best combination. Literally, just as I was thinking this, we passed this: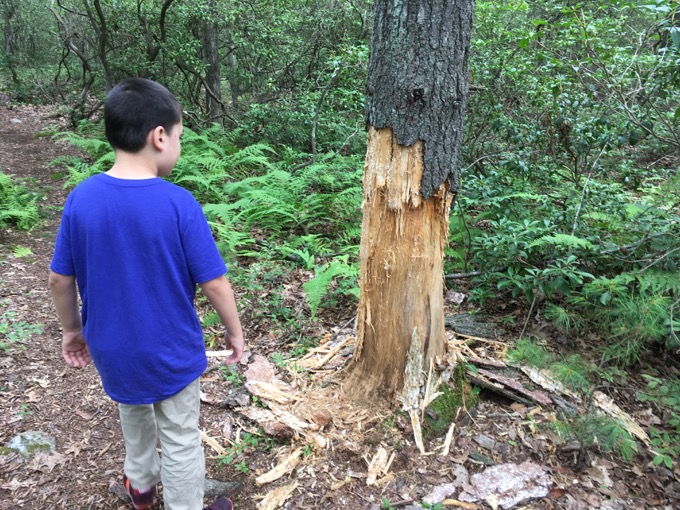 Yeah. Okay. We were on a bear's land now.
Hoang was at Disney World with our other son, texting me pictures of them having a blast. There they were, enjoying Splash and Space Mountains while Damian and I were potentially going to be mauled on Unnamed Hill in Stafford, CT.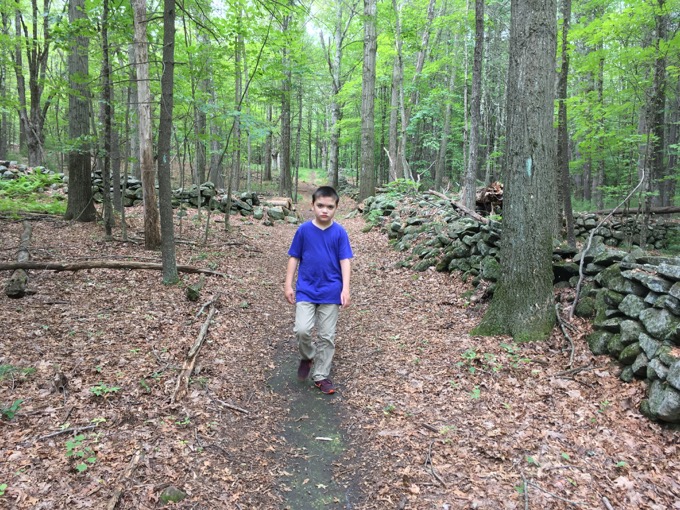 I stuck close to Damian from this point forward. (No, I'm not really afraid of getting mauled by a black bear, but when Damian is involved, it could get intresting.)
I really just wanted to get to the overlook and didn't really care about the rest of the trail. With our mishap earlier, we'd hit two miles hiked and that's pretty much Damian's limit anyway.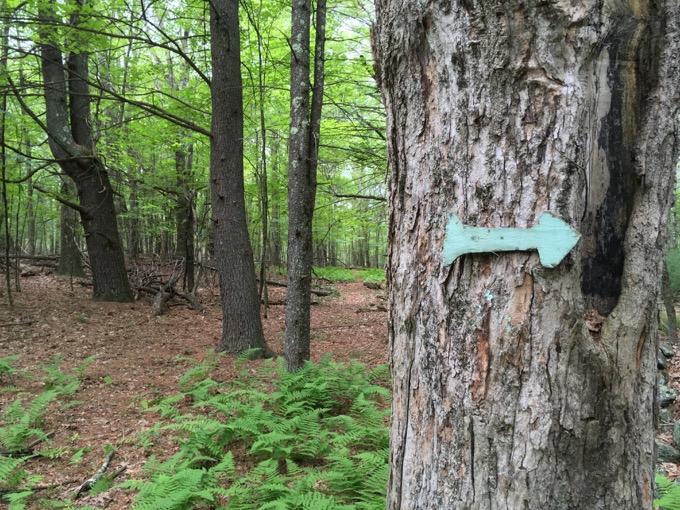 And it started to sprinkle.
We reached the "Scenic Views" and while the view of the valley across route 32 (that would be east, not west… ahem… and it was all quite lovely.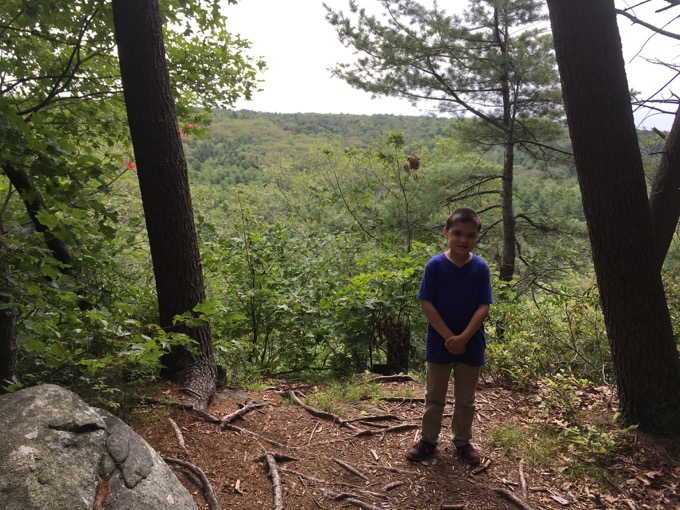 I really liked the trail here and wished I could make it all the way 'round the square, but I felt satisfied enough and Damian was all set. It's not often I recommend a trail I didn't complete that I have issues with… but here you are: Once up on the square trail, it's quite nice.
And I recommend it.
Stafford Conservation Commission
CTMQ's Stafford Conservation Commission Trails Main Page