What Up, Dawg!
Sgt. Stubby: An American Hero, 2018
Nobody likes war. Okay, that's not true. There are several chickenhawks I can name off the top of my head who love war. Then there are war movies; when done well, they are always up for major awards. A war movie is nominated for the Best Picture Oscar nearly every year.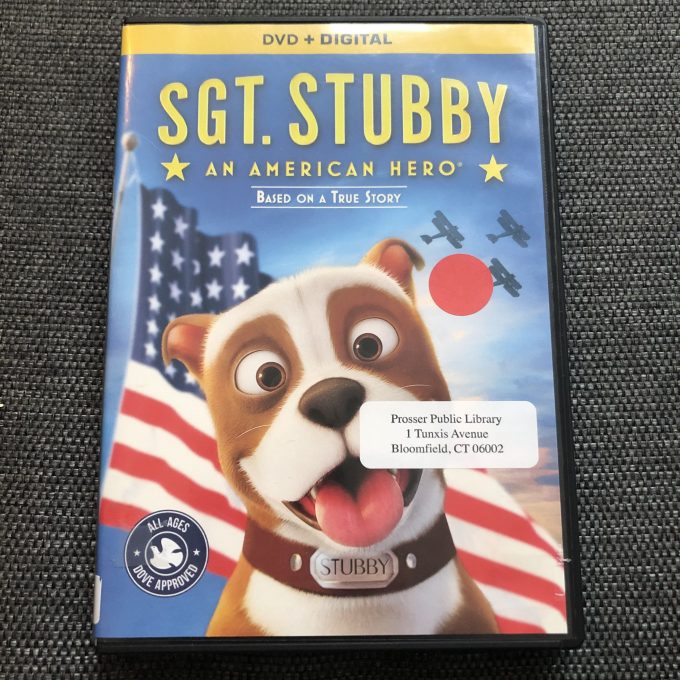 Sgt. Stubby is a war movie… for kids. As such, it presents a sanitized version of war with only one offscreen death and while the trench warfare of WWI isn't presented as a picnic, it doesn't look horrible here either.
But again, this is an animated kids' movie.
And it's a'ight I guess. If you didn't glean from the above picture, Sergeant Stubby was a dog. He was a very real dog, a very real hero, and really from Connecticut. The movie begins at the New Haven Green where Stubby was found wandering around. He was known to walk the grounds of nearby Yale and was regarded as a stray. In July 1917, while members of the 102nd Infantry were training on the Green, he hung around as the men drilled for war.
Corporal James Robert Conroy took a shining to the dog and "adopted" him. He and his infantry regiment trained Stubby to salute officers which so impressed a commanding officer upon being discovered in France that he let Cpl. Conroy keep him.
Seriously. This is all true. Stubby served alongside the men in the trenches on the Western Front. Early on, he was injured during a mustard gas attack and thusly learned to smell the gas well before humans. This allowed him to warn the soldiers to put on their masks. (He also got his own specially designed dog mask.)
Stubby could also locate wounded soldiers and – since he could hear the whine of incoming artillery shells before humans — became very adept of alerting his unit when to duck for cover. He's solely responsible for capturing a German spy in the Argonne, leading to their units' Commander nominating Stubby for the rank of Sergeant.
And more!
Stubby served with the 102nd Infantry Regiment in the trenches in France for 18 months and participated in four offensives and 17 battles. He entered combat on February 5, 1918, at Chemin des Dames, north of Soissons, and was under constant fire, day and night for over a month. In April 1918, during a raid to take Seicheprey, Stubby was wounded in the foreleg by retreating Germans throwing hand grenades. He was sent to the rear for convalescence and, as he had done on the front, improved morale. When he recovered from his wounds, Stubby returned to the trenches. He ultimately had two wound stripes.
During the movie, and presumably during the way, Cpl. Controy writes letters to his doting sister back in Connecticut. The movie shouts out Norden Street in New Britain. Two things of interest here: when I first met my wife, she was living about one minute from the address on the letter, and 23 Norden Street address is currently the Connecticut Theatre Company. Prior to 1955, it was the Norden Street Lodge. Was it really the sister's address in 1918 or whatever? I have no idea, but that was a fun Easter Egg.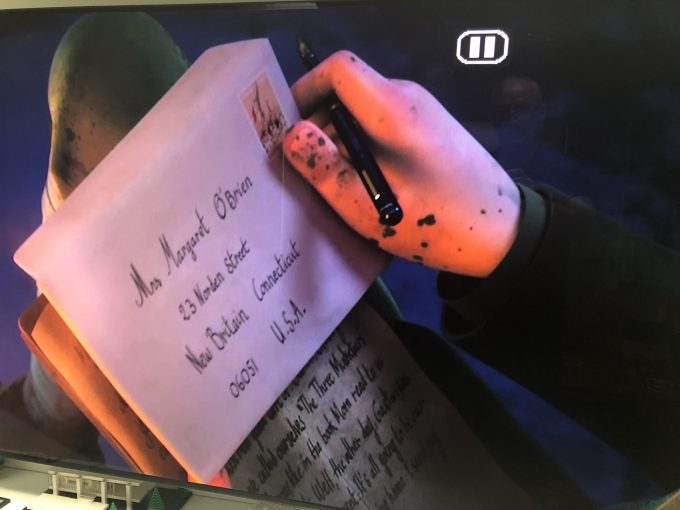 Robert Cpl. Conroy smuggled Stubby home to a deserved heroes welcome. Stubby has been called the most decorated war dog of WWI, and the only dog to be nominated for rank and then promoted to sergeant through combat. Stubby's remains are in the Smithsonian Institution. He participated in parades back at home and today, there's a statue of him in Middletown.
The movie itself follows the true story line quite religiously. The only bit that I think they took creative license was showing how Stubby made it to France – in the movie, the dog is denied passage, but escapes his leash and follows Cpl. Conroy's scent across the Green, through downtown New Haven, and onto the USS Mississippi – and to Cpl. Conroy's bunk. Cute conceit, impossible for many reasons.
The movie did prompt some very interesting questions from my son. Notably, when Armistice was declared for 11 AM the following day, war in western Europe continued right up until the appointed hour. I've been personally fascinated with this dynamic of war, and the casualties during this time.
The narrator, Cpl. Conroy's sister, notes how insane that situation was, and one of the main characters in the movie does die during this period. War is hell… and little kids should know that. And no matter how justified a war may be, it's still maddening.
CTMQ Rating: 3 out of 5 thumbs up
Connecticutness: 50 out of 169 Nutmegs
Filmed in Connecticut? No
Wealthy Caucasian with a Big House? No