The Ol' No Sex, No Money Play
Shaker Cemetery Memorial
Enfield
I've written about the Shaker community that existed in Enfield in years past. Their former community, now a prison complex, is a national historic trail and their existence is always a big part of local history museum displays. Why?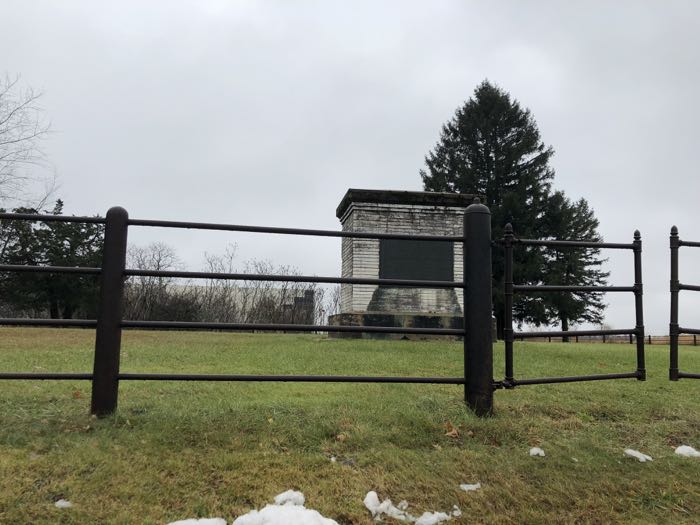 Because the Shakers were straight up weirdos. Religious weirdos who preached (and adhered to) celibacy. If you're missing why that's self-destructive, just ask yourself where the new generation of Shakers was going to come from? And then ask yourself how that recruitment effort played out when young men in their primes were told that they couldn't hook up with anyone. Ever. Yeah, the Shakers weren't long for this world.
But none of that is why I've decided to highlight this cement cube here on CTMQ. And it's not because you legally can't visit this thing if you really wanted to – it is on state prison land and it's fenced off. (If you really need to see it up close, you can. Though I've no idea why you'd want to. Especially since I'm going to show you everything you'll see there. Notably, this: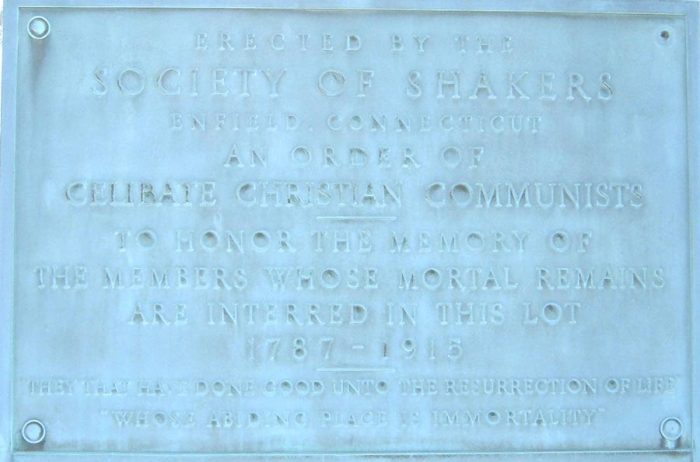 "Erected by the Society of Shakers… An order of the celibate Christian communists" blah, blah, blah. That's right, The Shakers were celibate Christian communists. There's a monument to the Irish Republican Army in Hartford, an organization many consider terrorists. And now we know there's a monument to commies in Enfield as well.
This thing came about at the request of the Enfield Shaker members who left in 1917. All of the headstones were removed and replaced with this one stark monument with no names listed.
If you care to read up on why the Shakers considered themselves communists, you can read all about it here.
As one would expect, the Shakers lived in characteristically ascetic and modest communes in provincial locations such as Enfield… The communes were meant to translate the Shakerist spiritual equality into a viable social organization, hence their adoption of communism. […]

Celibacy and communism were the two cornerstones of Shakerism. Their very establishment was founded upon a strict adherence to both. From this they sought to exist 'simply', to pursue rudimentary lives against the frittering whims and details of an ever-complicated outside existence. For the Shakers, the allure wasn't of a naturalist's life amongst the scarlet oaks and white pines of Appalachia or the romanticism of gathering upon unspoiled banks of huckleberries and mountain laurels to discuss philosophy – these were the Transcendentalists. Rather, the Shakers were inspired by abstract faith and willing religious conviction. Yet it was this celibate, communist way of organization that contributed a lot to the eventual decline of the Shakers.
Well… duh.

More on the Shakers
CTMQ-Worthy Gravesites & Cemeteries