You Can See Connecticut From Here
Six Flags New England
August 2019
I know, I know… Six Flags is in Agawam and Agawam is in Massachusetts. But goshdarnit, Six Flags' property is right on the Connecticut border at Suffield! And as the title above says, Connecticut is easily seen at the top of many attractions here!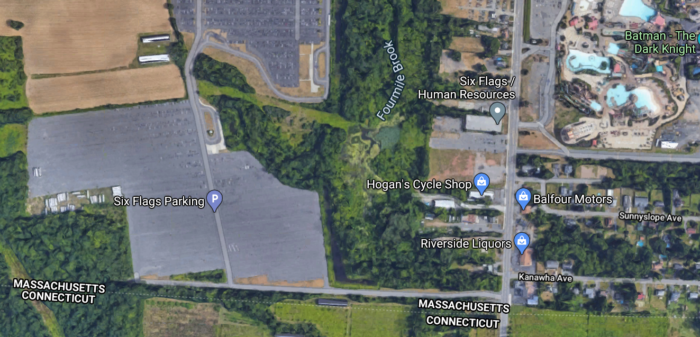 Okay, yeah, there's no reason to feature this place on CTMQ. Especially as it's a can of worms – now that I have a page about Six Flags, what's to stop me from featuring stuff in all the bordering towns in New York, Rhode Island, as well as Massachusetts? I'll tell you what: the fact that aside from certain hikes up certain mountains, you can't see Connecticut from any other attractions in those states. (He says with absolutely no knowledge of how true that is.)
But really, Six Flags is so close to home and so big, I've justified its inclusion here. So there.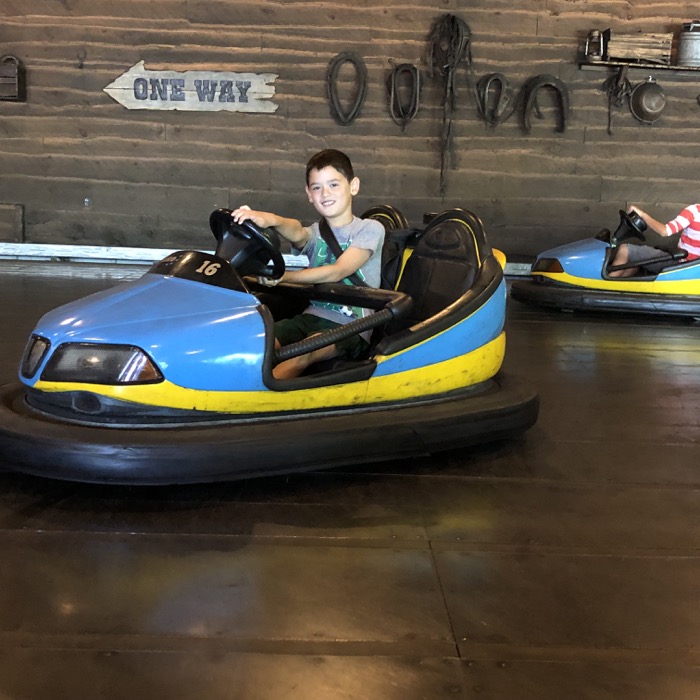 Calvin and I had free tickets so I took a day off from work and we made the cross-border drive. I had never been to Six Flags before, but I am an avowed lover of roller coasters… and so is Calvin. At eight, he'd surpassed the height requirement for every ride, so we were good to go. (Otherwise, it would have been a worthless trip for both of us.)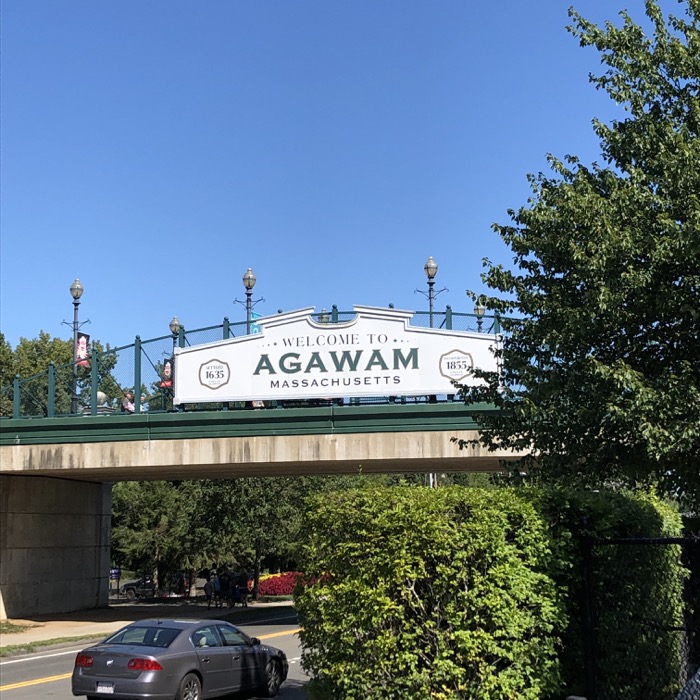 Calvin had soccer practice that afternoon, so our time at the park was fleeting. But we had a plan: Ignore everything but the coasters. We did manage to squeeze in a round of bumper cars and one go on the white water rafting attraction, but other that that and lunch, we rode every coaster. Some multiple times.
For despite the perfect weather, it was a late summer weekday, and many kids were already in school meaning the lines were usually short. It was the perfect day to visit a place like Six Flags.
As most people around the area know, Six Flags was known as Riverside Park for a long time – from 1912 to 1999. What most people don't know, is it opened in the late 1800's and is the oldest amusement park in the entire Six Flags chain. It began as a picnic grove in 1870 named Gallup's Grove.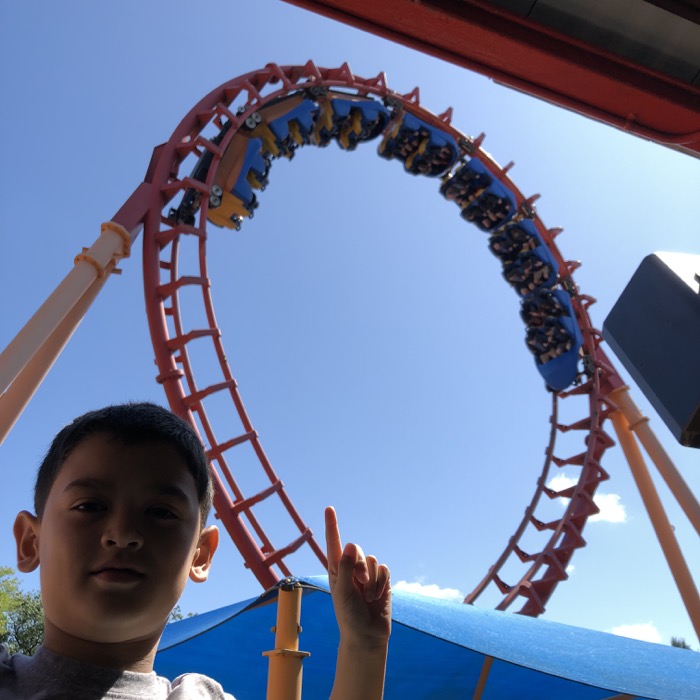 In the early 1900's, a few mechanical rides and a carousel were added. The park began its transformation from a picnic grove to amusement park in the early 20th century . The park's first roller coaster, The Giant Dip, was built in 1912 and the rest is history. Today, Six Flags is the place to go for thrill rides in the entire northeast.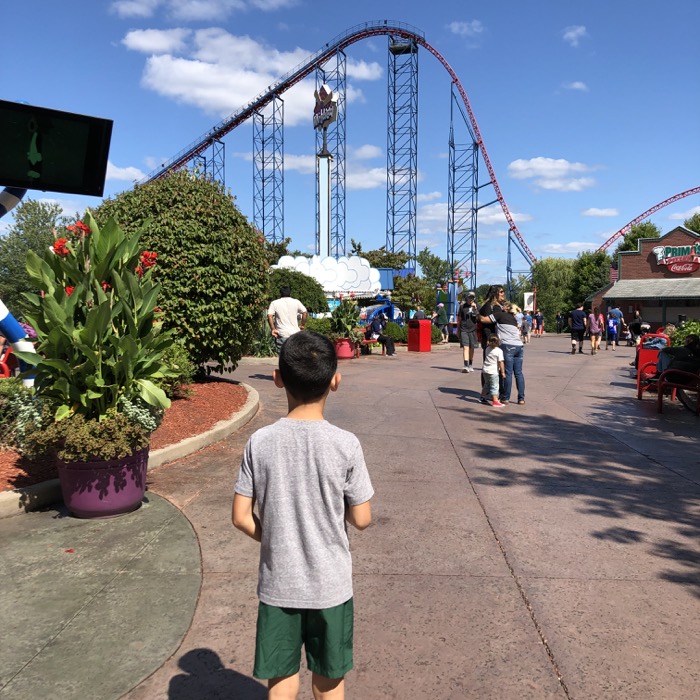 We arrived right at opening and made a beeline for… anything we could. Turns out, not every ride is operational at opening, so we passed a few coasters looking for one to ride. Up first: Wicked Cyclone. I hear some of you laughing – I brought an eight year old to ride his first real roller coasters – he'd been to Disney World, SeaWorld, Disney California Adventure Park, and LEGOLAND in California and had done every ride he could do… Manta at SeaWorld was the best of those places – and took him on Wicked Cyclone at 9:05 in the morning.
Having no knowledge of what coaster was what, we just hopped on. Front seat! Away we go… Wicked Cyclone is awesome. I think at the end of the day, it was my favorite. Here it is – you should open these videos up in YouTube and go full screen:
For Calvin's part, we rolled into the station and I turned to him. He was silent. I asked him if he liked it. He was catatonic. I said, "dude, please talk and let me know you're okay and not in shock." He slowly turned towards me with a smile on his face and said, "that. was. awesome." Phew, he wasn't dead.
From that point, we just rolled through every coaster. Pandemonium was next; a weird ride where the seats spin around randomly as you hurtle through the course. I liked it far more than I thought I would.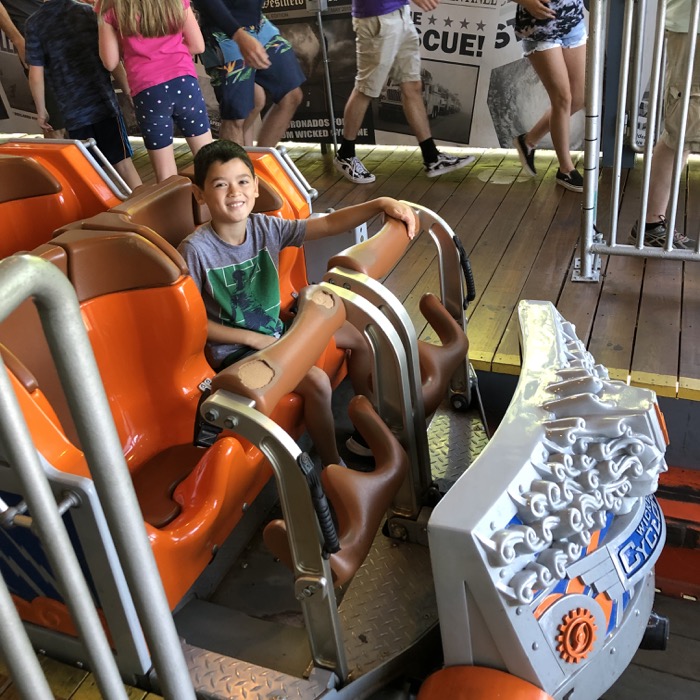 I'm a sucker for the classics, so I was looking forward to The Thunderbolt; a wooden monster built in 1941. It was nowhere near as good as Lake Compounce's Boulderdash, but it wasn't bad. Like Boulderdash, it's been deemed a landmark coaster by the esteemed American Coaster Enthusiasts. Nerds.
(Where do I sign up?)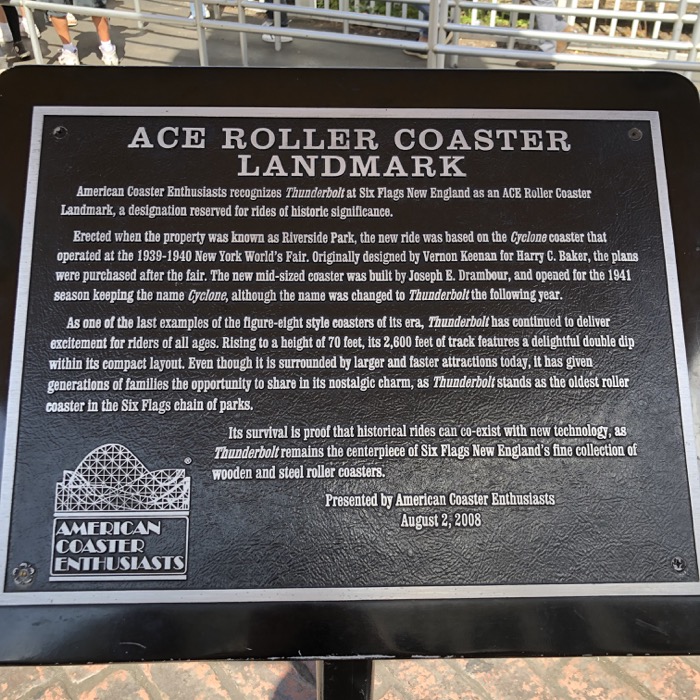 You won't believe this, but for me, the "scariest" ride of the day was the New England SkyScreamer. And it's not a rollercoaster. It's merely a swing! Albeit a swing that's like 3 miles* high.
*400 feet.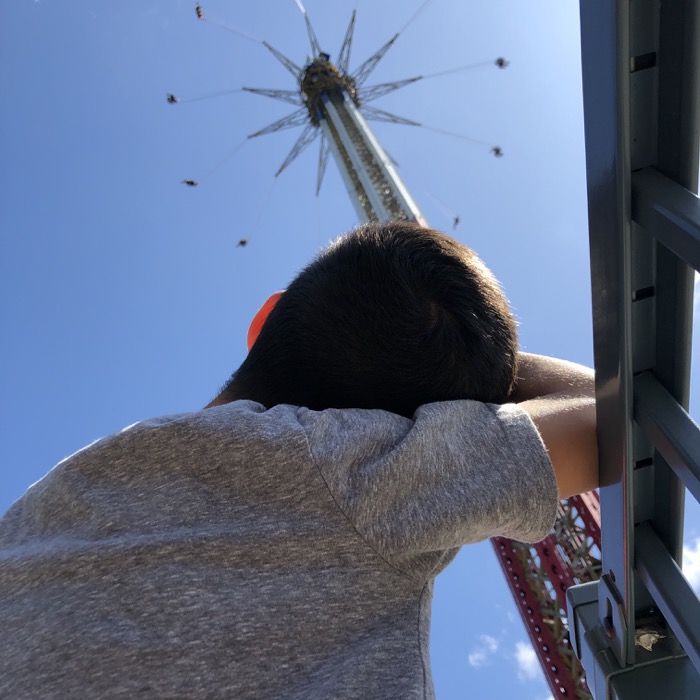 As the tallest swing ride in the world, this record-breaking spinning tower stands over 40 stories above the ground and provides an adrenaline rush like no other. First, you and 23 brave flyers will strap into your open-air seat with your legs dangling above the ground. The New England SkyScreamer starts to swing you around in a circle as you elevate to the very top of the tower to touch the sky, eventually reaching heart-pounding speeds of 40 miles per hour and heights of 400 feet. You'll be so high up that only the birds will hear you scream.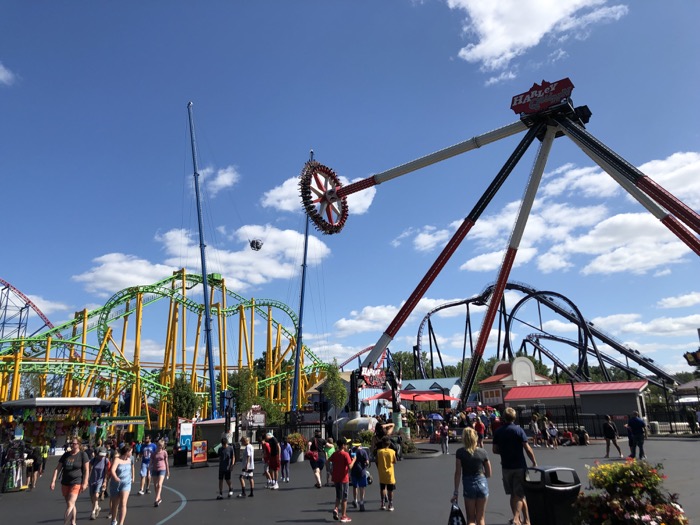 I was a bit uncomfortable when we first really started going, I must admit. Calvin didn't seem to mind. Y'know, I just remembered the bonkers Guardians of the Galaxy ride at Disney's Adventure Park… that was pretty intense. And Calvin rode it twice when he was seven. So, yeah, he's a pro. Anyway, here's the giant swing.
There's Flashback, which we both didn't like very much. It's the ol' go forward through a couple loops, then go backwards through a couple loops. It's just not that fun and our heads banged around in an unpleasant way. Goliath was pretty much the same thing.
The Joker was fun. It's "hook" is that you sit in open air and flip around during the ride. So it's a rollercoaster that you're constantly flipping on. The Riddler Revenge was alright I guess. It's just weird that Six Flags partners with DC so heavily. The kids couldn't care less about The Riddler or Catwoman.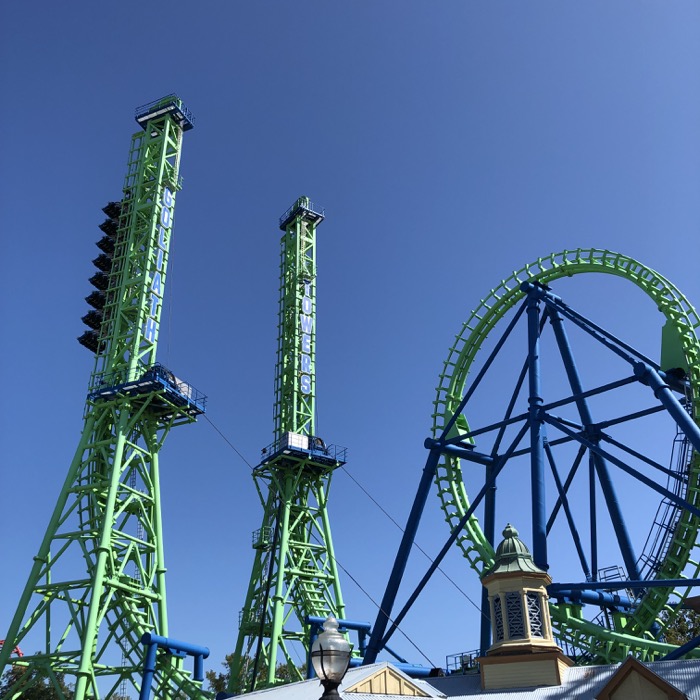 Anyway, the crown jewel coaster at Six Flags New England is Superman. The craziest part of it was that there was no line so Calvin and I did it three times in a row. It goes hiiiiiigh. 208 feet high with a 221 foot drop. That's intense. So is its 77 mph top speed. We did it in the front seat twice and the back once. (We did every single ride in the front seat at least once.)
Here's Superman:
Pretty cool. I think Calvin called this one his favorite of the day. And while it's great, I'm still sticking with Wicked Cyclone as my favorite.
We ended up really pushing it on time, and wound up speed walking out of the park and even jogging to the car, and probably driving a little too fast on the way home. We probably took nearly twenty roller coaster rides in six hours or so. Which is a fairly intense six hours – six hours I'd recommend to anyone.*
*Unless roller coasters aren't your thing.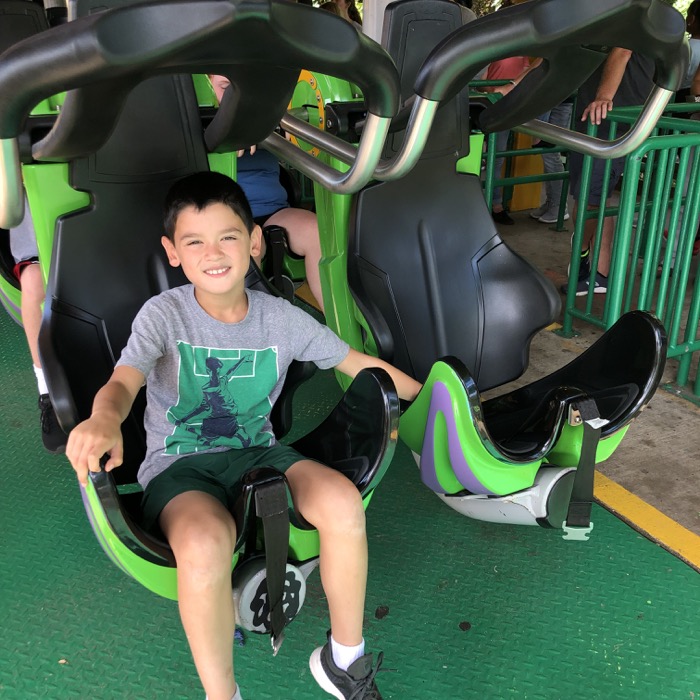 Six Flags New England
CTMQ's Theme Parks, Adventure Parks, and Carousels