"God's Marshmallows"
Suffield Land Conservancy (SLC): Sydney F. Fuller Wildlife Preserve
~.25 Miles, November 2017
I'm writing a quick little series on several Suffield Land Conservancy properties. Calvin and I ripped through a bunch of them on Election Day together; but don't get too excited. These are more cautionary tales than anything.
Not that Suffield or the Land Conservancy really touts these smaller properties. They merely mention them. And of course they do maintain some very nice trails elsewhere in town.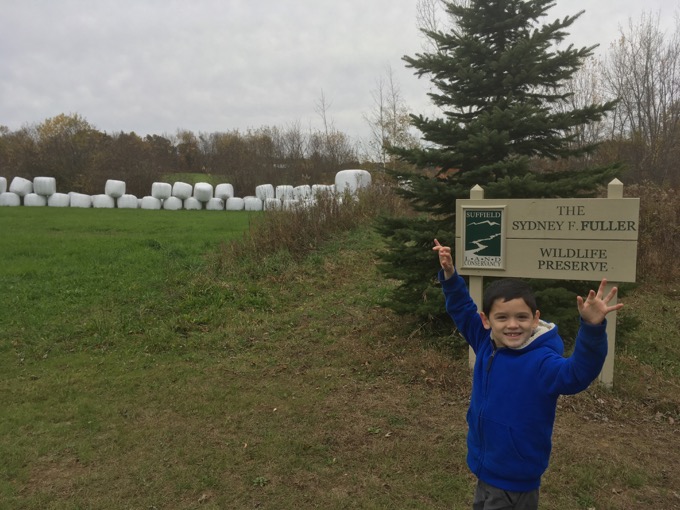 But here? At the Sydney F. Fuller Wildlife Preserve? Not really.
We parked along Mapleton Avenue near the "sewage treatment pumping station" as directed by the SLC.
Calvin was very curious as to what the giant white rounded cubes were. I explained that they were protecting bales of hay, but he suggested they were "God's marshmallows."
He climbed up one and then we walked out into the fields from which the hay was (presumably) cut. This property is over 21 acres, but it appears to be not much more than some bird habitat and farmed fields.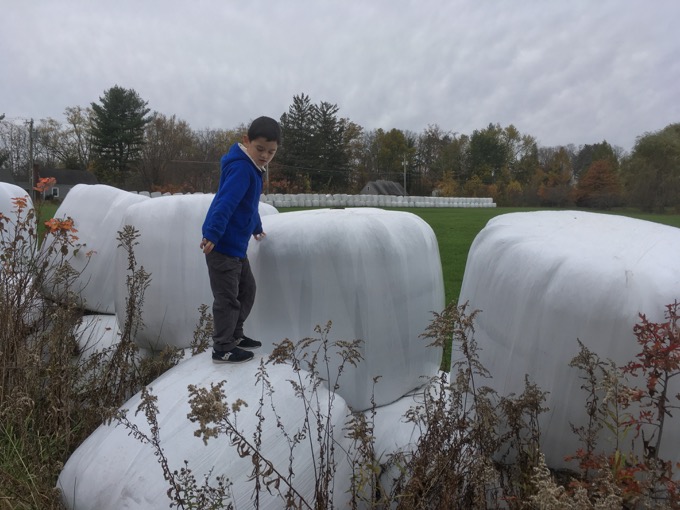 We poked around a bit and then returned to the car. Which gives me a minute to mention who Sydney F. Fuller was. According to his obituary, he was Mr. Suffield. Born in Suffield, raised in Suffield, and returned to Suffield after WWII…
In 1945, he joined the Griffin Fuller Tobacco Company, operating the Spencer Farm in Suffield until that firm was dissolved. He then purchased the Brigham's Candy Company in Suffield and operated it until his retirement. He served as President of the Suffield Savings Bank from 1963 to 1971 and as Chairman of the Board of the bank from 1972 until 1982. He had been in community and civic affairs, serving on the Board of Education and the Housing Authority in the Town of Suffield…"

It's very nice that he has a protected plot of land named for him now. May he enjoy eating God's marshmallows for all of eternity.

Suffield Land Conservancy
CTMQ's Suffield Conservation Commission Trails Main Page