In Oxford, Not Southford, Which is in Southbury
Southford Falls Covered Bridge
Multiple visits
There's a lot going on over at Southford Falls State Park which is almost entirely in Oxford (rather than Southbury). To wit:
A waterfall!
Trails!
Trails again!
A Watchtower!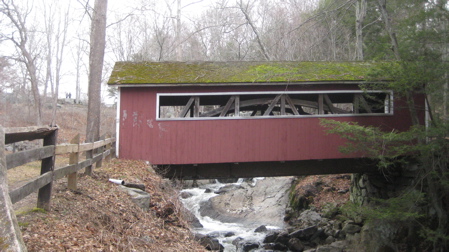 And this, a cute little covered bridge. It was built in ye olde 1972 and features prominently in New Haven county engagement photos and such.
The "tragedy" of this bridge is that I would guess that probably 90% of park visitors check out the falls, walk down the hill 100 yards to this bridge, then walk back up the hill back to the parking lot (which, by the way, is in Southbury).
Both it and the falls do make for nice photo ops, but go walk up the hill, people! There's a dang fire tower up there!
And fire towers are at least as awesome as covered bridge.