For the Dogs
Prospect Land Trust, Prospect
March 2023
I have long been a champion of little trails maintained by little organizations. Securing rights-of-way and clearing, blazing, and maintaining little trails in residential areas is arguably just as difficult and important as any 10-mile loop up and down remote mountains.
Okay, maybe not, but I like to treat each trail that is cared for with respect. Someone somewhere loves it. So I try to love it too. Just look at this! A giant kiosk and a bench! That's love.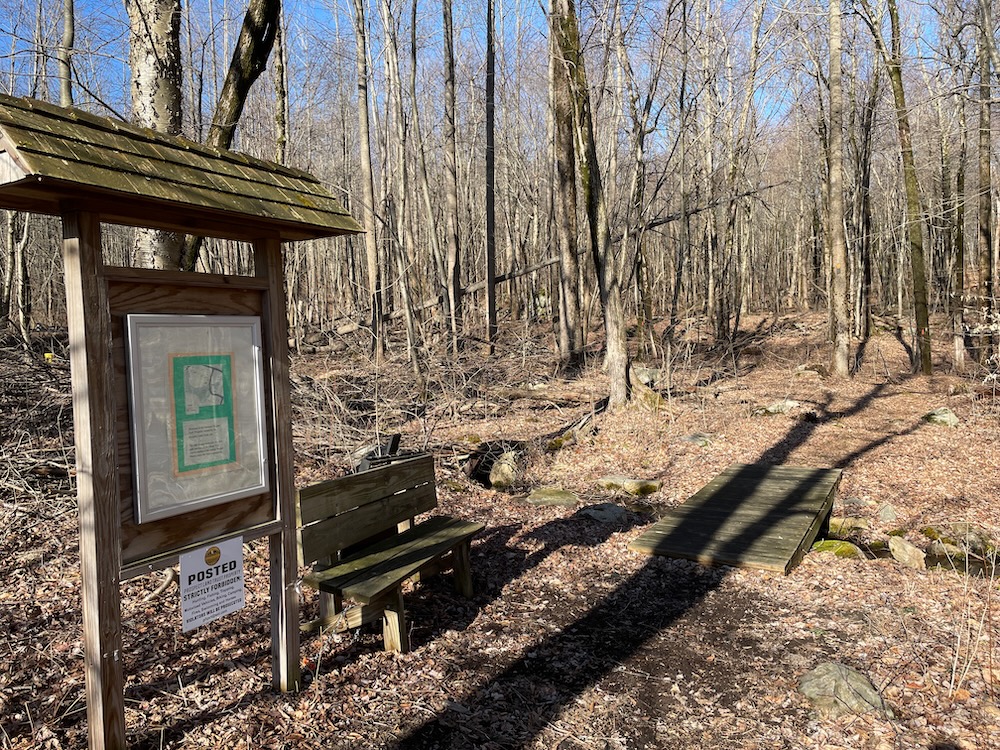 The Summit Heights loop trail off of Rosemary Lane in Prospect is such a trail. The fine folks at the Prospect Land Trust claim a 3/4 mile length, but that can't possibly be true. Now, it appeared to me that new houses have recently been built here, so there's a good chance that the Summit Heights Trail was truncated when that happened.
I don't know. What I do know is that the people who live around here love their dogs. I parked and was greeted by a woman walking two large dogs that were barking at a dog at the house nearest the trailhead. The house dog barked at me for almost my entire time on the loop trail – until the owner finally took it inside. When I was finished and driving back out Rosemary Road, a dog ran across a large lawn barking and charging at my car. When I looked at Google Maps just now, I see there's a business here called For The Love of Dogs – a dogsitting service.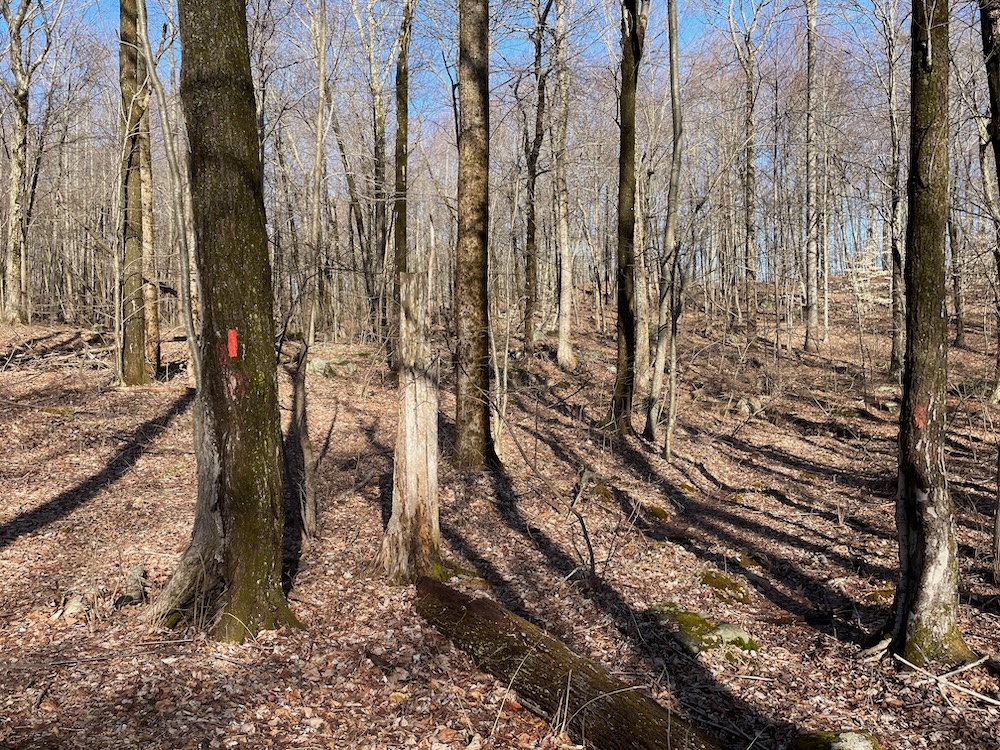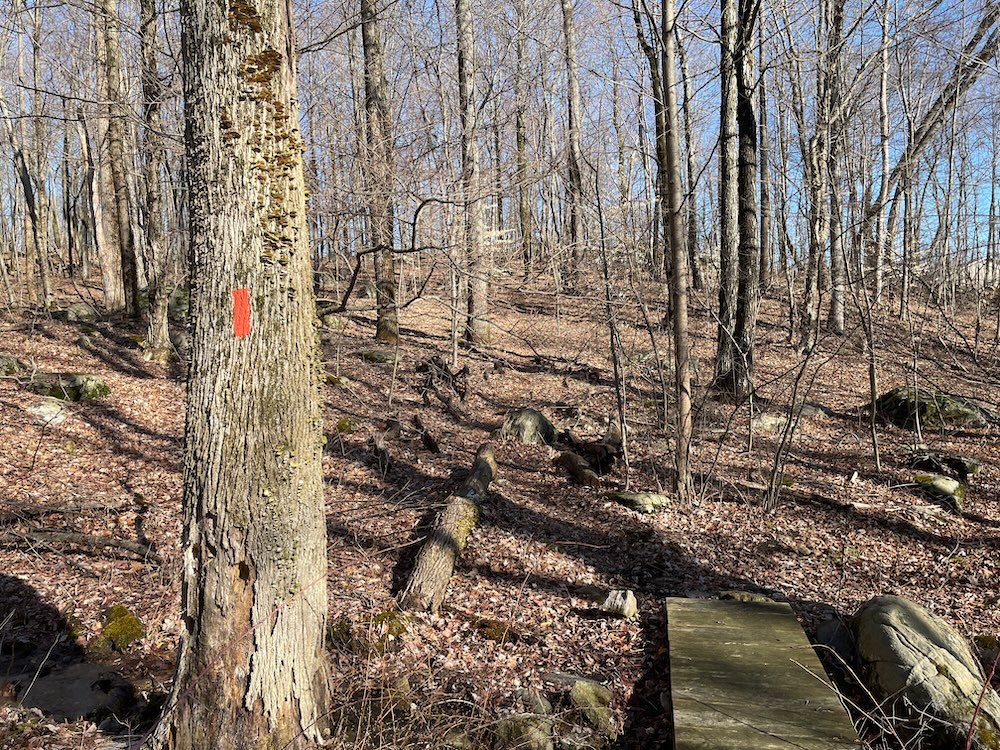 People love their loud dogs in Prospect.
Good for them. They can take them (on-leash, with doody bags) around the little orange-blazed loop trail here. It is well-marked and well-cleared. It goes across a stream (twice!) and up a little hill and across a swampy area and… there are some rocks and a lot of trees.
That's it. As is often the case with these tiny and easily accessible loop trails, it was a scout project.
The trail was created by Christine "Tina" Barry as a Girl Scout Gold Award project. Grand opening was held October 11, 2008. Eagle Scout Project completed by Nick Coehlo July/August 2014. In July Nick and his family helped a PLT volunteer work crew clear a considerable amount of overgrowth from the trail. At the August Board meeting Nick presented his proposal for further improvements with the primary objective of making the trail more visible and appealing to passerby, and thereby increase its utilization. Nick's project consisted of installing a split rail fence, weed mat, mulch and trail improvements. An informational kiosk was also built and installed.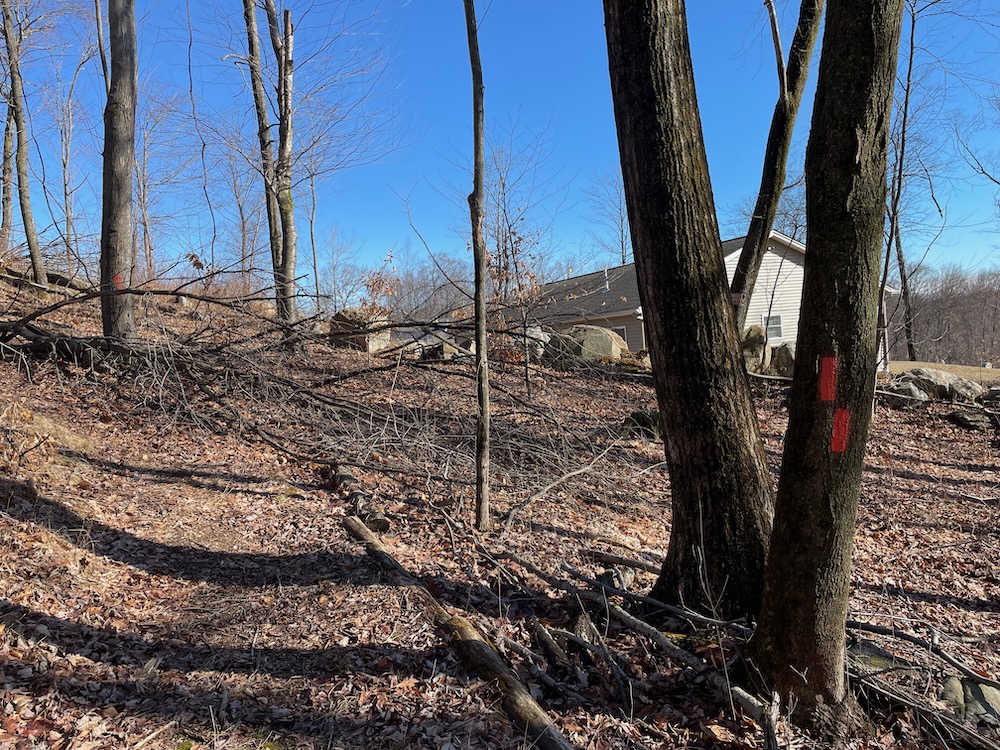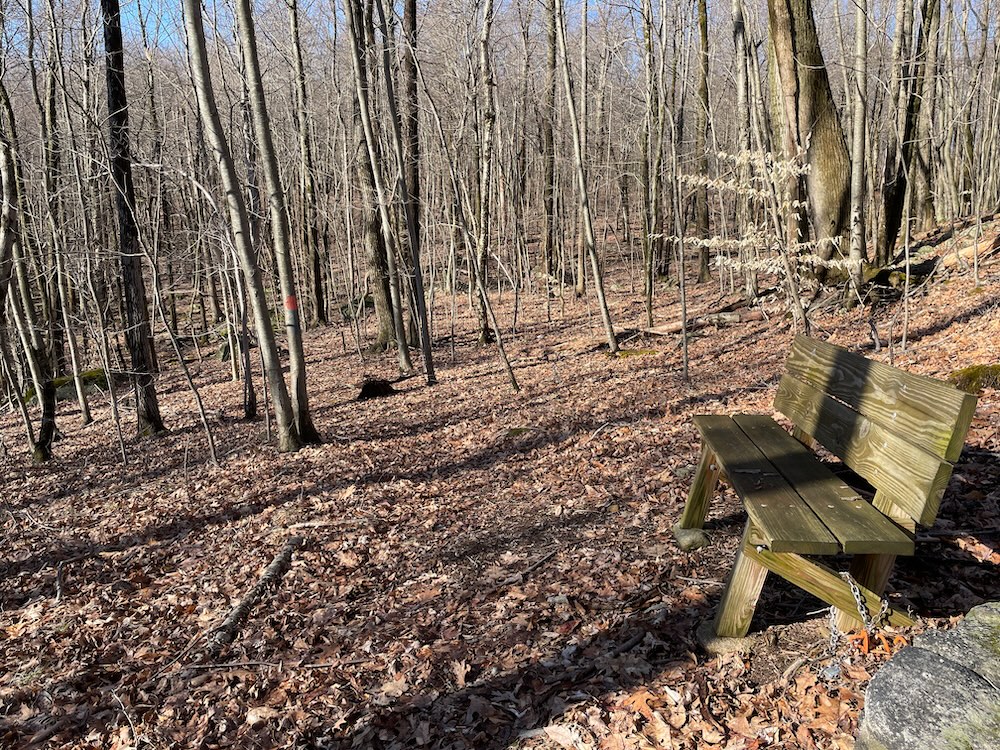 Thank you Nick and Tina. I see they mentioned the benches… there are at least four benches along this trail – a trail that can be completed in under 10 minutes mind you. So many benches! Who doesn't love benches?
The Prospect Land Trust says that "this property may also provide future connections to other open space parcels on adjacent lands owned by the Town of Prospect." That's why I was looking at Google Maps earlier; there are a lot of woods beyond this loop trail, so I can buy what the PLT is selling here.
So we can say, it's a good Prospect that there will be a larger loop trail at Summit Heights. Maybe. Someday.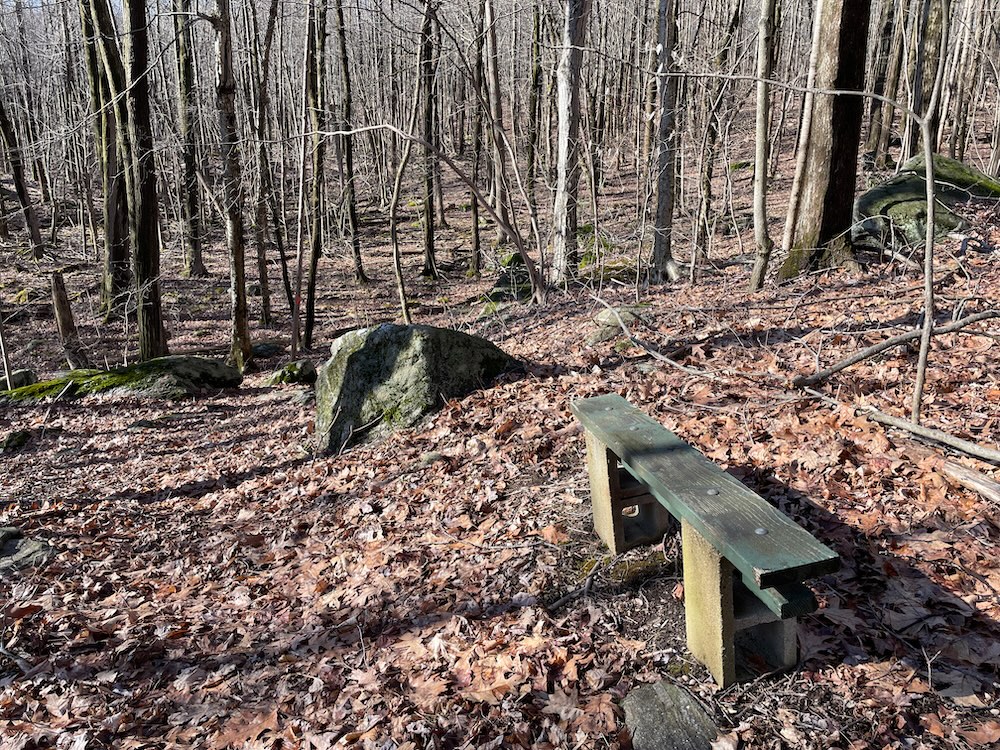 Prospect Land Trust
CTMQ Hikes PLT's Trails