College Prospectus
Prospect Land Trust, Prospect
April 2023
I recently wrote the following on another, shorter, Prospect Land Trust trail page: I have long been a champion of little trails maintained by little organizations. Securing rights-of-way and clearing, blazing, and maintaining little trails in residential areas is arguably just as difficult and important as any 10-mile loop up and down remote mountains.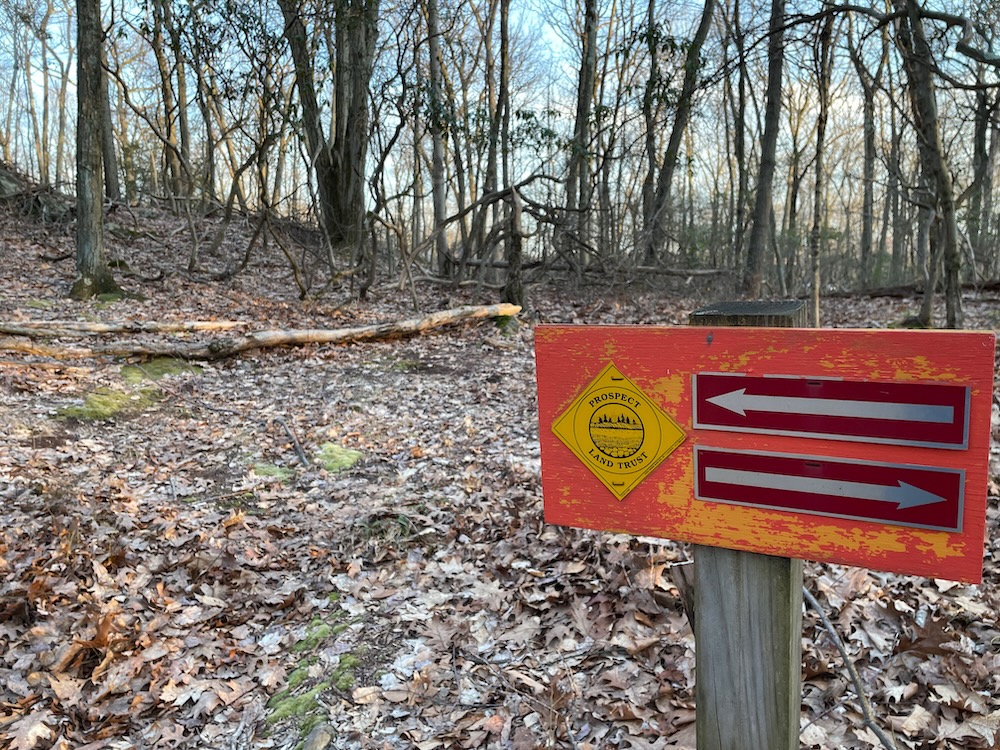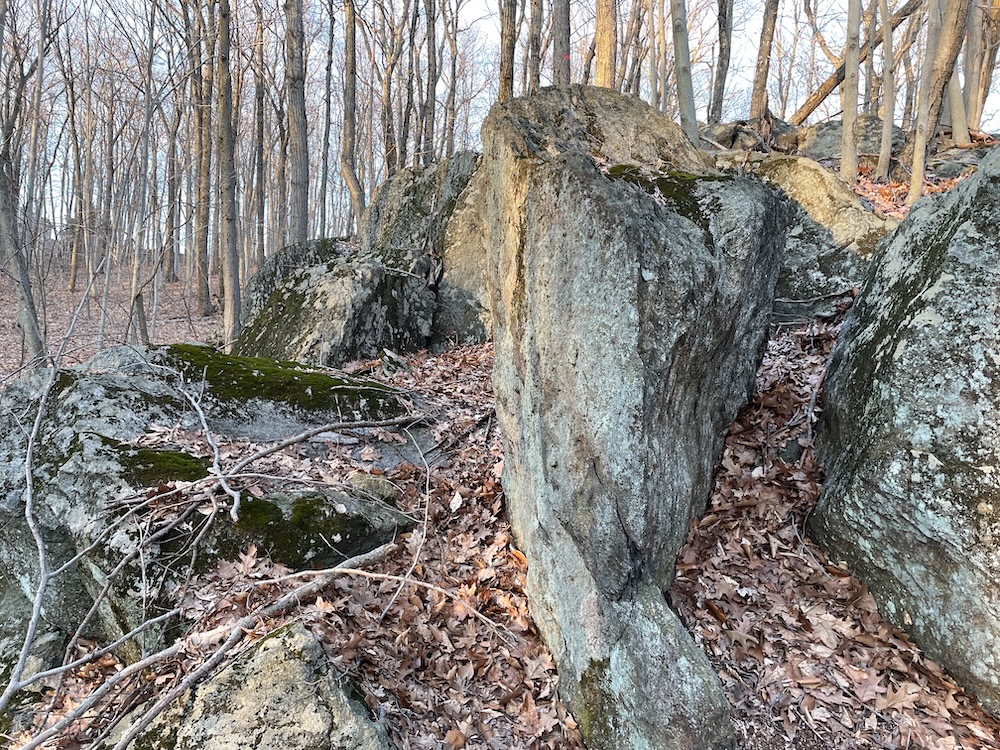 Still true. Except here, at the College Farms property, that right-of-way to reach the land trust parcel is one of those that will forever give me pause. But I'm here to tell you to "just go for it." Or to do what I did. Up to you, really.
College Farms proper is a wee parcel at only 5.43 acres. Although tucked behind a residential neighborhood, it feels much larger as it borders Connecticut Water Company land surrounding the New Naugatuck Reservoir.
You must park in the cul-de-sac at the end of Yale Farms Lane. (The other two roads in this neighborhood are Cambridge Drive and Ivy Terrace, hence the "college" moniker.) When I parked, a teen was shooting hoops and staring warily at me. His house, on the eastern side of the road, is bordered by a white fence. I hadn't read anything about this trail and therefore I didn't even look his way.
But to access the access trail, you want to walk alongside that kid's driveway to the fence on the left and then you'll see it there.
I didn't do that, as there's a clearly defined trail that heads north into the woods at the back of the cul-de-sac. That felt… better. Of course, after walking into the woods, seeing no signs, and realizing this was just a local cut-through to another neighborhood, I got a little frustrated. I turned around and headed back towards Yale Farms Lane and saw a trail that headed west across a field. But I wanted to go east towards the reservoir.
Ah! A herd path does head east down the hill from this path, so I followed that. This is not a well-maintained trail, but it wasn't too bad in April 2023. About halfway down the hill I saw a trail kiosk – my goal – so I kept going.
Once at the kiosk, I saw that a defined trail existed – the one that heads up to the road right alongside the fence next to the house with the basketball kid. At least I knew I'd finish up that way. For now, I had an orange-blazed loop through the woods to tackle!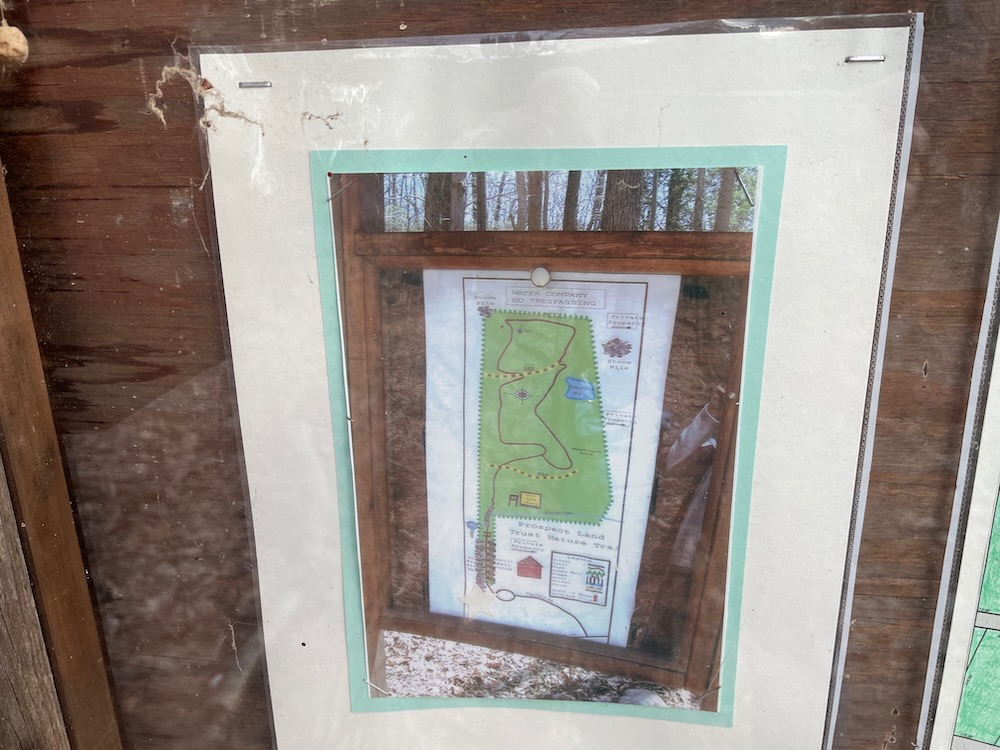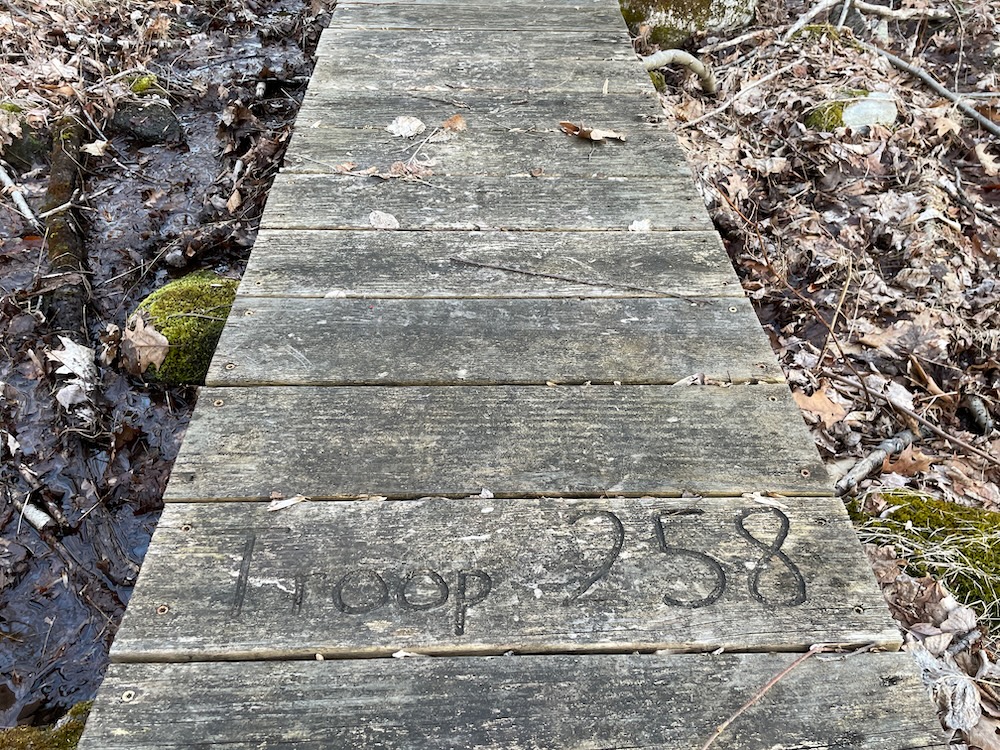 College Farms loop is short – maybe 2/3 of a mile or so – but it takes in a lot.
The trail opened in 2004 and since then, several Boy and Girl Scouts have done various improvement and maintenance projects along it; clearing invasives, litter patrols, bridgework… that kind of important stuff. And the Prospect Land Trust has done a great job with it as well.
The geology here is fairly interesting, as the trail traverses some ridge lines with some cool rock features. (Don't worry, the ups and downs are not strenuous.) I imagine the hike is much prettier in the summer when the laurel is in bloom, as it does cut through several thickets of the stuff.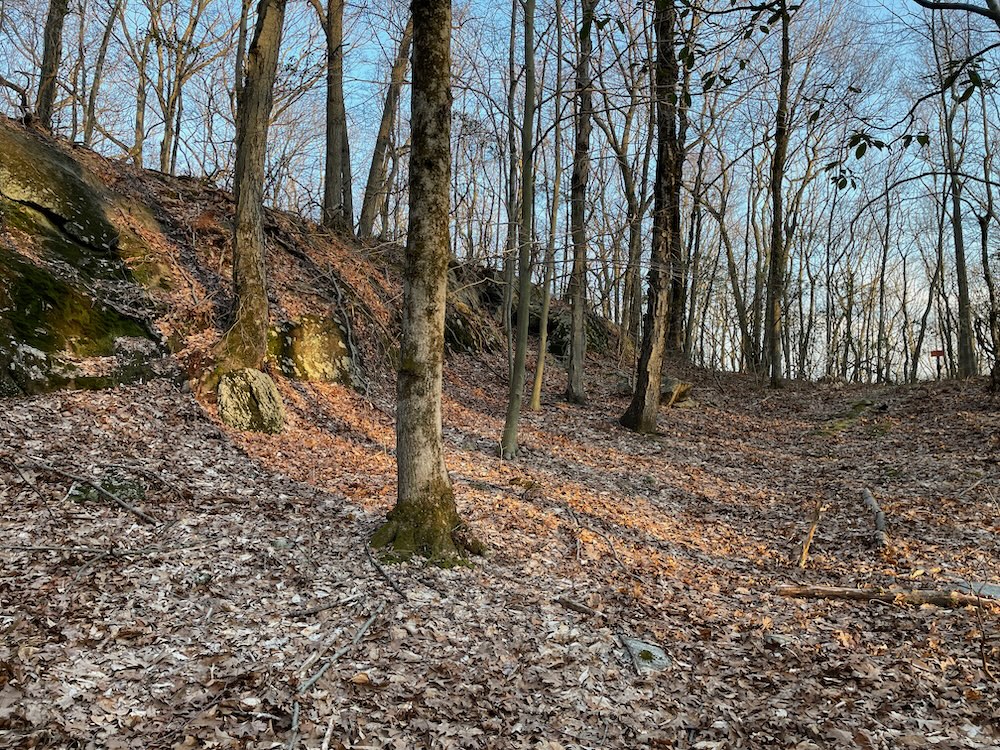 After a bit of my counter-clockwise stroll, the neighborhood fades from view and the trail attains a height-of-land and the reservoir appears below. The land here is rugged and wooded. It's not like Prospect is a densely populated town, but to suddenly feel this remote is always pretty cool.
A large boulder sits atop the ridge and appears to be a bit of a party spot. It's been a while since I've seen Slayer graffiti, but Prospect is keepin' speed metal alive. Shout out to Prospect's Slayer fans, but c'mon man. No need to spray paint a boulder way out in the woods. Don't be so stupid.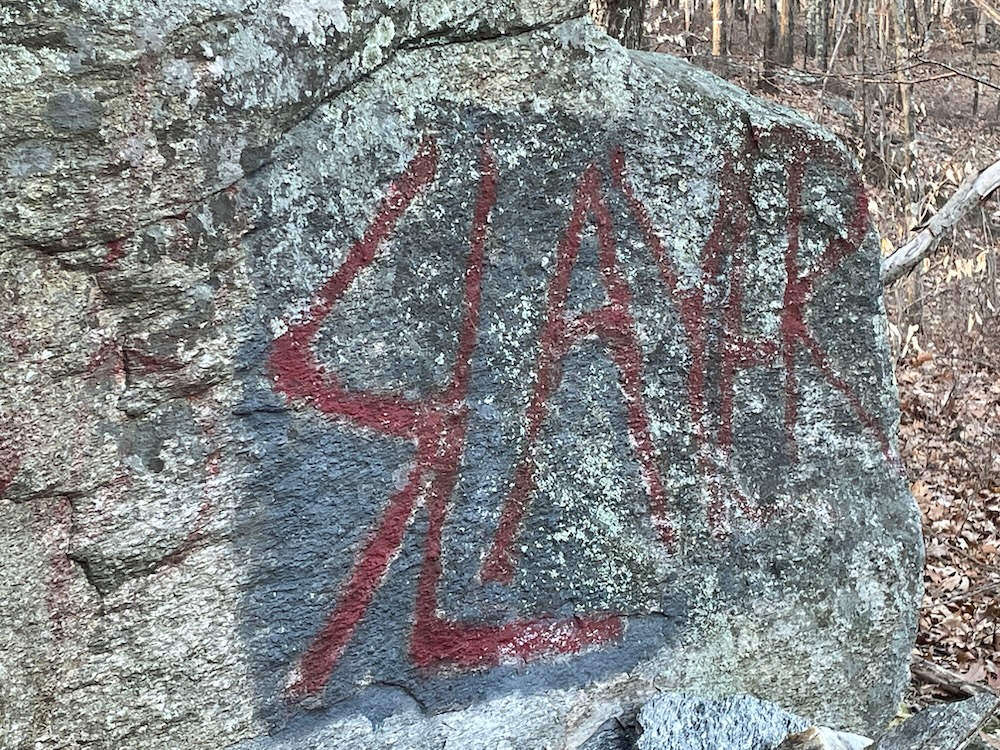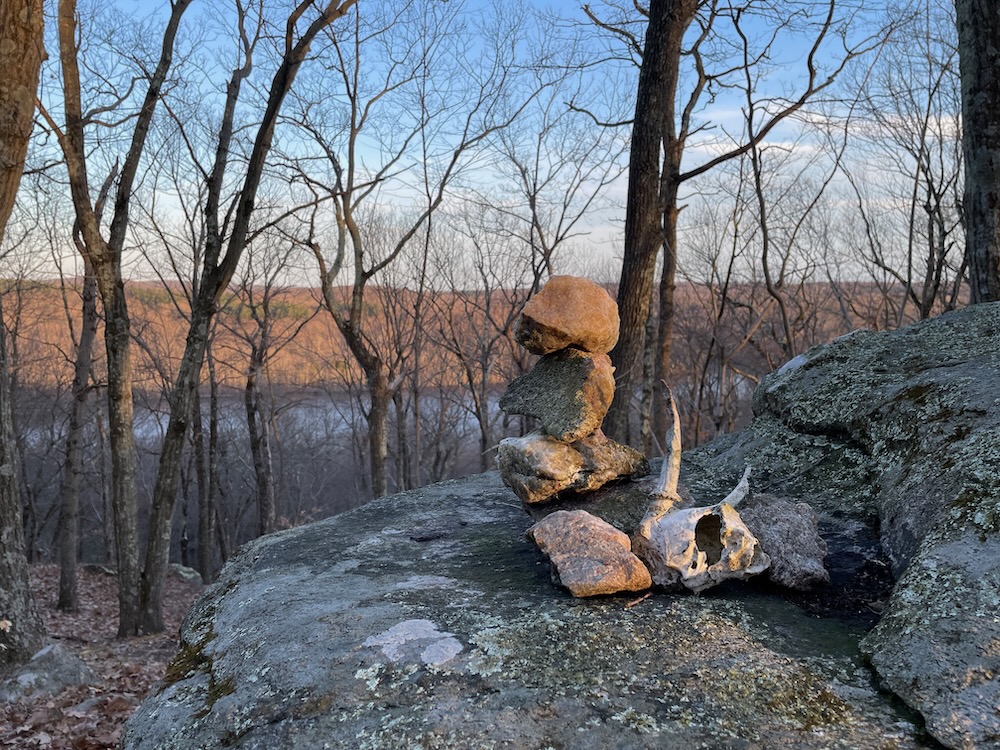 The views of the reservoir are seasonal at best, but pretty nonetheless. The cacophony of spring peepers kept me company as I curved around the ridge through more laurel and alongside a deep re-entrant bordered by a wall of boulders. I assume these were dumped here when they cleared the land for the roads and houses of College Farms, as they were as striking as they were out of place.
Off the ridge and across some wet areas and near a vernal pool. The sun had nearly dipped behind the large houses up the hill now as I completed the loop and began the walk up to my car. Man, the trail is right along that house's fences. I could see into the house. I'm never comfortable with these situations, but the land trust secured this right-of-way and the homeowner is fully aware of the situation. Just do it.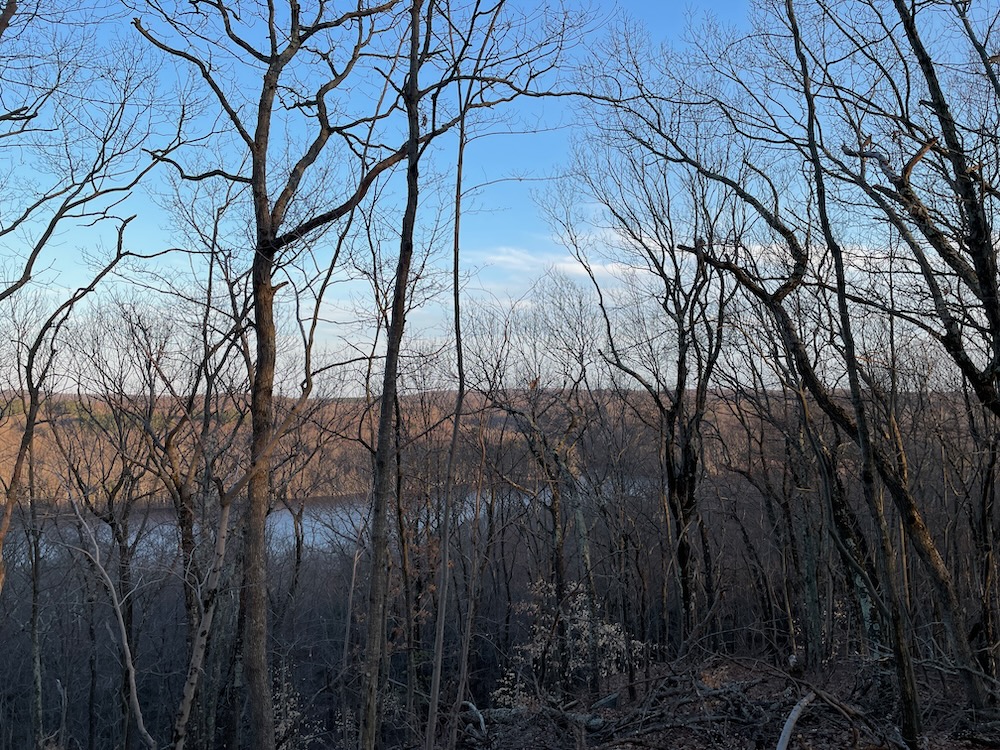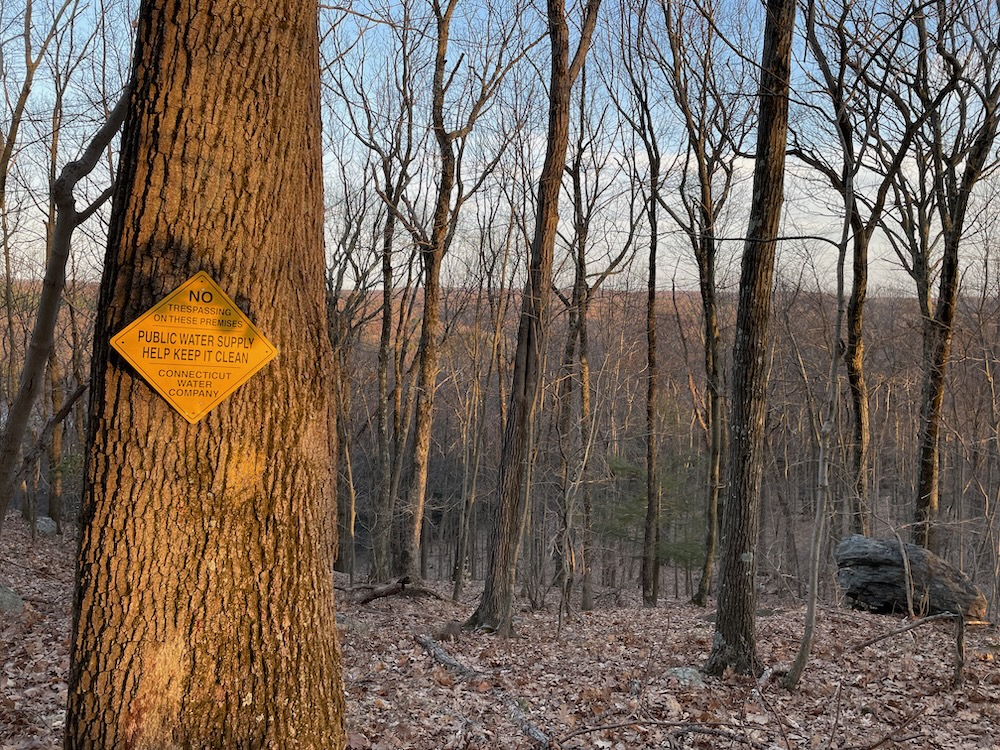 At the end of the fence I noticed a Prospect Land Trust sign pointing to the trail. It was on the ground and somewhat hidden, but it's there. And I was done.
This is a great little trail! And it's been here for decades! It never ceases to amaze me what lurks in Connecticut's patches of woods.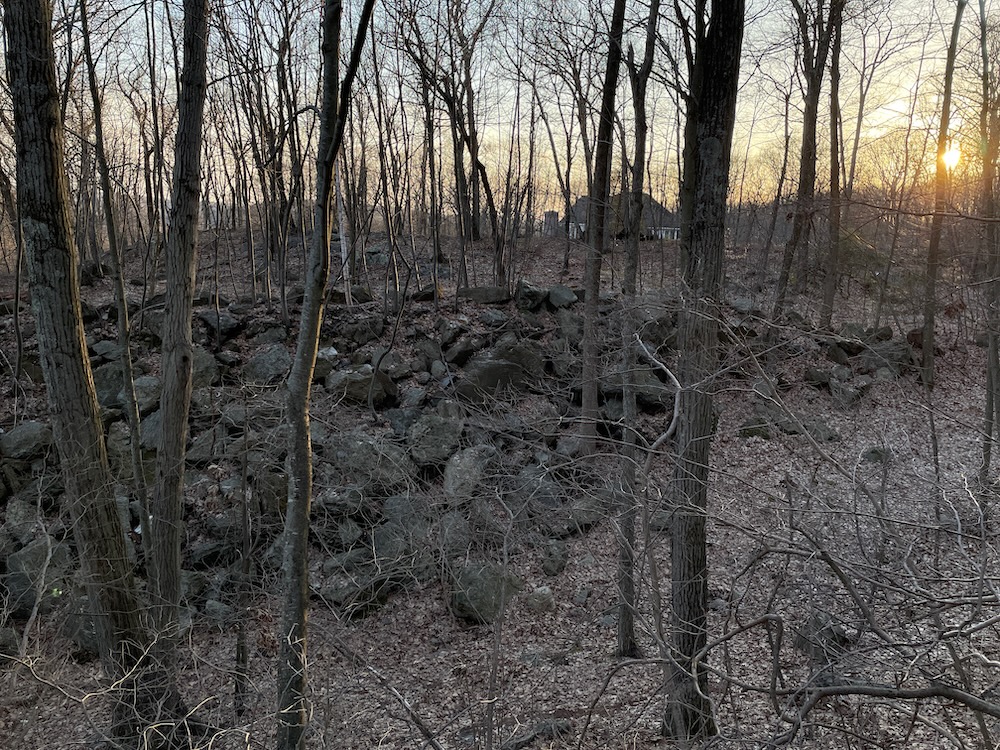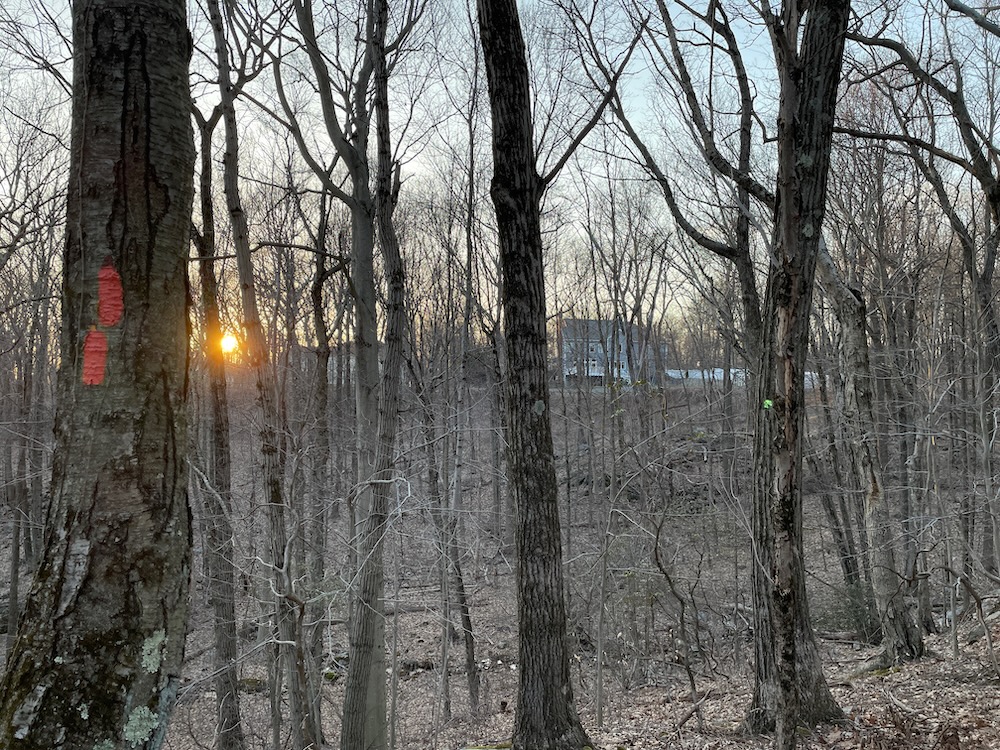 Prospect Land Trust
CTMQ Hikes PLT's Trails