Rocketing Through Granby
The Godard Preserve, Granby
September 2014
Godard… Goddard… Robert Goddard… "Rocketing Through Granby? … Never mind.
As per usual, I took a break hiking with the boys for the hotter months. I do this because, well, because it's hot and when it's hot, the deer ticks and poison ivy come out in force. And my kids love doing the very things I tell them not to do; like touching poison ivy and walking in tall grass naked.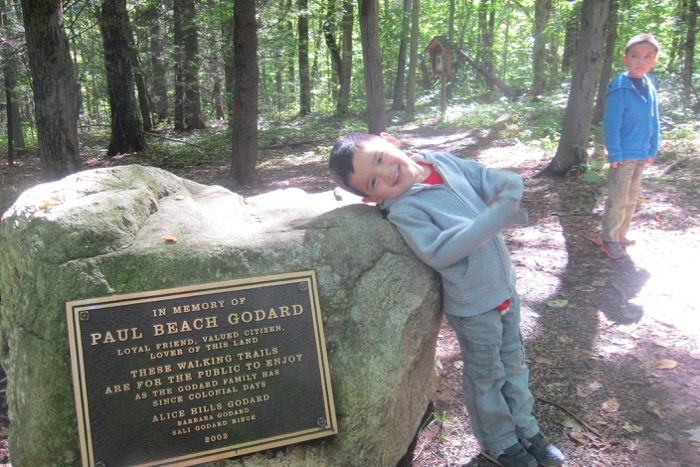 Well, they would do those things if I gave them occasion to do so. So I don't. So we wait until September when the deer ticks are still out, but pants are more comfortable to wear. Moving on…
The Godard Preserve was our third (and ultimately last) Granby Land Trust property. It connects to the Mary Edwards Mountain Property across Donahue Road. (Our hike of the MEMP here.) For an adult or pretty much any able bodied hiker, combining the two properties into one day hike would be quite simple – and recommended – to do.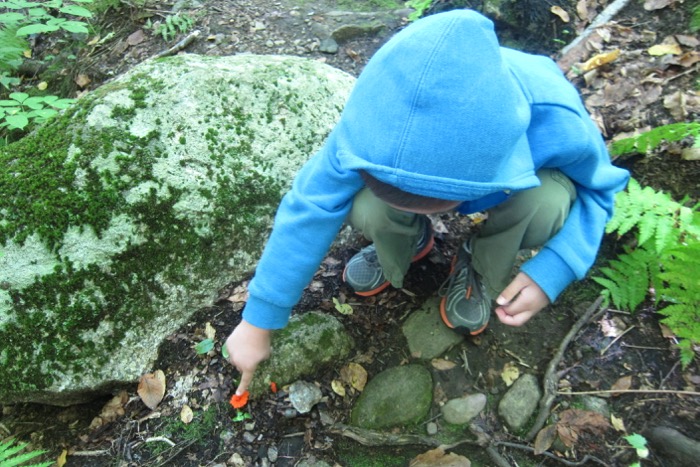 However, I have a 3 year old and a challenging special needs kid. So, for now, we go on shorter hikes with fewer ups and downs than most day hikers usually do.
But that doesn't mean we have any less of an enjoyable time.
There are two preserve entrances, both on Donahue Road. We opted for the more southern of the two, as it's the one that connects to the MEMP. Plus, it has a cool memorial rock, dedicating the preserve to the Godard family.
To borrow from my friend, Hartford Courant writer Peter Marteka (who borrows from the land trust's brochure):
When Alice Hill Godard, widow of Paul Beach Godard, donated the property to the Granby Land Trust in 1997, the land had been in the Godard family for more than 300 years. According to the trail brochure, family members are direct descendants of Daniel Gozzard, who came from England to Hartford in 1646. During the late 1800s, timber from the land the preserve is on was sold and helped George Seymour Godard pay for his education at Wesleyan University.

The property is dedicated to Paul Beach Godard, a two-term councilman in West Hartford. A monument at the start of the preserve's blue-blazed trail notes that Godard is a "loyal friend, valued citizen and lover of this land. These walking trails are for the public to enjoy as the Godard family has since Colonial days.
Hey! A tie to my hometown of West Hartford! How exciting.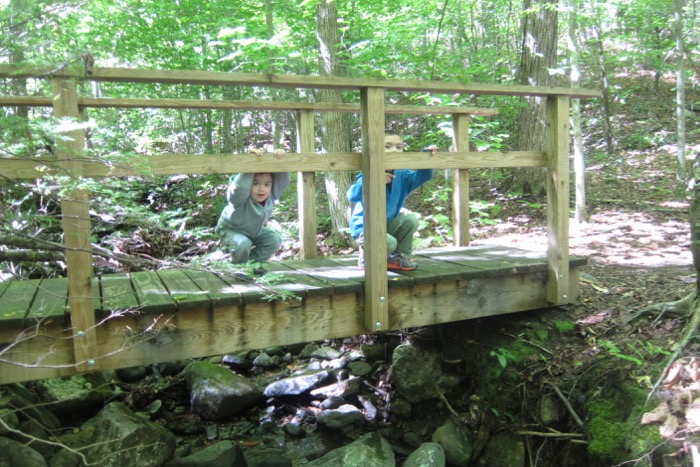 And the trail, blazed blue here at the outset, starts off with an equally exciting steep descent to a rather handsome bridge over a creek. And here's where I get into the stuff with my older son Damian and how raising him can be a unique experience…
Calvin, the typically precocious three-year-old, bound down the steep slope with confidence and glee. Damian? Not so much.
He gingerly picked his way down. Measuring each step with extreme care and forethought. He stopped to think about after each step. It was slow… very, very slow.
But it was great. This is a kid who didn't walk until he was two-and-a-half. He's eight now, but until maybe six months prior to this hike, there's no way in the world he'd have even begun to attempt this descent on his own. I offered help –
"No! I got it!" he'd rally.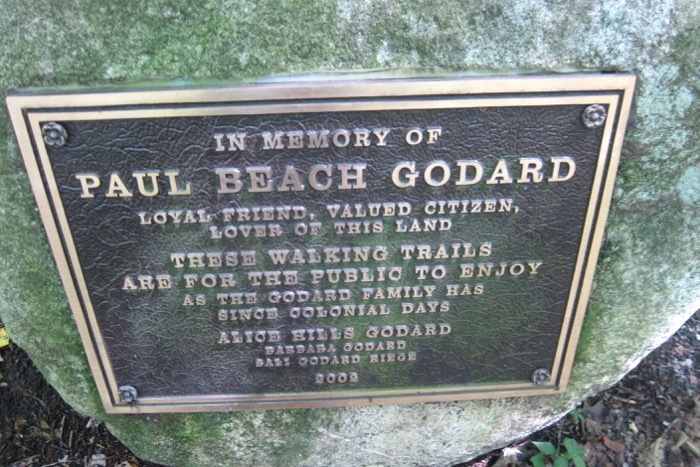 Calvin dallied at the bridge below, shouting up, "C'moooon, D!" I shushed him. With Damian, it is a very fine line between encouragement and setting off a violent tantrum. I offered help again –
"I'm okay, I'm okay," came his staccato reply.
And perhaps 10 minutes later, he made it. (For comparison, Calvin made it down in maybe a 45 seconds. I'd have done it in 15. Damian teaches infinite patience, if nothing else.
Damian doesn't really show pride like typical kids, but it's in there. I know it is. We paused at the bridge, happy to know that there'd be nothing as steep until we had to get back up the hill at the end of our day. I gave Damian a high-five and we were on our way.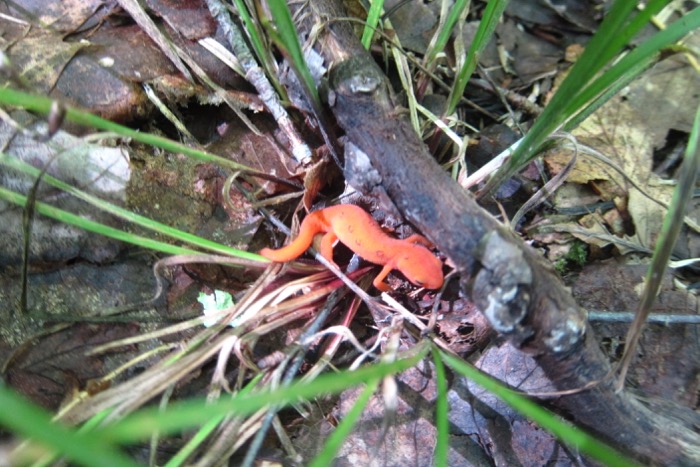 Our way was to hike down the creek along the blue trail. With our very dry 2014, the water level was nearly nil, but this is still a damp area. I imagine this trail is pretty dicey after some springtime snowmelt and rains.
As Calvin hit ferns with his stick and Damian did whatever it is that kid does, I did what I always do – look for cool stuff to show the boys. Be it brightly colored fungi or an oak sapling emerging from an acorn, nature is an endless supplier of cool stuff.
Like red efts. These beautiful little guys are the juvenile, land-dwelling life-stage of the Eastern Spotted Newt. They definitely fit the "cool" bill.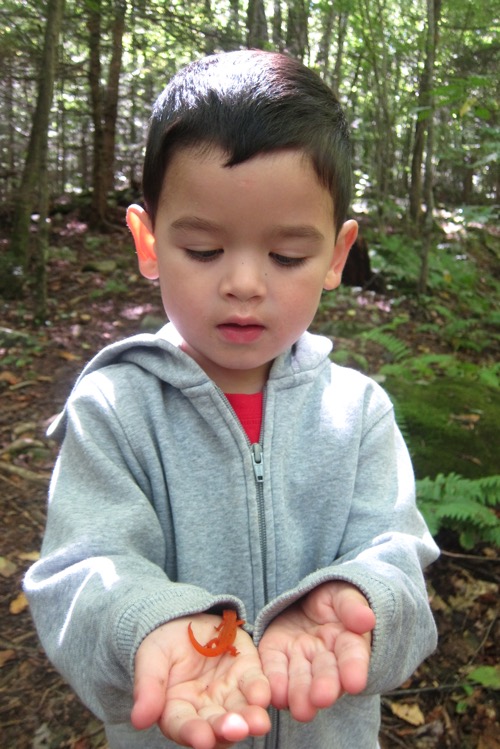 Calvin held him and I was able to teach him a bit about how to be careful with little guys like this. Unfortunately, he still needs some help in how to return them safely home, but we're getting there. (NO! he didn't hurt him! … … but assuredly would have had I not been vigilant.)
The trail left the creek and entered a more upland forest region. This allowed Damian to stuff his pockets with acorns, examining each new one as though it was the first he'd ever seen.
"COME ON, D!" Calvin shouted some more.
After a while, I made the decision to make a real hike out of our day and headed north on the yellow trail. This took us to a huge glacial erratic (boulder). I promised the boys some snacks and drinkboxes and a little rest here.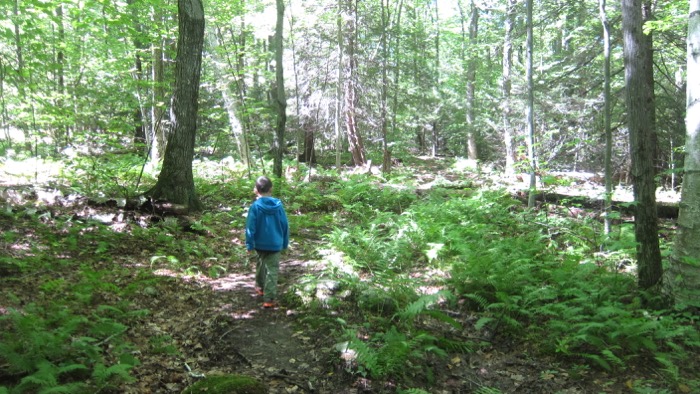 If I'm going to pick on my kids' hiking habits, I should pick on one of my own: I don't like to stop and rest and therefore have difficulty stopping and resting with my kids. I'm an ogre, I know.
But this boulder is a great place to do it. I helped them up on top and tried my best to keep Calvin from jumping the 9 feet to the ground below, while encouraging Damian to scootch on his butt to the middle, while he was nearly catatonic with fear.
All for this picture: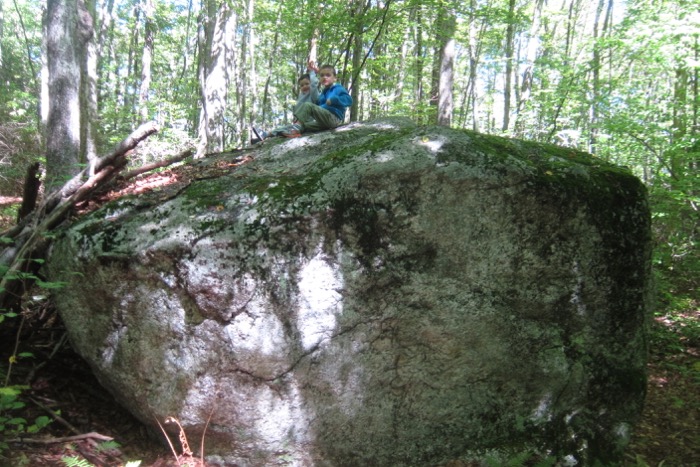 Safely down, the boys snacked and drank and then we were back on our way, down to the more northern end of the preserve.
We crossed another creek via a broken bridge, which my boys loved for some reason. In fact, during our recap conversation on the drive home, Damian declared it his favorite part of the preserve.
After the creek crossing, the yellow trail turns south and climbs up a hill for a decent distance. Nothing very steep, but for little kids it's a bit of a grind. I had to carry Calvin for a little bit, but Damian kept plugging along with only mild protest.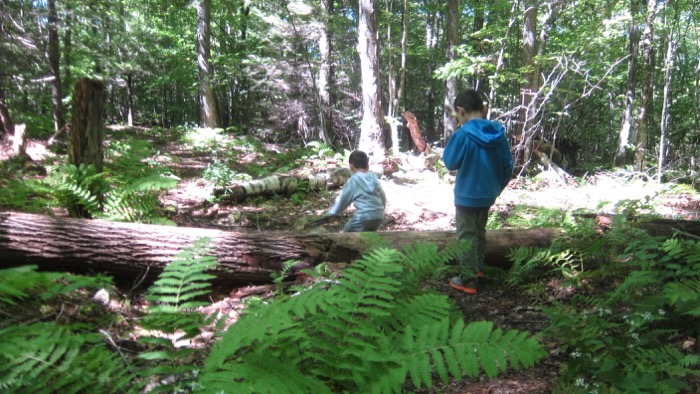 Once we topped out and began our slight descent back around to that first bridge, the boys were pretty much done. The calls went out for post-hike ice cream and dreams of seeing mama again. In other words, typical tired whining.
I kept them in the game and we had closed the loop before they could get all their whining out. At the bridge, I tried to pump them up for the steep climb to our car, encouraging them with praise and promises of ice cream.
And that's when I got my first taste of a three-year-old not knowing the struggles of his eight-year-old brother. I said something like how they did a great job coming down, so let's do a great job going up.
Calvin immediately exclaimed, "No! I did a great job coming down! Damian didn't! He was slow!"
Sounds silly now, but it really wasn't. It was a bit heartbreaking for me. My wife and I know, of course, we have a bumpy road ahead of us as Calvin becomes more and more aware of Damian's unique qualities. He's going to ask difficult questions and surely resent his brother from time to time.
But this was the first time in my experience with them that Calvin sort of showed Damian up. It was the first time that he challenged my parenting choice of trying to equalize their vastly different abilities. And yeah, that kind of hurt a little bit.
After all, Damian did do "Damian great." Calvin just did "typical three-year-old." And that's a concept that any typical three-year-old isn't going to understand… and like I said, we have years of this sort of thing ahead of us.
Sigh.
Anyway, Godard is a nice little preserve. I told them we had completed the Granby Land Trust trail system and they expressed their enthusiasm: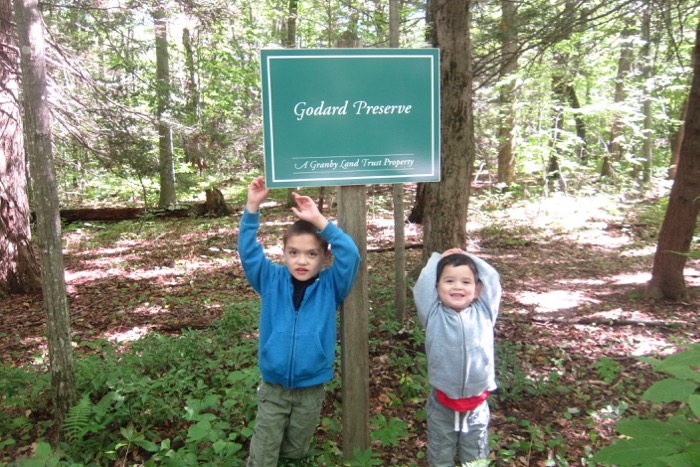 Granby Land Trust
CTMQ's Granby Land Trust Trails