Jesus Christ, That Must've Hurt!
Holy Land USA, Waterbury
November 19, 2004
Note: This is a poorly edited piece from my old blog – where the trip to Holy Land USA was merely a tiny part of a larger week-long roadtrip where we picked off PA, MD, WV, and DC highpoints, so it's written sort of differently.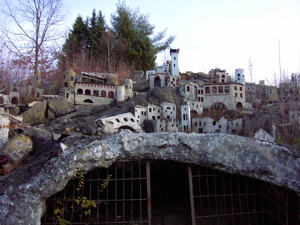 2019 Update: Holy Land is a "thing" here in Connecticut. It's a real life meme that is always "going to get fixed up next year" but never is. Now, 15 years after Hoang and I first visited, I believe Holy Land is much the same. And if you're reading this in 2030, I'm guessing nothing has changed.

After putting in a half day at work, Hoang and I hit the road and set out west across Connecticut, a drive we have done numerous times. But this time was different, as I had a special little diversion planned. Every state has its own quirky little places, and ours is certainly no different. Waterbury's quirkiest… and creepiest and tackiest must be Holy Land USA; high up on the hill overlooking town. I think we can all agree that religious zealots are often short on taste and decorum, but the guy who designed and built Holy Land had to be certifiably insane. I will spare you the historical details of the place and the man who built it, as you can get that info (and more) here.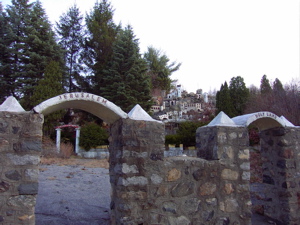 Holy Land is only about a half hour away from my house, so I can't believe I haven't seen it before. Once we exited the highway, we drove up, up, up, the steep hill all the way to the top. We parked the car at the crumbling nunnery next door and stared with wide-eyed anticipation at what lay before us: Holy Land USA. Awesome.
From what I've gathered, this place was somewhat of a tourist destination back in the 1960's and drew thousands of visitors a year. The guy who built it poured his heart and soul and bank account into building the whole place essentially from garbage. Secondhand cement, 2×4's, plaster, brick – whatever he could get his hands on. After he (one would hope) met his maker several years ago, there was no one to keep the place up and it has gone to hel- errr, rot. The small nunnery next door is supposedly responsible for the place, but it's readily apparent those nuns have better things to do. We knew there would be "No Trespassing" signs around the place, but we also knew that the walls next to the entryway with the signs were… Well, non-existent. Breaking the law was never so easy.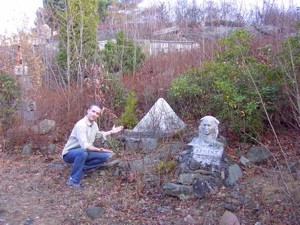 The place has to be seen to be believed. It sprawls over several acres across the entire north side of the hilltop. If the original path was still identifiable, I think it ambles through the story of the bible from the Old Testament through Jesus' life. Scale models (though different scales throughout the place) of famous bible stories tell the tales and histories of Christianity. By now, 10 minutes in, we were beginning to feel a little creeped out. No one was around, it was cold, the sun was setting, and we were surrounded by little bombed out looking mini cities. Kinda like parts of Jerusalem today, I guess – only now do I appreciate that piece of realism.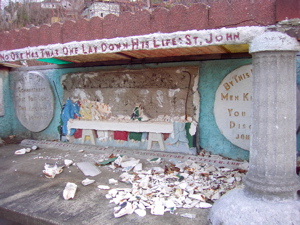 We wound our way up to the very top of the hill with the giant cross (one of many, many crosses here) that has been seen by the thousands of drivers on I-84 every single day. If Waterbury were a nicer city, the view would be very nice. Unfortunately, Waterbury is one of Connecticut's post-industrial towns, the trees were leafless, and we were surrounded by graffiti covered remnants of some guy's fever dream. Time to pick our way back down to the car. In doing so, we enjoyed the other half of the hillside – the New Testament half. Overgrown trails and unidentifiable ruins made the descent a little trickier but we survived. We surely survived a lot better than poor Jesus has over the years here out in the harsh elements. It's sorta sad to see the Reason for Christianity's existence in various forms of limbless despair.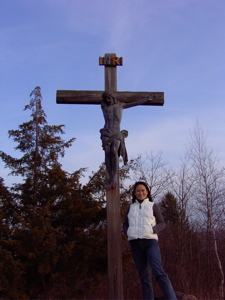 I'd guess that this place is a high school hangout for kids to come to and experiment with cigarettes and beer and stuff. There are many hidden passageways and tunnels and spooky hideouts. I'm sure the local high schools have all sorts of urban legends related to Holy Land USA. Freshman are probably hazed up here all the time. So what's in it for clowns like us in our early 30's? Not much, really, but I think it's still a must-see on any trip to central Connecticut. Where else are you going to find a decrepit bathroom tile diorama of the Last Supper on a windy hillside? Holy Land is great.
And again, if you were wondering, Holy Land's really gonna come back to prominence! For real this time! But this is the only link you'll need. There are tons of pictures of Holy Land being built as well as a bunch of links to other dorks like me who visited this place. Good stuff.
After 40 minutes or so of giving Hoang a warped crash course on Christianity, we headed west through corners of NY and NJ and towards the Pocono Mountains in Pennsylvania and a hotel and night out in Scranton, which would wind up being weirder than Holy Land.