U-C-O-N-N!
UCONN! UCONN! UCONN! (basketball books)
Dozens of books have been written about UConn's storied men's and women's basketball programs. After all, they won nearly 20 national championships together and in 2004 and 2014, they both won. I assume many are not dissimilar to many others. So I will read them, sure, but my reviews will be shorter than usual. I'll do them generally by decade and order them chronologically by the last UConn year captured in the book, or the last year most associated with the book's main subject.
UConn Basketball Books Pre-2000
UConn Basketball Books 2011-2020
UConn Basketball Books Post 2021
The Books Reviewed Below:
Tuff Juice, Caron Butler
Heart of a Husky, Mel Thomas
Tuff Juice, Caron Butler
UConn 1999-2001
For those not familiar with Butler's story, it's pretty incredible. The book spans his life from birth through the nearly the end of his long NBA career. Actually, we get some family background from Mississippi before his grandparents moved to Wisconsin chasing factory work well before he was born.
Butler grew up in Racine outside of Milwaukee in a drug and gang soaked area. Despite his mother's best efforts, he got "caught up in the game" and began selling crack at the age of 11. Over the next five or six years, he was arrested many times, but it wasn't until he had to spend a year in lock-up, with two weeks in solitary confinement, that he finally got things straight.
Being 6'7″ at 13 made it pretty difficult to avoid identification during drug sweeps. Butlers uncles, neighbors, and friends were involved in the drug trade. Heck, the CIA was involved with the drug trade. The book does a good job of taking personal responsibility while also explaining why things like this happen in parts of our country. It's not as black and white as suburban Boomers like my dad insist.
Butler was always good at basketball and wound up at Maine Central Institute prep school and from there, he went on to UConn. Caron wasn't a dumb kid. He had to maintain grades in his crazy educational path to get to where he got. There's a passage from his days at UConn, and…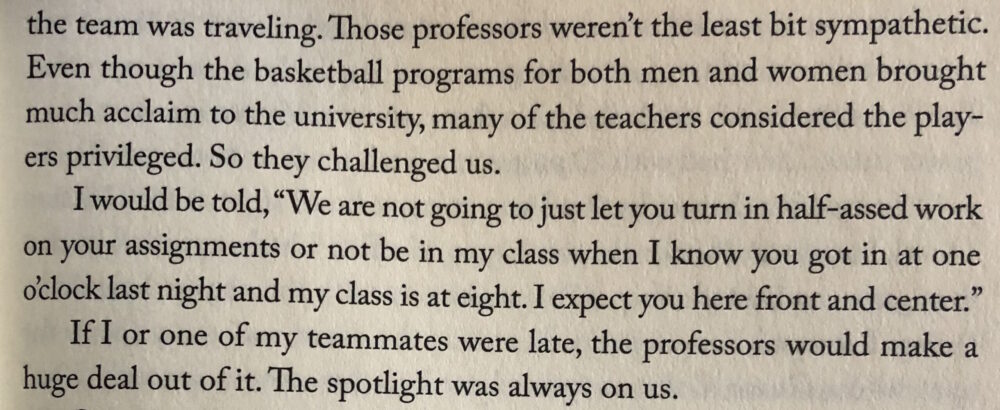 Yeah. I don't know 'bout all that. But it's good to keep up the front I guess. Caron played two years at UConn and Coach Calhoun has always said he was one of the best players he's ever coached. The 2001 NCAA Tournament was heartbreaking, as the team lost to Maryland in a match-up that everyone said the winner would win the championship. (Everyone was right.)
"That was probably the highest-level NCAA Tournament game I was ever a part of," former Maryland coach Gary Williams said. "I mean, we held Caron Butler to 26 in the second half. … and we were trying."
The book takes us through NBA draft night, when nine teams skipped over Caron like idiots. He was drafted by the Heat and then spent time on a dozen different teams – but for good reasons. He got a World Championship with the Mavericks, made his millions, bought a house in Beverly Hills, paid back the drug dealers who paid for his MCI tuition, became close with the Racine cops whom he credits for "saving" him, and has led innumerable charitable efforts around Wisconsin. He's a good dude, and I expected to skim the book, but wound up reading every word.
Oh, he's now an assistant with the Miami Heat and one of the most respected guys in the game.
Heart of a Husky, Mel Thomas
UConn 2004-2008
I won't pretend that I watched the women's team in the mid 2000's. Somehow, they didn't even win a national championship during Mel Thomas's four years there. (I honestly didn't think they'd gone four years without one since they won their first.) As such, I had never heard of Mel Thomas.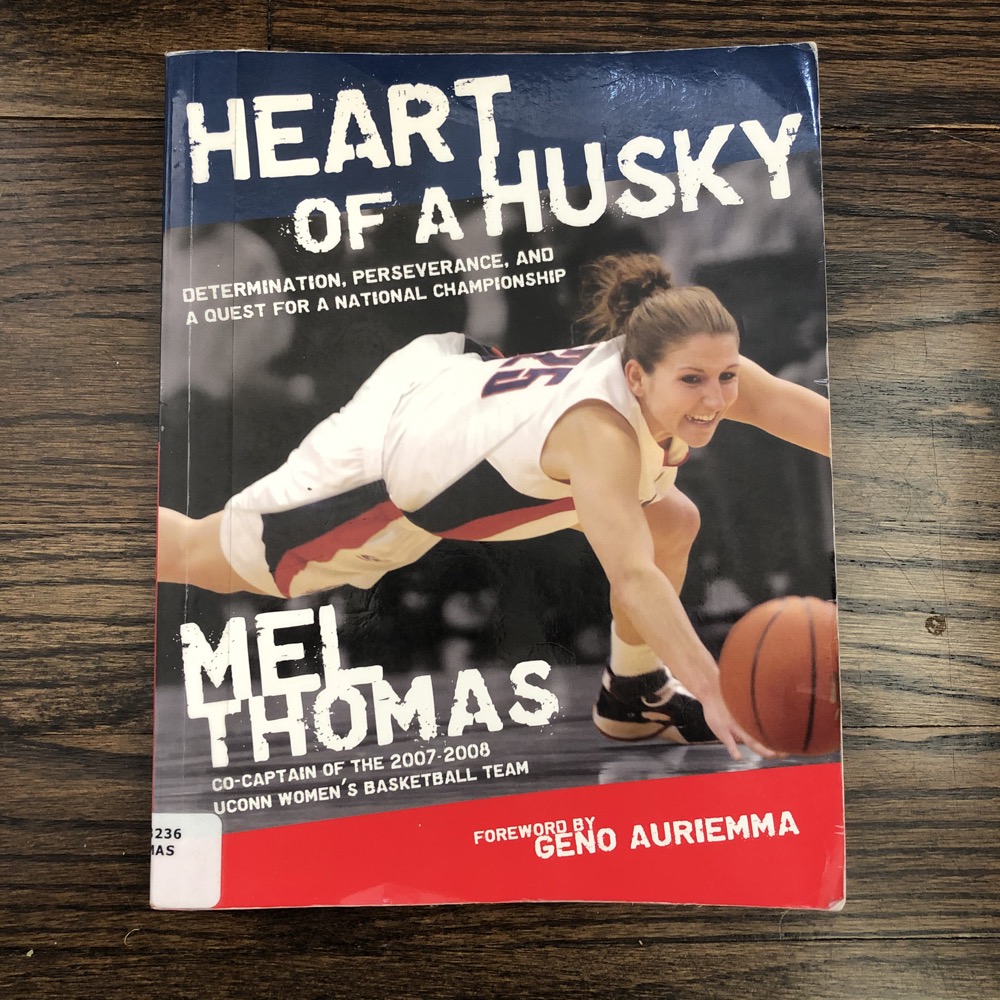 And I didn't really expect to read this entire book, but I ended up doing so. Thomas kept a diary during her UConn years, and the book is supposedly that diary – just beefed up, obviously. It's pretty interesting and Thomas is honest and reveals a lot of what Geno Auriemma is like. I particularly enjoyed learning her take on the recruiting process and some of the perks Division 1 basketball stars get.
Here's the book's blurb:
In her senior year, Mel Thomas played a key role in UConn winning the Big East regular season and tournament championships and in their run to the NCAA Final Four. Mel finished her career with 1,098 points and ranked fourth in UConn history in three-pointers made with 224. Exposing readers to events surrounding the Huskies trip to the Final Four not open to even the most privileged fans, reporters or boosters, Heart of a Husky also explores relationships between teammates and coaches, team meetings and locker room talks, difficult days of injury, rehab and physical therapy, practical jokes, and travel adventures. It all adds up to a fascinating read for players, parents, coaches and fans and provides an inspiring inside look at a hardworking athlete.
After the recruiting trips Thomas tells the story of "pranking" Coach Auriemma and telling him that she would be Duke-bound. As the story goes, she leaves Coach hanging for a LONG time. I don't know… you'd have to be crazy to do that. But it was still pretty funny.
If you're a fan of the women's team, this book is probably in your library. It feels honest and is at times gut-wrenching. The team was pretty average (for them) for a while and then Thomas tore her ACL in her senior year when the team made the NCAA championship game… and – spoiler alert! – lost. But it was also Maya Moore's freshman year. If you don't love Maya Moore, you're a terrible person. I enjoyed Thomas highlighting Moore's character back when she was only 18: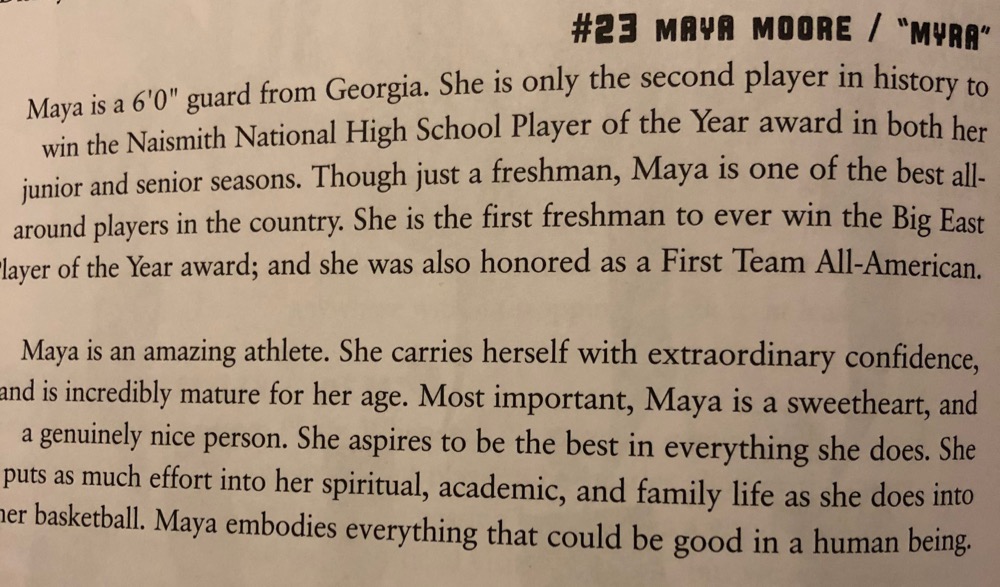 That's enough. But I'll leave you with the craziest thing about this book.
When I took it out from the library, there was a check-out receipt from another library in it. Keep in mind Thomas spent her whole life growing up in Ohio before going to UConn. The Huskies dominate the country.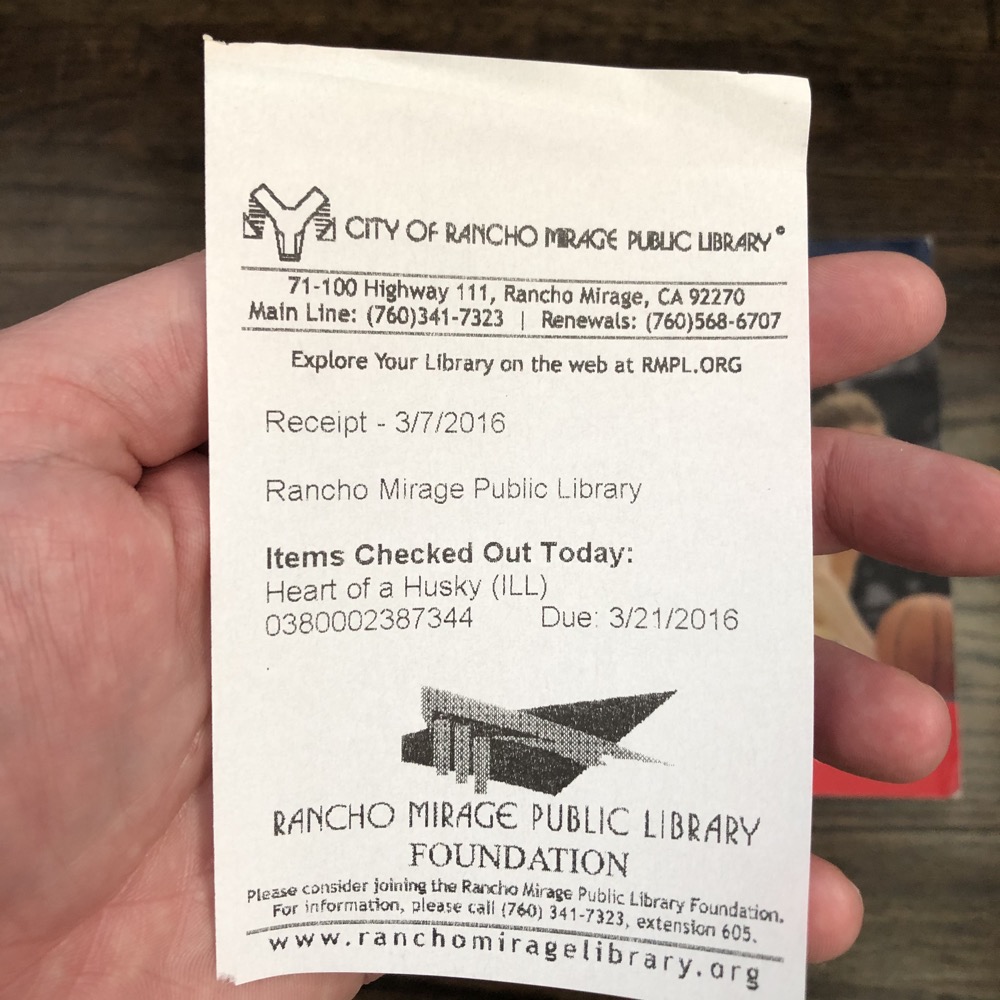 CTMQ's Reviews of Connecticut Books