Hale, Hale, The Gang's All Here
East Haddam (Google Maps Location)
June 9, 2007
There are at least four, yes four, separate and distinct museums in Connecticut honoring Nathan Hale. Two schoolhouses in which he taught (New London and East Haddam), one homestead (Coventry), and one fort (New Haven). This is all rather amazing when one realizes Hale died at the ripe old age of 21. Having lived in CT for 16 or so years now, it's "Nathan Hale this and Nathan Hale that." An old friend of mine dated a girl with the last name of Hale and all she ever heard was, "Are you, like y'know, a Hale Hale? (She wasn't.)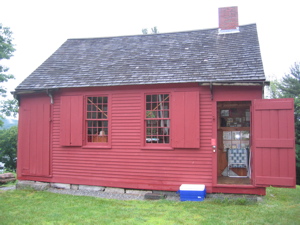 So what's all the hubbub? Before visiting his old rustic schoolhouse in East Haddam, I really had no idea. Now I do, but only because the fine folks there plied me with reams of material on the man. Why didn't they just tell me? Because apparently I was interrupting their get-together. What get-together? The get-together of the DAR and SAR of course! Ok, ok, I'll begin at the beginning…
June 9th was CT's "Open House" day which meant that most museums around the state were open and free. I had a whole day planned which started out at the lovely Cedar Hill Cemetery in Hartford. Afterwards I drove down Route 9 to the East Haddam area because there were a bunch of little places to check out all clustered together. Unfortunately, on the drive down I began to feel ill but soldiered on because, well, because that's what Nathan Hale sure would have done.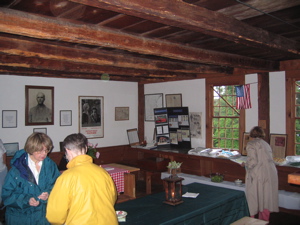 I found the turnoff for the museum, drove up the rutted dirt road to the top of a hill and was quite surprised to see a whole bunch of cars there. Wow, I thought, I had no idea this tiny little museum would be so darn popular. It was raining lightly as I walked to the door, stepped up, and right into a group of older people milling about with crockpots and armfulls of Tupperware casseroles and gelatin molds. Um, hello? They pretty much completely ignored me so I did as I'm wont to do and completely ignored them.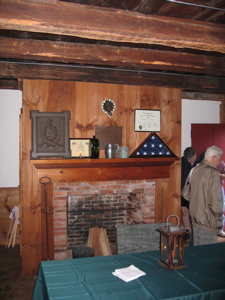 The problem with this relationship was that the entire museum was about 18 feet by 11 feet and it was dark inside and I was snapping flash photos. Yet somehow, we pretty much stayed out of each other's way – though I almost snuck a spoonful of ambrosia when no one was looking. Hey, Nathan Hale was a spy, so I could just say I was being sneaky like their hero. And not just these people's hero, but Connecticut's official state hero!
At this point, I think it would be fun to divulge to you, dear reader, my entire notes from this visit: NH Schoolhouse, DAR/SAR picnic, NH B'day, 22 spy on LI, Hanged in NYC, Hated E. Haddam – New London. Oldest bell in the US 805 Spain, Chris Dodd house, eye.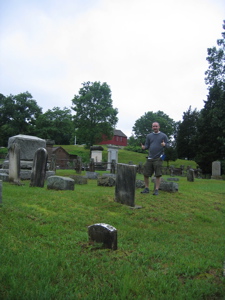 Good stuff. So here I am piecing that together for your pleasure and education. I wandered around the intimate room and read a few of the displays. Finally, after a few minutes of this, a nice older lady asked if I was interested in the museum. I sure was! And so were a few other people there with me as well. She took us outside and quickly explained what was going on – this was the celebration of Nathan Hale's 251st birthday and the Sons and Daughters of the American Revolution were celebrating. I was familiar with DAR, but not SAR (See comment below). Apparently these two patriotic groups own and operate the 2 schoolhouses as well as something called the War Office over in Lebanon.
And they take their love of Hale very seriously. I could spend 2000 words discussing Hale's contribution to our country's birth, but all that can be found here with far better writing and insight than I can offer. Hale was a Yale grad who became a teacher here in East Haddam. He hated it though (according to our guide) and sought another teaching position down in New London. He was accepted there and did two revolutionary things: Accepted women in class and gave his students praise for doing well. What a cad.
Then the news came from Lexington and Concord that war had begun with the British so he quit his teaching post and joined the Army. Quickly bored of sitting around Boston in a stalemate, he moved on to some "real" fighting on Long Island and New York City. At some point, he was asked to become a spy – an opportunity he jumped at. Apparently he was pretty good at gathering reconnaissance and was responsible for a bunch of rebel victories. Annnnnnnnnd then he was caught spying on Long Island and hanged in New York City the very next day. With a few more Hale museums ahead of me, that should suffice for now. Some facts about the schoolhouse itself: It was built in 1750. Nathan Hale served as schoolmaster from 1773 to 1774. Good enough.
The docent went on to tell us some personal stories about growing up in East Haddam (a very pretty, quaint Connecticut River town) including the time her sister poked her eye out with a stick. Literally – the poor dear was missing an eye – well, I think her actual eye was still in her face, but it didn't work. She then went on to drop a bomb on me…
Down the hill from the schoolhouse was a church; St. Stephen's Episcopal Church. (Cool name.) On top was a bell in a belfry. She casually mentioned, "Nathan Hale, Hale, Nathan, Hero, Patriot, Oh yeah, that bell down there is the oldest cast bell in the New World, Great teacher Hale, Yale Hale, Hail Hale, dead at 21 Hale…"
Say what? Yeah, apparently it's probably maybe true. You can read all about the bell here.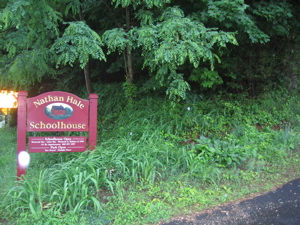 Nathan Hale Schoolhouse (East Haddam)
CTMQ's Museum Visits