After a few years of CTMQ, I've decided to give this section it's own header tab. I've come to learn that there are a lot of these types of "trails" and they deserve to be explored and documented. Many towns and college campuses have historic or architectural walks, there is an Art Trail, a Women's Heritage Trail, a Wine Trail, and so on. A couple seem a bit muddled for different reasons but all should be completed one way or another.
I've bunched up the smaller and more mundane/local trails under the "Other Other Trails" heading below and as there are a ton of them (many as yet undiscovered), I'm not going to pretend I'll get around to doing all of them. We'll see.
I will not seek to complete the wholly commercial trails I've come across. Things like the Connecticut Garden and Landscape Trail or the much more fun Southeastern CT Sundae Drives Trail. Though I have a feeling we'll be hitting a bunch of those ice cream spots.
If you know of a trail or walk like the ones below, let me know. This page has been a mess for a couple years. I'm hoping to clean it up soon.
…………………………………………………….
Connecticut's Cultural and Historic Trails
Completed Connecticut's Cultural and Historic Trails
Middletown Heritage Trail
Underground Railroad Trail
Wallace Stevens Walk, Hartford
In progress Connecticut's Cultural and Historic Trails
Amistad Trail
Art Trail & Art Viewpoints Trail
Connecticut Dinosaur Trail
Freedom Trail
Iron Heritage Trail
Women's Heritage Trail
Connecticut Historic Barns Trail
Other History Tours & Trails:
Welcome to the basement of Connecticut cultural and historic trials! You must truly want to get to the nitty gritty of what CT has to offer.
Deaf History Trail, Hartford
Fairfield County Heritage Trail
Milford Center Historic Walk
New Haven Historic Walk
Norwalk Walking Tour
Norwichtown Walking Tour
Rocky Hill Historic Walking Tour
Walking Tour of Downtown Torrington
Upper Housatonic Valley African American Heritage Trail
Vernon/Rockville Historic Walking Tours
Waterbury's Architectural Walking Tours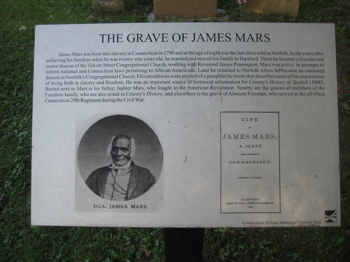 James Mars Grave, Center Cemetery, Norfolk. Part of the UHVAAHT.