The Sky's the Limit 2015 Hiking Challenge #10
West Rock Ridge State Park Overlook
New Haven, June 27, 2015
Phew! After the epic (man, how much do I hate that word) previous TSTL Challenge hike with Damian out in Kent, this simple drive up was a welcome and easy respite.
That's right, a few of these TSTL challedges can be made completely non-challenging. Three of them are total drive-ups and a couple others require very little effort. Of course, you very easily could (and quite frankly, should) make all drive-up summits a decent little hike instead. It's always an option.
We chose not to do so on this trip to New Haven. After all, we had to hit Ikea, The Peabody, Sally's, Prime 16, and New England Brewing as well. Who wants to hike with a belly full of pizza and beer?
Not us.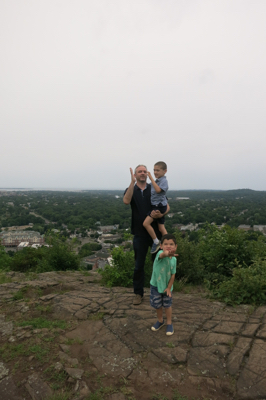 Note: I have hiked the entire Regicides Trail which more or less ends at this overlook. You can go read about that here if you want. And I hiked around below at the West Rock Nature Center with the boys as well. Some cute pictures and stuff here.
But yeah, we just drove up to the completely empty(!) parking lot and gazed down upon New Haven and the harbor. And that was that.
Oh wait, no it wasn't! This was the 10th TSTL challenge summit for me and Damian. This qualified us for the DEEP TSTL Medallions! How exciting. (Calvin still had a few to go to get his 10.)
The road to the top IS super fun to drive; one of the best in the state. And, if you ever go here, you must also check out Judges Cave as well.
CTMQ's Sky's the Limit Challenge Page
DEEP's Sky's the Limit Challenge Page