The Century Mark
April 2009
Note: Since originally writing this page, I've found many, many more museums. So while I love the cake below, the math involved is terribly incorrect!
In recognition of my 100th Connecticut museum visit, I'll spare you my boring yammerings about the cultural importance of museums. Instead, I'll just share with you some of the delicious cake made by the coolest wife in the world and perfectly decorated in the exact corny style I wanted by my sister, who I guess is relatively cool too. For a little sister.
My sister's family came up to Connecticut for the weekend and we all met up at the Norwalk Aquarium for an afternoon of fun. Everyone stayed at CTMQ HQ and enjoyed tales from ol' Uncle Steve about museums of days gone by… It was grand.
And since I am constantly asked what my favorites are, and because I always defer; instead droning on about how impossible it would be because they are all so different and attract different niches, blah, blah, blah – Yes, I'm going to do it. I'm going to pick my 10 favorite museum visits from my first 100. There are many others worthy of inclusion to be sure.
A huge thank you to all those docents, volunteers, and keepers of the flames around the state that make our museums what they are!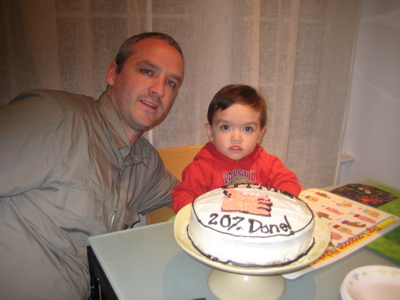 And now… Drumroll please… Without further ado… CTMQ's Top 10 of the first 100 Museums Visited!

10. Stone Museum/The Peoples State Forest Nature Museum, Barkhamsted
While I've been to perhaps better nature museums, this one stands out enough to make it into my first top 10. Why? It's very old; built by the Civilian Conservation Corps in 1934 all in stone, giving it a wonderfully rustic and homey feeling. It has a great collection of Native American artifacts. It's in perhaps the prettiest location of almost any of the 99 other museums I've visited. Some great trails begin right out the front door. And they've got one of the coolest bear displays in the state.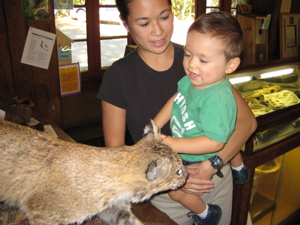 When we visited in 2007 it was called The Stone Museum. At some point thereafter, it was changed to The Peoples Forest Nature Museum – its original name. Both names are pretty terrible. The Peoples Forest is the name of the state forest in Barkhamsted which is a terrible name, but also pretty cool when you think about it.
Our 2007 visit to the Stone Museum!

9. Slater Memorial Art Museum, Norwich
Can an art museum be totally surreal even though there aren't any surrealist works there? After visiting the Slater, I say "absolutely." Aside from the large, incredibly varied and eclectic collections of art from all over the world… Aside from the local – and I mean really local, like Norwich local – paintings from past centuries… Aside from the random nautical, furniture, thimble and gun displays… Yes, aside from all that, the Slater houses one of the largest sculpture cast collections in the WORLD. There are tons of them, all over the place. It's simply amazing.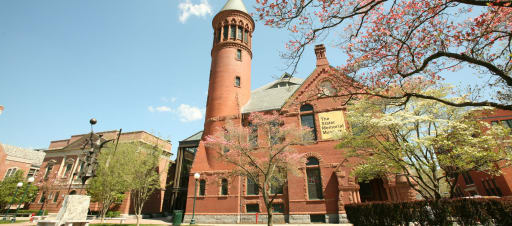 Dedicated in 1888 and housed in the stunning Romanesque Revival Norwich Free Academy building, the Slater's local collection represents 300 years of Norwich history. Included are 18th – 21st century American paintings and decorative arts, including contemporary Connecticut crafts, 17th – 19th century European paintings and decorative arts, African and Oceanic sculpture, Native American objects, and a plaster cast collection of Egyptian, Archaic, Greek, Roman and Renaissance sculpture.
It's impossible to explain how cool and vast the collection here is. Just go. You'll be glad you did.
My 2008 visit to the Slater Memorial Art Museum… I really need to revisit!

8. The Children's Museum, West Hartford
In a state with lots of children's museums, this one stands out. Of course, I've yet to visit a bunch of them, but that's beside the point. The simply named "Children's Museum" has it all: Large live animal exhibits, planetarium, huge science room with a bunch of cool physics things to play with and learn stuff. And of course a giant plaster whale to walk into like Jonah.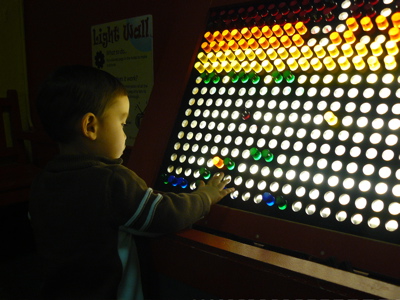 As this place is mere minutes from my house, we've visited several times. Some of the coolest exhibits; the giant kaleidoscope, the giant light bright board – have gone away. But that doesn't mean your visit will be any less cool for your kids.
Did you catch the part about walking inside of the whale?!
Our pre-2010 Visits to The Children's Museum!

7. Yale University Art Gallery, New Haven
I'm learning about art as I visit the various art museums around the state. I've yet to visit the granddaddy of them all (The Wadsworth in Hartford) but Hoang and I were hugely impressed with the Yale University Art Gallery. Perhaps it's just my ignorance, but I wasn't expecting to see original Picasso's, Matisse's, Motherwells's, Rothko's, or Van Gogh's here. At 3 floors, this place is also pretty huge, in a cool building, and very well presented.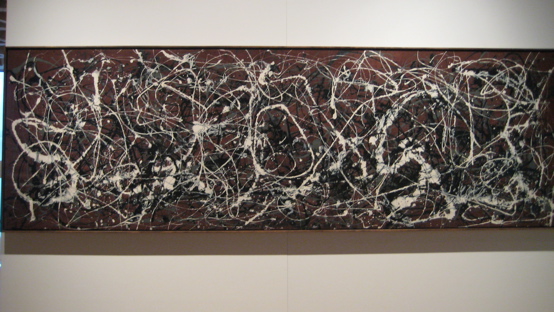 Oh, and it's also free. Yale is a great steward of the arts and its two on-campus museums are testaments to that. (The other is the Yale Gallery of British Art). Both buildings are designed by Louis Kahn – this building his first commissioned work, the British museum his last. Both buildings are architectural icons, but what is housed inside is simply amazing.
Our 2008 Visit to the Yale Art Gallery!

6. American Clock and Watch Museum, Bristol
This not-so-little museum in oft-maligned Bristol really exemplifies what CTMQ is all about: Low expectations going in, a singular subject-matter, eye-rolls from anyone you tell you are going there, and… it turns out to be an amazing place. It's several times bigger than you think it is and the collection is ten times more impressive than you believe. It's not like I'm a watch and clock collector, but I found this place endlessly fascinating.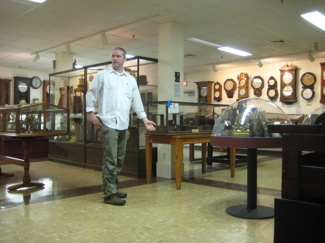 Anyone who knows anything about Bristol/Waterbury/Plymouth industrial history knows that clock production was huge here. Some of the fathers of American timepieces plied their trade here. As a result, this museum has rare and valuable timepieces dating back to the beginning of… time. Get it?
Good, now go to this museum.
My 2009 visit to the American Clock & Watch Museum!

5. Menczer Museum of Medicine & Dentistry, Hartford (RIP)
Sigh. This museum closed in October 2008. Hoang and I were fortunate enough to visit before its demise and we loved it. Quirky, unique and historic, the Menczer had it all. A museum that celebrates dentist chairs through history and had a large portrait of the father of laughing gas who went crazy and killed prostitutes for fun.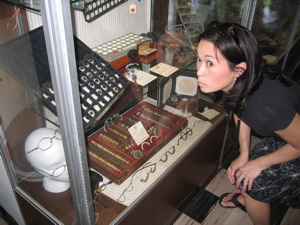 Oh man, just re-reading that last sentence makes me all the sadder that this museum is gone. Some of it has been moved to the basement at the UConn School of Dentistry in Farmington, but it's just not the same. I didn't see the glass eyeball collection above or much of the weird stuff that made the original so interesting.
Our 2007 visit to the Menczer Museum of Medicine and Dentistry!

4. Witch's Dungeon Classic Movie Museum, Bristol
I waffled on this one… I mean, in a way, it's maybe the worst museum in the state. We hated the freezing cold two hour wait. We hated being lied to about what this place really was. The actual museum experience was over in less than three minutes.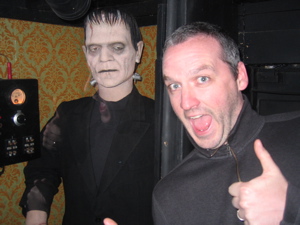 And yet… we left maniacally laughing like lunatics. It was absurd. Beyond absurd… but looking back over the first 100 visits, it was an experience that solidified my idea for this website and brings a smile to my face every time I think about that dude in the ceiling.
The museum has since moved to the Bristol Historical Society building and I'm sure the experience is much, much different now that it was when EdHill and I visited in 2006.
Our hilarious visit to The Witch's Dungeon Classic Movie Museum!

3. Haul of Fame Trucking Museum, Canterbury
Awesome. A punny museum about trucks in a dump (literally) that has been successfully fined by the state for environmental transgressions in the middle of nowhere (Canterbury) staffed by a guy tooling around on a LARK. EdHill and I stepped through the door into the unknown that day… and my preconceptions would forever be challenged henceforth.
Our guide was fun, funny and incredibly knowledgeable. He made old trucks (and other trucking related items) cool to two guys who know next to nothing about trucks. Or cars. Or engines. Or junkyards. Some of these early museum visits for me completely shifted the focus of this website and I'll always remember them fondly for that.
Our 2008 visit to the Haul of Fame Trucking Museum!

2. Mystic Seaport: Museum of America and the Sea, Stonington
This place is so vast and so well done (and so well known) I'm not sure why I need to talk it up. Nothing funny here – just straight up good stuff. A family could spend a day here and not experience everything. For some reason the Aquarium up the street gets a lot of the pub… For my dollar, the Seaport is ten times better.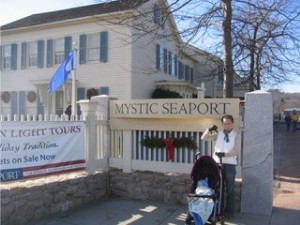 If I were being objective, I think the Seaport and all its museums and ships and… stuff is the best "museum" in the state. It has art, history, kid stuff, hands-on stuff, beauty, food, "New Englandy stuff," etc. It has it all, and it's huge, but my Number 1 of my first 100 goes to…
CTMQ's 2007 visit to Mystic Seaport – which really, really shows why a revisit is in order!

1. The New Britain Industrial Museum, New Britain
The one that started it all… I'm not sure the NBIM will ever be dislodged from its lofty perch. No, it's not empirically the best museum in the state. But it was my first; it has all the ingredients I've come to love about CTMQ and its mere signage along the highway launched this hobby and this website and who knows what the future will bring!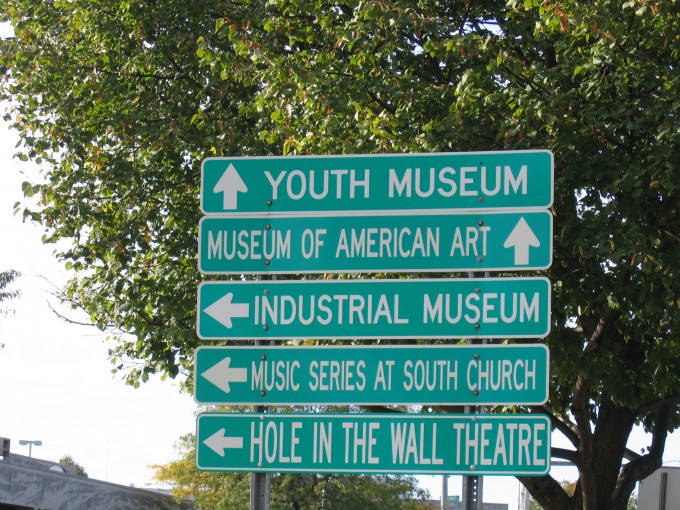 It IS a very interesting little museum tucked away on the second floor of some downtown Central Connecticut State University building. It is exactly what they say it is: A museum dedicated to the industrial history of New Britain – a town with a rich industrial history. Rich enough to have a little museum dedicated to it.
I'll never not love this place – if only for what it means to me personally.
Our 2006 visit to the New Britain Industrial Museum!
That's it! Here are some other CTMQ Milestones!