Ridiculous. Just Ridiculous.
Wethersfield Pizza House, Wethersfield
September 2021
A couple years ago I was talking with my friend about life and parenting and kids and sports. My young son Calvin was beginning to show a greater interest in soccer and I was looking ahead at what that would me for my own selfish weekend travel/CTMQ plans. As it turns out, it would mean that my September through June weekends would be greatly affected. But anyway, my friend told me back then, "dude, you'll find a way to work in CTMQ 'stuff' wherever you have to go."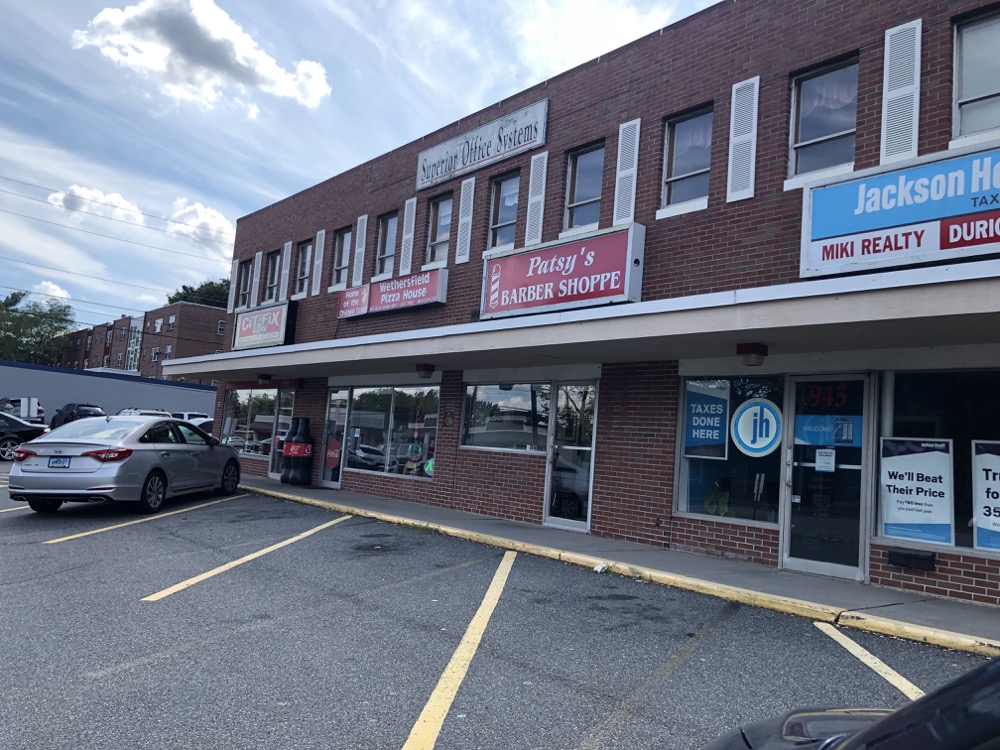 And he was generally right. A random friendly game in Wethersfield brought me within a few minutes of Wethersfield Pizza House. I have fairly good recall for the (literally) thousands of things "to do" on CTMQ and I immediately knew I'd be enjoying a sandwich from this place while Calvin and his boys did their thing. I had no idea that it would take me two days and two games in two towns to even think about finishing the small sandwich. Yes, I got the 8-incher for 10 bucks. The 16-inch version could feed an entire family of four.
Yes, the mostly take-out Wethersfield Pizza House is famous for its grinders. Specifically its "Italian style chicken cutlet grinder with sauce and provolone cheese." There seems to be general agreement that their pizza is serviceable. You want a pizza to keep the kids happy? WPH can provide that. You want pizza to show that Connecticut pizza is the best pizza in the country? This place probably isn't your best option.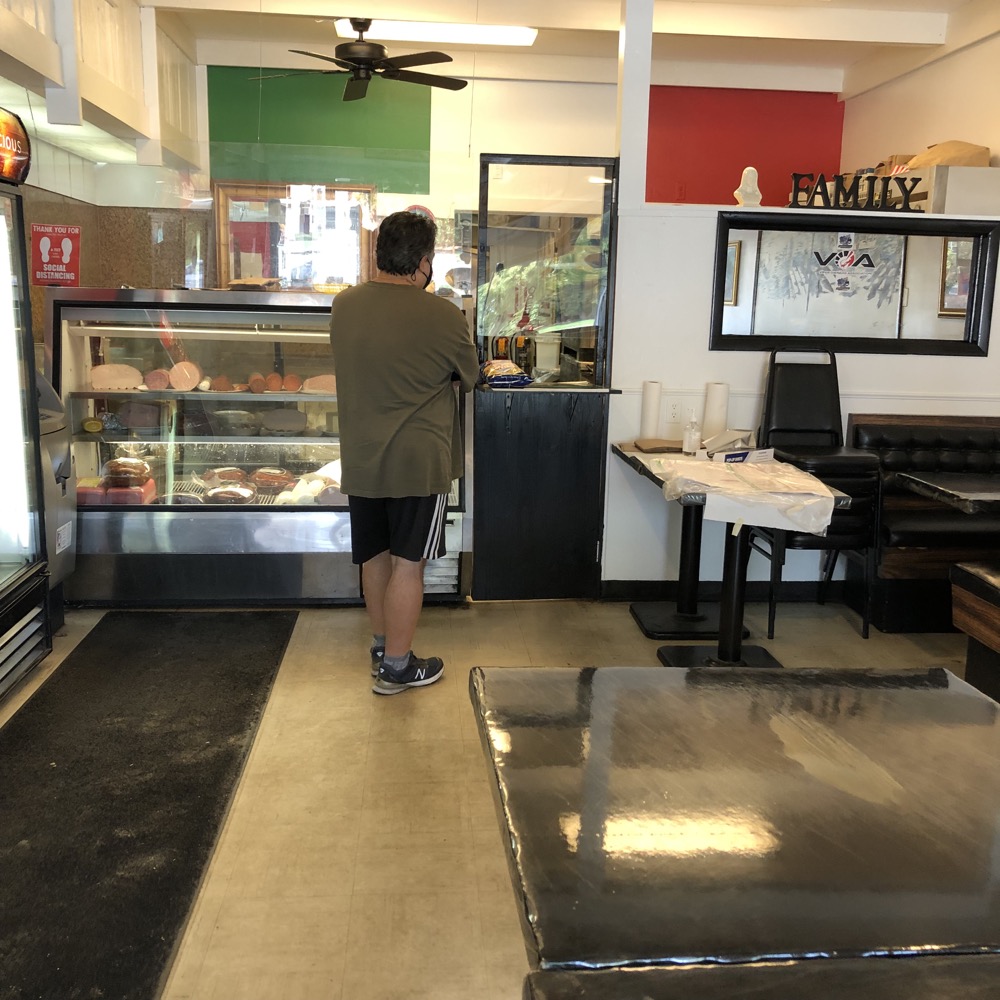 While there are booths and perhaps eat-in meals here were more of a thing pre-COVID, I just don't see it as a big sit down type place. Again, I visited after two years of a pandemic so my experience was likely skewed by that, but the discolored floor, stacks of empty boxes over there, stacks of other boxes over here… just wasn't too inviting. But really, none of that matters. It doesn't matter to WPH, and it doesn't matter to 99% of their customers.
I had called in my order and upon entering to pick it up, I was greeted like an old friend or longtime customer. I am neither, but the woman's enthusiasm was infectious. "YES! I'M THE 8 INCH GUY!" I yelped without thinking. The other customer looked me up and down, snorted, and left. The woman behind the register looked me up and down and said, "I KNEW IT."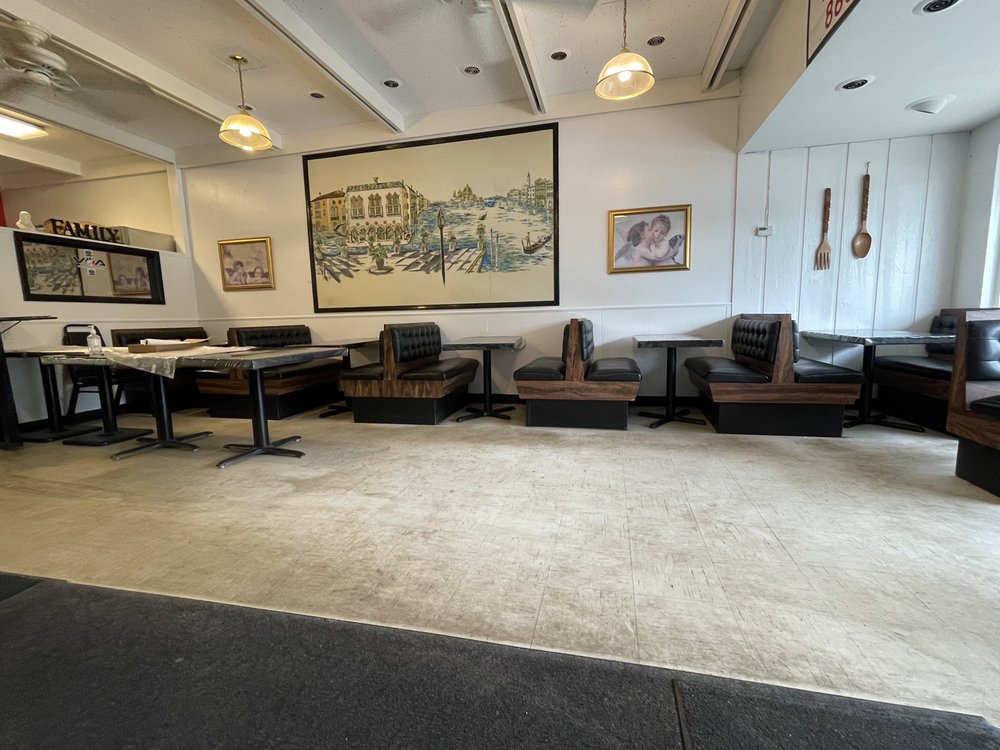 Moving on. Roadfood, which added this particular sandwich with an obscene amount of chicken on it in a later edition of their book, has this to say:
Chicken cutlets are the main attraction. They are grand the way only a natural cook can make them. Each is a gorgeous ribbon of meat and crust. Wethersfield chefs pile them into a sandwich four pieces high. They top them either in the traditional veal-parm way (sauce and cheese) or American-style with lettuce, tomato, and mayonnaise.

Both are grand, thanks to the cutlets themselves, which are made from chicken cooked and carved on premises every morning, breaded with homemade crumbs that feature rich, spicy seasoning and fried to a crisp in clean oil. We give the nod to the Italian-style version mostly because of the sauce, which, like just about everything else in this humble eatery, is made from scratch using old family recipes. Did we mention that each sandwich is piled four cutlets high, making it nearly impossible to fit into even the biggest mouth?
Yeah. Again, this sandwich is obscenely large. But that's their thing, and they have a four-decade reputation to uphold. A sign in the front window – relatively hidden in a small block of businesses on the miles long strip-mall filled Silas Deane Highway – lets passers-by know that here they will find the "Biggest Grinders Around – Home of the Chicken Cutlet."
WPH doesn't have much of an online presence at all, but their Facebook page makes an even bolder claim:

Whoa. Longtime CTMQ readers know that I love ridiculous, unprovable Connecticut superlatives! I'm on the fence about this one though, because I can't tell if that's a fan submission or the restaurant staking that claim themselves. If the latter, it qualifies.
I took my monstrosity of a grinder to the soccer field, found a wall upon which to unwrap it, and – as this was my first WPH experience – stared at it in awe.
Absurd. Ridiculous. Fellow non-local soccer parents were stopped in their tracks. "What'choo got there, Steve? Some lunc– OH MY GOD!"
True(ish) story. It was mid-afternoon, I was hungry, and I don't mind looking like an idiot in front of fellow soccer parents. So I just went for it. It was a mess. A delicious, perfectly fried and sauced mess. The grinder roll held up well to the sauce and under the sheer weight of the thing.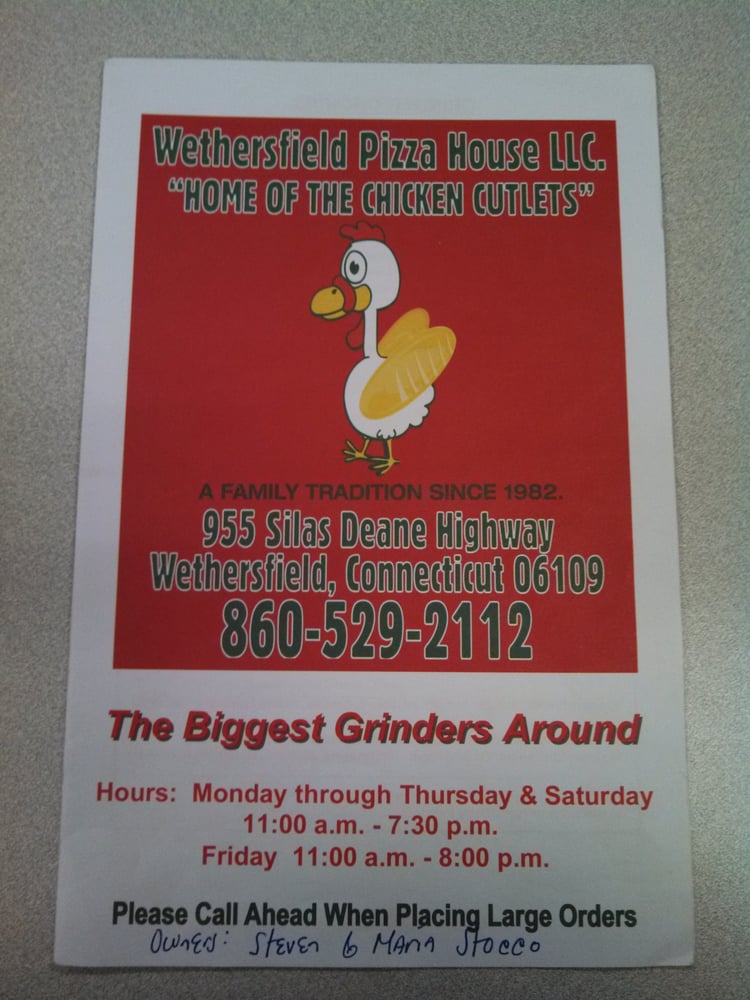 The chicken is sliced thick enough to retain juiciness, thin enough to be manageable. The chicken was fried to just the right crispiness. The sauce was a little tangy to my taste, but was still very good.
I did not eat the whole thing in one go, but I did go through all my napkins. This is not a delicate sandwich for delicate people. Wethersfield Pizza House's Italian chicken grinder is the stuff of legend.
Eight inches of legend.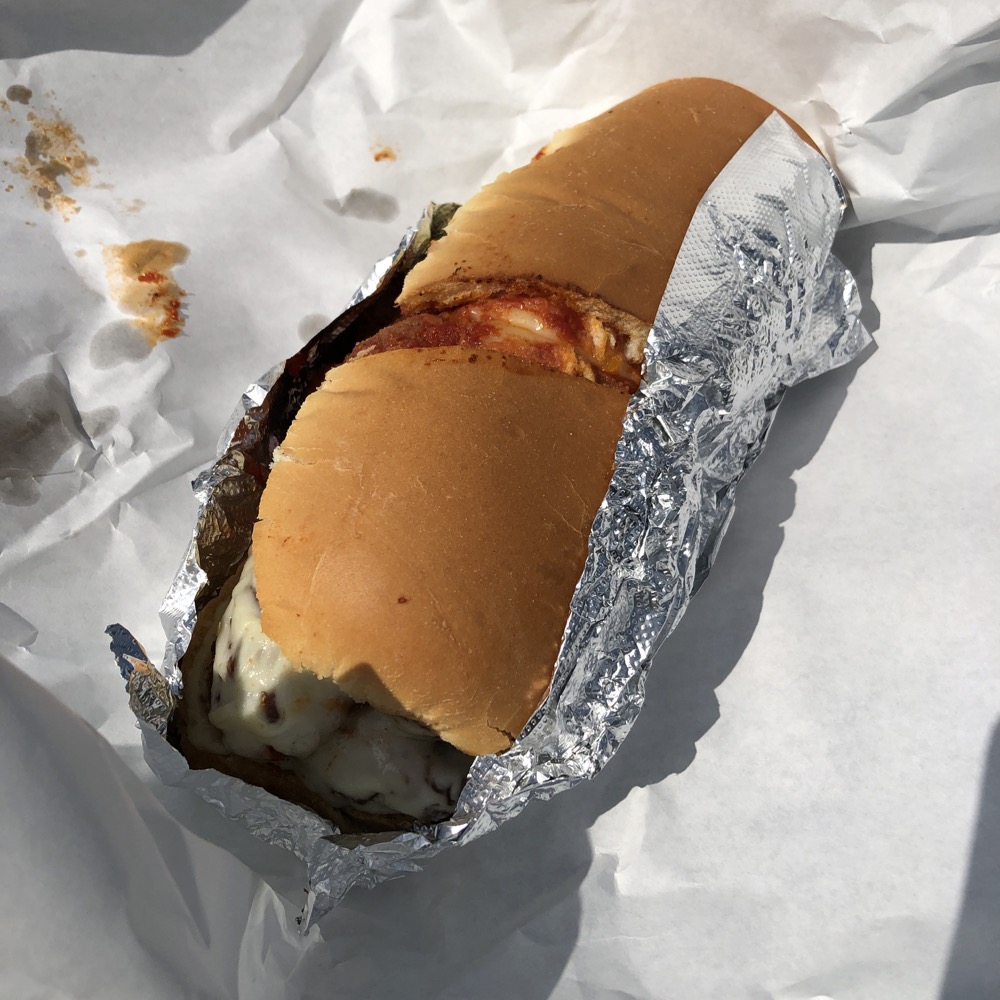 CTMQ Eats the Roadfood List
CTMQ's Largests and Longests