Haight-Asbury had LSD, Haight-Brown has Wine
Haight-Brown Vineyards, Litchfield
November 2, 2008
Our fourth wine tour stop in one day – not a particularly impressive feat, if not for the fact that we had our little Damian with us. This would be our last stop of the day – and more importantly, our last winery stop of the year. You see, Haight-Brown was the 14th of the required 14 visits one must make to qualify for the incredibly nice trips to Spain offered via the passport program.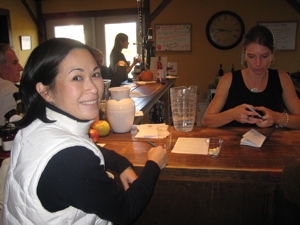 After driving the stretch of official scenic highway on Route 118, we pulled into the driveway and Hoang commented, "I can't believe it. I can't believe we're going to actually do it." I was surprised by her surprise; after all, she's married to me. Of course we'd make it (Just under the wire, by the way). Even Damian appeared bolstered by the excitement as we entered the attractive building.
This place seemed like the right place to end our 2008 wine tour as Haight-Brown is Connecticut's oldest winery, opening its doors in 1975. The Litchfield vineyard grows 45 – 50 tons of grapes per year (Chardonnay, Merlot, Riesling, Seyval Blanc, Marechal Foch) and produces Vinifera wines and French Hybrid blended wines.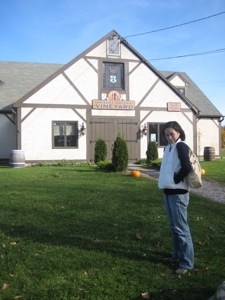 2018 note: this is sort of funny to me now as Haight-Brown was the biggest offender in The Great Connecticut Winery Crackdown That Resulted in No Real Punishment:
Connecticut originally had a requirement that at least 51 percent of a vineyard's wine had to be made with Connecticut grapes.

That changed in 2004 after investigations revealed some wineries here were unable or unwilling to comply with the law.

It turned out that the oldest winery in the state (then called "Haight Vineyard" and now the Haight-Brown Vineyard in Litchfield) was using wine "concentrate" from Chile to produce as much as 95 percent of its wine.
Anyway…
Haight-Brown is a clearly an established gathering place for Litchfield County. It is large and has many events, including bands and many tasting events throughout the year.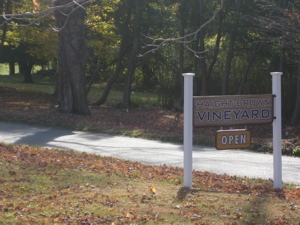 Come sit by our fire and enjoy a tasting of unique and exquisite chocolates each paired with a selection of wine and/or fresh roasted coffee. Linger by the fire – there's no rush – and enjoy live music before or after your tasting. Selections of cheeses, fruits and crackers available for purchase. HBV signature wine glass included.
The wine bar/tasting area was very busy during our visit. There were a bunch of people scrambling to complete their Passport program like us, but most were just hanging out. It is quite a popular place. The server was a bit harried and seemed a bit overwhelmed, which frustrated me a little bit. Especially since Damian was about done with his wine tour for the day. But please know that I fully recognize that taking a 2 year old to wineries is a fairly stupid idea to begin with.
But we need to live our lives too, y'know?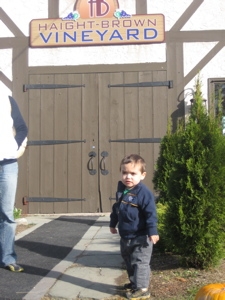 I no longer have our list of wines we tasted, but I know we were allowed 8 samples of our choosing from about 13 wines. I had the usual for me (Dry whites, Rosé, nice reds – all pretty good) and I know I picked the more seasonal and flavorful for Hoang. I had to choose for her because she was preoccupied with trying to entertain Damian and keep him from getting sore.
One of those seasonals was called "AppleCrannie" which they describe as "A Haight-Brown classic. Only one batch is made and released before Thanksgiving. This apple wine is flavored with cranberry in the traditional New England style. Refreshing for sipping on sunny days as well as the perfect companion for the Thanksgiving feast." Hoang loved it. But is that really a "traditional New England" thing?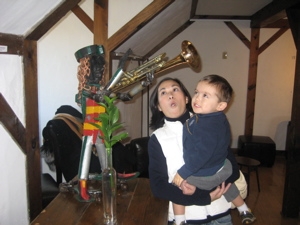 Other "seasonal" wines include Honey Nut Apple and an apricot infused muscat. We didn't try those because, well, because they sound pretty gross.
As I leaf through the various brochures I collected that day, H-B definitely wins the award for "most programs offered" of the Connecticut wineries. Tasting classes, cheese pairing classes, chocolate pairing classes, savory food pairing classes, and something called the Haight-Brown Vineyard Express in which they hook up with the Railroad Museum of Southern New England for a countryside train ride, full tasting, "decadent meal" and sunset picnic train ride back to the museum. Pretty cool.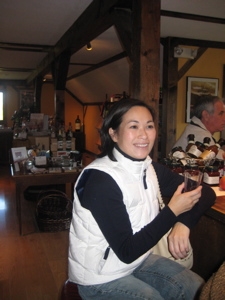 We got our passports stamped and the way this program works, we had to give them to the proprietor who was responsible for getting them to the Farm Council headquarters for the drawing. She assured us she had a whole satchel to turn in and I guess we trusted her. In a way, I'm glad we ended here at the oldest and clearly one of the most popular wineries, because somehow I felt more comfortable handing our hard-earned passports over to them.
With Damian in full-fuss mode, we skipped a couple final tastings (It was too busy, the server too slow, and Damian was too tired) and headed home.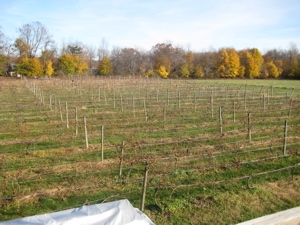 Haight-Brown Vineyards
CTMQ's Visits to Connecticut Wineries