New Hartford is the New Hartford
Jerram Winery, New Hartford
May 18, 2008
[December 2012 Update: Wow, this is a weird page to revisit. Jerram was the second winery I'd ever visited – in my life. I remember being so wide-eyed and excited about the whole wine trail thing that I first learned about during this visit. So I went home, sat down, and pretty much copy and pasted most of the stuff for this page – which is really weird and rare for CMTQ. I've been back to Jerram several more times since my initial visit. I've had some very odd experiences there; seemingly more and more strange with each visit. Perhaps it's just me, but it seems quite clear to me that they do not appreciate those of us with kids in tow – even very well-behaved ones. Which I understand. I guess.]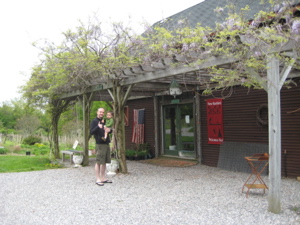 I've been wanting to use the above title or a variant for a year now. But there isn't much in New Hartford; which is not to say it's not a perfectly lovely New Englandy little town out on Route 44 (A road with lovely littlel New Englandy towns all the way from Avon to Salisbury). It's just sort of funny to me that Hartford is always trying to reinvent itself and comes up with one dumb slogan after another. So I figured I'd come up with a dumb slogan for New Hartford – a town that couldn't be further from "old" Hartford if it was on Jupiter.
Jerram Winery is on the south side of town a couple miles from route 44 along the windy Route 219. It is a small, family owned winery and each time I've visited, I've been served by the patriarch, James Jerram. As I feel I must write every time I visit a winery – I really know nothing about wine but I like meeting the people who make it here in Connecticut. Growing viable wine grapes in northern Connecticut isn't easy, so I appreciate those who make the effort.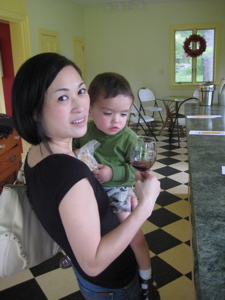 Founded in 1998, Jerram Winery offers around 11 wines, usually a 5:6 splite between whites and reds. Jerram concentrates on growing the usual central Connecticut grapes: Marechal Foch, Seyval Blanc and Vignoles.
Hoang and I each enjoyed a tasting of a bunch of the wines. Mr. Jerram was very friendly during our first visit and offered to answer any questions we had. I did probe about the Marechal Foch grape variety. Especially after noting the picture of Mr. Foch that was hanging on the wall.
Marechal Foch (pronounced "mar-esh-shall-fosh"), is an inter-specific hybrid red wine grape variety. It was named after the French marshal Ferdinand Foch (1851-1929), who played an important role in the negotiation of the armistice terms during the closing of the First World War – but having a wine grape named after him surpassed any war honors he ever received.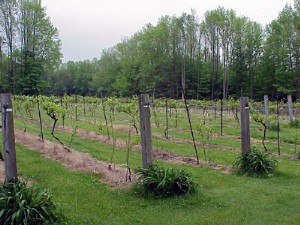 I've since learned that Marechal Foch (and Seyval Blanc) grapes don't make wine I'm too interested in. And unfortunately, they are the go-to's of Connecticut wineries due to climate and soil. It's just the way it is.
In fact, an article that no longer exists said this:
[Jerram] is no newcomer to winemaking in Connecticut. He began the winery in 1982 with a planting of Marechal Foch. Unfortunately, weather in New England is rarely cooperative. He lost 100 vines outright during a winter storm, and another 100 died the following year, giving grapes as they went. In the late '80s he added in Seyval and Vignoles, and soon Villard de Blanc and Chambourcin followed.
Grape growing in Connecticut is really tough.
We bought a bottle of what we deemed our favorite: the Highland Reserve, which sounds like scotch but is a red mish-mosh of some sort. Back when I began visiting wineries, I felt compelled to always leave with a bottle. Since then, I no longer feel that way.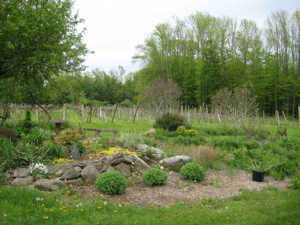 There are two wineries in New Hartford and a brewery came along in 2016… and I think that's pretty good for a little town out in Litchfield County.

Jerram Winery
CTMQ's Visits to Connecticut Wineries