Keeping up With the Joneses
Jones Family Winery, Shelton
October 17, 2009
This was bound to happen. I write bits and pieces for CTMQ on two different laptops as well as during breaks at work once in a while and then load them onto the main iMac with the downloaded pictures and edit the pieces there. It gets a bit jumbled and for the first time in four years I lost an entire previously written page. This one. And it kind of stinks because I didn't realize I had lost it and therefore I removed the detailed memories from our visit and replaced them with something more recent.
That's how my brain works. And, for the most part, it's a system that works pretty well.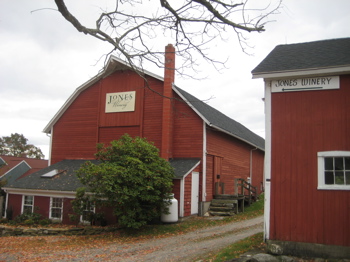 You know who else has a system that works pretty well? Jones Family Winery.
Nestled in the rolling White Hills of Shelton, the winery is but a small part of the larger farm. We visited on a peaceful fall day filled with quintessential fall things like picking up a "Best of" crumb-top apple pie at the nearby Beardsley Cider Mill (where we also, of course, had some warm cider).
First, some info on the family and farm:
The Jones farm began in 1848. Philip James Jones, a Welsh-Irish immigrant, purchased the land from the Jeremiah Shelton family and engaged in general farming. He sold beef, lamb, eggs, and apples from his horse-drawn cart to the city folks of Derby. Philip James loved these Connecticut hillsides and his motto, "Be good to the land and the land will be good to you," has motivated all succeeding generations of Jones farmers.

His son, William Henderson Jones, joined him in farming and he eventually established a dairy farm. Philip James and William built our oldest farm buildings in the Christmas yard area, including the family homestead, the dairy barn, the carriage house, and the ice house. They were constructed in the late 1800's. Many of our stonewalls were also built at that time.

William's son, Philip Hubbell Jones continued to develop the dairy operation, then called Broad Acres Farm, and was known as a wise and progressive farmer. His son, Philip Hubbell Jones, Jr. (our current Grandpa Jones), didn't like milking cows, but ran the dairy farm with his father while growing trees in the back pastures as a hobby. In 1944, Philip sold a dozen Christmas trees to friends. Philip, Jr. and his wife, Elisabeth, became pioneers in developing and promoting cut-your-own Christmas trees at the farm. The dairy herd was sold in the mid-1960's. In 1994, Philip and Elisabeth celebrated 50 years of operating the Christmas Tree Farm. Now, in semi-retirement, Grandpa Jones runs a part-time custom sawmill business.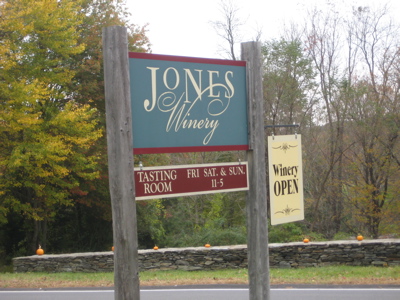 Their son, Terry Hubbell Jones, began growing strawberries as a pick-your-own crop during college. After graduation from the University of New Hampshire in 1969, Terry started the blueberries. The farm has continued to grow and prosper as Philip and Terry have worked together. In 1985, Terry and his wife, Jean Crum Jones, expanded the farm by purchasing nearby farm acreage (at subdivision prices), bringing the total amount of land now farmed to over 400 acres. They started the harvestyour-own pumpkin patch at Pumpkinseed Hill in 1985. In 2009, Jean returned to her passionate interest in food, as a professional registered dietician and community nutritionist, by opening the Harvest Kitchen to teach the joy of cooking using fresh, local ingredients.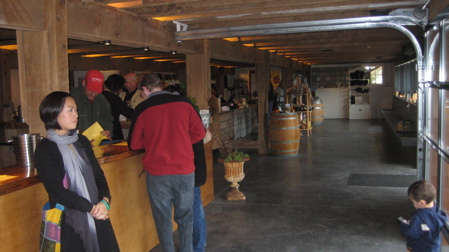 In 1995, the farm's name was updated to Jones Family Farms to reflect the diversity of crops being sold. Philip Jamison (Jamie) Jones, of the sixth generation, graduated from Cornell University in 1998. Jamie started the Jones Winery and continues to oversee many of the farm's other operations. Gwyn Jones, also of the sixth generation, graduated from Rochester Institute of Technology in 2002 with a degree in graphic design. She is responsible for creating the farm and winery logos, all the wine labels, as well as farm publications and packaging for special farm products.
My word, that's a lot of information. But I figured it would be nice to highlight one of the last remaining multi-generational family farms in Connecticut. They are a dying breed and I like to support them as best I can. So even if wine is not your thing, there are plenty of other reasons to patronize the Jones farm.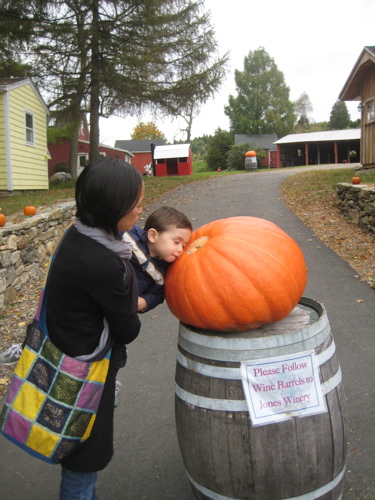 But let's get to the wine already.
Tasters are given a long list of wines and are able to choose the six they'd like to taste for $6.89 (as of 2009). I don't remember any other winery charging tax on top of their tasting price… But you do get a nice glass here. Damian was being a bit of a pill, so while Hoang was off trying to keep him together, I quickly checked off a bunch of wines. I could lie to you and pretend I remember, but I can't guarantee accuracy.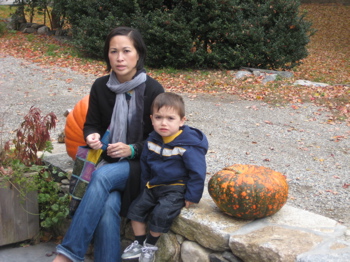 Our host was a very nice older man who paid the proper attention to me even though the tasting room was very busy. Fortunately, Jones has a very large tasting room and had 2 pourers to handle the rush. This was a nice surprise.
I really wish I remembered the wines we had. Their website lists all of their wines.
Unfortunately, what I do remember is that I wasn't too excited by any of the wines we tasted. I think I picked the list for Hoang and therefore they tended to be on the sweeter side. (I wanted to help her get through the difficult Damian experience of the moment.) It must be noted that the picture of her here does NOT reflect on the Jones wines – she was just being goofy because we take this same picture at every winery.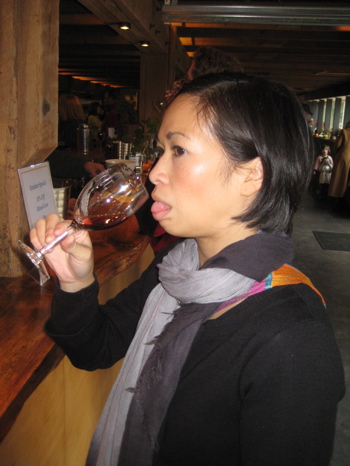 I do distinctly recall the last wine we had – a dessert wine called Black Currant Bouquet. Says Jones: "Our most robust, full-bodied dessert wine, Black Currant Bouquet has a bold tart start and a smooth sweet finish." I thought I would not like it at all, but I actually did. Their description was spot on and it may be the first dessert wine I ever considered buying.
Just as we were finishing up the tasting, Damian discovered the best part of Jones Family Winery – the children's playroom. Locals know about this because there were 5 other little kids there that day; not something we usually see. Damian ended up playing with the train table and veggie stand for a good 20 minutes.
I'm not suggesting all wineries add kids' play areas, but it was pretty darn cool.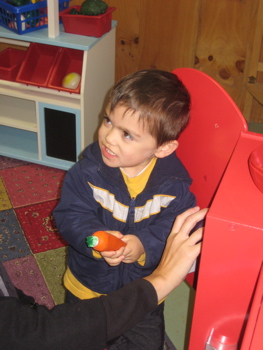 Jones Familiy Winery in Shelton
CTMQ's Visits to Connecticut Wineries