"Oh Fireman, There's Somethin' Smoking Hot On the Beach!"
Portland (Google Maps location)
November 29, 2014
2019 Update: This museum has closed.
I'm the rare writer who starts pages with an aside. I'm pretty sure that makes me a bad writer, but don't tell anyone. Anyway, if you live in Connecticut and have kids, you may be familiar with the Out and About Mom blog. They are mortal enemies of mine, trying to steal readers from me and – oh, they are so nice I can't even joke about such things.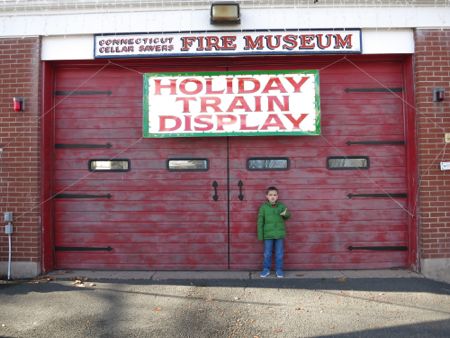 One of the OAAM's is Mandy. She lives in West Hartford, just as I do. (2019 Update: Mandy moved to Florida, but the blog lives on.) We've given each other props here and there over the years for our sites and all that good stuff. Then, on the first day of school for my younger son Calvin, I thought I recognized a woman. Then she brought her daughter to my son's room. This school isn't even in West Hartford, which I'm sure makes this story all-the-more compelling for you.
Me being me, I didn't say a word to her but rather, went to work and looked at the OAAM site and the pictures and yeah, it was Mandy! We DM'd on Twitter because that's what we do in 2014 and now we're real life friends.
Why am I telling you all of this? Because on the afternoon the CTMQ family visited this museum, I signed in the guestbook and just above our names…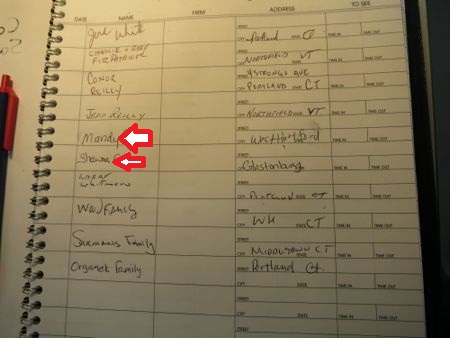 Mandy and Shawna from OAAM! They had apparently just left, but I found that pretty crazy. And her son's name is my middle name! And, you're not going to believe this, she has family in Delaware! Right off of 202 north of Wilmington! I grew up and still have family mere miles from there! Craziness.
This morning I noticed Mandy wrote up her visit to this museum. She, being far more intelligent than I, gets away with writing far less about these places than I do. But at least I know that there's a bathroom here, which she notes that she did not. So there you go.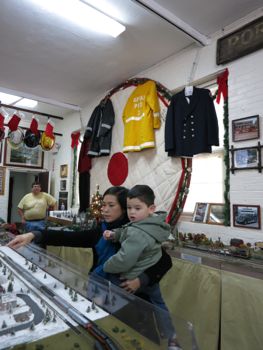 Okay, overlong aside done.
if you read my stuff and you don't already know, you came to this page wondering what the heck a "Cellar Saver" is. If you were to Google the term, you'll mostly find things like this company that manufactures sump pump warning devices.
Then there's the Savannah Cellar Savers which is a group of musicians who play music around Savannah, Georgia. In the video I just linked, I do see some guys who appear to be wearing firefighter uniforms in the dancing crowd. A clue? By the way, there's some serious white people dancing going on in that video.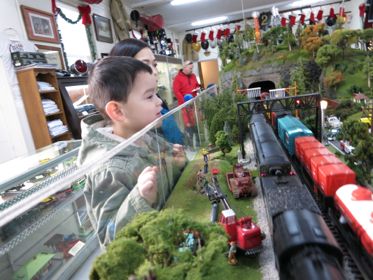 Going deeper, and I'm talking like Google Page 3 stuff here, I found a site that told me what I had come to assume – a "Cellar Saver" is a slang term for a firefighter. On Google Page 4 I found another organization of firefighters up on Vermont who used the same referential term.
And I'm sure our friendly Cellar Savers chapter has a nice and simple affiliation – "The Connecticut Cellar Savers, Inc. is a local chapter of a nationwide organization called SPAAMFAA." Oh, I see. Now we can move on to the museum itself –
Seriously? Not knowing what a "Cellar Saver" was makes perfect sense. But now you're going to tell me you're not familiar with SPAAMFAA? Sigh. It's the Society for the Preservation and Appreciation of Antique Motor Fire Apparatus of America.
Duh.
Here is what the CCS of SPAAMFAA does: "Our chapter participates in numerous community activities, operates our fire museum in Portland, CT, and promotes the preservation of the fire apparatus. Members personally own over 60 antique fire trucks from the 1910's up to the 1970's. Most are firefighters or are "retired" firefighters, but you don't have to be one to join. We are open to anyone with an interest in antique firefighting equipment and memorabilia."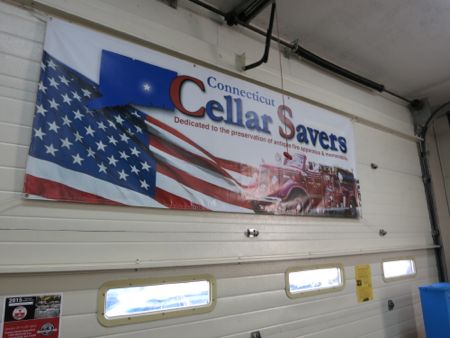 Wait – they are saying that the Connecticut Cellar Savers members own "over 60 antique fire trucks?" Because unless I'm reading that incorrectly, that's insane. I would never guess there are 60 old fire trucks sitting in backyards in central Connecticut.
But lo! Perhaps I underestimate the fervor for owning old fire trucks in central Connecticut! Just take a look at these pictures from a CT Cellar Savers event of some sort! (2019 Update: Link is dead, but there were a lot of old firetruck pictures.)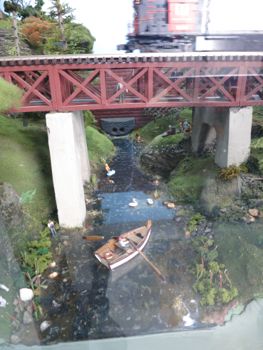 Holy crow! There must be 60 different fire trucks there! These guys seem to really be living up to their stated goals:
Promote and foster a spirit of friendliness and cooperation among our members, to learn the history and development of fire apparatus. To preserve historic firefighting equipment and to display it in parades, meets and musters. To institute and present fire prevention and educational displays and programs. To aid each other in the care and restoration of vintage fire equipment.
And a byproduct of these goals is the museum that is housed in an old firehouse right on Main Street in Portland, a bit north of downtown. This is not a large museum by any stretch, which as you all know is perfectly fine with me.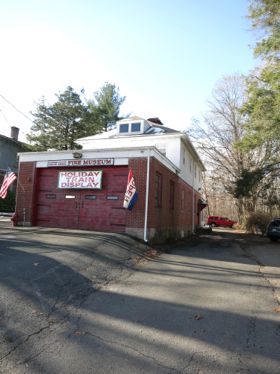 As you've figured by my pictures, we visited during their annual holiday train display. Beginning in 2004, the museum has sponsored a holiday model train layout. Typically, the event is open weekdays starting the Friday after Thanksgiving and runs until the second week of January. The train display is open free of charge to the public and all donations go directly to the upkeep and programs of the Connecticut Cellar Savers Fire Museum.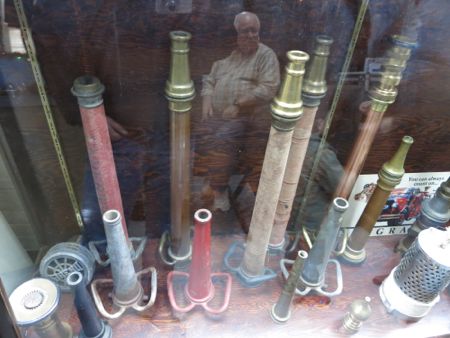 Let's have them tell us a bit more:
The model train display consists of 5 separate model train layouts. (G Scale, O Gauge, S Gauge, HO Scale, and N Scale). Static toy train displays and local railroad history are also a part of this event. The largest layout at the museum even has push buttons so that visitors can be part of the action of the layout. Children are encouraged to complete the scavenger hunt and enter to win a prize basket of toys drawn in January. For those who also enjoy fire fighting history, don't worry, there is plenty of fire memorabilia in the museum during this time!
I made it a point to check out the fire station/man/truck stuff first. After all, that's what this museum is all about 5/6ths of the year, right? I asked some volunteer there what it's like in the museum when the trains aren't there. That's when he told me, "There's just an antique truck in here and a few more things to see."
Okay.
They rotate various fire trucks throughout the year, and their brochure tells me that they even have a blue one. These trucks come from that aforementioned pool of 60.
I have to admit, the coolest piece of fireman stuff I saw was a bulls eye thing that we're to believe firemen hold on to in order to save people jumping out of buildings. The one here is an original Life Net used by the Boston Fire Department.
The museum has stuff hanging from the ceiling and in nicely organized display cases around the room. Here are a few pictures of that stuff.
I'm sure lots of the other stuff I saw was also interesting, but the trains sort of steal the show when they are running.
We had just come from the massive train display at Amato's Toy Store in Middletown, but that didn't dampen Calvin's enthusiasm for the trains here. There are just as many little buttons to push to make things move in the layout – things like a fire truck going in and out of a station, as well as welder's torches lighting up. That last one actually isn't exciting at all; not to a 3 year old and not to me.
For Damian, he was content to stare at the TV monitor showing the live feed from a train with a camera mounted on it. Like, forever. Sometimes his special needs can be so cliché – and that annoys me.
Anyway… I love model train displays and this one was pretty good. There was a nice mix of seasons in the landscapes and a special Christmas one and a good representation of city and rural and industrial and mountainous backdrops.
I feel the need to point out that this place lacks stools for little kids. And by "little," I mean my 45 pound sack of potatoes named Calvin. So please, if you love the SPAAMFAA as much as I do, please visit and donate a few bucks and maybe they'll buy some step stools for next year's display.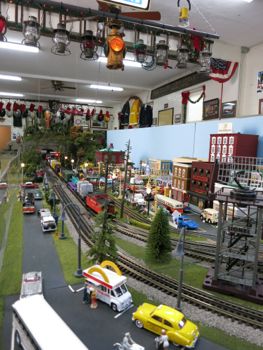 As I made my final rounds, trying to spot the tiny little things layout designers often stick in just to amuse themselves and those in the know, I happened upon one of the best "Easter eggs" I'd ever seen on a model layout.
"Model" and "layout" (or "lay out") actually fit really well here. There, on the beach behind the bridge and the pond and the train tracks and the drumlin… there she was! I was first distracted by the beautiful blonde in the white bikini removing her sweater, because I'm a dude and that act is, let's face it, it's just fun. But… You know the guys who set this up were all giddy about this:
Also, I figured out the code. Remember how there are five different scales of models here? They were, again, the G, O, S, HO, and N. And of course, it's perfectly normal to run "GOSHON Scale" through the Anagram Server to get… are you ready?
"Ohs! Ogles Cans."
And that, my friends, is why CTMQ rules and Out and About Moms is just the worst!
Again, I'm kidding. Hi Mandy!