I Can't Keep an Even Keel, Because…
Ridgefield (Google Maps location)
September 12, 2015
2019 Update: A new visitor center has been added to this museum and barn and good for them!
I Can't Keep an Even Keel, Because… This was my 300th Connecticut museum! Craziness! Who would ever have thought that there were 300 museums in our little state? Who would have thought that one person could have visited so many in only 9 years? Like I said, craziness.
I didn't choose Keeler Tavern for my 300th. It chose me.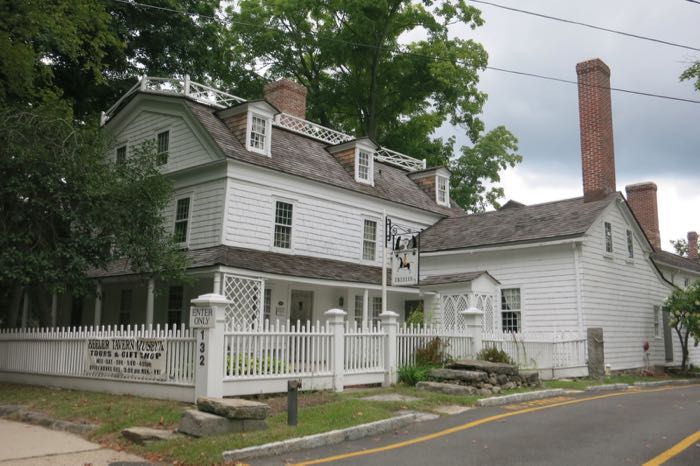 A month prior, my family and my little website were featured in the little New York Times. As a result, I received several nice emails from all over, including one from a Mr. Charlie Pankenier:
The article in Sunday's Times led me to your website, and to this email.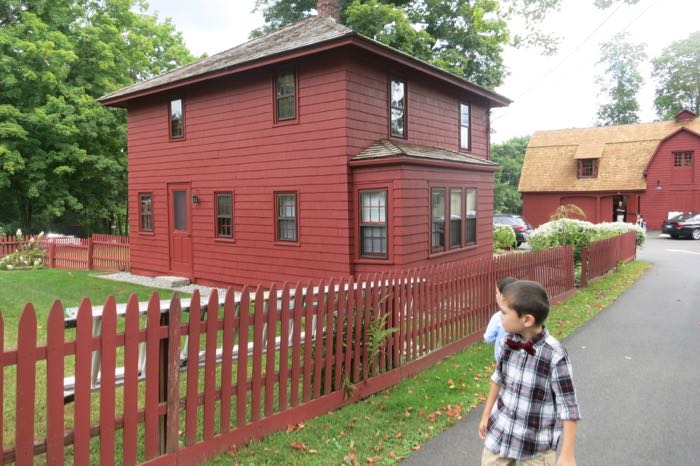 I figured you might appreciate it if I called your attention to the Keeler Tavern Museum in Ridgefield, and invited you to join me for a tour… We're not your average house museum; the people and events in our 300-year narrative embody the story of New England and the nation.

That's not hyperbole: frontier days, Revolutionary War, Industrial Revolution, Civil War, Gilded Age—it's all here, from a survivor of the Deerfield Massacre, to the British cannonball lodged in a corner post, to the three-dimensional sketchbook for America's leading architect 100 years ago.

Just let me know when you plan to follow I-84 to far-western Connecticut, and I'll be happy to open the taproom door (fair warning: it's been more than a century since the tavern served anything stronger than ginger tea).

Charlie Pankenier
Keeler Tavern Museum
I don't have to tell you that I immediately made plans.
Charlie,
Thanks for the invite…
It's funny, of the emails I received in response to the NYT article, 2 of them cited Ridgefield things…
I've "officially" visited 299 museums. (An entirely arbitrary number, based on my own kooky definition of what a museum is, and how I number them, etc.) I had planned 300 to be in Tolland, as this year is their 300th birthday – and in true CTMQ spirt, I was going to make it a totally goofy "celebration" to coincide with their very real celebration. But that didn't happen.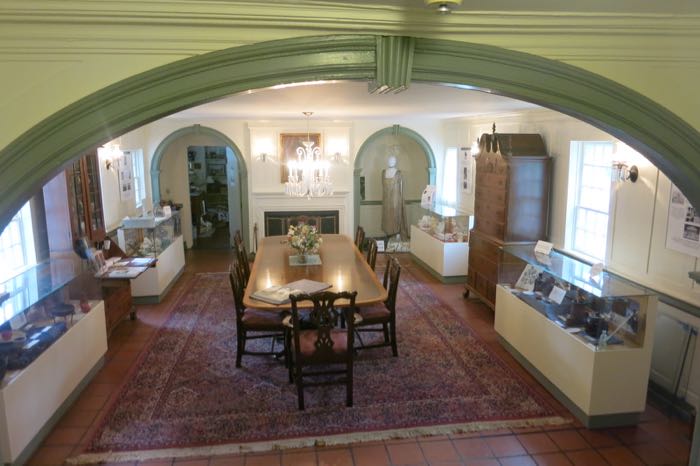 So why not make Keeler Tavern my 300th? My jokey set-up would be that we're going to celebrate with beers and drinks at the tavern, but of course that can't happen, and go from there. It would just me my family, probably dressed in bow-ties or something to "celebrate" the "momentous" occasion. And we'd of course have to dine at one of the 40 French restaurants in town with some champagne and such.
Sounds like fun to me… This would be some Saturday in September most likely, and not the 19th, or Labor Day weekend. Maybe the 12th?
Not asking for anything from you, except to maybe let me stage a picture of us drinking champagne in the Tavern or something along those lines.
Thanks for reaching out!
Steve
Charlie confirmed:
September 12 is fine with us. A couple of coincidences: in 2013, we celebrated our own 300th anniversary of the settlement of the property. And the tavern still gets the occasional call from someone wanting to make dinner reservations, although we haven't been able to oblige since the 1800's. So BYOB, and celebrate away! Let me know what time you expect to arrive, and I'll plan to welcome you.

Charlie
And then our big day arrived and we drove out to Ridgefield and visited the museum! Keeler Tavern is everything Charlie said it was – and more. We actually began our day in the newly refurbished Carriage Barn behind the main house.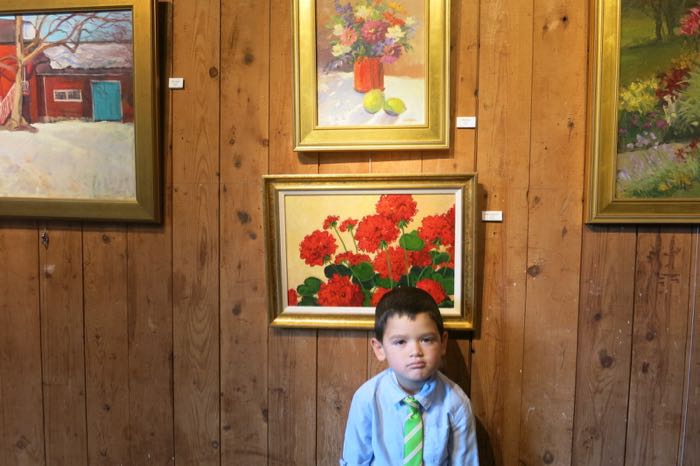 It was hosting a juried art show of some sort and the barn provides a nice space for such things – as well as meetings and even possibly wedding receptions. Speaking of which, a wedding was being set-up during our visit which made it impossible for us to check out the Cass Gilbert designed garden, but that's okay – we were just eager to get to the main event anyway.
The Barn, also designed and built in 1907 by Cass Gilbert, is a two story cottage originally located elsewhere on the property. Lodgings for the chauffeur and other staff were in the Barn and it also served as guest lodgings.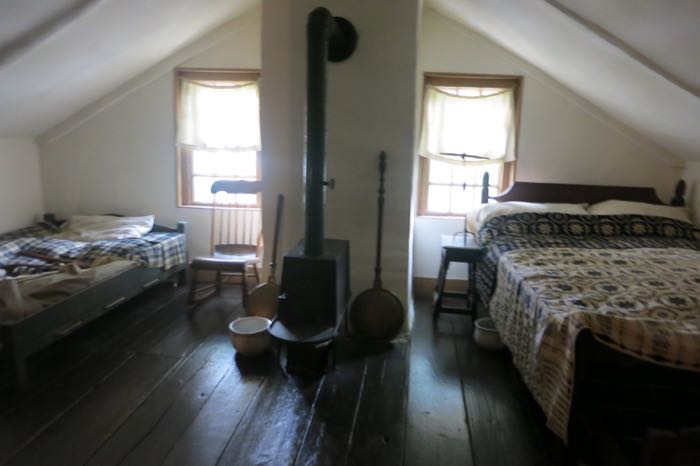 We moved on to the main attraction and to look for Mr. Pankenier. We ran into a couple older guys in olde timey clothes, but they kept telling us their weren't Charlie. Actually, one guy was named Charlie but he wasn't our Charlie and as you can imagine, that resulted in some confusing back and forth conversation.
We found our Charlie and after some introductions, he began leading us around on a tour of the main house museum. The original structure was built in the early 18th century by a Mr. Benjamin Hoyt. Just before the Revolution, the property was purchased by Timothy Keeler who converted the joint into an inn.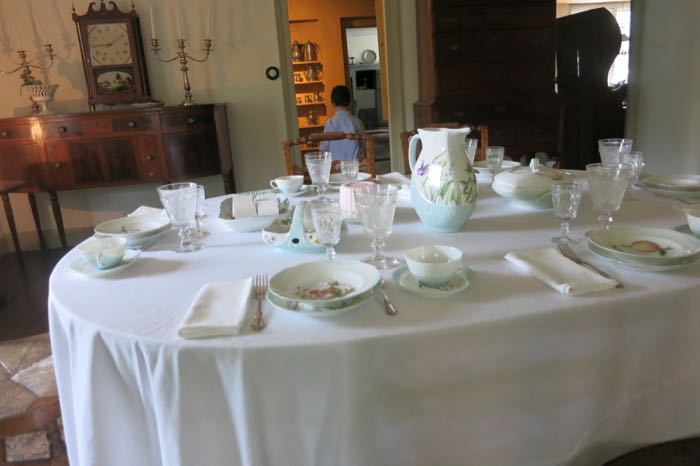 An inn with a sign featuring King George III. Until Keeler painted over it upon deciding to side with the American revolutionaries. That move, while certainly patriotic, was probably pretty dumb. Since the Redcoats, during the 1777 Battle of Ridgefield, that Keeler Tavern wasn't a British-supporting place.
So they bombed it. Perhaps the most famous thing about Keeler Tavern is the British cannonball that is still lodged in the wall.
The "Battle" was actually more of a skirmish – and the British were probably being kind to the opposition, as the numbers were 2,000 to a few hundred. Benedict Arnold led the ragtag band of Ridgefieldians in what was the only inland battle in Connecticut of the Revolutionary War.
The building survived wholly intact and continued in the Keeler family through the 19th century for the most part. As an inn, a hotel, a postoffice… basically the hub of Ridgefield. It probably would still be a museum if nothing happened after that. It would still be the Keeler Tavern Museum and it would still feature that cannonball and… it would be "just another" historic house museum that exist in 150 of our 169 towns.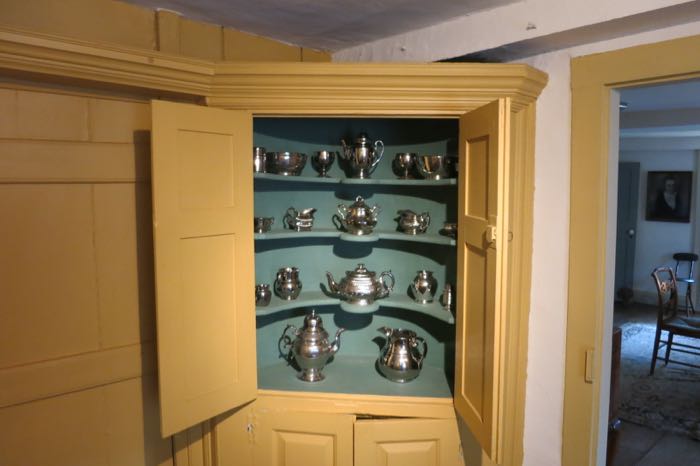 But alas, Cass Gilbert, the celebrated architect, and turned it into his family's summer home in 1907. Cass Gilbert was no joke. He designed a ton of enduring buildings, including several state capitols, the US Supreme Court building, and a bunch of train stations including New Haven's, which I love. Also locally, Gilbert designed that whole complex in downtown Waterbury that elicits oohs and ahhs, as well as the G. Fox building in Hartford – a true gem.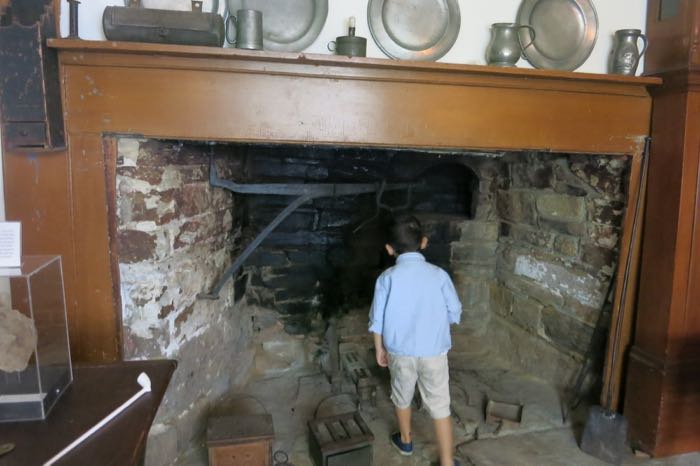 But he's probably most famous for being a proponent and designer of early skyscrapers. He designed the Woolworth Building in Manhattan and what is now the PNC Tower in Cincinnati among others. Here's more.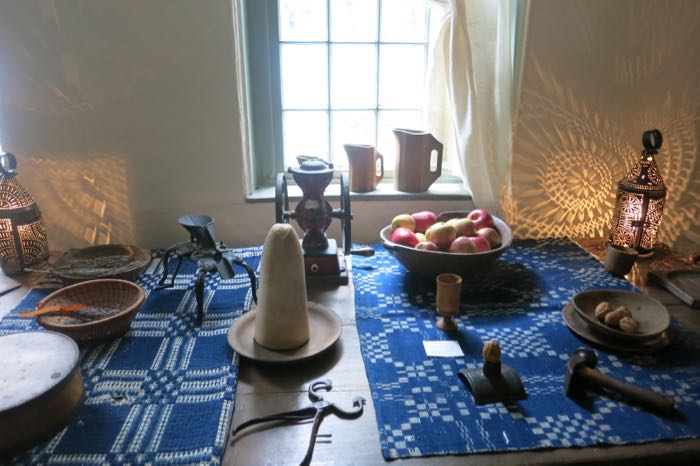 Oh, and he re-did the Keeler Tavern. And that fountain at that difficult intersection near the museum. Gilbert's redesign of the early 1700's house-then tavern is what makes this museum unique. It's not often you'll get a 300 year history of a town in one building, told from two completely different points of view.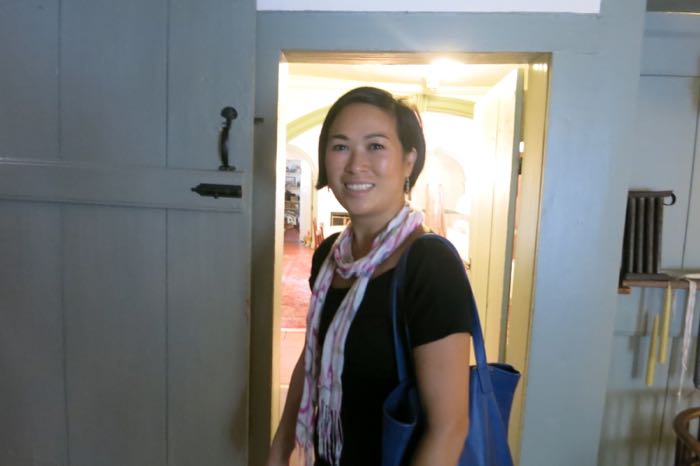 The property is beautiful and the house itself is incredibly well maintained. After Gilbert died and then his wife died, his daughter gave it over to be a museum in the mid-1960's. There are always some 100-year old gowns and dresses on display, as Mrs. Gilbert apparently had truckloads of the things.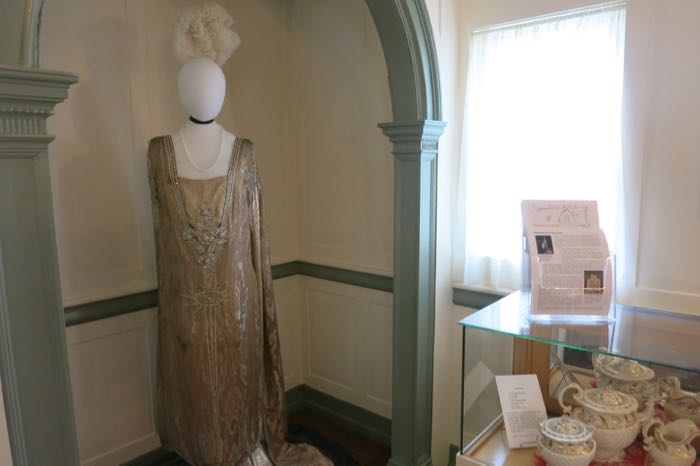 After our tour, we gathered in the Taproom of the old Keeler Tavern and had a lovely chat with Charlie. He was quite interested in the fact that I'd been to 299 museums prior to his here in Ridgefield and I was quite interested in Charlie's life.
He worked at IBM for decades and was responsible for various things over the years; mostly in marketing and graphic design and whatnot. Knowing a little bit about such things, I asked if he knew Paul Rand – perhaps America's most famous graphic designer. (He designed lasting logos for Westinghouse, UPS, ABC, and yes, IBM.)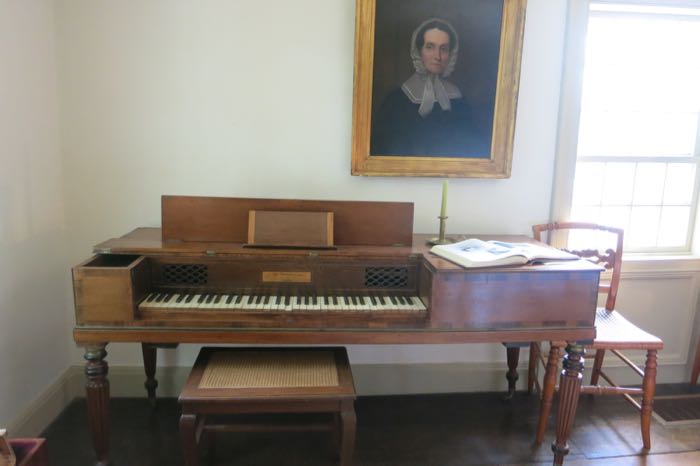 Turns out Charlie may be the only person who hire Paul Rand and fired Paul Rand. Brilliant man that he was, Rand was a bit difficult at times. Anyway, Charlie and I discussed the merits of sans serif fonts and all the stuff I really don't know anything about but feel cool pretending that I do.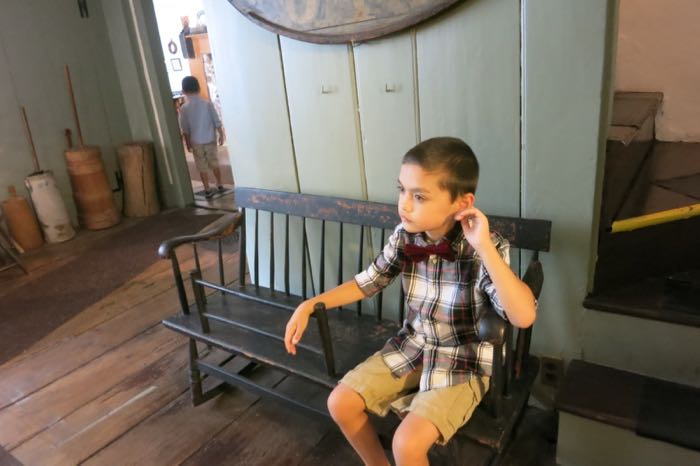 We popped the champagne I had brought to celebrate this momentous occasion and we all shared in the moment. Not quite done, we then had a fancy French lunch to continue the party across the street at Bernard's!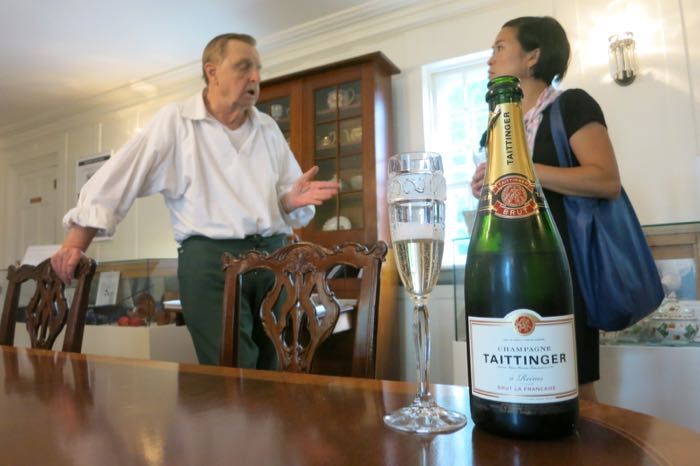 Thank you to Charlie and the other Charlie and the Keeler Tavern Museum for allowing us to share in our special day there; surely breaking all sorts of rules about drinking and photographing and kids running around.