Judgmental Bathrooms are Fun!
New Canaan (Google Maps location)
October 2, 2016
Most barns in Connecticut are decrepit and if they are filled with anything, they are filled with rotting old equipment. Or tobacco leaves. Barns are often seen as romantic relics of days gone by… but in some cases, especially in wealthy towns with lots of wealthy residents interested in the pursuits of the wealthy, barns can be revitalized, revamped and repurposed as things like art centers. Such is the case in Waveny Park in New Canaan; my favorite Fairfield County town.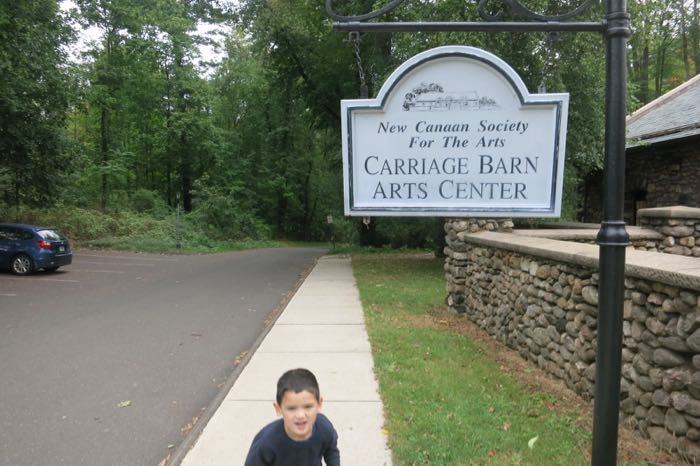 After popping into the Philip Johnson Glass House Visitor's Center in "downtown" New Canaan, the boys and I made our way to the Carriage Barn and its juried 2016 Member's exhibition. I happen to love taking my sons to art galleries with wide open spaces. I have this whole idealistic vision that they will take the time to look at the pieces and contemplate all that they entail. And for the most part, that actually does happen.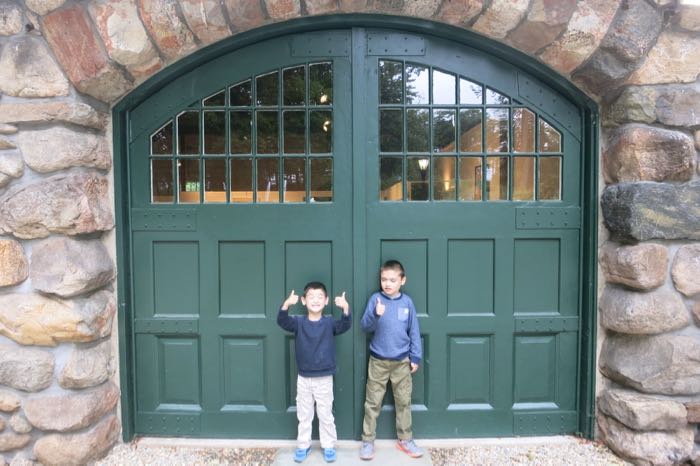 Art people say that each piece can be interpreted differently. So I get a kick out of how five-year-old boys react to, say, a sculpture with a naked butt or a digital photo of giant red lips. Turns out, little boys love butts… I cannot lie. Older brothers might deny.
As ever, we were greeted with some quizzical looks and a wary eye or two – especially regarding the fragile sculptures placed on pedestals. One thing my sons have never, ever done is touch stuff in museums they aren't supposed to touch. With Calvin, sure. But it's sort of a freaky thing with Damian; with his special needs, following directions is sometimes a bit challenging and yet… and yet he's never once stepped over the line in a museum. Yet.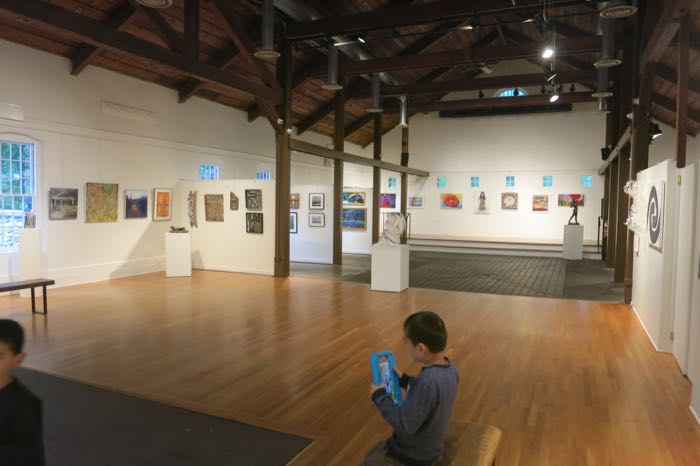 So what is this place?
The New Canaan Society for the Arts (NCSA), a member-supported, non-profit cultural organization, was founded by a group of artists and art-lovers in 1895.
Whoa, hold on! What? 1895?! Is that a typo?
Much as it is today, the organization's goal was to encourage creative expression, celebrate artistic achievement, and enrich the community as a whole. The Society vanished for approximately 80 years until 1977, when a group of New Canaan residents banded together to re-establish the NCSA and create the Carriage Barn Arts Center for the public. Dedicated volunteers restored a charming 100-year old building on the grounds of the former Waveny Estate — and re-opened its doors to once again offer unique cultural experiences in an exceptional gallery space to the New Canaan community and beyond.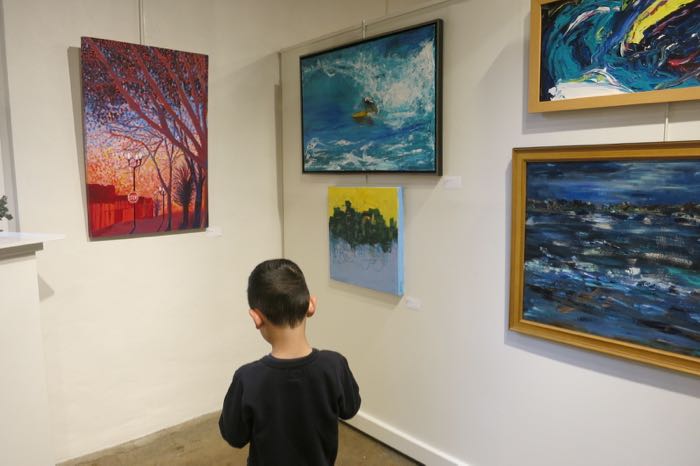 Oh. Okay. I don't want to steal the Carriage Barn's thunder, but I think an 80-year disappearance kinda sorta means you started from scratch in 1977. Right? Or is that just me. Regardless, I'm very happy they rebooted and found a very nice space in which to have exhibits and receptions.
Today the Carriage Barn Arts Center's "Betty Barker Gallery" is home to eight premier art exhibitions annually, including four major juried events, as well as curated exhibitions featuring both members and invited artists. In 2011, the Barn launched an initiative designed to showcase the work of talented high school students annually — and every spring, the Barn sponsors "Art in the Windows," which places art in retail shops in New Canaan for the enjoyment of pedestrians and shoppers.
Cool, cool. What's it like to be a New Canaan high school student? Have you ever seen that school? It's nicer and probably more modern than my very nice and modern workplace. But I digress and I don't want to sound jealous of New Canaanites. I'm sure the traffic there is awful every day. At least I hope it is in a purely vindictive way.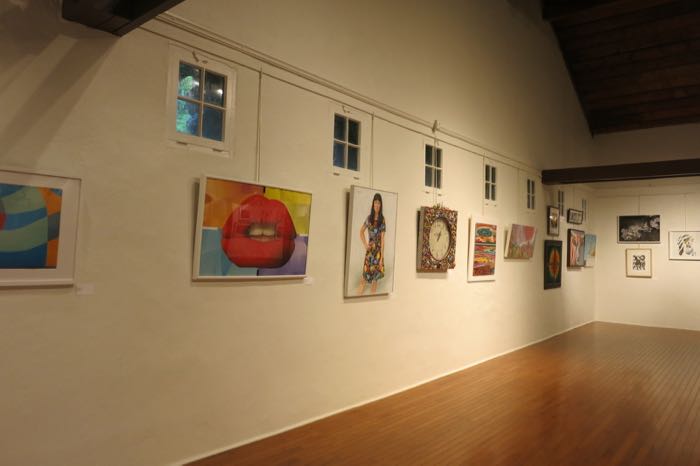 As I've mentioned, the gallery itself is very nice. In fact, William Zimmer of the New York Times says, that it is "a gem of a gallery, well-lit, spacious, and a wonderful space for showcasing art." The gallery, technically, is named the Betty Baker Gallery. Betty Barker was a key figure in the effort to save the Carriage Barn from demolition, in the reclamation of this space for art of all kinds, and in the establishment of the New Canaan Society for the Arts. She served as President and as a Board Member of the Society, and curated many of the Society's shows in this space.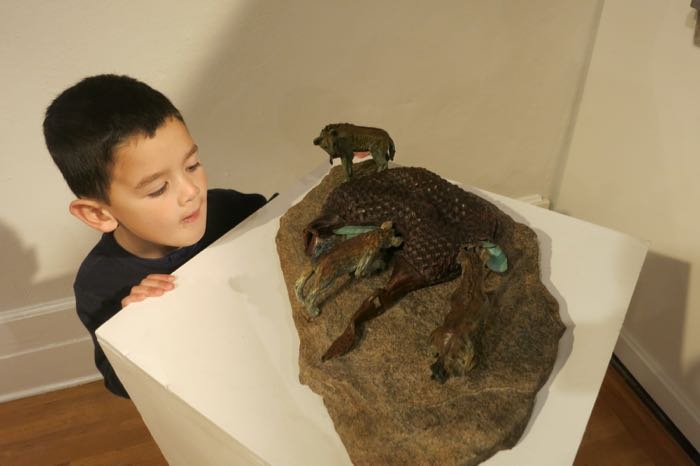 Aha! "The establishment of the New Canaan Society for the Arts!" You see, whoever wrote that is aware that an 80-year "break" is too much to ignore. Betty wasn't just an art lover, but also an artist herself. She was an accomplished and award-winning painter who was celebrated in a series of solo and group shows during her five prolific decades as an active painter. Having completed over three hundred finished works and hundreds of other sketches and unfinished paintings, it is known that she was constantly making art. RIP, Betty. The world is a better place because of you.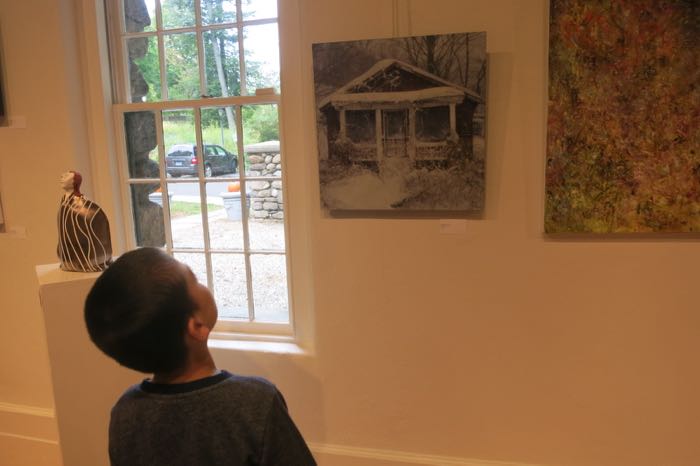 The gallery is large and open and allows for many New Canaan Society for the Arts members to showcase their talent – and to perhaps sell a piece or two. I often find myself right on the brink of buying a piece of art at these types of galleries, but I've only very rarely pulled the trigger. And I can't really do it with Calvin in tow, because if I don't buy something with a naked bum, he'll throw a fit. And as we've established, Calvin doesn't throw fits in art galleries.
My favorite piece, from a creative standpoint, was a "fire painting" by Lubomir Tomaszewski, seen here: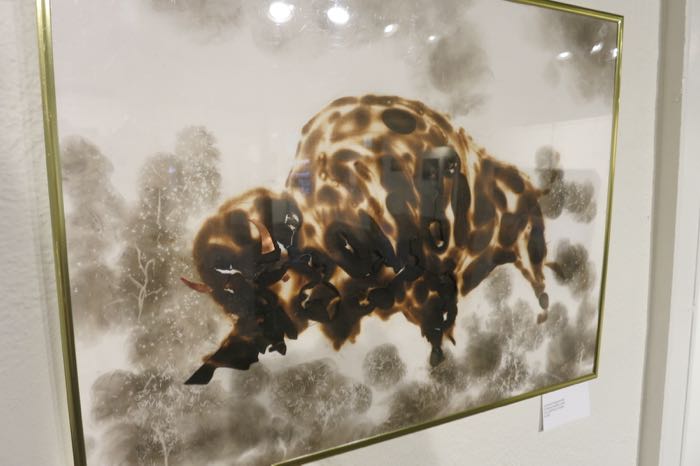 "Smoke paintings," which the artist "paints" with smoke on paper, technically are similar, but are different in expression in relation to burnt paintings. This technique allows for creations of fascinating, airy, non-material visions, romantic ladies wandering under the light of the moon, illusions of dancers on stage, musical effects… Even though seemingly delicate, works created by this technique, accurately preserved by the artist, turn out incredibly lasting.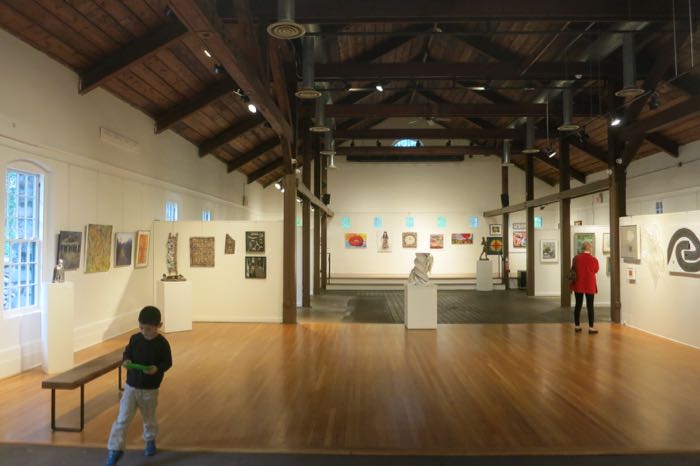 Tomaszewski's fire and smoke "painings" are pretty awesome. http://www.lubomirtomaszewski.com/ But really, as one with zero artistic or photographic talent, all the local artists on display during the exhibit were pretty awesome. The gallery runs a member's show every year, so maybe I'll pop back down there in the future to buy one of Tomaszewski's works.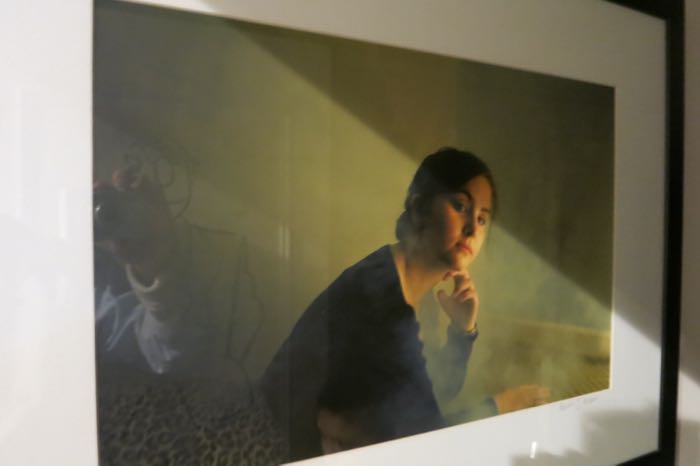 As we wrapped up, I took the boys to the bathroom. I'm always keen to check out bathrooms at certain places we go; mostly breweries and art galleries. Here, as trying to, um, do one what does in such specialized rooms was a bit, um, uncomfortable with the judgey woman looking down at me. But shout out to whomever realized this would be a conversation piece in the bathroom at the Carriage Barn Arts Center in Waveny Park in New Canaan, CT.
For the record, none of us Wood boys were affected by her glare.


Carriage Barn Arts Center