Nock, Nock, Who's There?
Putnam (Google Maps location)
August 13, 2017
Unless you live in Putnam, or have some deep ties to the town, I'll put it out there… you needn't visit the Aspinock Historical Society. I did, because I "had" to because eleven years ago I decided to start a blog for which I visit every museum in Connecticut.
And then about a year ago I decided that after ten years of CTMQ, I'd start to "complete" towns.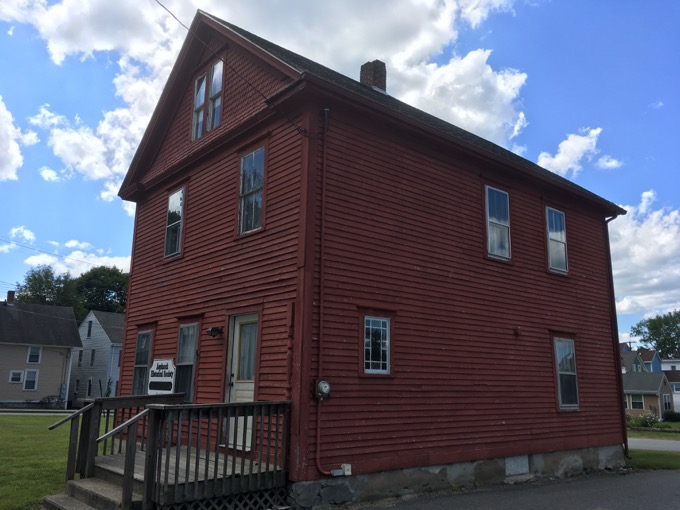 And that is the story of how I ended up in Putnam, Connecticut on a second Sunday of a month waiting for that two-hour window the Aspinock Historical Society claimed to be open…
I've been at this game long enough to realize that these all-volunteer, tiny, infrequently visited small-town history museums often don't open at their appointed time for a whole host of valid reasons. So as I circled around the parking lot with no cars in it at 1:58PM and told my sons, "Welp. This is it. Doesn't look like they're going to open today. All the way out here in Putnam to finish the town and this is the very last thing in town to experience and, yeah, well, bummer."
And then it happened… An "OPEN" flag appeared on the front stoop. A pick-up truck wheeled into the lot.
"Holy cow! I'm going to finish Putnam today after all!"
I parked and positively leapt out of my car.
Oh yeah. The boys. They'd had a long day of hiking and nonsensing with me, so I let them keep their iPads and told them to just sit and play at a table inside. They complied.
And I took a deep breath. Alright Putnam, What have you got for me?
Founded in 1972 by a group of citizens who felt the need of its services, the organization for a number of years met in members' homes. Before long, many photos and other ephemera began piling up. When the GED Education building closed, and was unoccupied, The Mayor and Board of Selectmen voted to lease it to the society, in perpetuity for $1.00 per year. It now serves as a research center with valuable historic material available for use by the media and others performing research.
Okay. An older gentleman welcomed me and asked me why I was there. I gave my usual song and dance; "We were at the car show and I passed this building and saw the OPEN flag and I've passed it a million times and always wondered what it was, so…"
I know it's a lie. But I'm telling you, it works so much better. And besides, I want the "everyman" experience, not the CTMQ-Celebrity experience. I only want the CTMQ-Celebrity Experience at fine dining establishments. Just kidding…
As if such a thing exists.
The gentleman essentially told me that although this is billed as a museum, it is not really a museum. And in fact, I was already in the room with the pretty much all the stuff.
Hm. Okay, cool. There are a bunch of maps. A lot of books. A WWII uniform. A Putnamopoly. A model of some building in town. Two little boys staring like zombies at their iPads.
Hm indeed. I walked around, feigning interest. "Anything upstairs?" I asked.
"No, no. But I can show you some other stuff if you're interested."
Yes! Take me to the good stuff! I was walked to a backroom with a cabinet. The cabinet was opened. The cabinet contained local newspapers dating back… I forget… let's say 150 years? There are a lot of newspapers.
As he was explaining that the purpose of this place was pretty much for locals to come and look up stuff in old newspapers and town records, I was still thinking there would be something else to show me.
Nah. That's it. We talked about the major floods in town and how major floods seem to define river towns in Connecticut. In fact, I just checked the AHS's facebook page and there seems to be only one post.
It's about the 1938 flood that destroyed half the town.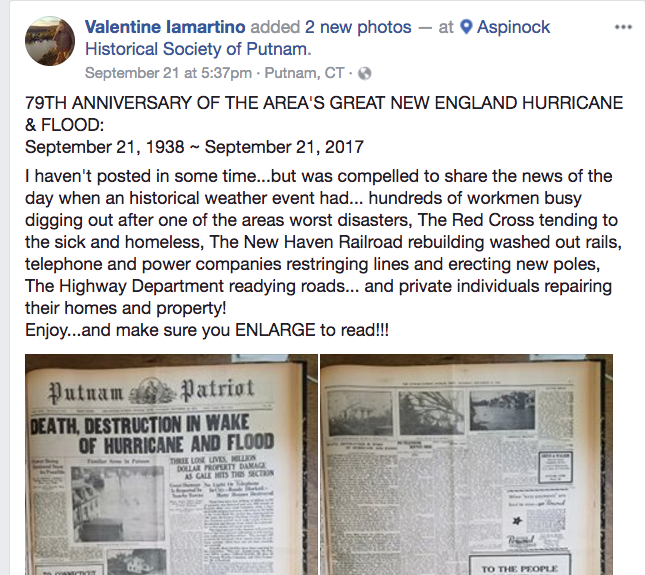 In my quest to find out more Putnam history, I can share with you that the first settlers of what is now Putnam were John Sabin and Richard Evans, who both came in 1693 from Rehobeth, Massachusetts. The original settlement was called Aspinock, after an indian name for the Quinebaug river.
Putnam is named, of course, for Israel Putnam. The local farmer famous (infamous?) for killing the "last wolf in Connecticut" memorialized over in Pomfret at Wolf Den. (Most recent CTMQ visit here, which we did on this very same day!)
He led the Connecticut regiment in the French and Indian War, escaping death over and over. He led another regiment during the Revolutionary War, including the disasterous Long Island campaign that saw half of the army captured or killed. Some more good stuff about Putnam (and Putnam) here.
That's it. I gathered my children and we left after thanking the man.