A True Triumph
Vernon (Google Maps location)
November 11, 2018
Here we are, at another museum that I can't due proper justice to while writing about it. I just don't have any motorcycle knowledge or background and since I had Damian with me, I didn't quite absorb all that my guide told me.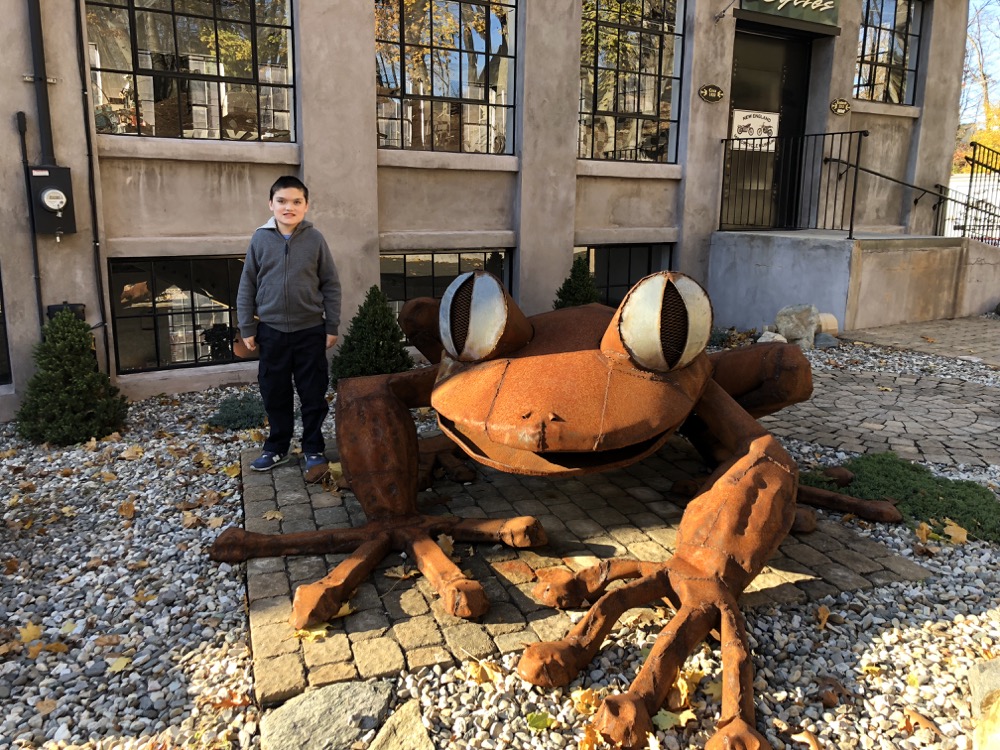 And he, for his part, was very knowledgeable. Perhaps a little too knowledgeable, as I had to keep reminding him that I didn't know what he was talking about. I'm not denigrating him, as I'm sure 99% of the museum's visitors are into motorcycles.
And people who are into motorcycles around here know Kaplan Cycles. The business and the museum are owned by die-hard motorcyclist Ken Kaplan. Kaplan Cycles is a licensed dealer that focuses on giving vintage bikes a new lease on life. The shop is connected to the museum and many of the museum bikes are for sale. Kaplan purchased the 205 year old Hockanum Mill – a former textile mill that had been neglected for over sixty years.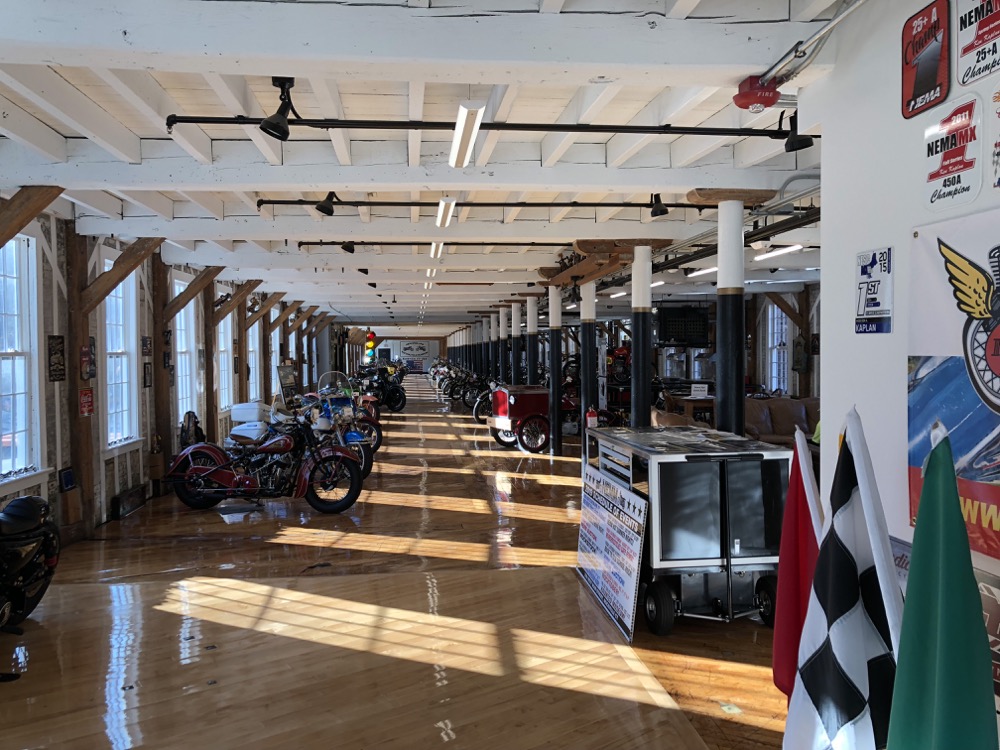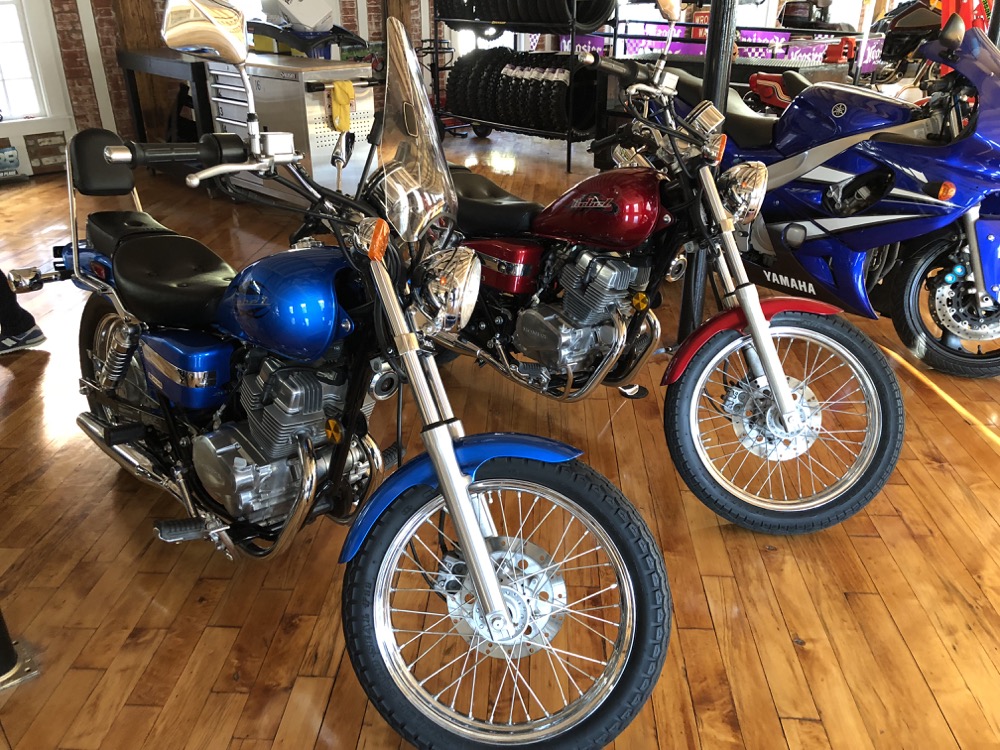 Kaplan had also been making YouTube videos expressing his love for bikes and the community that surrounds it. He gained some attention from those videos and landed a TV show pilot on the Discovery Channel. It aired in 2019 and I have no idea what's going to happen with it. The COVID pandemic put everything in the world on hold, so maybe it'll still get picked up.
(In the show, Kaplan, his son Ken Kaplan, Jr., and Kaplan's alter ego "Kaplan America" restore motorcycles and recover stolen bikes. Seems like a weird show to me but hey, they got as far as having the pilot aired on television.)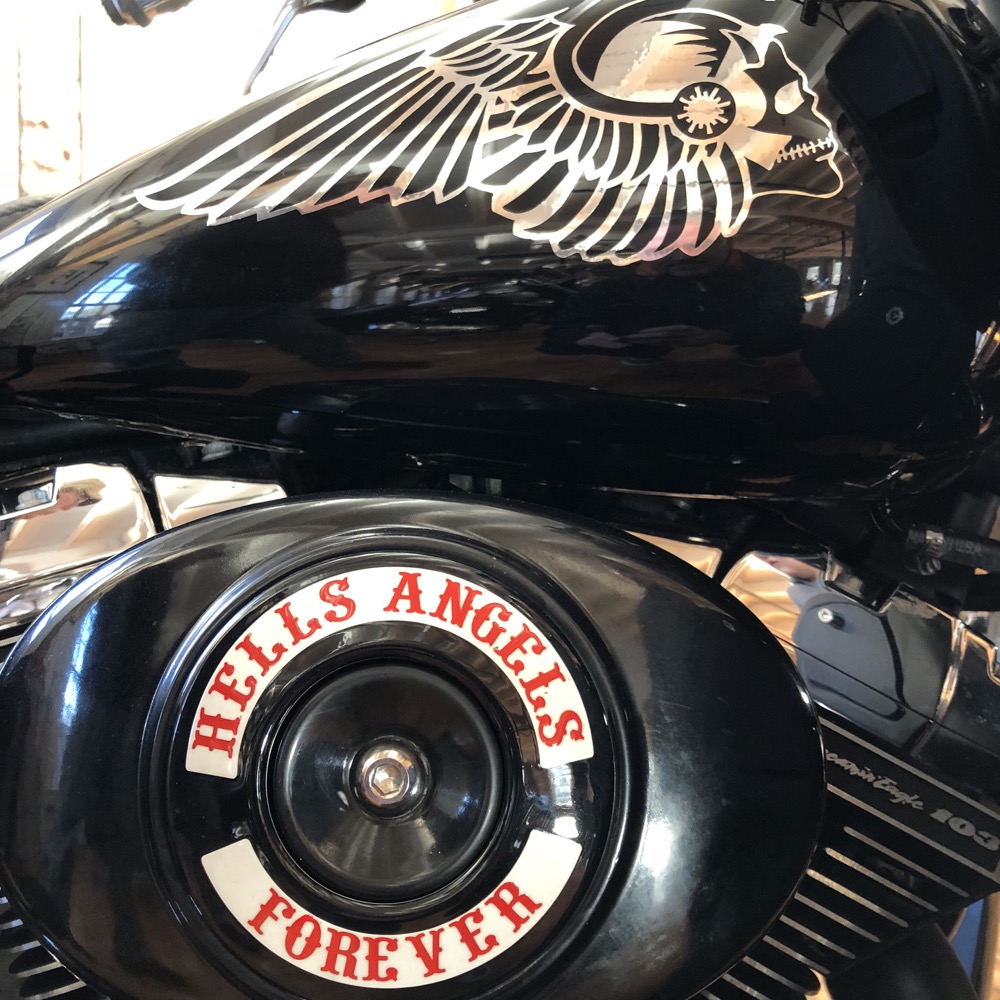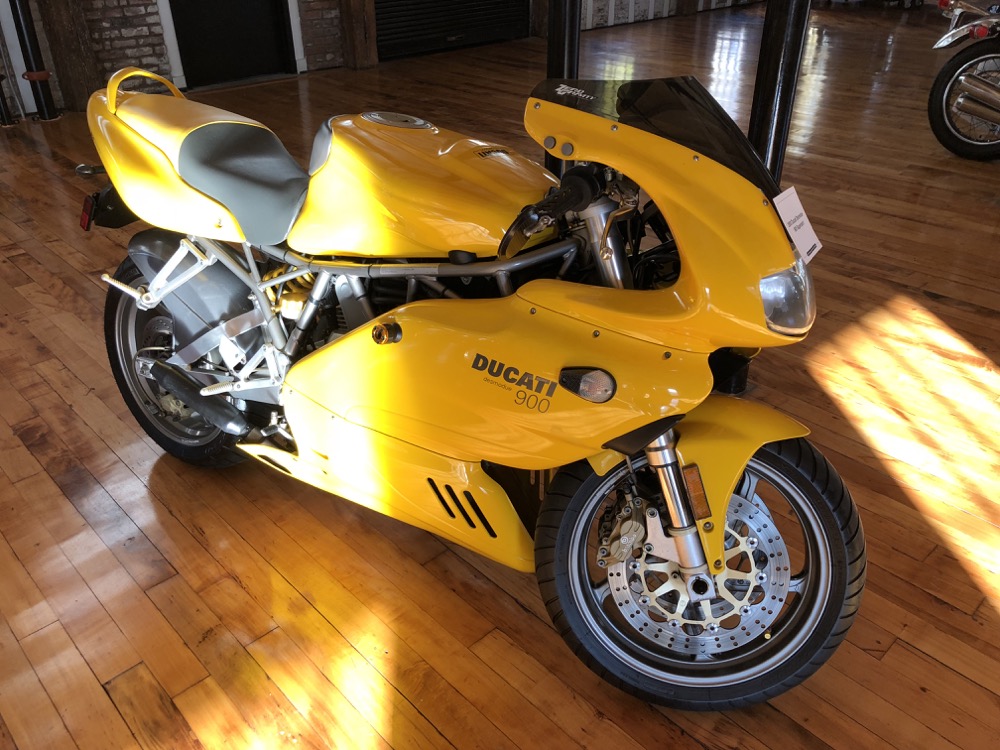 Another project put on hold for the pandemic is a brewpub that is slated to be added to the museum complex. Yes, a full-scale brewery and restaurant there in Rockville (Vernon) with a motorcycle theme. Kaplan spent millions on the mill restoration and museum build out, but has been soliciting donations for the brewpub.
He got the go-ahead from Vernon and got some sponsor buy-in, but like the television show, I'm not sure where that project is in early 2021. (It was supposed to open in the summer of 2020, but that didn't happen for pandemic reasons. Or funding reasons. Or both.)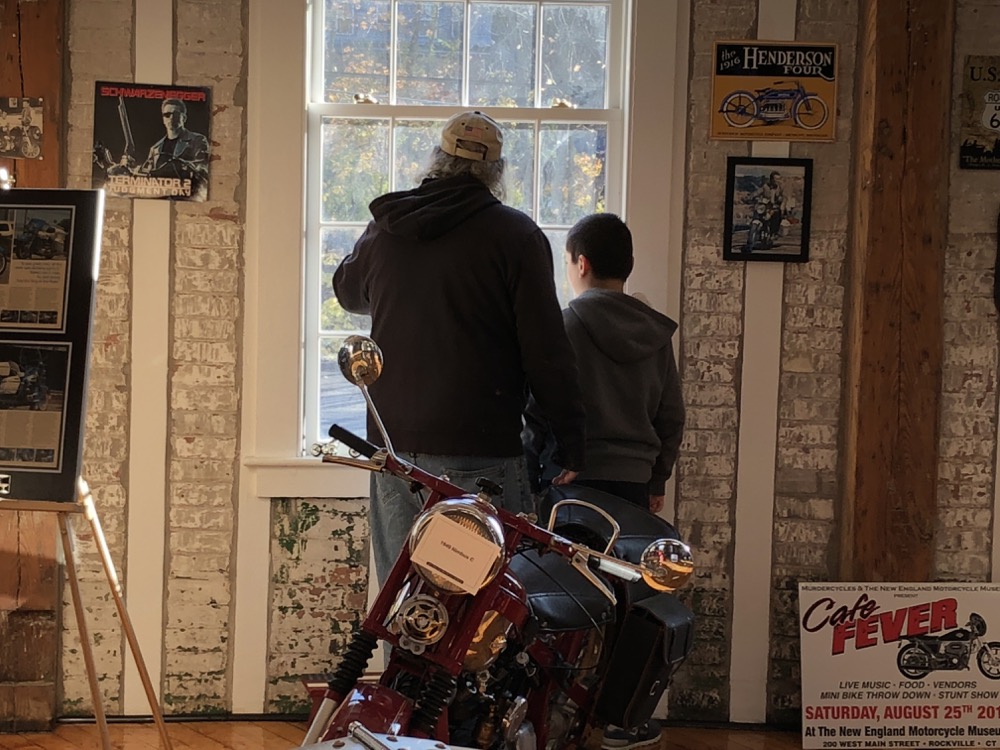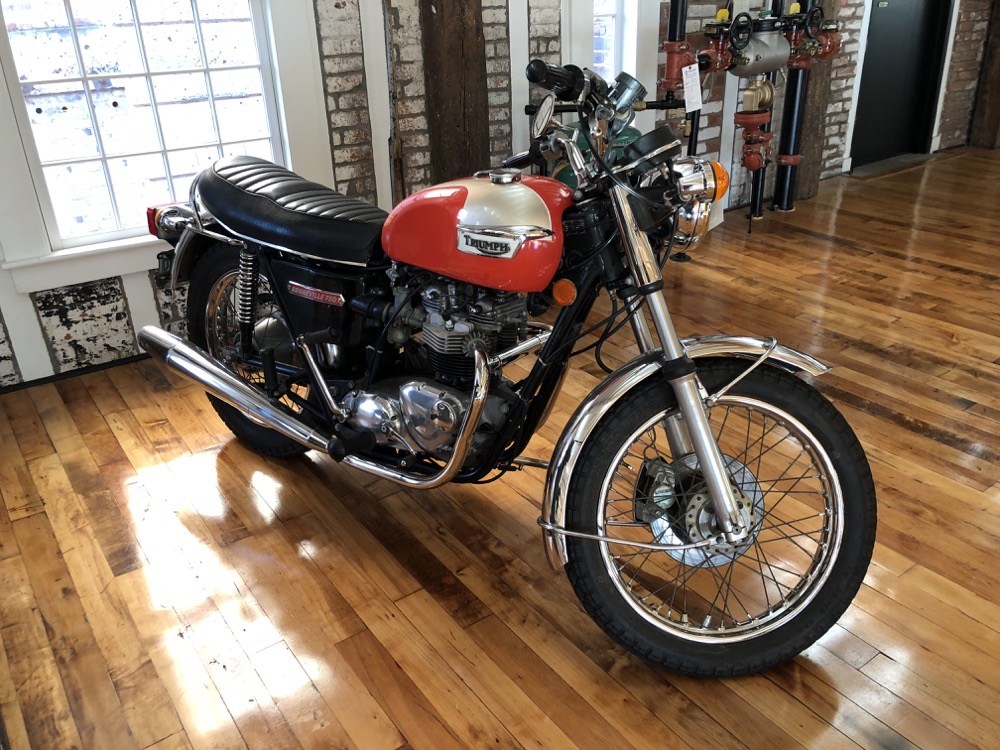 The museum, which opened in August 2018, is claimed to be the largest Motorcycle Museum on the East Coast. It is pretty large at 150,000 square feet, and it's the only one I've ever seen, so I'll say I believe the claim.
With over 25 different brands of motorcycles, extensive motorcycling magazine archive, and memorabilia from the most iconic events and superstars in the industry's history, there is something for every motorcycle enthusiast.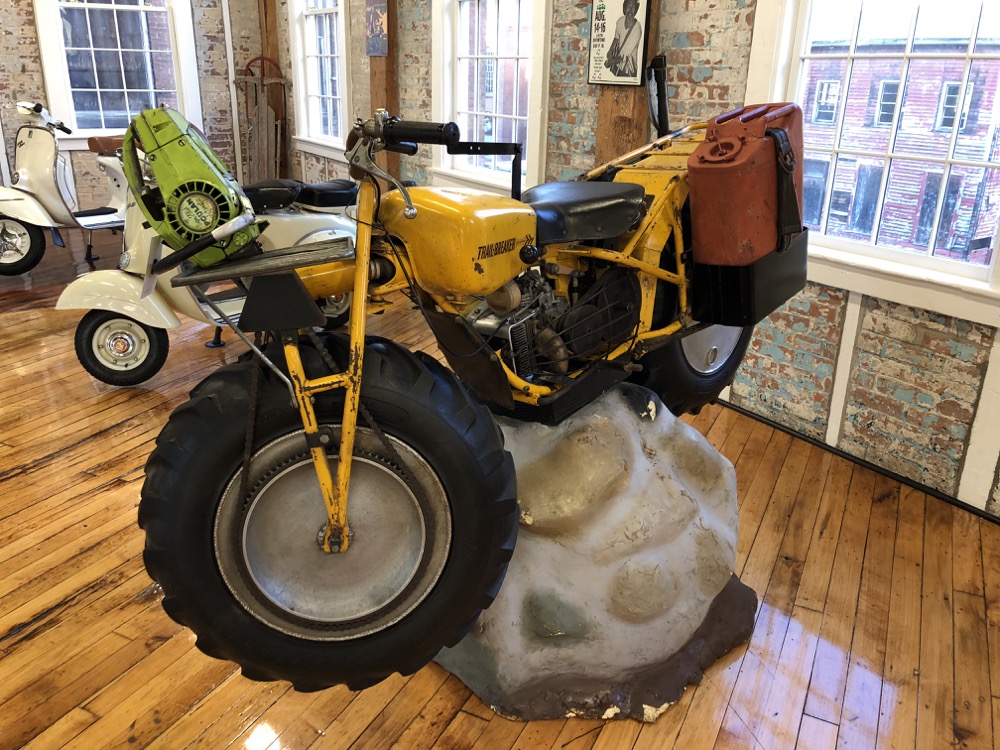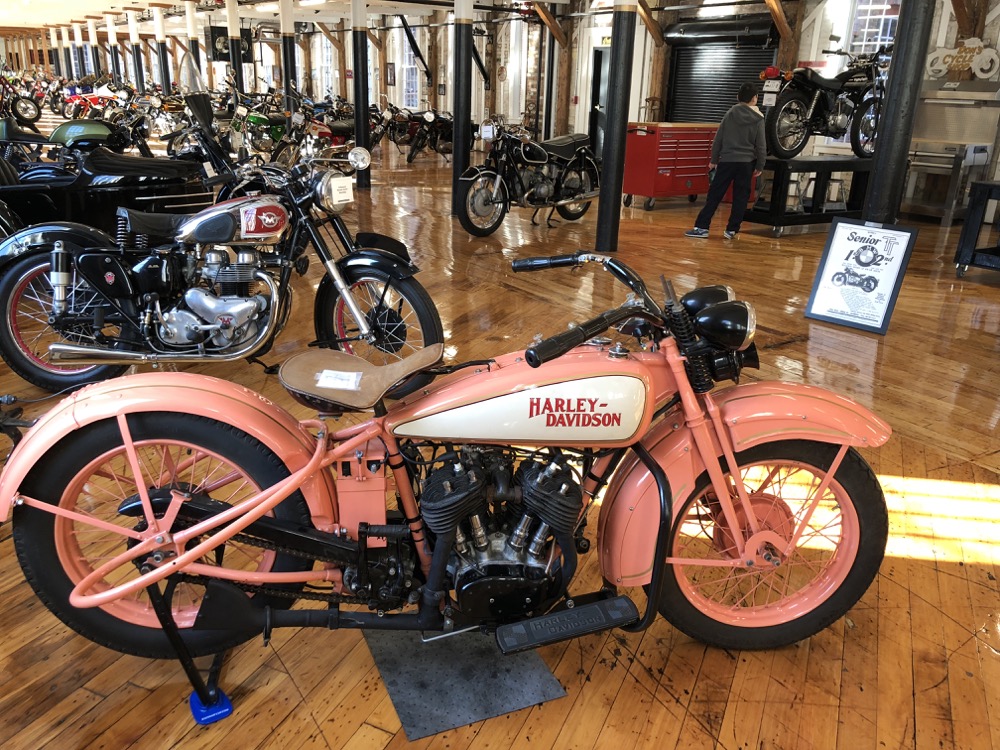 I accept this claim as well. In fact, after seeing pictures of Ken Kaplan, I'm apt to accept all of his claims. (He's jacked.) He's also a really interesting guy. Started out in back office computer stuff, started his own repair/consulting business, and made a lot of money. He still owns Kaplan Computers, but doesn't work there. He's all in with the motorcycle stuff.
The museum showroom is stunning. The refinished floors practically shine like a mirror. And there are bikes upon bikes upon bikes. Historic bikes, unique bikes, cool bikes, fast bikes, funny bikes. Lots and lots of bikes. And as I've said, I'm not the one to tell you about them. And even if I tried, I'd just be cribbing from their signage so you'd get stuff like the following.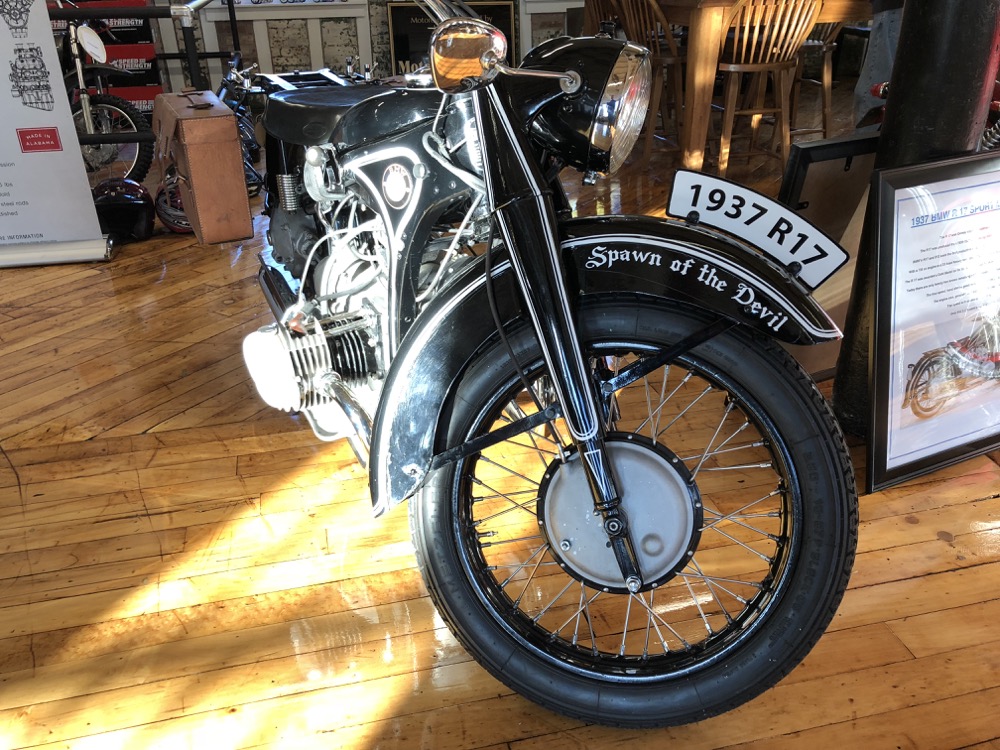 Ah, yes, the 1937 BMW R 17 Sport Motorcycle! The R17 was Germany's most expensive motorcycle. It was produced from 1935-37 and featured BMW's iconic triangular frame. The R17 and R12 were the first production motorcycles to have telescopic hydraulic forks. With a 735cc engine and 33 base horsepower, the R17 was the country's fastest production model.
You get the point. It goes on a bit but here's the stuff that captures my eye: There were only 434 R17's every made and only 22 are known to still exist. And there's one in Vernon!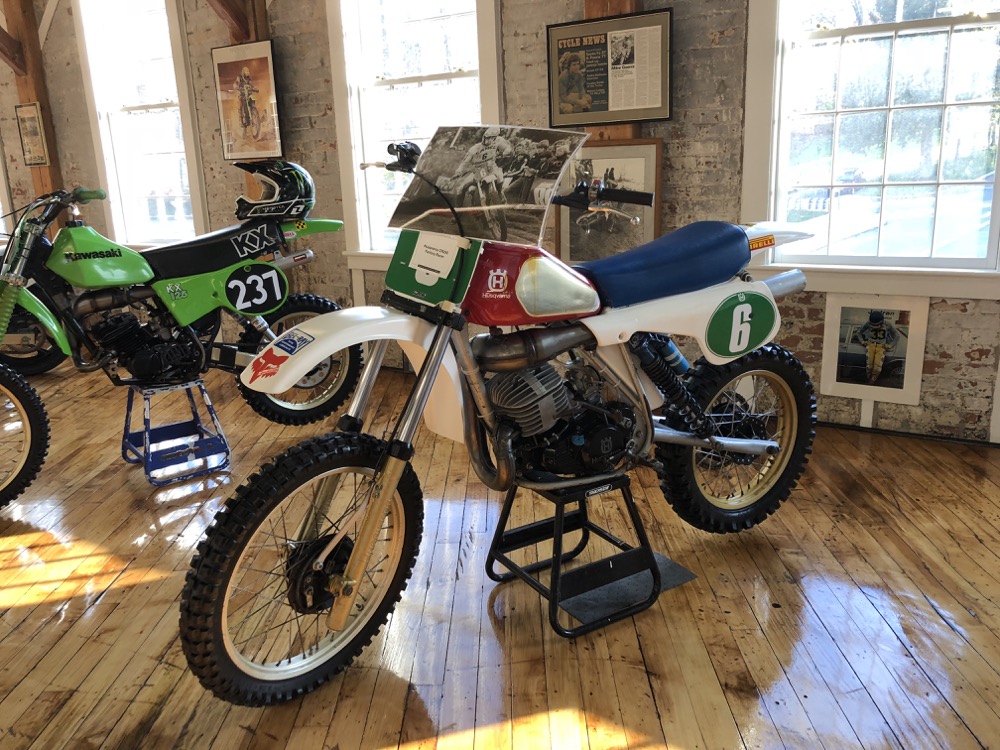 I should mention that the bikes on display here may come and go. Some are likely sold, others swapped out for shows or on Kaplan's whim. But there are so many that it's not like you're going to go looking for the BMW R17 and be disappointed if it's not there.
The gentleman showing us around was great with Damian – and very trusting of him. (And for his part, Damian was very well-behaved as well – heck, he even posed nicely for a couple pictures!) Our guide even put up with the barrage of repetitive questions that he couldn't understand very well. Hats off to that guy.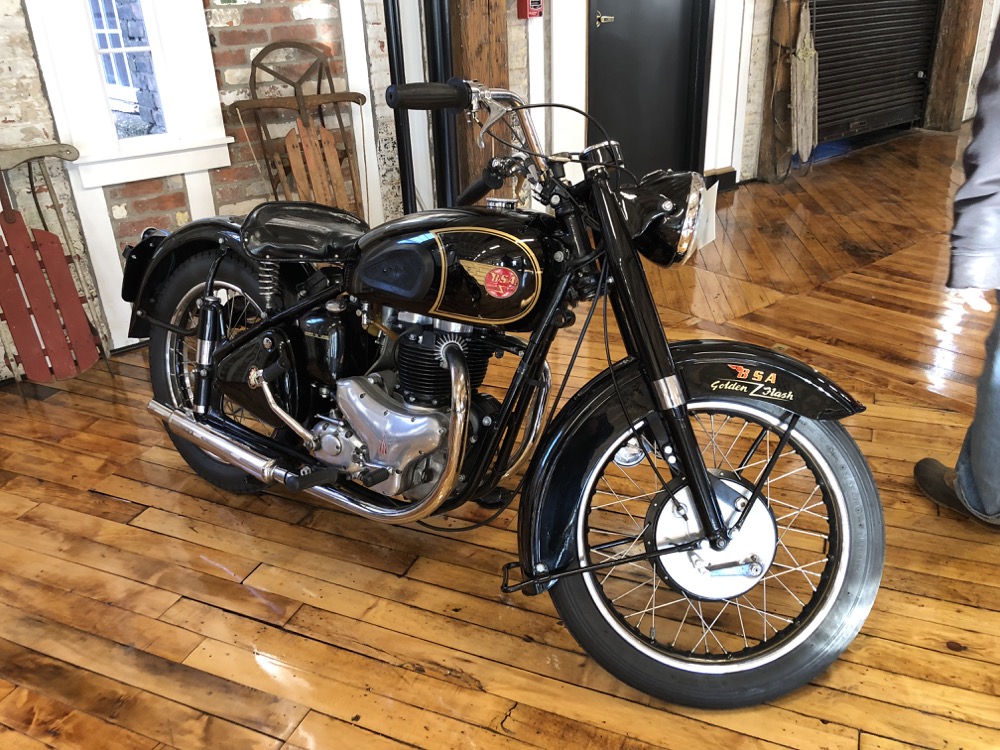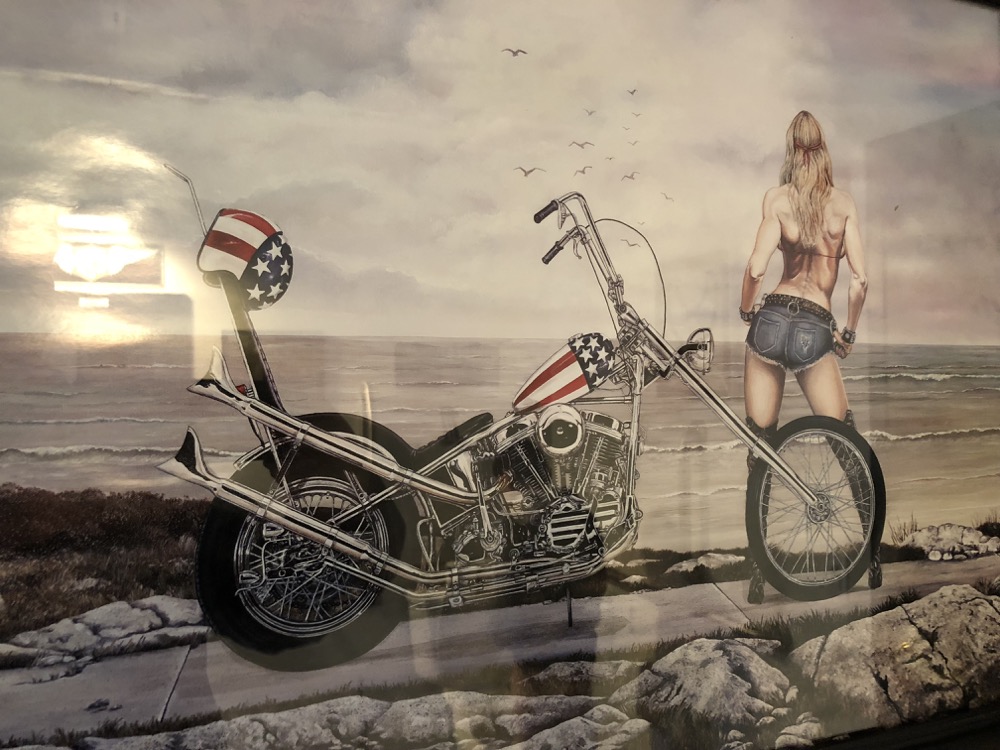 And hats off to Ken Kaplan and everyone involved with this place. He has said that he loves the historic Rockville section of Vernon and is proud to have given this old mill new life. He would love to feature some local scenes on The Discovery show if it continues. The events that go on here and his vision for what the museum can be is the type of wide-eyed optimism all of our post-industrial downtowns throughout Connecticut need.
So get yer motor runnin, and head out on I-84… wait, I think I did that wrong. The New England Motorcycle Museum: one of the cooler Connecticut museums to open in the 21st century.