… Where They Bury the Lies
Windham (Google Maps location)
January 5, 2019
For the thousands of you who have already read about my visit to the Edward A. Card Photography Museum, you know the deal here. For those that shamefully haven't, the deal is that there are two museums at the Guilford Smith Library, and I don't really understand the intent of either.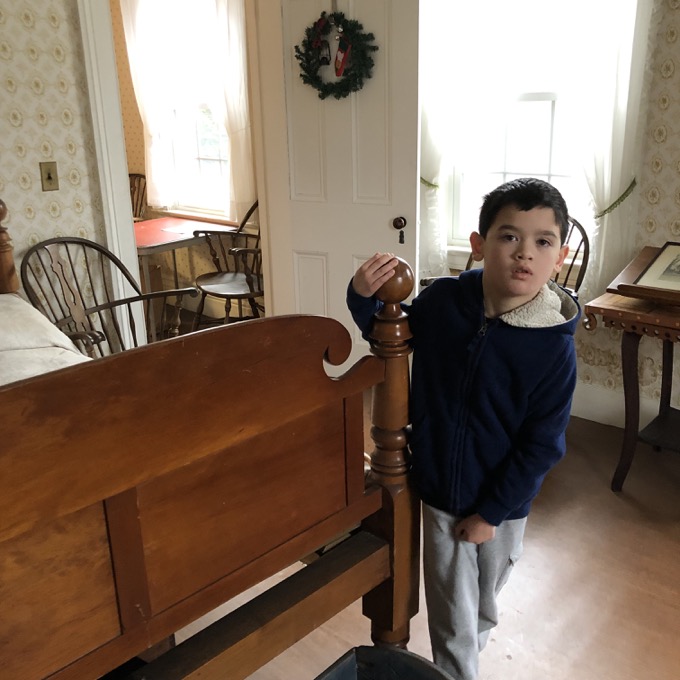 But here we are. Out in the section of Windham that probably is always sure to say they aren't Willimantic; home to dozens of beautiful Victorian homes and other non-Willimantic type things. Things like homey little libraries housed in historic houses.
Trying to find a museum in a tiny library, trying not to look like we were, we did a puzzle for a while to give the impression we were normal visitors.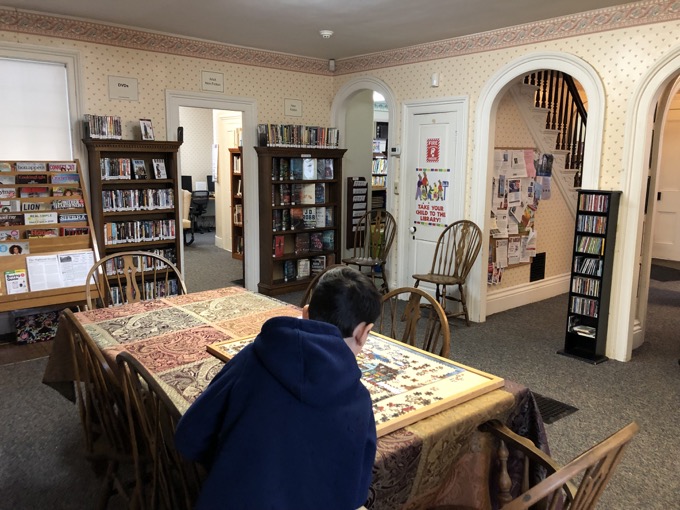 Since the librarians didn't recognize us – and this seems like the kind of place where they know all their patrons, they asked us if they could help. I said no thanks, just passing through. Perfectly normal like.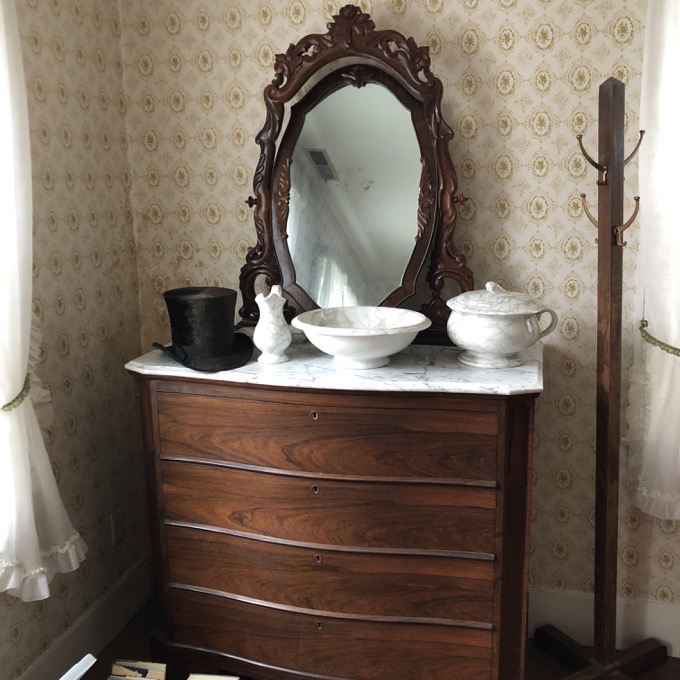 When they had their backs turned, Calvin and I made for the stairs. Once on the second floor, I was confronted with a maze of hallways, cubby holes, and doors. Hm. Fortunately for us, there was a book sale going on (I think) and half of the rooms were filled with books. This provided great cover. (If you're confused as to what I'm talking about, imagine you're a father from halfway across the state who brought your eight-year-old to a random tiny library for the express purpose of seeing a museum with literally no web-presence. Trust me. You'd be weird.)
Calvin was pleased with some of the books: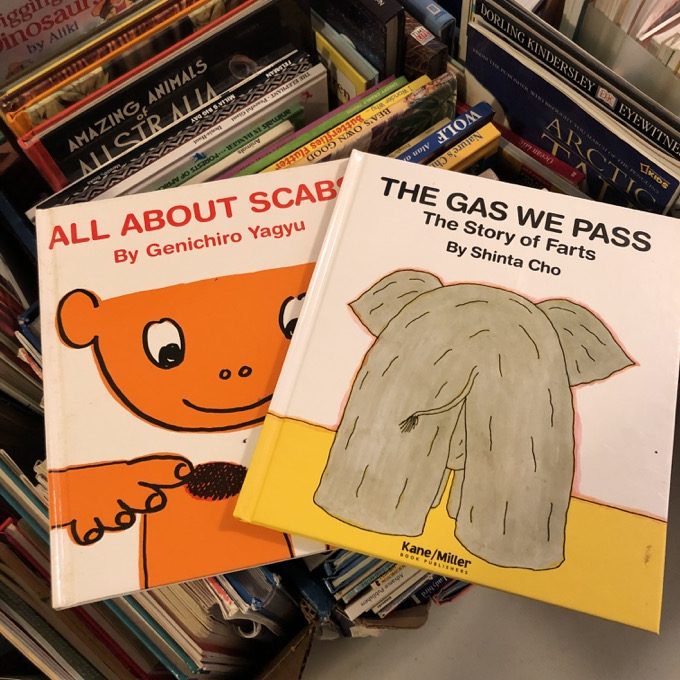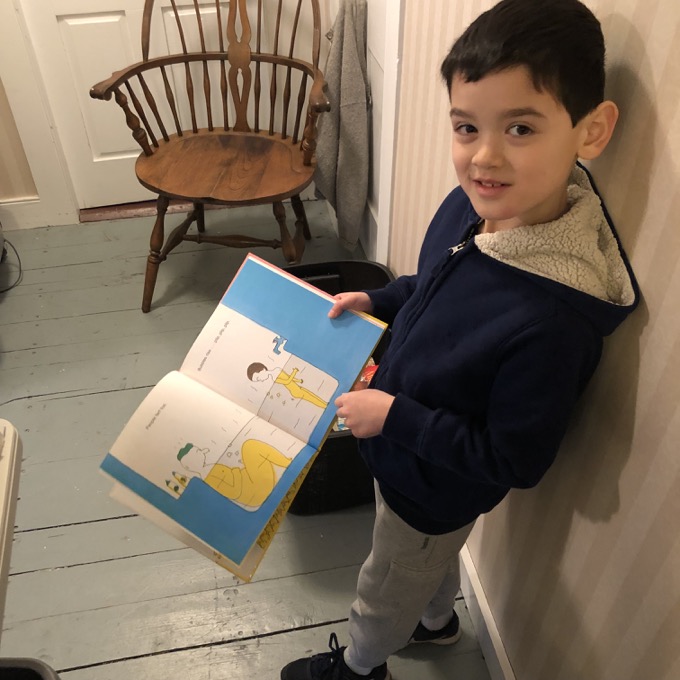 And I was pleased that I think I sort of found the "museum." It's sort of… just there. Scattered about different rooms – I want to think that it was in slight disarray due to the book sale. I can't be sure though.
There are few rooms with old furniture and pictures. But there is certainly more to it than there was in the closet-like space of the Edward A. Card Photography Museum. There are some historic artifacts and old newspaper articles and a few things about Guilford Smith.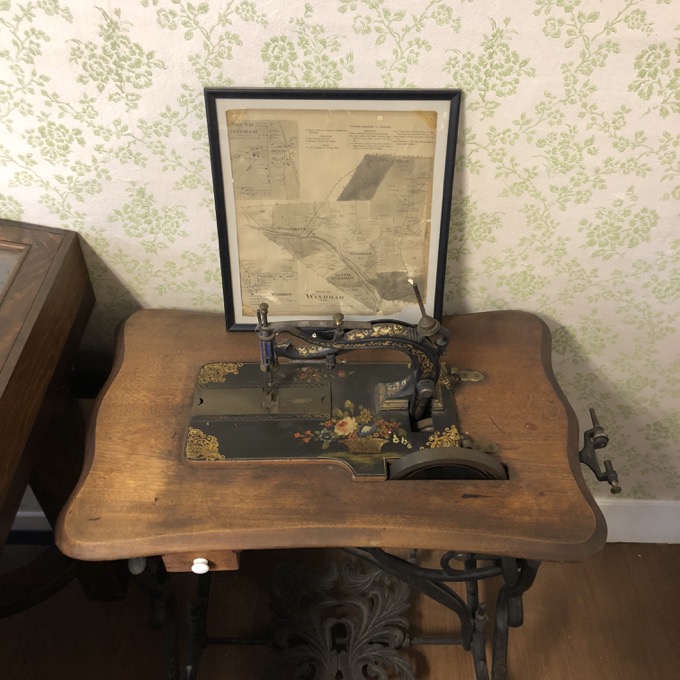 And what's more, the library website gives us some insight into Mr. Smith. (Most of it is boring genealogy, so I'll spare you that.
Charles Smith, Guilford Smith's father, bought this land from Elisha Holmes (who lived in the red brick house across the street) when he was 30 years old and built this home in 1836. Mrs. Holmes was a cousin of Charles. In 1838, Charles Smith and Harvey Winchester, a blacksmith who lived next door, were employees of Spafford, Phelps and Co. They each paid $50,000 to buy the buildings and the patents from Spafford.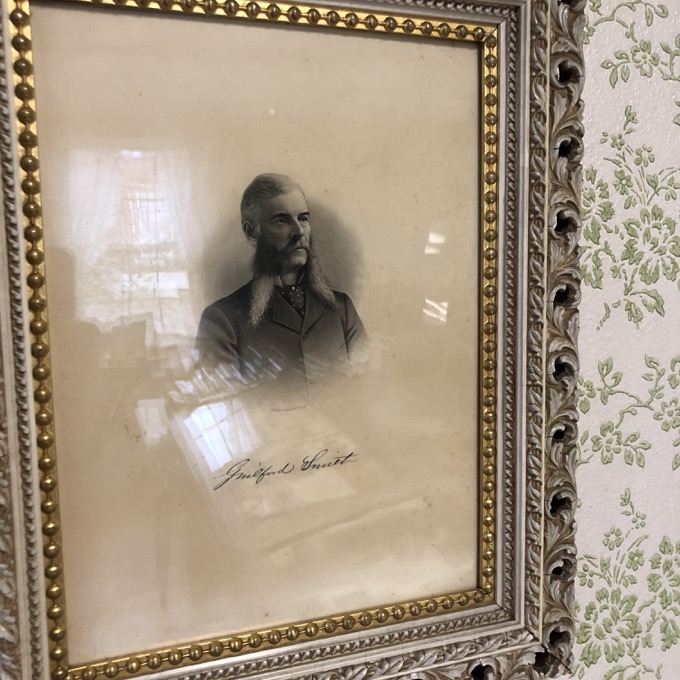 I lied. I just wanted to you to get a taste of all the stuff I read through to give you the good stuff. Smith and Winchester put together a successful business, running the factory making the first successful paper making machinery in the country, supplying large rolls of paper all over the country and world. The business expanded to make parts for paper cutters and paper bags and… it was all quite impressive.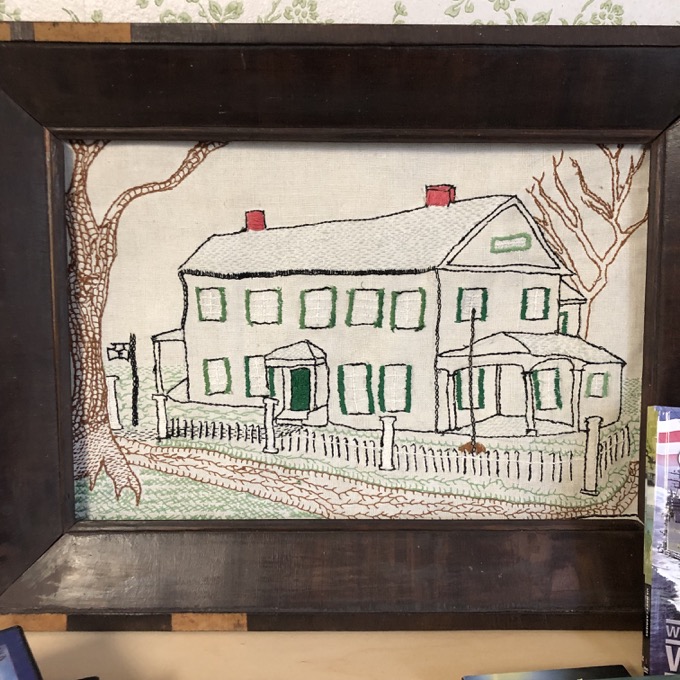 Guilford Smith was born into the business, married a couple times, and had no children. At the time of his death in 1923, he was worth over a million dollars. He gave $225,000 to various local organizations in his will including $25,000 for a library to be established in South Windham. The library still operates from a trust Smith set up now 100 years later.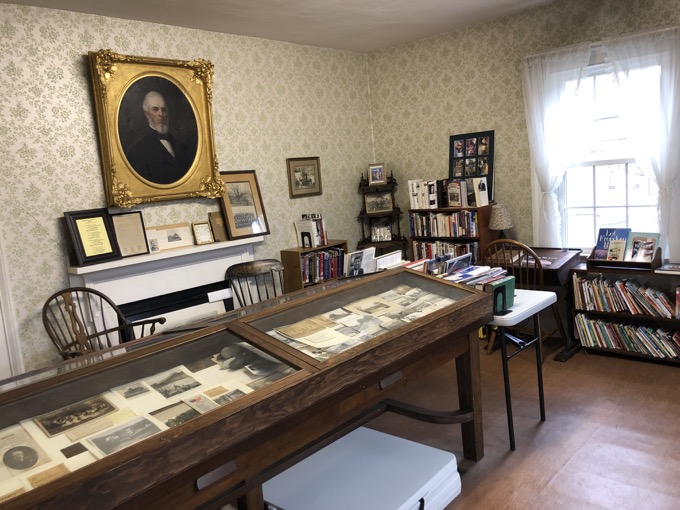 Ah, here's some stuff about the… stuff.
The furniture left in the house upstairs is all original to the Smith family. The cradle is the very same one that Guilford Smith was rocked in as a baby in 1839. The room next door where the pictures of South Windham are stored was originally called the "Trustees Room" where the board met regularly.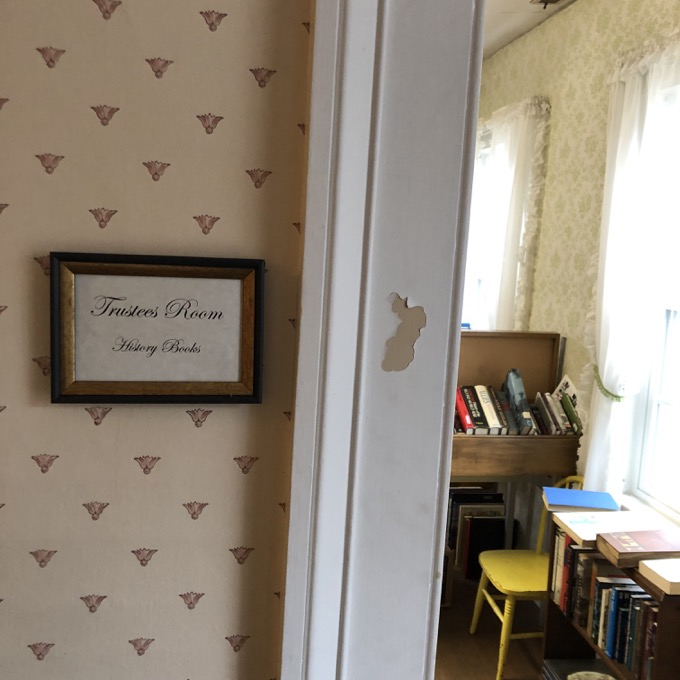 That's all we get? (Actually no, there's more. Stuff about Jonathan Hatch who owned a ton of land in South Windham and left lots of money to the local Windham Hospital which to this day has a "Hatch Wing". Some information about a train crash in town and more about A "sanitarium" that burned down in 1908.)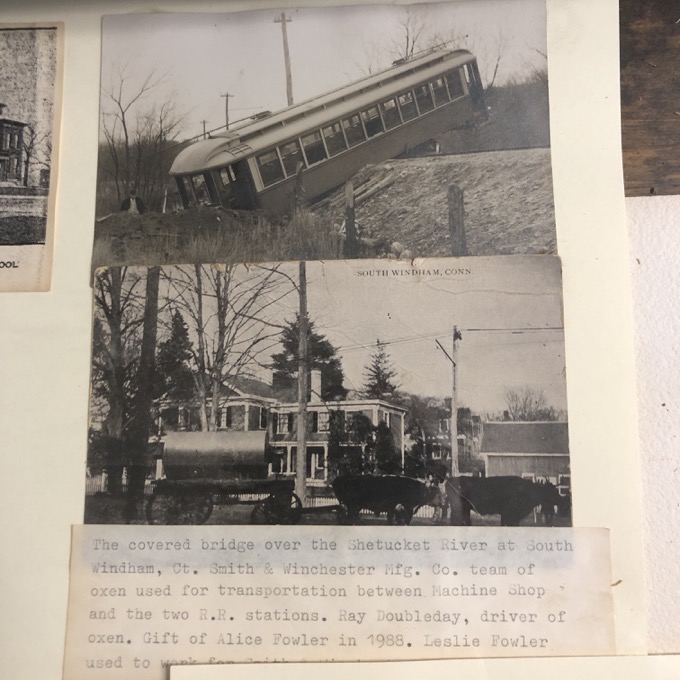 I now know why the library seems to have removed references to its two museums. I don't remember from where I learned of their existence, but I do think it was online somewhere. I don't want to goof on the little library here – I think it's great they still have their patron namesake's belongings and old clippings about the town 100 years ago. It's not like they have a museum professional on staff… but it's also not like the life and times of Guilford Smith and Edward A. Card actually deserve museums in their honor either.
Which is why the existence of the museums – at least at one time – is so great.