"I Did Not Have Wine at that Vineyard"
Chamard Vineyards, Clinton
July 2008, August 2008, and again in 2010
Clinton, Connecticut is a lovely town. Really, it is. One of my favorites so far on my years-long tour of the state. Beautiful coast, beaches, many intriguing shorefront properties; a quaint and historic town center… and a vineyard.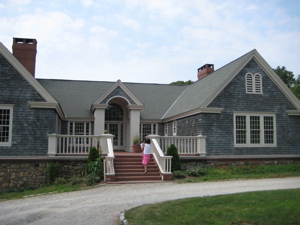 If you're the type of person who pays attention, you noticed two things at the top: A dumb title that barely makes any sense even if you associate the paraphrasing with former President Clinton and then there's fact that we visited twice within two weeks. Because their Cabernet Franc was so absurdly wondrous that we had to go back for more? Not quite…
For our first visit, we arrived at 2:45 PM after several hours at Hammonasset Beach – CTMQ's visit to the state's largest beach here – with a tired two-year-old. The building is beautiful, the tasting room tastefully appointed.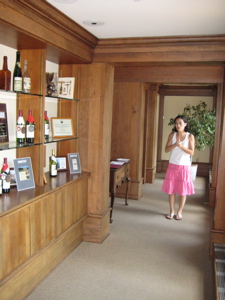 After being ignored for a few minutes, we were told by a gentleman that, "the tour starts at three, so hang tight." Normally, I'd be quite content – a free tour! But with Damian on the edge, we just wanted to get in, get tastin', and get out. So I politely asked if we could just have a tasting now, or perhaps skip the tour to taste.
We never got a straight answer about that, which was very odd. The woman that was doing a tasting with a few other folks had wrapped up and was just chit-chatting. So we waited five more minutes.
The women's conversation had shifted to Big Y Supermarket pizza dough being fantastic. Hoang and I waited patiently. Damian did not. I made a last ditch effort to get a quick tasting, but was told to wait as the woman had to use the restroom. The funny thing is, she did not use the restroom and just stood there having more inane conversation with random people she didn't know. "The tour is at three," we were told for the 4th time in 15 minutes.
Yeah, we knew. Was this the Scientology Vineyard? I'm sure the tour is wonderful, but come on! Don't you see this ticking time-bomb in Hoang's lap?! Suffice it to say, Damian blew and we left with very bad tastes in our mouths. Flash forward two weeks and we again enjoyed a looooong day at the beach. Hoang hesitantly agreed to try again…
The parking lot was full (again!) but I plowed ahead. The room was packed and the same Big Y pizza dough lady walked right by me. "Excuse me, my wife and I were here two weeks ago and we forgot to have our passports stamped," I said. I wasn't leaving without my stamps. Damian glared. She stamped. We left.
The wine? It is rumored to be some of the best in the state. Their own descriptions of them sound wonderful. Some other general info brings up some fascinating facts. Like that the owner is none other than Jonathan Rothberg – the eccentric DNA sequencing genius who built a Stonehenge replica in Guilford. Awesome.
Combining his love of nature, his interest in genetics, and his passion to predict, Dr. Rothberg purchased the leading vineyard in Connecticut to push the frontiers of winemaking. Originally Incorporated in 1983 by the Chairman and CEO of Tiffany and CO., Dr. Rothberg found in Chamard vineyards a foundation of grace and elegance that would form the basis for even finer wines.

Most recently, Dr. Rothberg has launched a research project called the Methuselah Project, which is sponsored by the Rothberg Institute (TRI), a non-profit research organization in Guilford, Ct. It is known that drinking wine in moderation extends a healthy life. This project seeks to find the genes people carry that do the same. Dr. Rothberg was the first person to map an individual person's genome and now wants to map 300 centenarians.

The first vines were planted in the spring of 1984, a 5.5-acre vineyard consisting primarily of Chardonnay with a small quantity of Cabernet Sauvignon and Pinot Noir. From 1986 through 1992 the remaining acreage was prepared and planted, for a combined total of 20 acres. In the summer of 1988, the winery was constructed and Chamard became a licensed farm winery. The first wine, a 1988 Chardonnay was released for sale in November of 1989. Current production is 6,000 cases annually.
Their site goes on and on, but it is a nice website. Chamard produces the following wines: Chardonnay, Cabernet Sauvignon, Merlot, Pinot Noir, Cabernet Franc, Gewzertraminer, Meritage, Rose, and Pinot Blanc. I'm sure they are all delicious and that their free wine glass is great.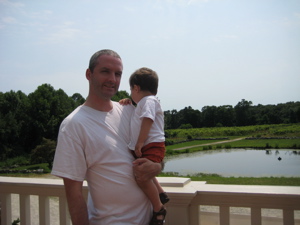 Both times we visited, there were a LOT of other visitors – speaking volumes about Chamard. Our experience was ours alone. We looked kind of grubby, we had a cranky toddler, and we were pretty cranky to boot. But still… our experience should have been better. At least they stamped our passports when I asked. So when we win the trip to Spain, I'll send them a postcard.
Random tidbit, Charmard's surname derivation is supposedly: Dweller in the meadow; one who lives on a plain.
2010 Update: We stopped in again in June 2010 and my, what a difference a couple years make. I have connected with some Wine Trail friends in the interim and there has been some general agreement that my experiences at Chamard were not unique to me. That is, other people without cranky toddlers felt pushed aside, ignored and taken for granted during their visits as well.
Well, now that the Passport program requires 16 winery visits and we pass Chamard everytime to and from Hammonassett Beach, we decided to give it another whirl. And I'm happy to report that things have apparently changed for the better. First off, there's a little "farmer's market" in the parking lot now, with local produce, meat and cheeses. At first we were excited to pick up some strawberries for the beach, but upon seeing the $6 pricetag on the – barely full – quart, I exclaimed, "Six dollars?!" and the poor kid manning the booth dropped his head and said, "Yeah, they're expensive." I'll say.
Anyway, Chamard has redesigned their tasting room and now have a full horseshoe bar and nice tables at which to sit. This small change in décor has also somehow changed the whole vibe and attitude. Tastings now appear to be offered whenever and to whomever wants them. Friendly faces and smiles greeted everyone and no one was ignored. We finally got to enjoy some Chamard whites and found them to be pretty good.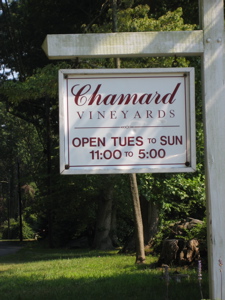 So please, take the above post as a historical footnote and don't be afraid to visit Chamard.
2018 Update: Holy cow, Chamard now has a full on French farm-to-table bistro with lunch and dinner menus. They all grows up.

Chamard Vineyards
CTMQ's Visits to Connecticut Wineries