Relish Connecticut's Bounty
Al's Hot Dog Stand, Naugatuck
April 2022
I started "completing" the Roadfood "Eat Before You Die" list what? a decade ago? I actually plowed through the 60 or so places that was still open and then Michael and Jane Stern released another version of their fun book with a slew of new-to-the-list Connecticut eateries and food items.
My to-do list: expanded.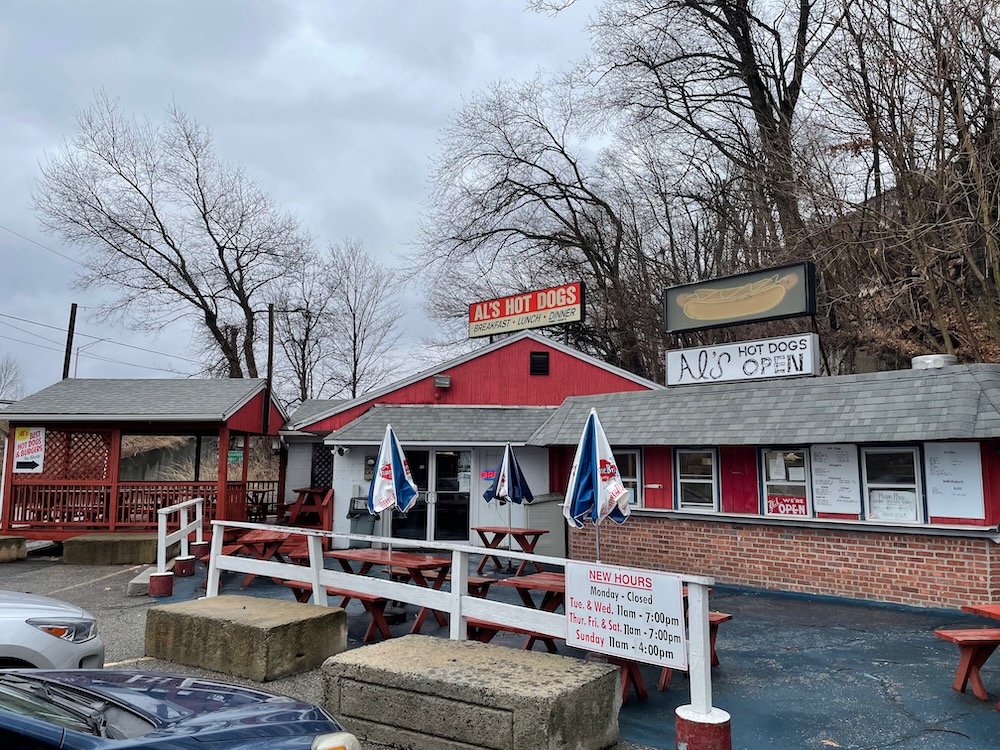 And that original list had a ton of hot dogs. I don't know if Connecticut is just a great state for hot dogs or if the Sterns happen to really love them. Or both. I rather like hot dogs. And I love top notch dogs. I suppose I should revel in the fact I live in Connecticut then.
I do not live in Naugatuck, but a good friend of mine grew up there and still visits family there on the regular. When I offhandedly mentioned that Al's had "made the list," she was very excited for me. She even tried to wrangle an invite into the grand CTMQ Al's experience. Typical Lisa.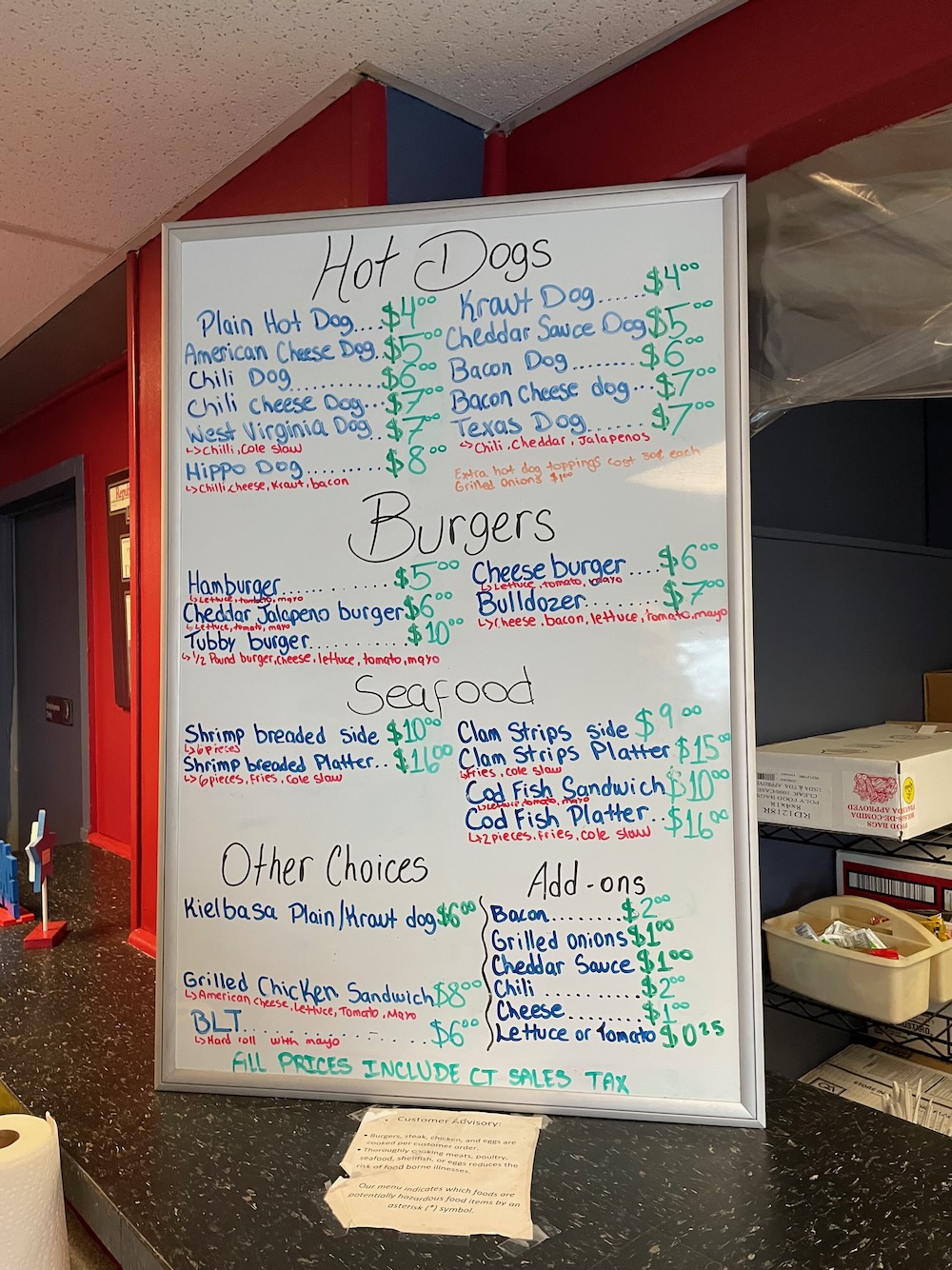 Unfortunately for her, I made an unplanned and impromptu stop while returning home up Route 8 one gray Sunday afternoon. I managed to hop off the highway a mere 20 minutes before closing, parked, and placed my order. Al's is located, literally, at the bottom of an exit ramp. A true roadside food stand. And it looks like a weathered roadside food stand. Like something out of 1958. Or rural Alabama. This boded well for me.
I had my menu marching orders per Roadfood.
Relish steals the show at many of Connecticut's big-name hot dog joints, and you will find some of the best at Al's. There are two kinds: hot relish which will make your lips glow, and Hawaiian relish, which balances the formidable heat with a shot of sweet pineapple. The dogs themselves are pork-and-beef foot-longs served in a split-top bun that gets nicely grilled on both sides. They are long enough that if you are a first-timer, you can put regular hot relish on one end and Hawaiian relish on the other and you will have multiple mouthfuls of both to compare and contrast.
Al's has been around for decade, probably always owned by the same family. Their menu has expanded and contracted over the years and of course the pandemic has adversely affected them as well. (Most notably, I've read many people lament the disappearance of their breakfast sandwiches.)
During the warmer months, when the outdoor dining area is open, ordering is done at an outside window. Otherwise, like I did, you step inside a tiny indoor area, place your order, and wait. There are no bathrooms, and this is a cash only establishment. I'm bummed out that Al's seems to have upgraded their tables and chairs. Bummed because it was apparently quite trippy in the past.
When you dine here, you will not mistake the experience for a meal in a common junk-food franchise. The décor itself dazzles in a surreal sort of way. Where in heaven's name did they get their tables and chairs? I would guess the furniture is inventory from a going-out-of-business computer school. Or maybe a deep-state bureaucrat's office. Anyway, it's strange, and kind of fun.
In 2022, there were a few perfectly normal square tables with unattractive 1970's era chairs. Low quality all-around, sure, but no weird computer desks. I cannot even find a picture anywhere of them.
The dogs are four dollars a pop Hummels here, but at least they're foot-longs. And grilled. And served on a toasted bun – which only sort of matters since the buns are half the length of the dogs. I made this a true "roadfood" experience and ate in my car.
I really dislike typical pickle relish, but went with the guidebook's suggestion and got some of the hot relish. And thank goodness I did… as it's fantastic.
In fact, everything about the hot dogs here is fantastic. The best way to prepare a hot dog is the absolute unhealthiest way: fried off on a grill on a toasted bun. This is not an argument. I hadn't eaten all day and I was absolutely famished, so perhaps that played into my love of these hot dogs a little bit.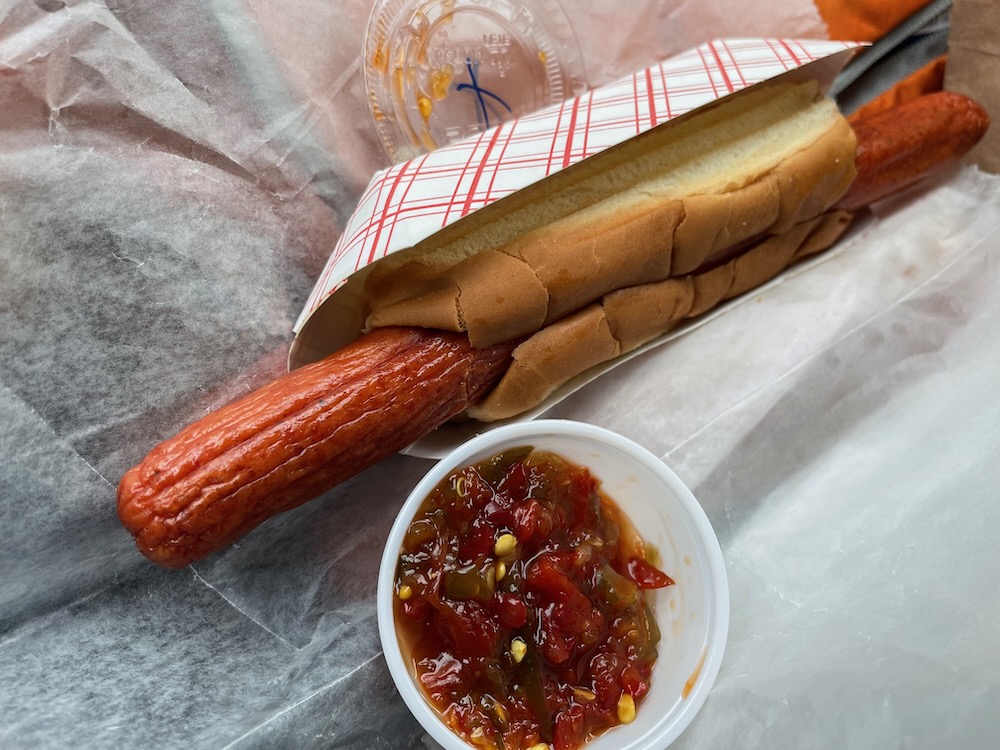 But man, that hot relish is sublime. I've read it is homemade and I believe that. Highly recommended.
Al's serves up several hot dog versions from "West Virginia" (chili and coleslaw) to "Texas" (chili, cheddar, jalepenos) and more. They have a bunch of burgers and typical fried seafood options, but I have no need to ever get fried clams from a roadside food stand. These places are for hot dogs for me, and nothing else.
And just like that, I was back on Route 8 and on my way home. Fully sated and with a smile on my face. I'm with the Sterns and Roadfood; Connecticut has an abundance of great hot dog joints… and I'd put Al's right up there among the best.