Catching a Buzz
Alvarium Beer Company, New Britain
May 2018
There are two breweries in New Britain (in 2018 anyway), which is two more than there were in 2016. This is a good thing, especially considering New Britain is a city with a history of brewing pride.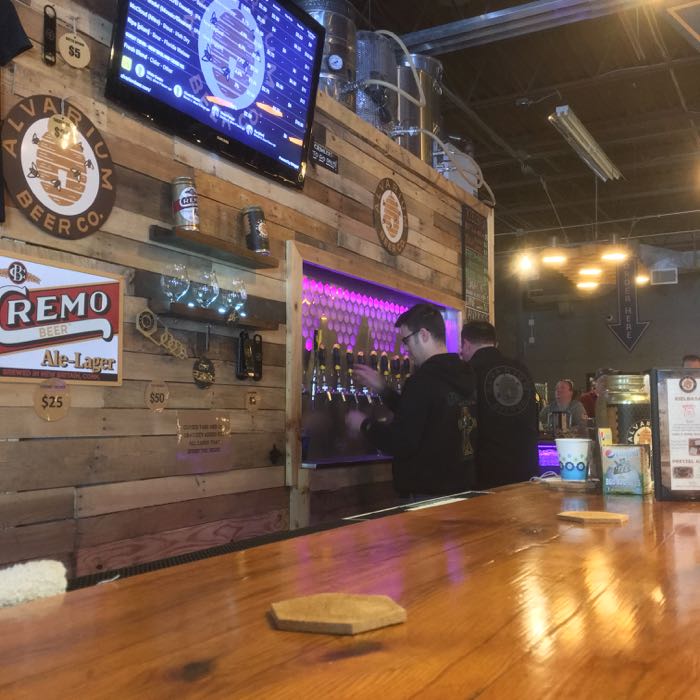 Alvarium was the first to open in the 21st century (5 Churches was the second) and is located in that post-post industrial section of town over towards the Newington border. You know, the area where you took your kid to a trampoline party once? Where precision machine parts are made in one of the endless parade of windowless gray corrugated box buildings up and down John Downey Drive? Yeah, there.
At least Alvarium has added some flavor to the strip. Note: these businesses are hugely important and some, quietly, make some pretty cool stuff for our military industrial complex. Take a drive around and start Googling the names of the businesses on the little signs. You'll be surprised.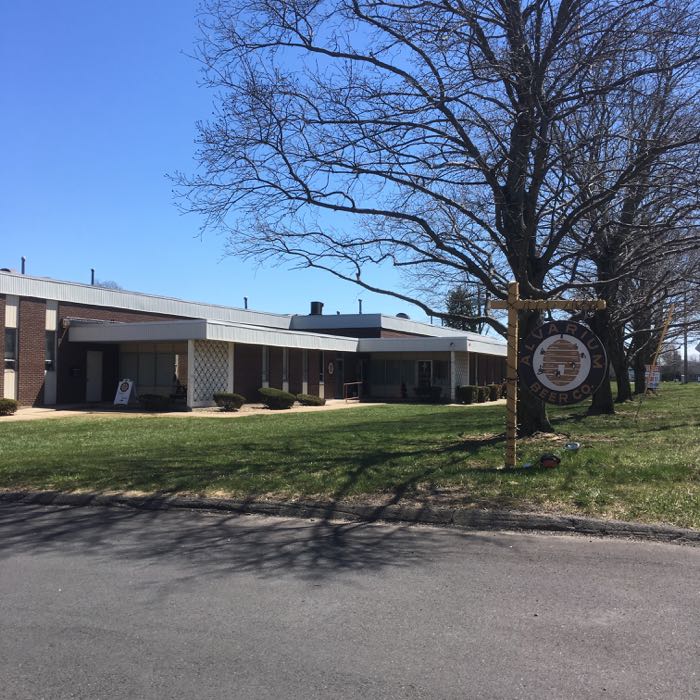 My mother-in-law worked in one of these buildings for years, helping to make some sort of doo-dad or another. She became close friends with a Puerto Rican woman. Neither spoke English very well and neither spoke the other's language. They remain friends to this day and it's a beautiful thing.
The businesses here are no-nonsense, "just get it done" types. Alvarium should fit right in:
Alvarium Beer Company is comprised of three amazingly hard-working and talented individuals who want nothing more than to melt your face with some killer craft beer.
Okay, okay. It's a new age and "melting faces off" is just the way to reach the millennial crowd.
Nestled in the industrial center of New Britain, ABC was founded on the principal of revitalizing a historical city with the mighty power of some kick-ass beer. Our brewery is not focused on mass production. Instead, we want to create an ultra-communal taproom where people of all types can unite under the flag of "righteous craft beer." Drink up, baby!
Alrighty then. Let's check it out.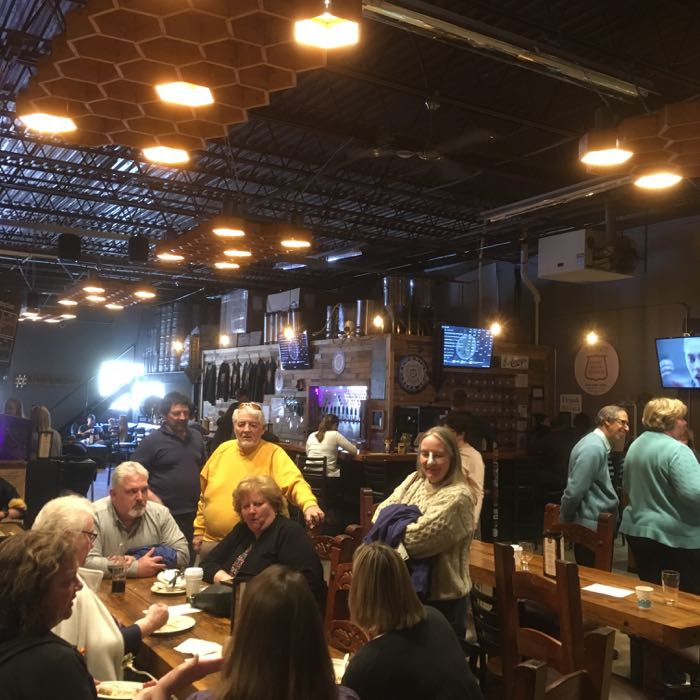 The taproom is very well put-together. In fact, it is clear that a ton of effort went into the details here, and I'm actually getting a little sad that I'd guess at least half of their patrons don't notice. Well, ABC crew… I noticed.
There is an outdoor area (in a parking lot, as they almost all are), a sort of loungey area with comfy couches and chairs, a more tavern-ish area with hightop tables and bar games, and the bar itself, right in the middle of it all across from the brewing equipment.
The bar was built with solid steel I-Beams and reclaimed red oak. The bar top itself was built by famed City Steam Brewmaster, Ron Page… which… I want to know that story. How did that happen? Page was retiring from City Steam right as Alvarium was getting off the ground. They wrangled him into helping with the build out?
While 5 Churches gets its Hard Hittin cred simply by its downtown Arch Street location, Alvarium has made a more concerted effort to craft theirs. They have had a good relationship with Mayor Erin Stewart long before their ribbon cutting. Heck, the name Alvarium references the city's Beehive City nickname.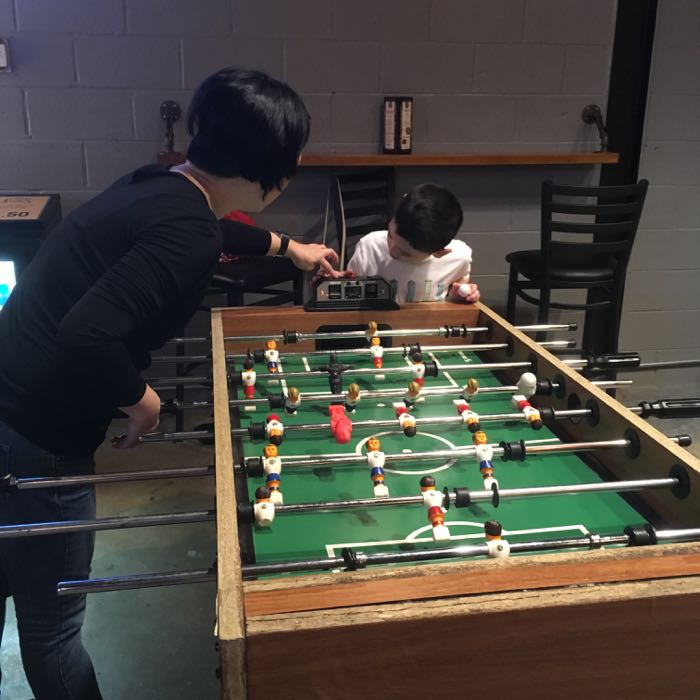 New Britain's Latin motto, Industria implet alveare et melle fruitur means "Industry fills the hive and enjoys the honey." An alvarium is a beehive. New Britain is officially "The Hardware City." It is these official designations that Alvarium plays off of – and plays off of well – beyond the name. They take great pride in the fact that they built the brewery themselves (and even note that they used hometown Stanley tools.) There are beehive touches all around the brewery.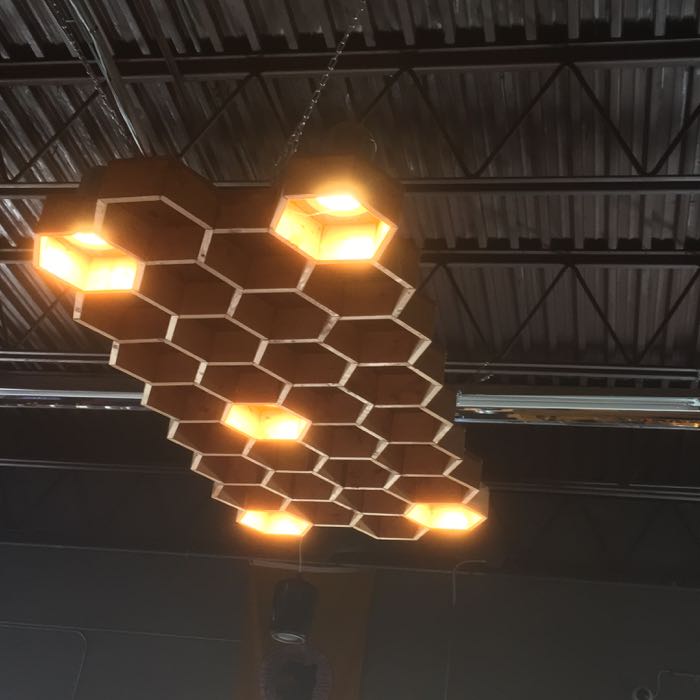 I found that last bit particularly attractive and well done. The hexagonal coasters. The honeycomb light fixtures. The beer list design. Heck, it wouldn't surprise me if they refer to the barroom staff as "worker bees."
Interestingly (to me, anyway), there seems to be a delineation between the crowd here and the one at 5 Churches. In my visits, Alvarium had a bit more of a blue collar, older-patron vibe. Local folks who appreciate the nods to the city's roots, the inclusion of classic Polish and German beer styles, the links with local kielbasa makers, and… Cremo Ale.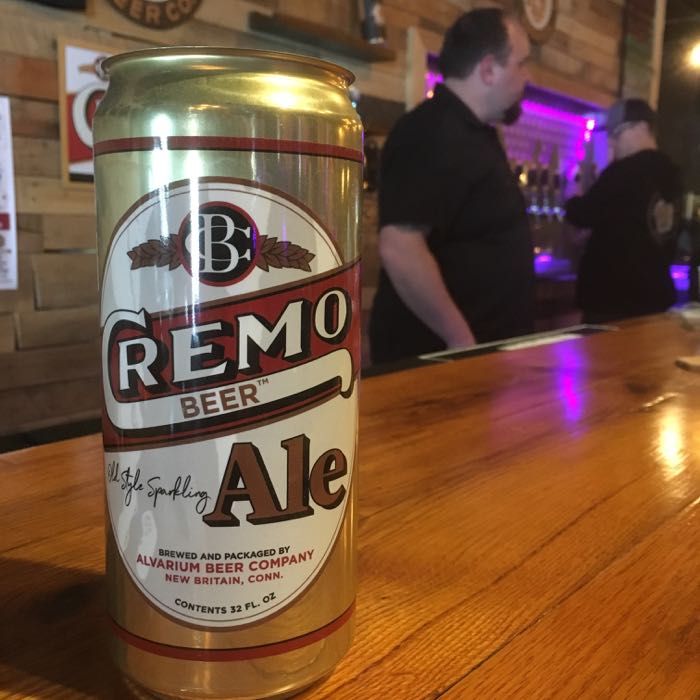 Yeah. Can't get much more Hard Hittin' than this. Cremo Ale was the town's beer (so to speak) from 1905 until Prohibition. And then again for several decades after that. It was always "one of those things" that lent you old school New Britain cred. Long story short, the owner of Avery's Soda (another in-town institution since 1904) bought the Cremo name a while back and struck up a partnership with Alvarium.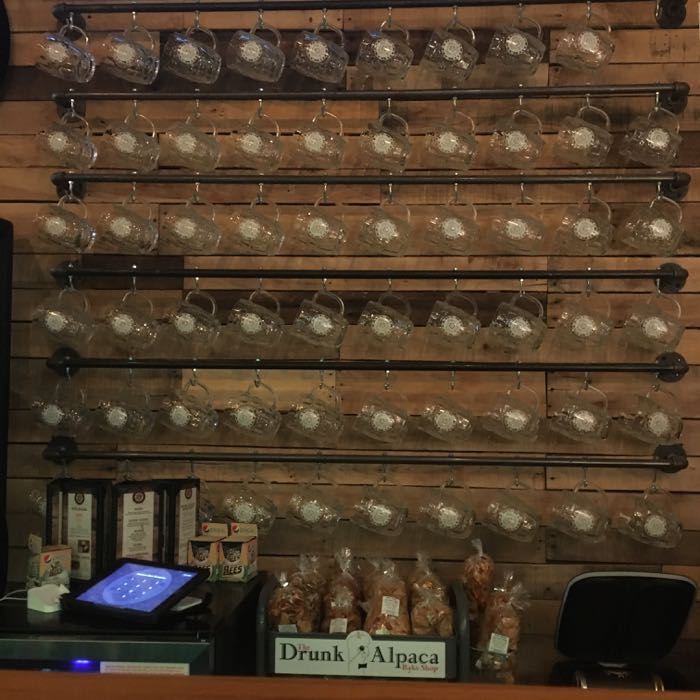 And now Cremo is back. (And it's really just an adjunct ale like you'd imagine a beer aping a 1945 beer tastes like. But so what. I love it.)
While (still) marveling at the beehive details here – I was told the name of the woman who designed the light fixtures amonng other touches, but I've done her a disservice and have forgotten. Sure, others did a ton of work here, but it's her artistic and clever additions that make Alvarium, Alvarium and not "just another brewery… – oh, yeah, the beer.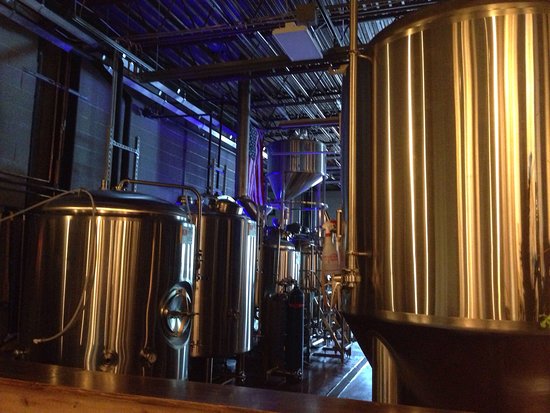 Cremo is Cremo and props to the brewery (and Avery's) for making it happen. I like trying "classic" styles at new-to-me breweries. (And I hate it when new-to-me breweries only have hazebro beers on tap. But… neither here nor there because Alvarium has a decent mix of new and old.)
McCloud was a dry Irish Stout. Good. This, after the Cremo, ended my Alvarium old-school experience. I bought the can below in July 2020 for a new-school Alvarium experience. Actually, it's just a rice lager which is old-school. It's good.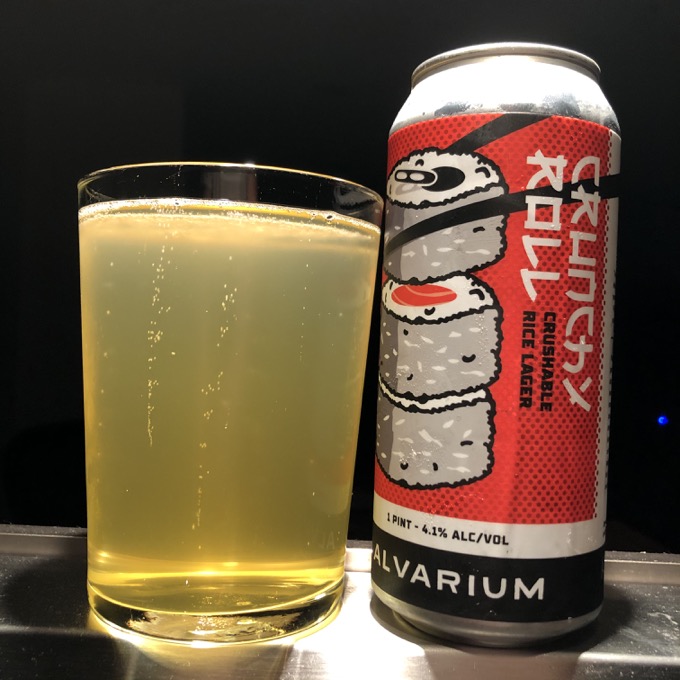 Phresh is their NEIPA. Now that we've moved forward into a time when we can say "classic NEIPA" vs. nu-NEIPA, I'm happy to say Phresh was a classic NEIPA. RIPE [insert odd fruit] is their line of fruited sours which I can take or leave.
The best beer of the day for me was the Randy Candy "Saison Americaine". I don't remember exactly what this beer was (after all, what the hell is an American Saison?") but I really liked it. It was a dry, openly fermented farmhouse with… Citra and Hallertau hops. It worked.
What didn't work was the name: Randy Candie. Alvarium was served notice that the name was trademarked by "an apparel company" in North Carolina. So they changed the name to "Don't Sue me Bro."
Weirdly, the "bro" suing them is not a lawyer, Randie Candy isn't an actual company, and the "bro's" job – after getting out of jail a couple years ago – is to sue company's like NBC Universal and.. Alvarium Beer Company. But no one even cares anymore. With a billion breweries brewing a trillion beers, most never leave the taproom. Changing the names requires zero effort and patrons could not care less.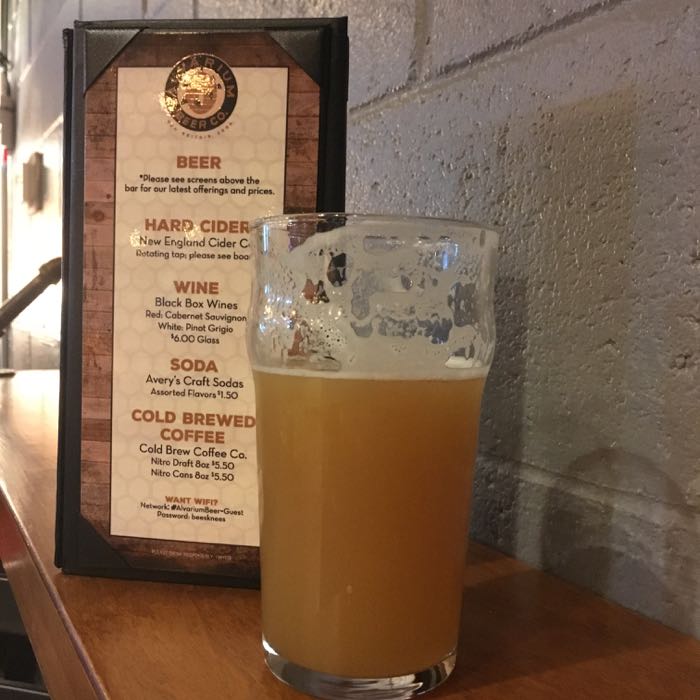 Note: "The Feds" apparently had issue with Alvarium's Orange Kush beer name too. I guess it was too marijuana-y. They also forced Bad Sons in Derby to change the name of Doobage. LOL at what's important to our government these days.
Alvarium: Slightly older school brewery in a modern atmosphere with games and seating and attention to design details. Probably won't ever lose focus on New Britain's working class roots and will always have beers on tap that speak to that. Bugnacki Kielbasa always available – hot in a sandwich or for take home.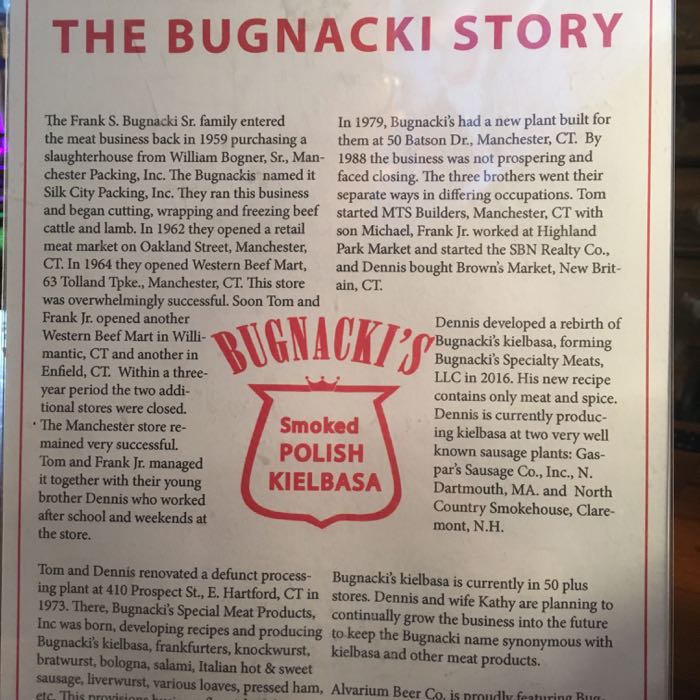 True story: Hoang went to high school with a Bugnacki Kielbasa kid. That's all I've got, because I forget what she said about him. Okay, I'll make something up… he always smelled like meat.
Let's rejoice there are now two good breweries in New Britain. A town that could use a drink now and then.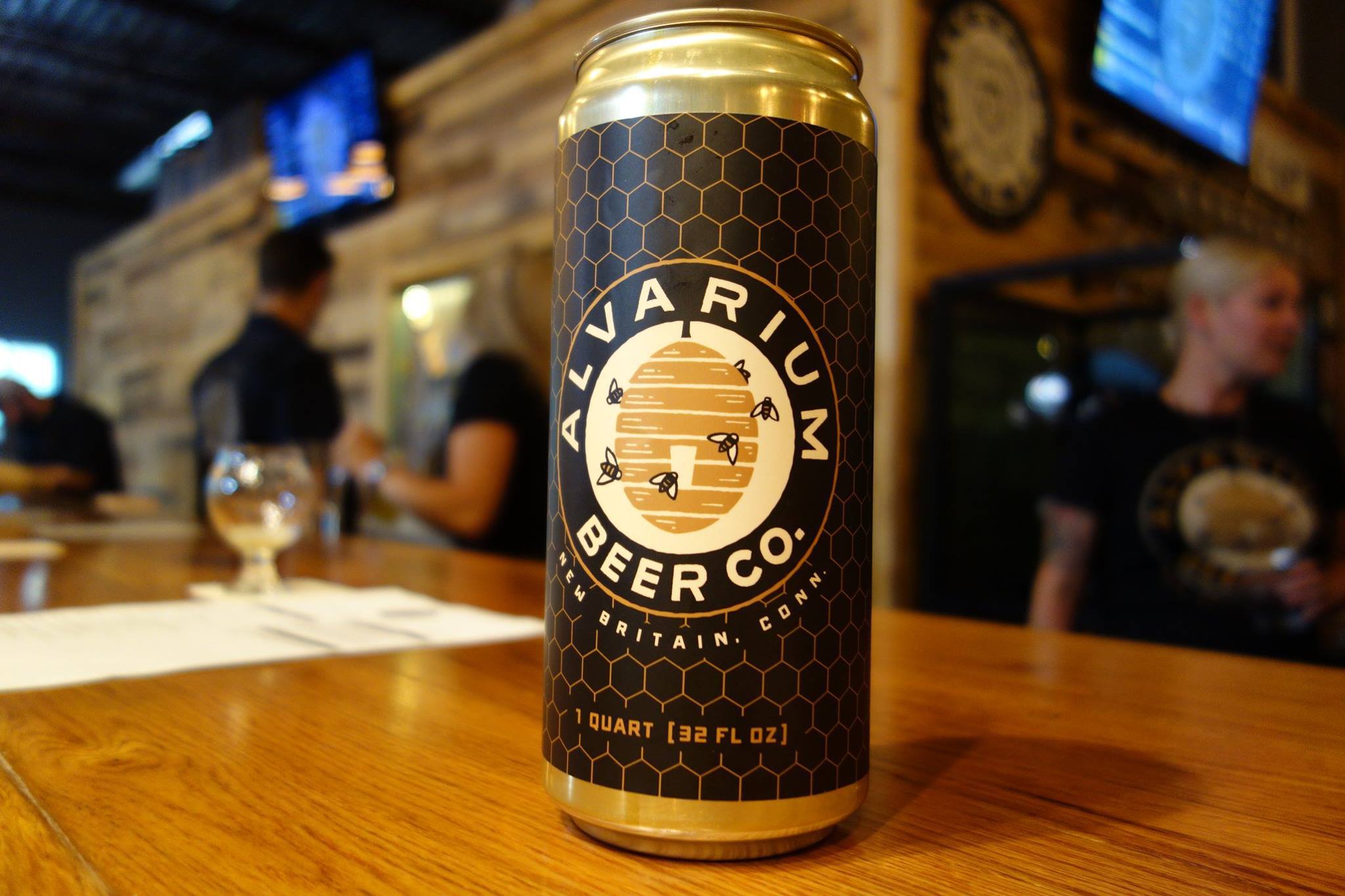 Alvarium Beer Company
CTMQ's page on CT Breweries and Brewpubs