Are Thu Seriousa?
Ice Cream and Milk at Arethusa Farm Dairy, Bantam
July 21, 2012
Since we are we, and we are CTMQ, and by we I mean me with my compliant family, we visited the almost eerily clean Arethusa Farm about 5 miles away before coming here, to the retail store, to enjoy the end products.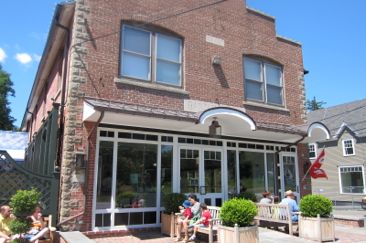 If you are unfamiliar with the Arethusa story – the one about how the President and Vice President of Manolo Blahnik USA bought some land across from their country estate in Litchfield and ended up with a world class dairy farm populated by the most pampered heifers this side of Kobe, Japan – you really should read up on it. Here's my page about the farm – It's fascinating.
The dairy store right on route 202 in the southwestern enclave of Litchfield known as Bantam opened in 2011. There is an annoying parking lot in back, but once you get that squared away, everything else about the store is wonderful.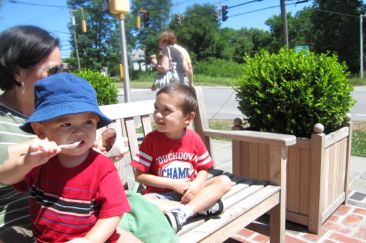 (I've parked across 202 in the closed gas station many times. 2018 Update: that gas station is still closed.)
In case you didn't read anything about Arethusa Farm, the cows that produce the milk are pampered beyond belief. They are shampooed with designer shampoo and massaged and vacuumed. I've smelled them and they smell nice. Crazy, I know.
But the guys behind the farm insist that such treatment results in tastier milk – and therefore better ice creams and cheeses down the line. (I happen to find that notion a bit ridiculous, but whatever.) The farm started merely as a land purchase to protect a viewshed. Then one of the Manolo Blahnik guys bought a cow. Now they have 450 in a few short years.
And before they knew it, they were a full-fledged dairy operation making and selling milks, cheeses, yogurts and, of course, ice cream. (While remaining President and Vice President of Manolo Blahnik North and South America. You know, on the side.)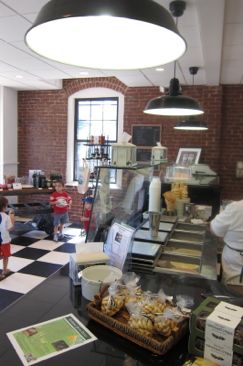 The dairy takes great pride in their ice-cream making process. Since all the milk used to make it comes from their own cows only five miles away, they can assure us that their product is of the highest quality.
Arethusa seems to feel this "only our cows" and "close proximy" thing is unique to them. It's not, so if they ever read this, check out some of your competition across the state I've written about.
However, Arethusa does have the best website of any dairy farm in the state, that's for sure. I strongly suggest you check out their page about the dairying process.
The Milk
Having read a few articles about this place, I think the part of the whole udder-to-your belly process that is most unique (and that which they are most proud of) is the "Gentle pasteurization" technique they use on their milk. Here, the keep the milk at a relatively low 145 degrees for a long (30 minutes) time to kill the bacteria. Almost every other operation heats the milk to a much higher temperature for a much shorter time.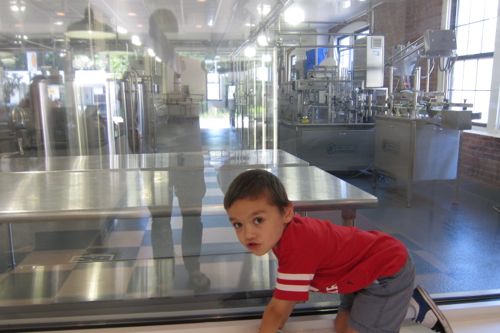 Arethusa is adamant that this (old style) way of doing things preserves the milk's flavor. As they say, "Milk, the way is used to taste: clean, natural and sweet." I've had their whole milk which is, perhaps, the best milk I've ever had. It's so creamy and sweet and delicious – and clocks in with the same exact nutritional levels as the Garelick on the right.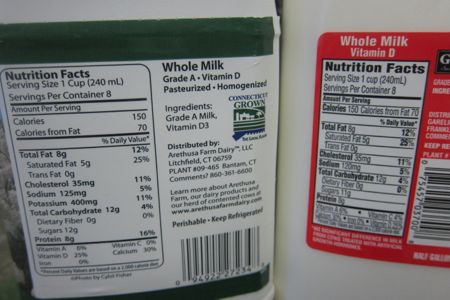 I've only had milk this good one other time, and that was from Fish Family Farm in Bolton. As it turns out, Arethusa set out to copy Fish Family's milk and technique! I guess they figured it out. (My page about the Fish Family milk and cheese)
Arethusa cannot claim to be organic or whatever, because they do give their bessies shots of antibiotics and stuff "when they are sick." They don't seem to care all that much.
Man, this is good milk.
The Ice Cream
Always comes to the ice cream, doesn't it. As real as Arethusa keeps their milk, they keep it realer with the ice cream. They package vanilla, chocolate, strawberry, coffee and mint chocolate chip. When we were all there, I think we got some of each flavor.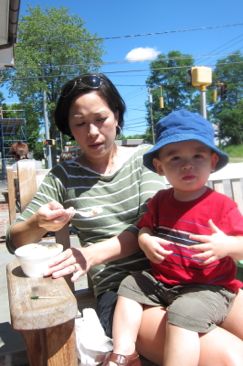 As you can see, everyone rather enjoyed it. This is not the usual ice cream you're used to. After all, the vanilla (for example) is just milk, cream, sugar, eggs and vanilla from Madagascar. That's it. The egg is to bind and thicken it, which is to say it's not as thick as most high-end ice creams.
But that's okay, because the taste is simple and pure. None of their ice cream is really all that sweet either; my guess is because while paying homage to old school ice cream, they kept in the criminal fat content (1/4 of a pint equals half your daily saturated fat allotment).
By the scoop, Arethusa branches out from the staples and has different flavors at different times – but always fairly "classic" flavors. The ice cream is surprisingly different from some of the other top-notch local dairies around the state.
I think it may be the smaller amount of sugar and/or the lack of anything artificial in it. I thought it was fine, but Hoang wasn't so sold on it. And for the prices here, it's really not worth it. Blasphemy, I know, but I've had just as good tasting ice cream in a dozen other places around Connecticut for far cheaper. Shampooed cows or not.
Oh well, the bottom line is that you know it's really good, all natural and all local. For those reasons alone I'll keep grabbing a cone when I'm in Bantam.
Speaking of which, when YOU are out in Bantam and enjoying Arethusa Farm Dairy, be sure to stop across the street at Bantam Bread Company for some of the best sweets and bread you'll find anywhere outside of France. Here's my page on BBC.
Lastly, Arethusa sells its own butter and several types of yogurt, not to mention over ten types of cheese. Mmmmm, cheese… Cheese which, of course, gets its own page here on CTMQ.

Arethusa Farm
CTMQ's page on Arethusa Cheese
CTMQ's visit to Arethusa Farm proper
CTMQ's Homemade Ice Cream Trail