What's the Lesser Half Like?
Better Half Brewing, Bristol
November 2019
This brewery ceased operations on 12/31/21 after listing their equipment on the sites that sell such things for a year or so.
There is a very good brewery in Bristol that brews very good beer, spanning a wide array of styles. I very much enjoy that brewery in Bristol.
This is not that brewery. Better Half Brewing opened in the summer of 2019 in a former CVS along Bristol's North Main Street fronting a giant empty lot full of weeds and broken glass. As you read this page, please know that I visited very early in its life and by the time you get out there, there's always the chance your experience will be better.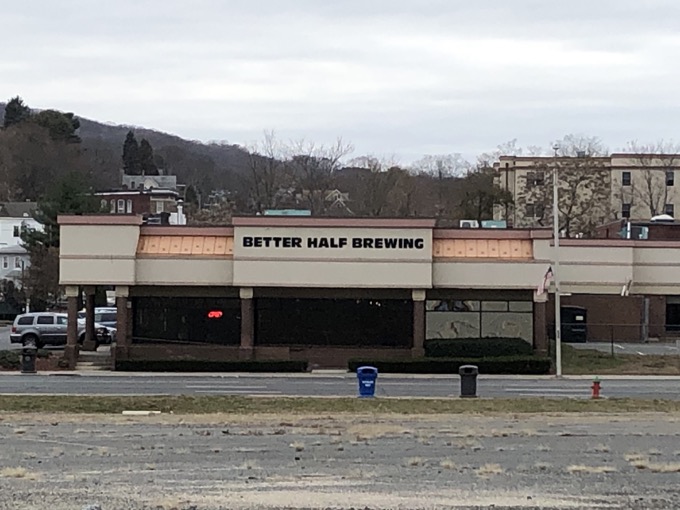 If you're thinking, how can anyone convert a CVS in a downtown Bristol stripmall into a welcoming brewery, you may be surprised. Other than maybe the ceiling, the Better Half couple did an impressive job of hiding the building's boring, cookie-cutter past. (Although, now that you know it was a CVS, you'll be looking for CVS type things and will fixate upon them. Try not to do that.)
And if the CVS space wasn't big enough, Better Half also took over the Mo's Brick Oven pizza restaurant that had opened just weeks earlier right next to their building. The two businesses were going to operate alongside each other, but the owners of the brewery, Rachel and Michael Haseltine, ended up buying out the Mo's owner and made their brewery into a brewpub of sorts.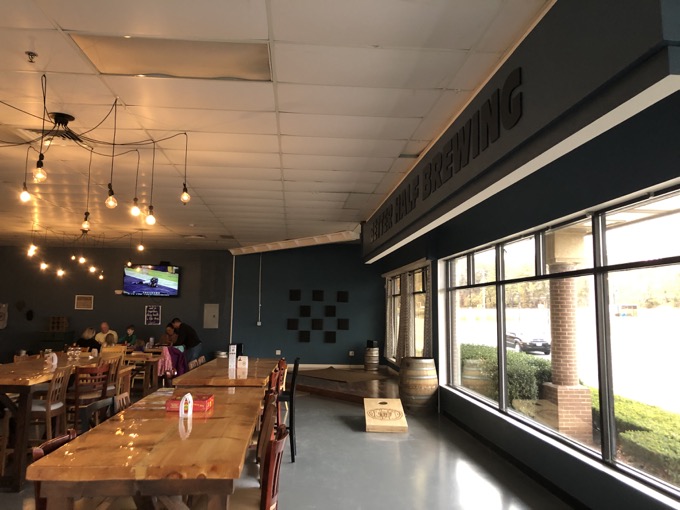 That's a lot for a young couple to undertake on their own. The daunting nature of the project, plus Connecticut's nebulous licensing procedures, pushed Better Half's opening date back further than they'd have liked. But the Haseltines stuck to their plan and here we are.
I entered the CVS doors and went straight on back to the pharmacy. The only two people working the bar were Michael and Rachel Haseltine. That may always be the case there – as it is often the case with new breweries.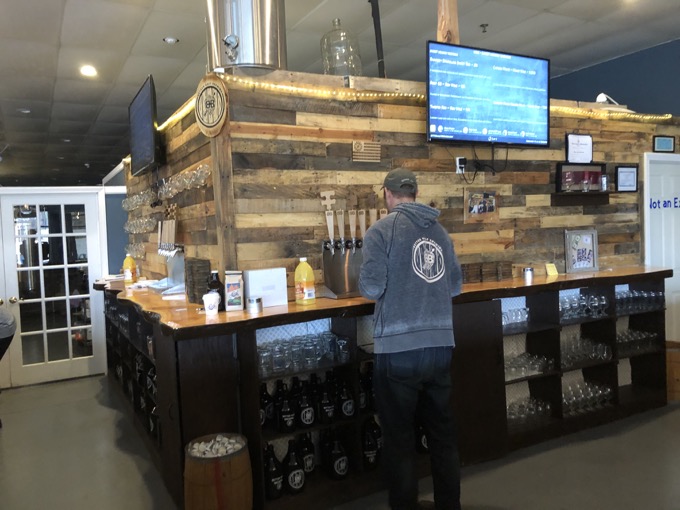 Two things immediately struck me as I perused the beer menu. One, the prices here are a bit steep, considering its location and the lack of brewing bona fides of the brewer. Two, this place is a bit twee and cutesy. Note: I'm a huge Zoey Deschanel fan and think she's beautiful and cool and talented and she's a twee icon.
Anyway, what I mean by that is… here, I'll let them explain it:
We came up with Better Half Brewing because we want it to be a place where you bring your better half or meet your better half," Michael Haseltine explained last year …

The new taproom features a variety of craft brews, mostly with playful names connected to that overall theme. Among the offers is Crush on You, a cranberry ale, along with a blueberry wheat named Friends With Benefits and a stout called First Date.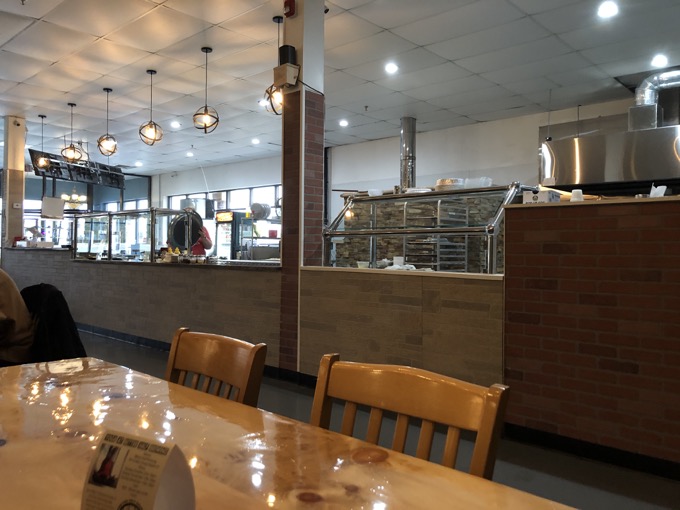 It goes on – in addition to the First Date stout, I had a Hall Pass, a Compromise, and a Hoppy Ending. Other offerings include Going Steady, Smitten, Real Love, Breakfast in Bed, Head Over Heels, and Cloud 9. It's not the worst naming inspiration, and it's inoffensive, but it's… twee. As I waited for my $10 flight of tiny beers, I checked out the kitchen area.
The integration of what was a separate business appears seamless. People were ordering the thin crust pizzas and the surly looking workers there were churning them out. I did not have any food at Better Half, and I'm cool with that. Nothing looked all that appealing to me.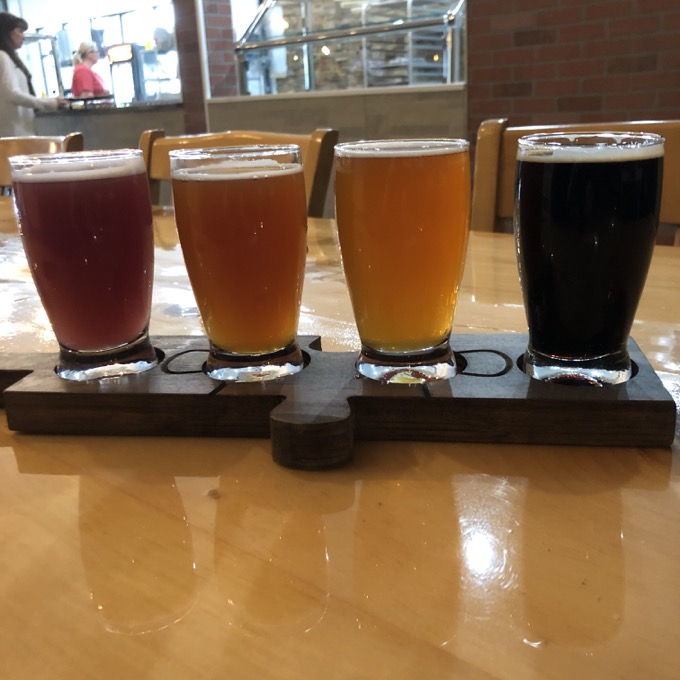 I took my beers to squirrel away alone at a back table in the gloom towards the brew tanks and bathrooms. So far, the weird combination of Bristol stripmall, gutted CVS, burnt thin crust pizza, and cuteness was working for me on some Black Mirror level somehow. Then I drank.
Suddenly, my personal Black Mirror episode hit that point where the artificial veneer of what I thought this place could be was crushed by the cold, impartial jackboot of reality. As the irrepressible Mrs. Haseltine was helping a family with preschool-aged kids get situated with some fun games, I drank the Hall Pass.
Despite what you've read so far, I ordered the Hall Pass knowing – just knowing it would be awful. It's billed thusly: "Hall Pass allows hop heads to "cheat" on their IPA's with this refreshing blueberry wild ale." Now, there's just no way this random start-up brewery with no prior experience could brew a legit "blueberry wild ale." Or any sort of wild ale at scale, period. I knew this.
So then the question is, why did I order it? What is wrong with me? I actually texted a friend with this question and all he could say in reply is, "I know. Me too." Anyway, this beer was terrible. I have no clue what their process was to have the gumption to call it a wild ale, but it was flat, sour acidic dishwater. But hey, wild ales are hard to execute well for the best breweries, let's move on to more standard styles.
Compromise is a pale ale Dry hopped with Azacca and Ella hops. The brewery says it has "hints of papaya and guava" which is absurd, but hey, it was pretty good. Flat as water, of course, but the aroma and flavor were both pretty strong. I simply can't get over how so many new breweries can't or don't or won't properly carbonate their beers. My god, it makes such a difference. I'm just sick and tired of all the flat beers out here.
But I was at Better Half, and how can I not feel the love with the beer names and positive attitude of the owners. I stepped away from my hidey-hole and walked around a bit.
That's when I noticed they've "named" their tanks here. Yes, each brite tank is named for a character from the show Friends. That show sucked. And now I had two more beers to drink. (Seriously, Friends was not a good show. I've watched several episodes in syndication and the joke writing is so lazy and vapid and obvious. Props to most of the cast for escaping its shadow though, as several have done stuff that I've very much enjoyed since then.)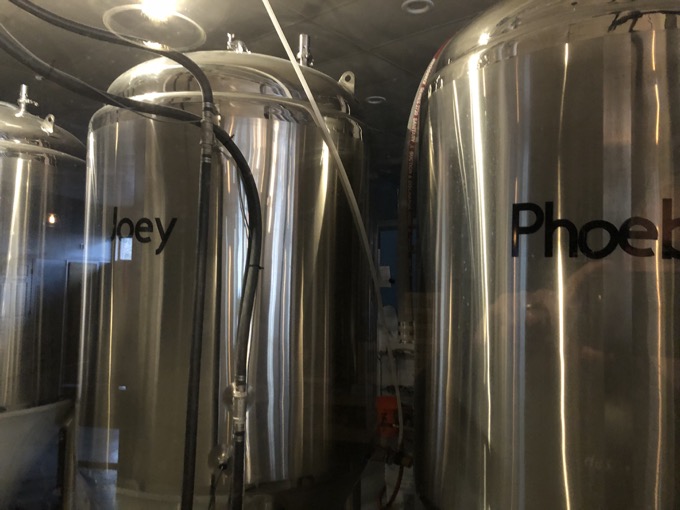 Back to my table and it was time for the Hoppy Ending, their Friends-level-humor named hazy NEIPA. Citra, Mosaic, Simcoe, Galaxy, surely this beer had to be good! This beer was not good. In fact, it was insultingly bad. None of the advertised haze, zero carbonation, no body, no aroma, no flavor, no soul. I've had bad beers, but to have a NEIPA – which, by definition, is over-hopped and over-flavored – to have a NEIPA that tasted like hop-flavored water just made me sad.
Just sad, not angry like this gentleman (with a kitten avatar!) or his friend: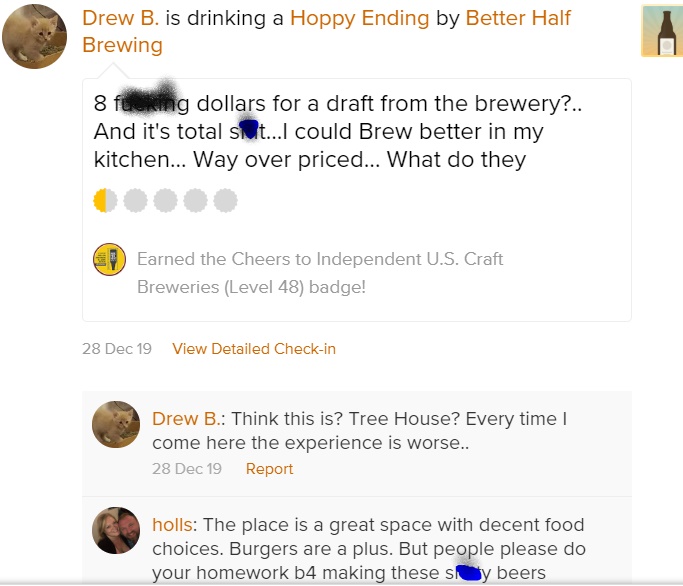 They are right though. My word. Just stop with this! Please! The fine people of Bristol who happen by and stop in deserve better!
I finished up with the First Date Oatmeal Stout which once again proved my old adage – stouts are the easiest beers to make taste good. They can be flat and it's okay. No need to tease out flavors beyond your malts. They're black and opaque, so it doesn't even matter what they look like. Certainly the best of the four beers I had at Better Half.
But no amount of palatable oatmeal stout is going to make me forget what preceded it. Get it together Better Half. You've got Firefly up the street which is light years ahead of you in quality and pricing. And if they named their tanks, they'd be… Firefly characters and that would be cool. Not this Friends nonsense.

CTMQ's page on CT Breweries and Brewpubs