From Nutmeg Beer to Beer with Nutmeg
Connecticut Beer; A History of Nutmeg State Brewing
By Will Siss
Reading this book in 2019 is a surreal experience. At least for close watchers of the Connecticut brewery and beer scene. Published in 2015, Waterbury-American columnist and school teacher Will Siss simply could not have foretold the near future back then.
Back then when the state supported a fifth of the breweries it now does. Back then when there was no such thing as a "New England IPA" and lactose was used, sparingly mind you, in milk stouts only.
Oh, and back then when I wrote way more about these things than I do now: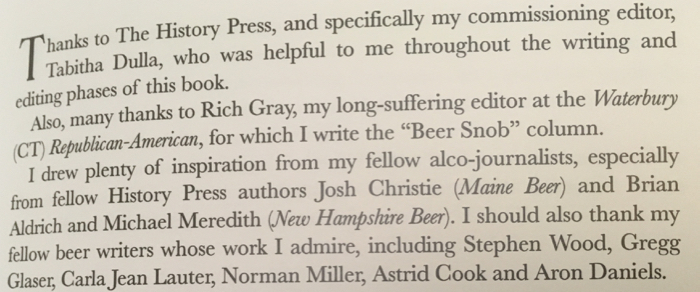 Thanks Will! Now I can't say anything bad about this book. It's the greatest book ever.
In all honesty, I was most impressed by its accuracy. No offense to Will, but these History Press books often contain a trove of errors. I only found one glaring error – calling NEBCO's Fuzzy Baby Ducks a double IPA when it wasn't then, and isn't now. Can you believe it?!
Connecticut Beer begins with a foreward from the (locally) legendary Ron Page, the (since retired) head brewer at City Steam in Hartford. Siss then dives into the Nutmeg state's brewing history a bit from pre-prohibition up until the first wave of "recent" brewing in the 1990's. Hull's, of course, gets the most ink from back in the day.
And now in 2019 the guy who bought the Hull's name decades ago is releasing S'Mores beers and, yes, a NEIPA. (When the nu-Hull's came to market, the whole thing was about the export lager and the nostalgia and old-schoolness of it all and now a year or two later, peanut butter beers. There you go.
To me, the most interesting bit of Connecticut Beer was several comments from the brewery owners from waaaaaay back in the day (2014-15). Siss asked many of them what their thoughts were on the "boom" back then and how sustainable it would be.
Rob Leonard (then, as now, owner of New England Brewing Co.) firmly stated that a "shakedown" would be coming soon. And of course there will be… but there's no way Rob thought we'd be at 100 breweries by 2020. Since 2015, only a few breweries have shuttered. One quote, From Jason McClellan of Olde Burnside was sadly fascinating to me: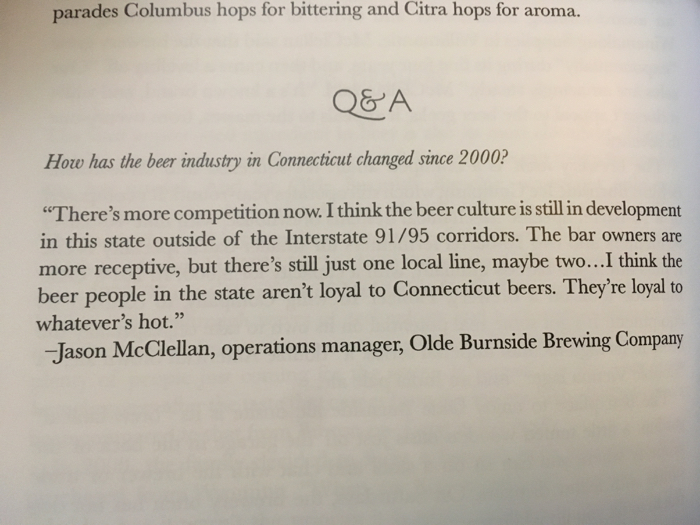 Yeah. Olde Burnside closed for good* at the end of 2018 after a long run. They simply never adapted to the changing market. And since this book was published, tons of bars were running a dozen or more Connecticut brewery lines. And Olde Burnside pretty much only stayed on legacy accounts.
*Get ready for the New Olde Burnside in 2020 probably. Different owners, same branding. Probably.
For me, and those of you like me, this book is still an interesting read years after publication. Many of the players are still in the same places that they were when Will put this book together, which is interesting in and of itself. The market has changed, the consumer palate has changed, the competition has changed, but by and large, these "older" breweries have remained relatively the same.
I enjoyed the book, and not just because several of my friends feature in it and another one wrote it. I swear. You should go pick up a copy, if only for that 2015 nostalgia.

CTMQ's List and Reviews of Connecticut Books